If you're hesitant to go to your polling place on Election Day due to the pandemic, you have options for voting.
---
Eager to vote in the 2020 presidential election but worried about packing yourself into a crowded polling place on November 3 during the COVID-19 pandemic? Don't panic: You do have options to stay safe on Election Day.
You can avoid the crowds, and possibly lower your risk of contracting COVID-19, by voting early before Election Day or skipping the polling places entirely by voting by mail. Even better news? All 50 states allow their voting-age residents vote by mail.
You can't take advantage of either of these options, though, if you're not registered to vote. Before November arrives, then, make sure to check your voting status. You should also explore your state's requirements for mail-in or early voting.
Doing this is a simple process. But following the rules matters. If you don't abide by your state's voting regulations, you might have no other option but to head to your local polling place to cast your vote, no matter how crowded it is, on November 3.
How COVID-19 complicates voting
COVID-19 has made the prospect of in-person voting a scary one for many people. This isn't surprising: A polling place can be crowded. Some voters, then, would prefer an alternative.
And that's where voting by mail or voting early come into play.
When you vote by mail, of course, you can avoid other people completely. You simply request a ballot by mail, fill it out and mail it, making sure to meet your state's mailing deadlines.
Voting early still requires a trip to a physical location. But you can vote before the November 3 Election Day, meaning you can vote without worrying about long voting lines at your polling place.
But before you do any of this, you need to make sure you're registered to vote. And if you aren't? You need to act quickly.
Are you registered?
A 2020 study conducted by the Center for Election Innovation and Research says that registering to vote could be more challenging for voters this year. That's because many of the places where people go to register aren't available because of the COVID-19 pandemic.
As the study's authors write, Department of Motor Vehicle facilities remain closed or have limited their hours. This is a problem because many voters register to vote at these facilities. At the same time, large public gatherings remain prohibited in many states. This means that organizations and community activists have cancelled get-out-the-vote registration drives in many areas, according to the Center.
Are you registered to vote in this year's election? If you aren't sure, visit the "Can I Vote?" page of the National Association of Secretaries of State website.
Once here, you can click on the "Voter Registration Status" icon and select your state from the resulting drop-down menu. Once you do, the site will ask you for your first and last names, birth date, five-digit ZIP code, and street address. When you enter that information and click "Submit," you'll get a page telling you if you're registered to vote in your state, along with the address of your Election Day polling place.
Don't delay if you aren't registered
If you discover that you're not registered to vote, you'll have to act quickly. The deadline to register to vote varies by state, but some require that you register to vote as early as October 4 if you want to vote in the November 3 election. Others have more lenient guidelines, allowing to you to register to vote — and to actually cast your vote after registering as late as Election Day.
Some states allow you to register to vote online, while others require that you register to vote either by U.S. mail or in person, often enacting different deadlines depending on which option you choose.
Our first registration tip, then? Find out what your state's voter registration deadlines and policies are. You can find these at the "Can I Vote?" page of the National Association of Secretaries of State website.
Missed your registration deadline? You still have options
But what if you've missed your state's registration deadline? Don't give up hope. You might still be able to vote if your state offers what is known as Grace Period Registration and Voting.
States that offer this allow you to register and vote even after their deadlines for online or in-person voter registration have ended. These grace periods can be generous: states often allow you to register up until the Monday before an election under their grace-period regulations.
The guidelines for grace-period registration, though, vary by state. Make sure to do your research to determine if and how you can vote even if you've missed your registration deadlines.
In Illinois, for instance, you can register to vote until the Monday before an election. But you must register and vote in person. California allows people to conditionally register and cast a provisional ballot after the state's official voter registration deadlines have passed, but voters must cast their vote in person at their county elections office. These votes are then only counted after election officials verify voters' registration information.
In Idaho, voters who have missed the registration deadline can go to their regular polling place or early voting site to register to vote. Voters will need to show proof of residence and a photo ID.
Want to vote by mail? You'll probably need to request a ballot
Once you've determined that you are registered to vote, you then have to decide how to cast your ballot.
You might simply wait until Election Day to head to your polling place and vote in person. There might be big crowds at your polling place on November 3, though. If you're worried about COVID-19, you might want to choose a different option.
If you want to skip the lines entirely at your local polling place, you can request a ballot by mail. For this presidential election, all states allow their residents to vote by mail. What you must do to vote, though, will vary depending on your home state.
Some states are automatically sending mail-in ballots to all registered voters as a way to protect voters from COVID-19. Not all are doing this, though. In most states, you'll have to request a mail-in ballot if you don't want to vote in person.
Connecticut, Delaware, Illinois, Maryland, Massachusetts, Arizona, Wisconsin, and Iowa are mailing registered voters a vote-by-mail application. And California, New Jersey, Vermont, Nevada, and Washington, D.C., are sending registered voters their ballots directly.
Again, the best place to start the process of voting by mail is the Can I Vote page of the National Association of Secretaries of State. Once here, click on the "Absentee and Early Voting" link to bring up a dropdown menu of states. Select yours to receive instructions on how to request an absentee ballot. Some states will send you your ballot directly when you request it. Others will send you a paper application that you must first fill out and mail back before receiving your mail-in ballot. Other states allow you apply for your mail-in ballot online.
In some states, you'll need to provide an excuse to vote by mail. You might be out of town on Election Day or you might be ill. Those are often legitimate excuses for voting by mail. You can also cite your age. Many states allow you to vote by mail if you are 65 or older.
This year adds a new wrinkle: The fear of contracting COVID-19 is also a legitimate reason for voting by mail in many states, though not all.
In some states, you needn't provide any excuse to vote by mail. You just have to request your ballot and your request will be approved.
Keep your deadlines in mind
If you want to vote by mail, you need to act quickly. If you miss your state's deadline for applying for a mail-in ballot, you won't have any choice but to vote in person.
Again, the deadlines for requesting mail-in ballots vary, so you'll have to research your state's rules. For example, in Arizona, you must get your application to election officials by October 23. And in Alabama, officials must receive your application for an absentee ballot by October 29.
Once you get your official mail-in ballot, you'll need to send it in on time so that your vote counts. In Delaware, this means you must send your ballot by November 3. In Illinois, your ballot must be postmarked by Nov. 3 and received by state election officials by November 17.
Follow the rules to make sure your mail-in vote counts
If you are voting by mail, be sure to pay attention to your state's rules. Different states often have different rules. If you are voting in Alabama, for example, your absentee ballot must be signed by two witnesses or a notary public. And you must send a photocopy of your picture ID when sending in your ballot.
States such as California or Connecticut, though, don't require any signatures of witnesses or notary publics. They also don't require you to send in a photocopy of your ID.
You must also follow the directions carefully when filling out your mail-in ballot. This is especially true when you are signing your ballot. To have your ballot counted, you must sign and date the outside of your ballot's envelope. For mail-in ballots, you sign the envelope that holds your ballot, not the ballot itself.
And when signing, make sure to write down your name exactly as it appears on your driver's license or state ID card.
Be careful, too, when filling in your actual ballot. For instance, your ballot might require to you fill in ovals next to the candidates' names for whom you are voting. Make sure to follow those instructions: Don't circle a candidate's name instead of filling in an oval, and don't write a check mark or X in the oval instead.
A good source to learn more about voting by mail for the November 3 presidential election can be found in this guide produced by USA.gov.
Worried about the mail and COVID-19? Vote early in person
Uncomfortable with sending your vote by mail but eager to avoid crowded polling places? Voting early might be an option.
Most states allow voters to vote early, before Election Day. And no states require you to provide a reason for doing this.
But how early can you vote? That depends on your state.
In Arizona, the early voting period begins 26 days before the election and ends on the Friday before the election. In Illinois, voters can start voting early on the 40th day before the election in temporary polling locations and on the 15th day before an election in permanent voting locations. In Illinois, early voting ends at the end of the day before Election Day.
In Iowa, residents can begin early voting 29 days before the election up until 5 p.m. on the day before Election Day. In Louisiana, residents don't have as much time: They can vote starting 14 days before the election. Early voting in Louisiana ends seven days before Election Day.
Check your state's early voting dates by contacting your local elections office, which you can find here.
The bottom line
This might be an unusual election year, with the COVID-19 pandemic giving voters pause before they head to the polling places. Thanks to early voting and voting by mail, though, you can cast your vote and help stay safe.
The key is to prepare early. If you want to vote by mail, research your state's rules now and request your mail-in ballot today. If you prefer voting early, in a less crowded polling place, you'll have to research, too. Once you know when your state allows early voting, and you track down the location of your early voting polling place, you can head to the polls to cast your ballot in person with fewer of your fellow voters crowding your space.
The worst thing you can do? Let COVID-19 keep you from voting. We all deserve the chance to vote. Take advantage of your options and let your voice be heard this Election Day.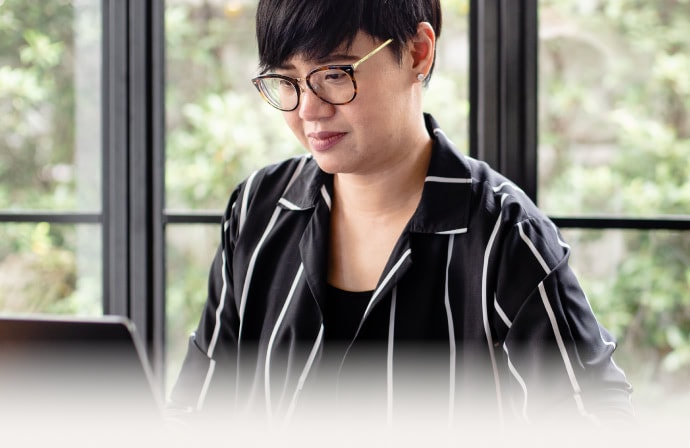 Cyber threats have evolved, and so have we.

Norton 360™ with LifeLock™, all-in-one, comprehensive protection against viruses, malware, identity theft, online tracking and much, much more.

Try Norton 360 with Lifelock.
Editorial note: Our articles provide educational information for you. Our offerings may not cover or protect against every type of crime, fraud, or threat we write about. Our goal is to increase awareness about Cyber Safety. Please review complete Terms during enrollment or setup. Remember that no one can prevent all identity theft or cybercrime, and that LifeLock does not monitor all transactions at all businesses. The Norton and LifeLock brands are part of Gen Digital Inc. 
---