Your free AI-powered scam detector
Think your texts, emails, or social media messages are scams? Are the websites you're visiting risky? Just ask Norton Genie and you'll know instantly—your wish is our command!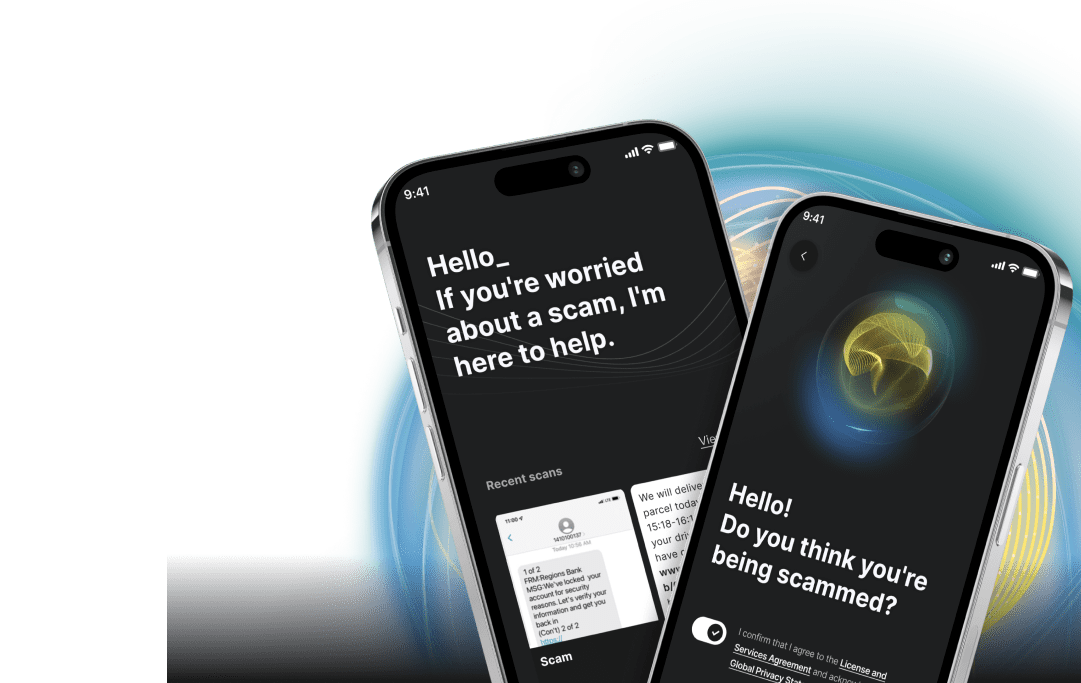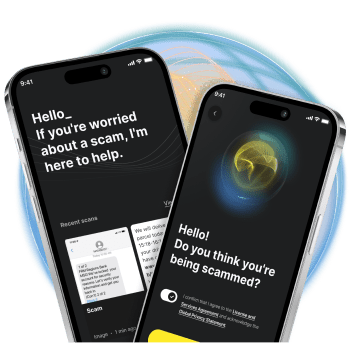 Spot scams in seconds
Hassle-free scam detection
Stay ahead of threats
Simple, but powerful
What is Norton Genie?
Genie is an industry leading AI-powered scam detection tool and brand-new innovation from Norton. Genie is always learning, so every time you upload a suspicious text, email, or web address you're helping make Genie smarter.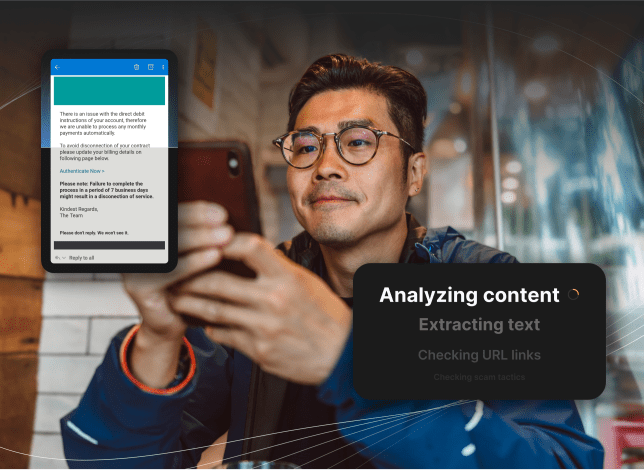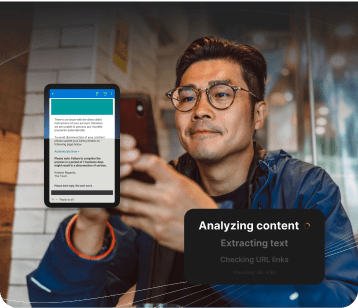 So easy to use, it's like magic
Just upload a screenshot, or copy and paste the text message, social media post, email, or website you want checked. Know in seconds if it could be a scam. Genie can also answer any scam questions you have plus give you tips on what to do next.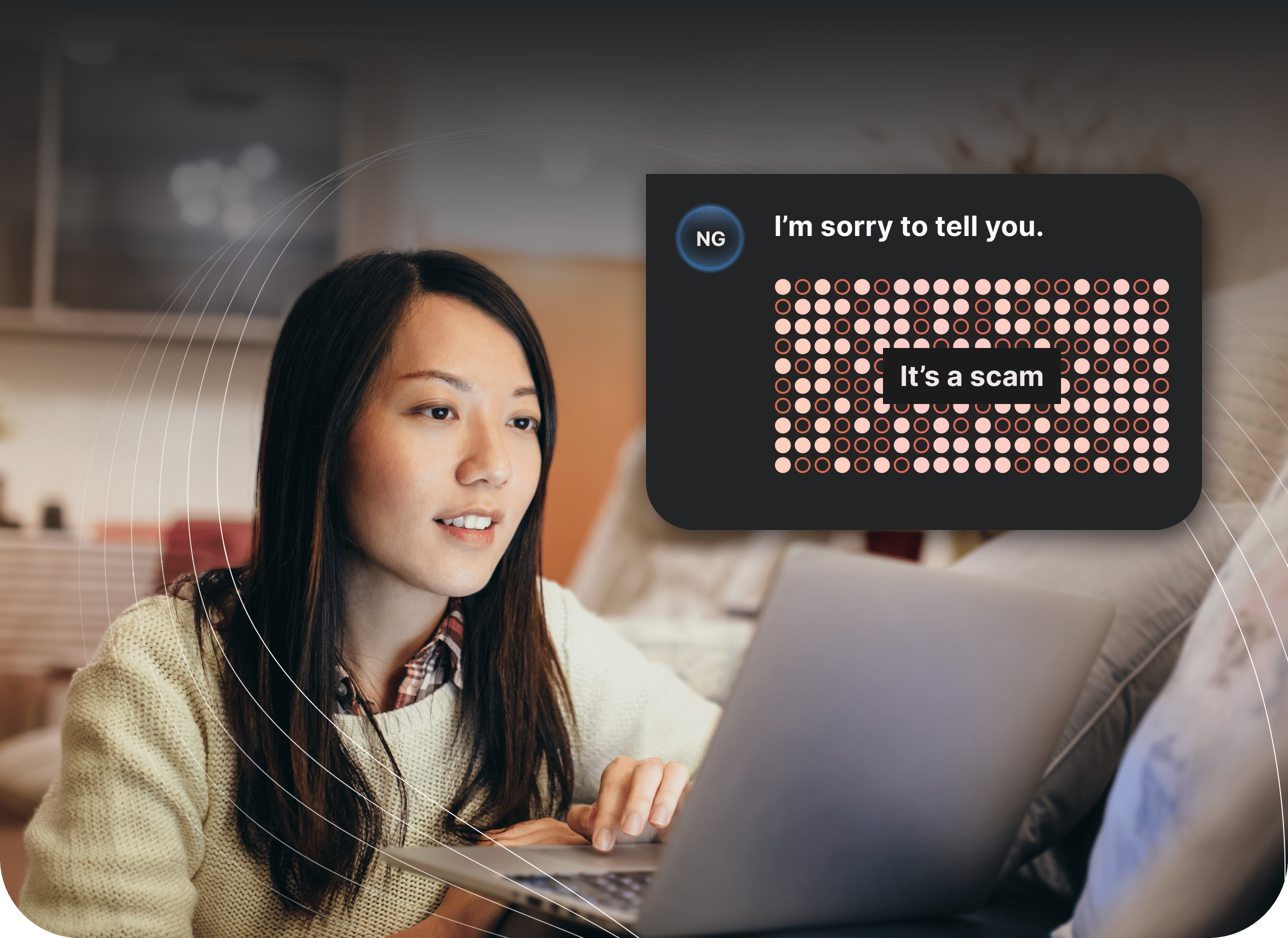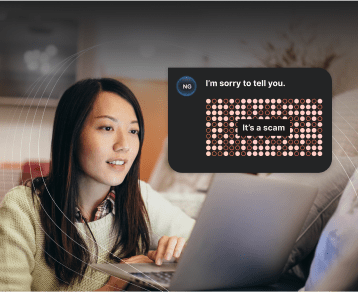 The more you use it, the smarter it gets
Unfortunately, criminals keep finding new ways to trick you. Genie is powered by advanced AI so the more you use it, the smarter it gets at detecting new scams. The more messages you upload, the more it evolves, keeping you even safer in the future.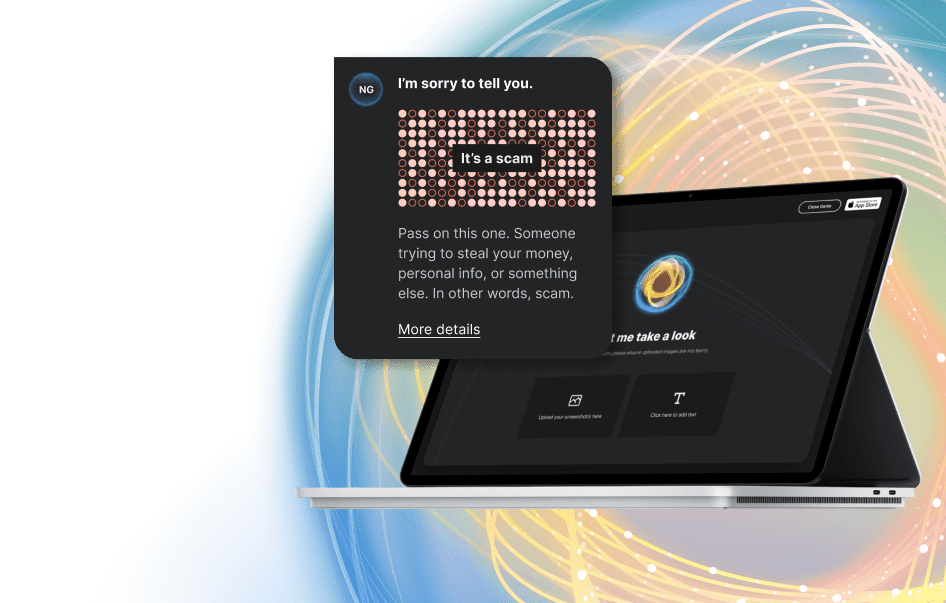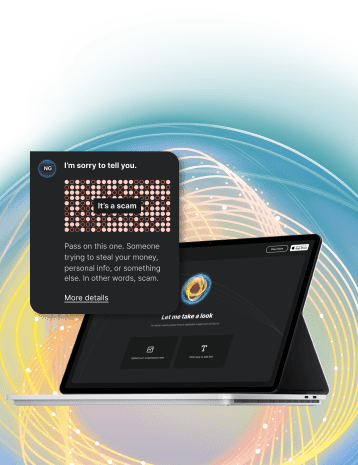 Why you need a scam detector
Criminals are so good at making scams look like actual messages, that it's easy to get tricked into opening, clicking, or sharing shady links. Genie can tell you if it could be a scam before you get scammed!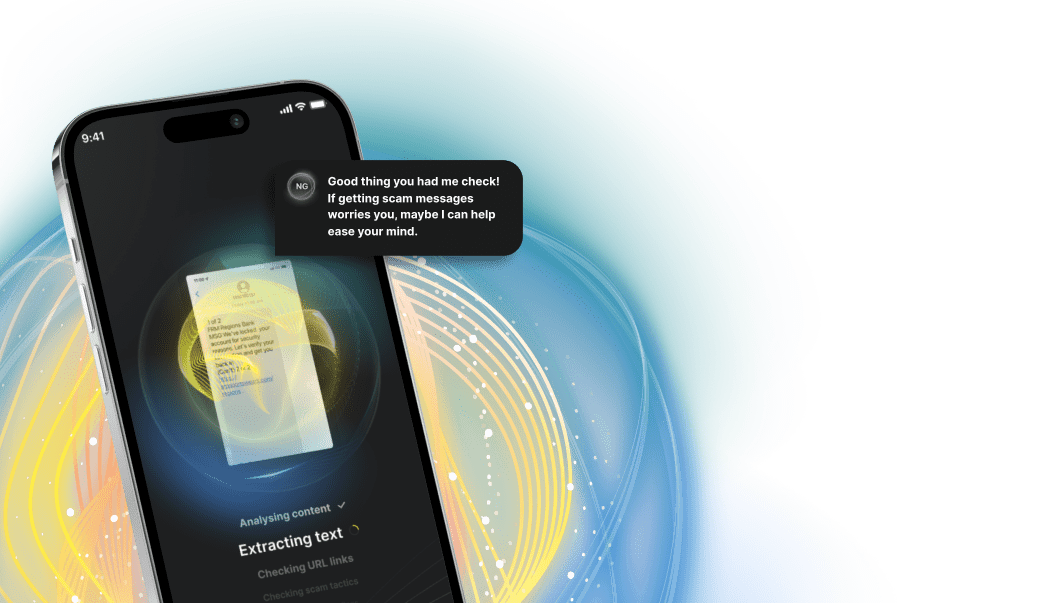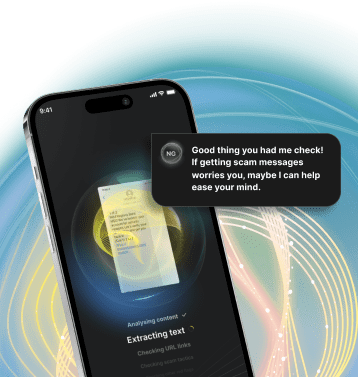 Norton + AI.
Paving the way for next-gen cybersecurity
We've combined decades of cybersecurity experience with AI innovation to create Genie, leading the way in next-gen scam protection. It's world-class expertise at your service.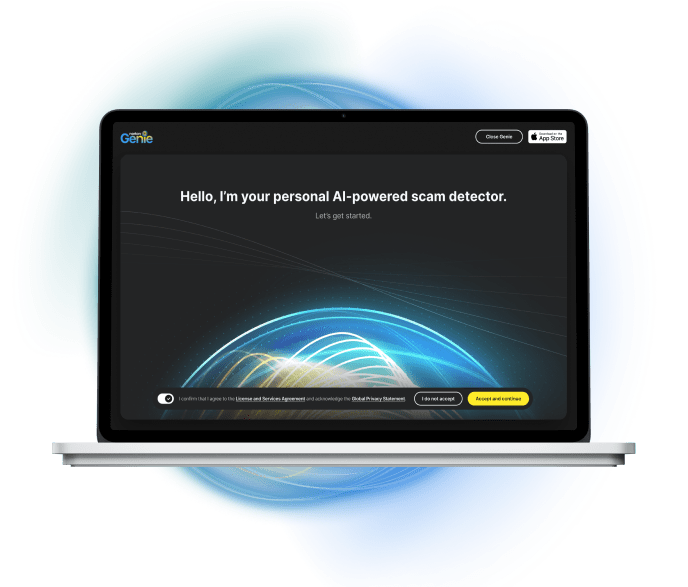 Phishing and smishing is at an all-time high
Know if a link is safe before clicking. Random links can lead to websites that could steal your personal info and more.
Expose email scams (phishing)
Expose text scams (smishing)
Give advice on what to do next
3.4

An estimated 3.4 billion spam emails are sent every single day2
 

50bn

It is estimated that in 2023, spam will cost the global economy $50 billion USD1

1.6bn

Over 1.6 billion spam texts were reportedly sent daily worldwide in 20221
1. 20+ Spam Text Statistics & Facts In 2023 | The Small Business Blog   2. The Latest 2023 Phishing Statistics (updated May 2023) | AAG IT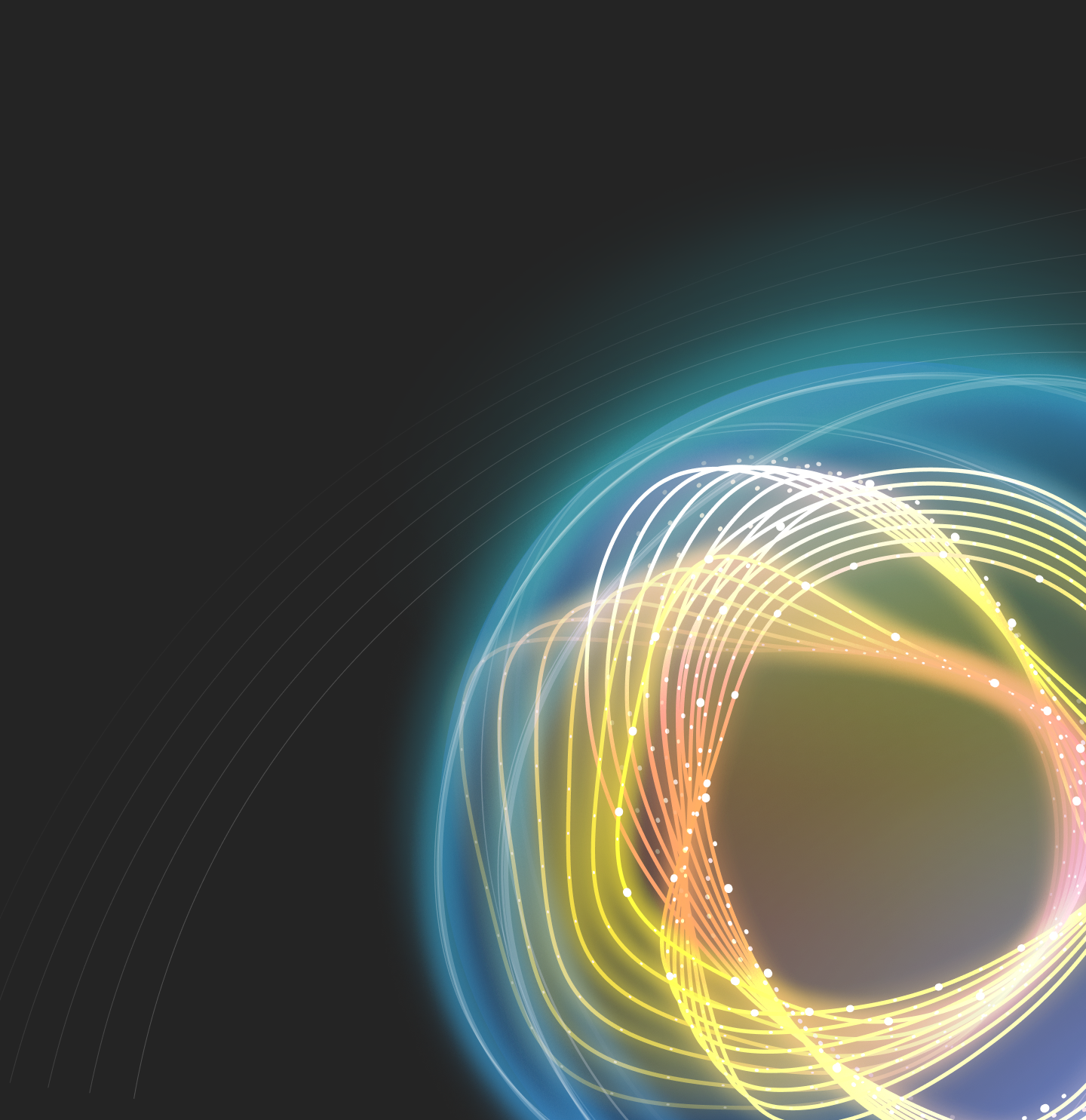 Frequently Asked Questions
How is Genie AI-powered?
AI influences the Genie experience in two key ways. The first is that it enables a conversation so you can ask it questions and it can provide answers. The second has to do with the scam analysis itself. The message is being scanned by the AI for several factors such as the intent of the message in order to build a threat assessment. From there, Genie can advise you whether the message is a scam. As Genie sees more scams, it will get smarter at detecting new threats.
What are some prevalent types of email and text scams?
Have you ever received a message telling you that your package has been delayed or that you've missed a utility bill payment? Scammers send enticing messages to get you to engage, so they can commit financial fraud or identity theft. It's common for them to send fake text messages promising free prizes, gift cards, or coupons; offering low or no interest credit cards; or promising to help you pay off your student loans. Also be aware of messages claiming there is suspicious activity on your account, or a problem with your payment information. Genie can help you discern if these messages are scams.
For more information, check out this Norton article on 20 types of phishing attacks and prevention. And here are common PayPal scams to know and avoid.
Why is it important to avoid clicking on links in texts or emails from unknown senders?
Clicking on links from unknown senders can have a variety of outcomes from no adverse effects to inadvertently downloading malware to your device. Phishing and smishing attacks are fast growing techniques cybercriminals use to trick you into clicking onto links in email, text messages, or social posts, with the purpose of taking you to a website where they can commit financial fraud or steal your identity.
Learn more about phishing and how to avoid these types of scams. Read how to recognize and avoid smishing attacks.
What iOS version is needed to make the Genie app work on iPhone?
The Genie app requires iOS version 14.0 and greater.
Where can I post my feedback on Norton Genie?
You can post your feedback on the Norton Genie community board.
How can I report phishing scams to the authorities?
If you want to share your messages with the authorities so they can investigate, there are a couple of options. If you are in the US, you can submit phishing emails to the Federal Trade Commission (FTC). The FTC is responsible for investigating and prosecuting fraudulent activities, including phishing scams. You can forward your phishing email to spam@uce.gov. To report a text message scam to the FTC, take a screenshot of the text message and forward the text to SPAM or 7726. You'll then receive an automated response.
If you are outside the US, you can submit phishing emails to the Anti-Phishing Working Group (APWG) at reportphishing@apwg.org. They are a non-profit organization with a mandate to help protect other internet users from fraud including phishing scams.
Count on decades of experience and a proven track record of keeping you and your family safer every day
Visit Norton