Smart tvs have become a favorite entertainment device as prices have decreased and quality has increased. They offer the convenience of a one-stop shop for your streaming services like Netflix, Hulu, Chromecast, Amazon Prime, and more. Smart TVs have their pros and cons. Find out the advantages and risks associated with smart TVs.
---
As manufacturers continue to produce more and more devices capable of connecting to the internet, you may welcome their convenience and the options they provide. However, you may not have considered the potential risks of smart TVs and other smart home device technology.
Smart TVs have become a favorite entertainment device as prices have decreased and quality has increased. Smart TVs offer the convenience of a one-stop shop for your streaming services like Netflix, Hulu, Chromecast, Amazon Prime, and more. Before you consider adding a smart tv to your connected home, let's look at some of the benefits and the risks.
What is a smart TV
Any TV that can be connected to the internet is a smart TV. A user can stream media services and run apps, browse the internet, access internet music channels, shop online, and access on-demand video services. Some smart TVs include voice-recognition virtual assistant services, like Amazon's Alexa, to help switch channels, modulate volume, and search programs.
Over the years, smart TVs have gained popularity. Users can easily navigate between streaming services and social media on their TV, the same as they would on a smartphone, tablet or computer. With the addition of voice commands, using these devices has become easier and more convenient. Smart TVs work well for gaming services, too. Picture quality and image sharpness is much better on a smart TV than on a regular TV. Some newer models of smart TVs have 4K Ultra HD content that provide high-quality picture and sound.
Smart TV brands* 
Sony: The company has a range of Android TVs that focus on picture and sound quality. It uses 4K HDR that makes gaming with PlayStation consoles a great experience. Newer models also have Chromecast and Google Assistant built in, increasing its convenience.
Samsung: Most Samsung smart TVs come with HDR Plus, which allows for sharper images and more realistic colors. Its Ultra Slim Array fine-tunes the backlight to enhance the deepness of the blacks and the brightness of the whites, giving the user a stunning sensation of contrast. Newer Samsung models come with Bixby Voice, a virtual assistant that helps find streaming and live TV shows with a Universal Guide, one remote, and voice assistance.
LG: Some of LG's latest smart TVs come with Google Assistant built in, allowing the user to stream their favorite programs and control compatible smart home devices, such as changing light settings, adjusting room temperatures, and more.
Smart TV streaming services*
Netflix: Netflix has been known to work well with smart TVs. However, the subscription-based streaming service requires smart TV manufacturers to meet certain criteria to be considered 'Netflix Recommended TVs.' A smart tv must meet 5 of the 7 criteria to carry the 'Netflix Recommended TV' logo:
The TV starts up instantly and apps are ready to use right away.
The Netflix app launches quickly.
The Netflix button on the remote control starts your TV and gets to Netflix with the press of a single button.
The Netflix app is easy to access from the icon on the TV menu.
The TV remembers what you were doing and wakes to the same place as when it was turned off.
The TV offers 1080p resolution with crisp text and clear images.
The TV comes with the latest version of Netflix.
Hulu : Some smart TVs come with Hulu's subscription-based service built into their hard drive. If so, you can simply log into your existing account and watch shows immediately. If not, then you can download the free app and connect to your Hulu account. Hulu also offers add-ons such as HBO, Showtime, and live tv.
Amazon Prime Video: Several smart TVs from brands like LG, Panasonic, Samsung, and Sony have the Amazon Prime Video app built into them. You'll need to log into your Amazon account to begin accessing the Amazon Prime Video content.
Sling TV: Many smart TVs come preloaded with the Sling TV app. If yours did not, it can be easily downloaded. The service claims to let you pick your channel lineup with favorites like ESPN, CNN, Disney Channel, and more.
What are some risks associated with smart TVs? 
In theory, a smart TV is a highly-evolved device that gives a user a lot of options to enjoy streaming, browsing, and gaming. But there may also be risks you want to consider before deciding to bring one into your living room.
Take privacy, for instance. An internet connected, voice-enabled TV has the capability track what you are searching and watching. With this information, they can serve ads catered to your way of life. Most smart TVs come with the option for you to turn off such tracking, but it may not be the default setting. It's smart to check the fine print before turning on or turning off features on your smart TV.
As with many internet-connected devices, smart TVs can also be hacked. Smart TV webcams could be hacked for spying, or malware can move from device to device through your router.
What are some ways a smart tv can be hacked
Webcam hacking is nothing new, but it has been getting more mainstream attention. Cassidy Wolf, a Miss Teen USA contestant, was targeted by hackers for blackmail after they used remote administration software to take photos of her in her bedroom, through her own computer. That problem could now be headed to your living room TV.
The threat isn't just being seen in your unmentionables. A hacker could just as easily use the webcam on your television to find out whether you have anything worth stealing in your home or when you are most likely to be gone for long periods. Other instances have involved hackers adjusting the volume remotely, rapidly cycling through channels, opening disturbing or explicit content, and accessing the connected smart TV's built-in browser to download malicious code.
The tracking problem
Even if you don't have a webcam on your television, it's important to understand that the company providing you with content could likely be tracking your browsing history and what you are watching. Much of that tracking is, ostensibly, in the name of serving you with advertising more attuned to your interests, but you should consider whether you're comfortable with that practice.
Outdated software
Smart TV manufacturers try their best to keep all software up to date, but in the rush to get new devices to market, security may be an afterthought. As technology changes rapidly, your 3-year-old smart TV may start looking ancient soon. This is where a secure router can play an important role, since it is essentially the entry point of the internet into your home, and the router can help provide some protection at that entry point.
Smart TV privacy risk news story
Smart TVs have raised a variety of consumer privacy issues, including these examples:
Vizio's privacy issue
In early 2017, Vizio got in trouble with the FTC. According to the FTC, Vizio had been tracking the viewing habits of its customers through its smart TV. This data was then sold to analytics and ad companies and used to target customers with ads. This action landed the company in legal trouble, costing it $2.2 million to settle the charges.
The main issue: The feature that collected the data was turned on by default, whereas other manufacturers allowed the user to opt-in or opt-out.
Samsung smart TVs security risk
A recent Consumer Reports investigation found that millions of Samsung TVs could potentially be controlled by hackers exploiting easy-to-find security flaws. These risks include allowing hackers to change TV channels, turn up the volume, play unwanted YouTube videos, or disconnect the TV from its Wi-Fi connection. Samsung has since addressed the problem with firmware updates.
How to avoid smart TV privacy risks
What's the simplest way to make sure that your smart TV isn't spying on you? Disconnect it from your home network. But if you want access to some of the perks of smart technology, consider avoiding TVs with built-in webcams. If you already have a TV with a webcam, go for the low-tech, but effective way of blocking it: a sticky note covering the lens, except for when you're using it.
The bottom line with smart TVs? You may not know who's trying to peer through your webcam or track your surfing and viewing habits. If that's an issue for you, consider contacting your government representatives to push for better regulation and transparency. Until that happens, keep these tips in mind and check your smart TV settings.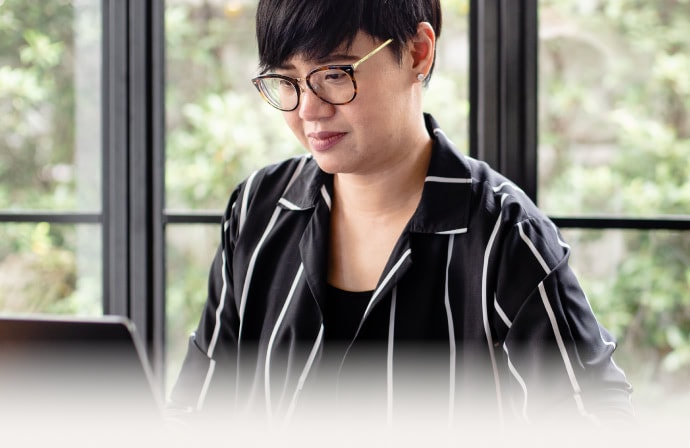 Try Norton 360 FREE 30-Day Trial* - Includes Norton Secure VPN

30 days of FREE* comprehensive antivirus, device security and online privacy with Norton Secure VPN.

Join today. Cancel anytime.
*Terms Apply

* The inclusion of brand names, websites or links does not imply endorsement or support of any such companies, brands, materials, products, and/or providers listed herein.
Editorial note: Our articles provide educational information for you. Our offerings may not cover or protect against every type of crime, fraud, or threat we write about. Our goal is to increase awareness about Cyber Safety. Please review complete Terms during enrollment or setup. Remember that no one can prevent all identity theft or cybercrime, and that LifeLock does not monitor all transactions at all businesses. The Norton and LifeLock brands are part of Gen Digital Inc. 
---