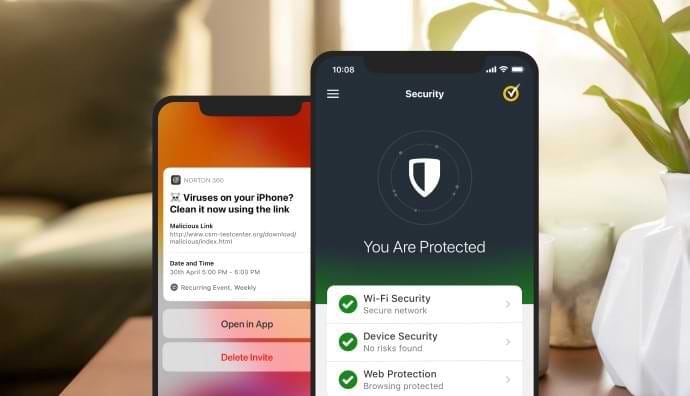 Screens are simulated and subject to change.
Norton Mobile Security for iOS
Do you need security and virus protection for iOS?
Yes! If you log into email or use public Wi-Fi, online threats may get into your iPhone® or iPad®.
Your iPhone and iPad carry a lot of information and may be at risk. Norton Mobile Security has an all-new iOS app for its subscribers which helps deliver powerful, effective protection for your device and personal information against cyber threats and online scams.
If you have a current Norton Mobile Security subscription, download and activate Norton Mobile Security for iOS using your Norton Account from the App Store, now.*
$29.99/first yr
1 year of protection for 1 mobile devices
Price shown is for first year.
See subscription details below.*
Your purchase of Norton 360 Deluxe and Norton 360 with LifeLock plans also includes Norton Mobile Security. Get its features and additional protection for your devices, online privacy and personal information, all in a single solution.

uses advanced scanning to help detect and notify you about unsecure Wi-Fi networks, and those under attack by cybercriminals eavesdropping on your Wi-Fi connection to steal or glean personal information from the web sites you visit, accessing other devices on your network, infecting your device with malware, or using your internet connection to perform illegal activities.
helps detect and safeguard you from navigation to fraudulent and malicious websites when using your preferred browser, app, SMS, MMS, Email, and social networking sites.
lets you know when your operating system has vulnerabilities, so you can take action to help protect your device against cybercriminals that could take control of it or steal your personal information.
See a 30-day analysis of previously scanned Wi-Fi networks, websites, device vulnerabilities, and risky apps.
These attacks use links to fraudulent sites that compromise your personal information. iMessage not supported.
Suspicious Network Detection
See potentially unsafe Wi-Fi networks in your area and get notified when a Wi-Fi network you're using is compromised.
Identify iOS Calendar invites with risky links that may compromise your information.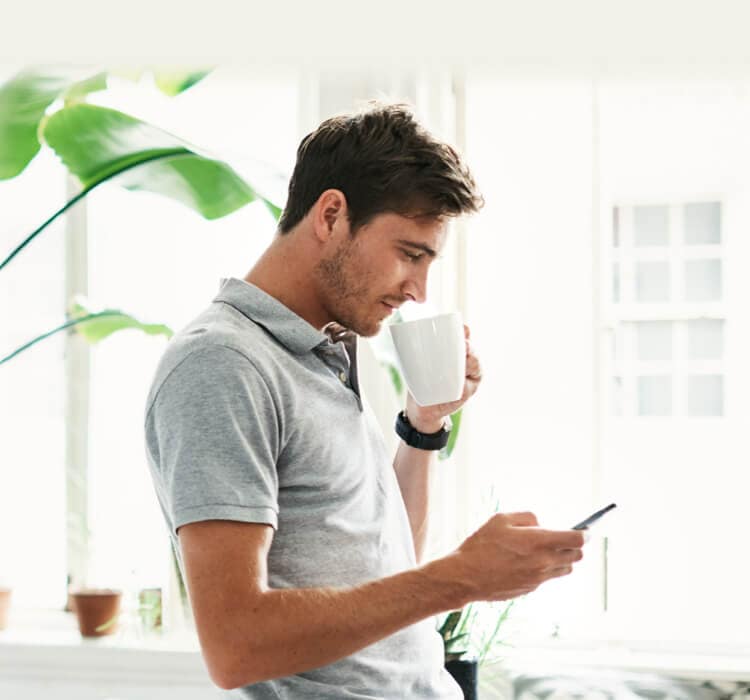 Help keep your iPhone and iPad secure from viruses, malware, phishing and more by knowing answers to 3 simple questions.
Can iPhones get viruses?
Yes. Your iOS device can fall prey to virus and malware attacks. Norton Mobile Security for iOS can help protect against the various ways these attacks can get into your devices, such as Wi-Fi man-in-the-middle attacks, malicious websites, and operating system exploits.
Are there email scams for iPhone users?
Yes. Your iPhone may fall victim to phishing or virus scams just like any other device. This is where you are asked to click on a link for various reasons and end up providing your personal information (like user names and passwords to your accounts) and inviting this way viruses and malware. This may occur through email or text messages.
Are there risks with an outdated operating system?
Yes. An outdated operating system can create vulnerabilities and opportunities for cybercriminals. By notifying you of the latest security patches and iOS updates, Norton Mobile Security iOS helps you keep your operating system up to date – one of the best ways to stay secure from old vulnerabilities and exploits.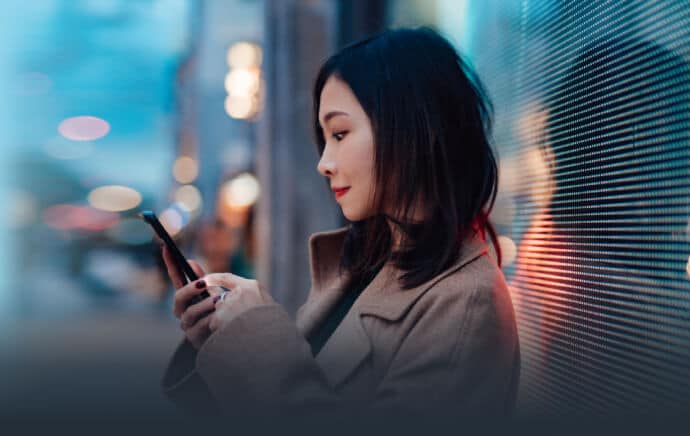 Protection you can trust.
Norton Mobile Security for iOS is a living intelligence engine powered by advanced technology. This includes integrated technology which employs predictive online threat techniques. Our engineering team is constantly striving to bring our valued customers additional device, network and information protection in this increasingly unsafe cyber world.
* Important Subscription, Pricing and Offer Details:
Your subscription begins when your purchase is completed (or otherwise, when your payment is received). You must download and install on each device, or complete enrollment to get protection. Special offer(s) may expire at any time at NortonLifeLock's discretion.

By subscribing, you are purchasing a recurring subscription which will automatically renew.

The price quoted today is valid for the offered introductory term. After that, your subscription will be billed at the applicable monthly or annual renewal price here. The price is subject to change, but we will always send you a notification email in advance.
You can cancel your subscription here, or by contacting Member Services & Support at 844-488-4540. For more details, please visit the Refund Policy.
Your subscription may include product, service and/or protection updates and features that may be added, modified or removed subject to the acceptance of the License and Services Agreement.
The number of supported devices allowed under your plan are primarily for personal or household use only. Not for commercial use. If you have issues adding a device, please contact Member Services & Support.
The Norton and LifeLock Brands are part of NortonLifeLock Inc. LifeLock identity theft protection is not available in all countries.
Copyright © 2022 NortonLifeLock Inc. All rights reserved. NortonLifeLock, the NortonLifeLock Logo, the Checkmark Logo, Norton, LifeLock, and the LockMan Logo are trademarks or registered trademarks of NortonLifeLock Inc. or its affiliates in the United States and other countries. Firefox is a trademark of Mozilla Foundation. Android, Google Chrome, Google Play and the Google Play logo are trademarks of Google, LLC. Mac, iPhone, iPad, Apple and the Apple logo are trademarks of Apple Inc., registered in the U.S. and other countries. App Store is a service mark of Apple Inc. Alexa and all related logos are trademarks of Amazon.com, Inc. or its affiliates. Microsoft and the Window logo are trademarks of Microsoft Corporation in the U.S. and other countries. The Android robot is reproduced or modified from work created and shared by Google and used according to terms described in the Creative Commons 3.0 Attribution License. Other names may be trademarks of their respective owners.
Enter a promocode and click "Apply"