Now that summer is here, its not just families that will be filling airports and hotels. While other people may be vacationing, business travelers will continue to work their way around the country...
---
Now that summer is here, it's not just families that will be filling airports and hotels. While other people may be vacationing, business travelers will continue to work their way around the country and the world. According to the quarterly GBTA Sentiment Business Traveler Index, these working travelers face challenges in staying productive on the go — and mobile connectivity is a large factor in the success of a business trip. Although often overlooked, staying secure on public Wi-Fi should also be an important part of business travel.
Wi-Fi All the Time
Because most business is now conducted online — from holding meetings to submitting expenses — perhaps it's not surprising that business travelers demand Wi-Fi. In fact, the Global Business Traveler Association's October 2015 report says 83% of business travelers want Wi-Fi wherever they go. And 76% are more likely to book a hotel if it offers free Wi-Fi.
Planes, Trains, and Automobiles
As Millennials increasingly hit the road for work alongside their more seasoned Baby Boomer colleagues, that demand for Internet connections 24x7 is likely to increase. These business travelers are the ones for whom the phrase, "There's an app for that," truly resonates. Booking a flight, looking up a train schedule, reserving a hotel room, and ordering an on-demand car service via apps are second nature to Millennial travelers. And although people may expect the always-connected Millennials to be more security smart than Baby Boomers, the Norton Cybersecurity Insights Report found 44% of Millennials were victims of online crime in 2015, while only 16% of Baby Boomers suffered the same experience.
Whatever generation they belong to, business travelers should be aware of the dangers of using the Wi-Fi they demand, which can range from malware distribution to man-in-the-middle attacks, a form of eavesdropping. Some 64% would like to see airlines allow passengers to use mobile devices and online services while in flight. Many major airline carriers do offer Wi-Fi on specific routes, for limited amounts of time. However, as with other popular public Wi-Fi options such as in airports themselves, in-flight Wi-Fi services often are not secured. A journalist recently learned this the hard way when a hacker revealed that he'd been able to read the journalist's emails in flight.
Hotel Hotspots
Hotel Wi-Fi hotspots should be another area of concern for road warriors. The fact that 76% of business travelers are willing to select their hotel based on the availability of free Wi-Fi emphasizes how much they use this service.
However, although many guests probably think that using hotel Wi-Fi is safe, it's almost impossible to know if that free Wi-Fi, like any other hotspot in a public space, is secured and won't possibly expose sensitive corporate information to eavesdroppers or hackers.
5 Tips to Stay Safe on Public Wi-Fi During Business Travel
Due to the security risks of public Wi-Fi, companies are beginning to ban employees from using free hotspots. Without a security solution such as a VPN (virtual private network), it's up to workers to take precautions before they use a hotspot. Here are some tips to try to minimize the security risks of logging on to unsecured public Wi-Fi networks:
Use a VPN to ensure that all data transmitted during your online sessions is encrypted. Norton Secure VPN is a VPN app that automatically turns on when it detects a public Wi-Fi network, protecting your information by encrypting it and making your public connections private. Learn more about Norton Secure VPN here.
Select password-protected public Wi-Fi hotspots, even if this means you may need to buy a cup of coffee in order to get the password at a cafe.
Turn off any auto-connect settings for Wi-Fi or Bluetooth on your devices.
Pay attention to which network you're selecting. Cybercriminals set up rogue hotspots with names that are close to that of the legitimate network you may be trying to connect to. If possible, check the name with your host if you're not sure.
Don't access any sensitive information or online accounts that contain such data if you're on public Wi-Fi.
Traveling for work may seem a mixed blessing to some people, but if travelers take the time to be careful about connecting to public Wi-Fi they'll at least be able to rest easy knowing that their information and privacy — and their company's — are protected.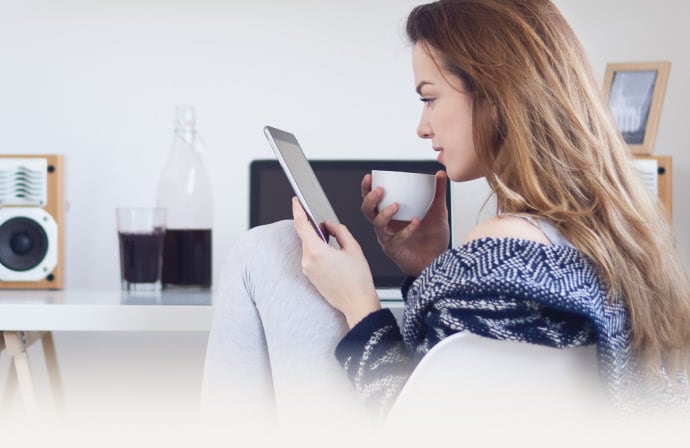 Your device may not be secure.
Public Wi-Fi isn't always safe. Without the right protection, your personal information could become public. Protect yourself with Norton Secure VPN. It encrypts the personal information you send and receive on public Wi-Fi to help keep it private wherever you want to log on.

Help protect your information with Norton Secure VPN.
Editorial note: Our articles provide educational information for you. Our offerings may not cover or protect against every type of crime, fraud, or threat we write about. Our goal is to increase awareness about Cyber Safety. Please review complete Terms during enrollment or setup. Remember that no one can prevent all identity theft or cybercrime, and that LifeLock does not monitor all transactions at all businesses. The Norton and LifeLock brands are part of Gen Digital Inc. 
---