Gaming communities come in many forms, including gaming Subreddits, gaming forums, and gaming websites. We've rounded up 32 of the most active outlets for you to choose from.
---
The inclusion of apps, brands, service providers or links does not imply endorsement or support of any developer, company, product, and/or provider listed herein, nor should it be inferred that NortonLifeLock is endorsed by, sponsored by, or affiliated with such brands.
When the world went digital in light of the COVID-19 pandemic, many of us fell back on one of our oldest pastimes as a social lifeline: video games.
Weddings, birthday parties, even graduations, video games stood in as a venue for each of them in 2020, marking a resurgence in gaming like we'd never seen before — a resurgence that even exceeded the film industry's revenue in 2020. What's more, 40 percent of gamers indicate they'll continue playing video games long after the pandemic.
Whether you picked up a controller for the first time or dusted off a dated one, you probably found yourself craving not only the competition but also the socialization gaming provides. That's where gaming communities can continue fueling this need, and they can in many forms:
Gaming Subreddits
Gaming forums

Gaming websites

Here, we're overviewing each type of gamer community, the social benefits of gaming, plus how to stay Cyber Safe when engaging in these online gaming communities through post-pandemic times.
What are gaming communities?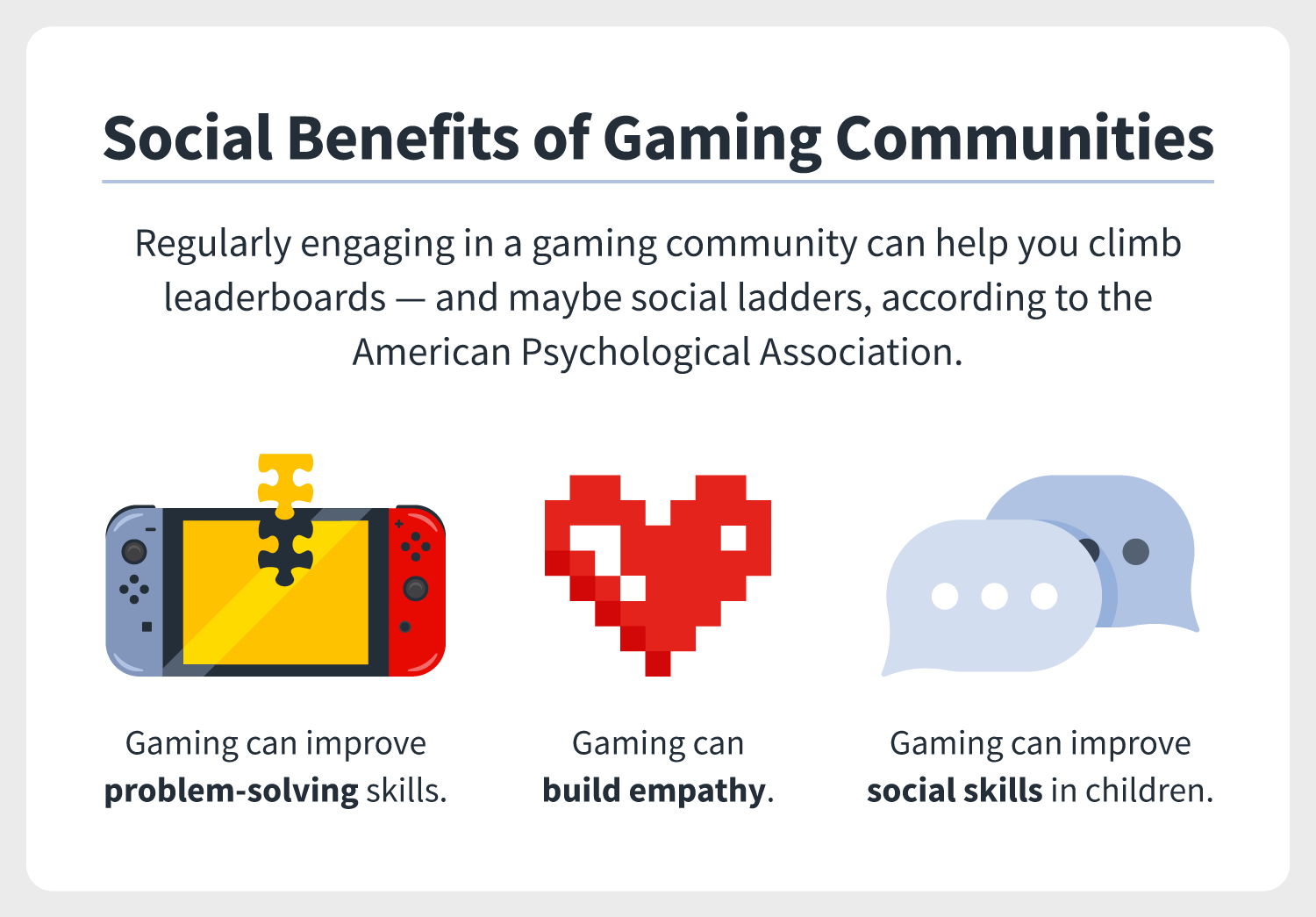 Gaming communities are websites, forums, and message boards where fellow gamers engage with one another online. They're meant to enrich a gamers' experience by serving as a go-to source for everything from troubleshooting hardware issues to finding advice to climb leaderboards and maybe even tips about the newest Twitch extensions.
 In addition to enriching gamers' gameplay, gaming communities and gaming itself also have a slew of social benefits. According to the American Psychological Association, gaming can improve social skills in children, especially multiplayer games; gaming can build empathy; and strategy games can improve problem-solving skills.
Where can I find gaming communities?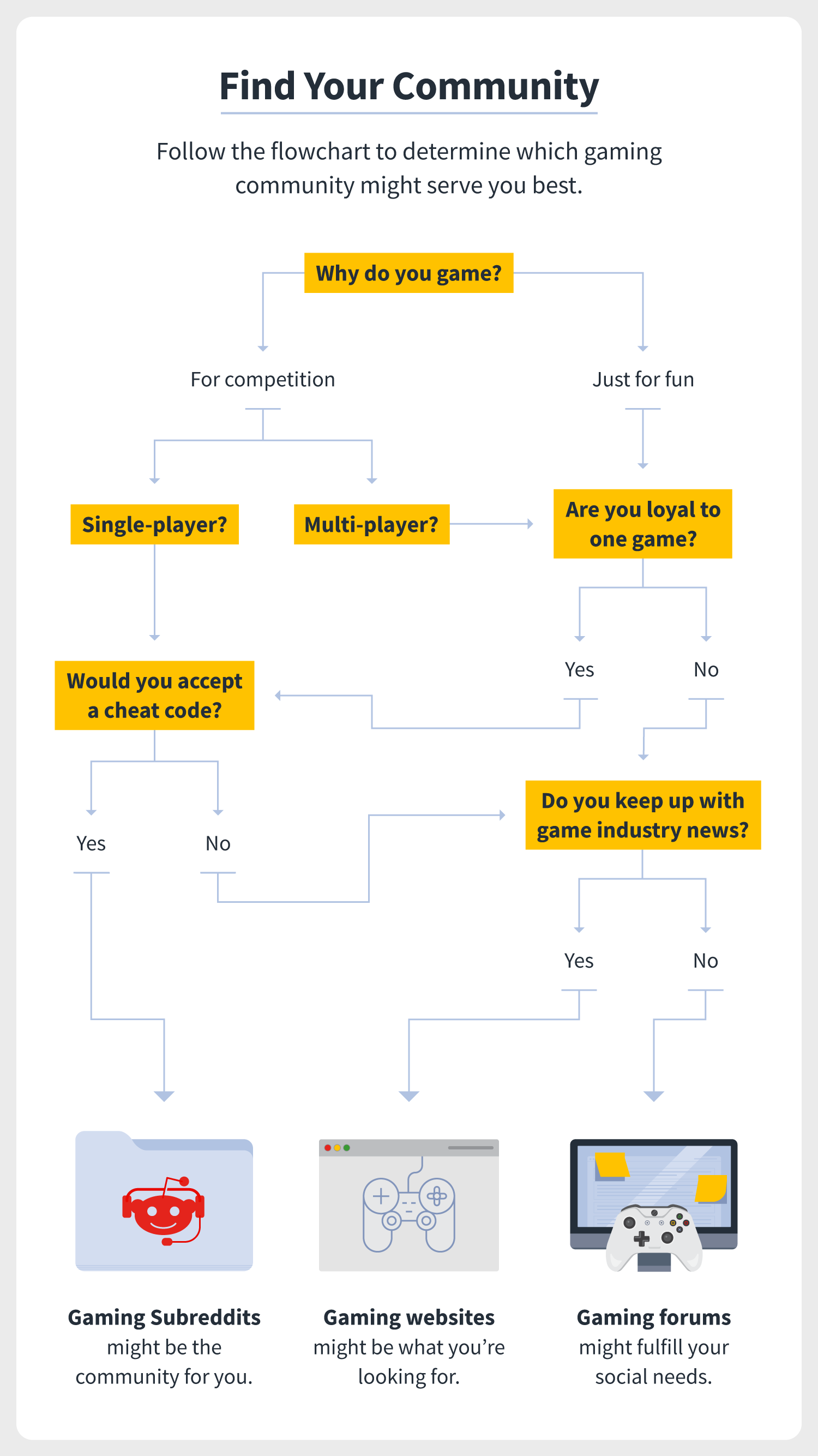 Whether you're a gamer who recently came out of retirement or you're new to the gaming scene, you might be wondering, "What is the best gaming community?"
Nowadays you don't have to look far, especially if you're loyal to a specific title or developer. For instance, there are
a handful of game-specific communities, including for titles and developers like:
And this is just the beginning of all the gateways into gaming communities. Here, we're overviewing three of the most popular gamer community types and the most active gaming communities belonging to each. Finding fellow gamers just got way easier.
Gaming Subreddits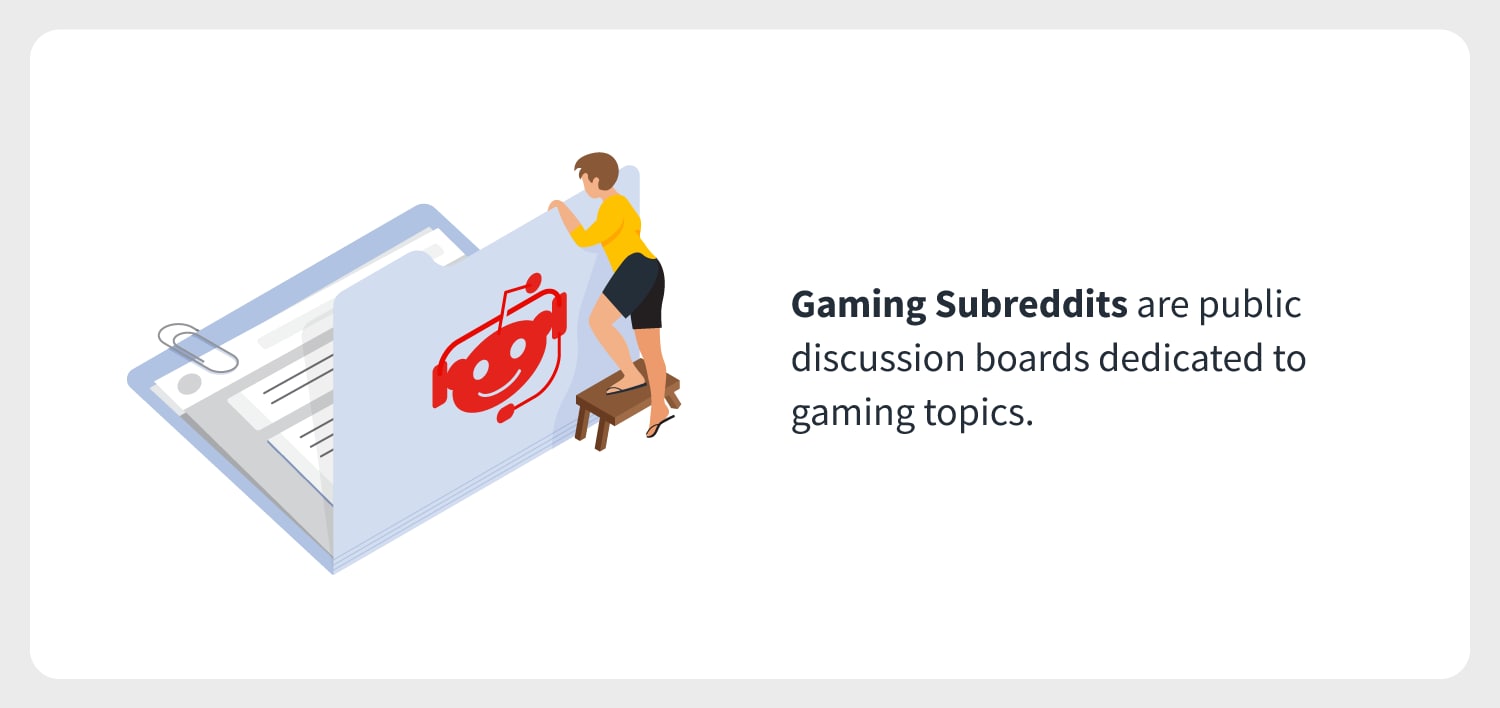 One of the most common places for avid gamers to connect, the discussion board website Reddit has scores of Subreddits committed to gaming. The broadest of all is r/gaming, with almost 30,000 subscribers, but the following narrow in on more niche video game topics and interests.
1. r/pcgaming
"A Subreddit for PC gaming news and discussion," according to the Subreddit's tagline, r/pcgaming has 2.6 million members, and the conversations span from breaking news about PC games to one-off giveaways and evolving weekly topics. For instance, tech support queries and "What are you playing" Q&As to introduce members to new titles.
2. r/buildapc
You might think of the r/buildapc Subreddit as an offshoot of r/pcgaming in that it's all about building computers. It boasts 3.9 million members and friendly discussions about building a desktop — for gaming or not.
3. r/GameDeals
If you're a gamer and a deal-seeker, the r/GameDeals Subreddit is a surefire gaming community for you. With 814,000 members, the forum allows you to filter video game deals by retailers and developers.
4. r/gamedetectives
To borrow the Subreddit's tagline, r/gamedetectives has been "solving ARGs (alternate reality games) since 2015" and has surpassed 18,200 members to date. The forum's focused on resolving the riddles of ARGs, making amateur ARG enthusiasts feel not so lost in their solo endeavors to resolve gaming mysteries.
5. r/patientgamers
If you're a gamer who's not all too worried about the latest releases and instead enjoys seeing others play out the hype, you might fit right into this gaming community. The r/patientgamers Subreddit waits at least a whole year after a game's release to discuss the title. With 434,000 members to date, this gamer community is a welcoming place for gamers who aren't tapped into the gaming news or maybe even a little nostalgic.
6. r/battlestations
The r/battlestations Subreddit is a space entirely committed to posting photos of your gaming setup. The premise is as simple as it sounds, with the Subreddit serving as a photo parade of enviable gaming setups that might inspire yours and the 2.4 million members' own.
7. r/MechanicalKeyboards
Only avid gamers might realize the importance of a well-engineering keyboard — and the r/MechanicalKeyboards Subreddit is where they congregate to geek out over them. With 892,000 members, this gaming community is space to discover new keyboard models, add-ons, and sales. 
8. r/Gaming4Gamers
G4G for short, r/Gaming4Gamers deems itself a "middle ground between the purely-for-fun Subreddits and the more serious ones." Translation: This gaming community welcomes everyone. With 103,000 members strong, the gaming community promotes freedom of opinion.
9. r/GirlGamers
As the name indicates, r/GirlGamersGamers is a Subreddit dedicated to, per the tagline, "gamers who also happen to be women, probably." The 144,000-member gaming community discusses general gaming topics and trends but also serves as a safe space to air out grievances from online encounters.
Gaming forums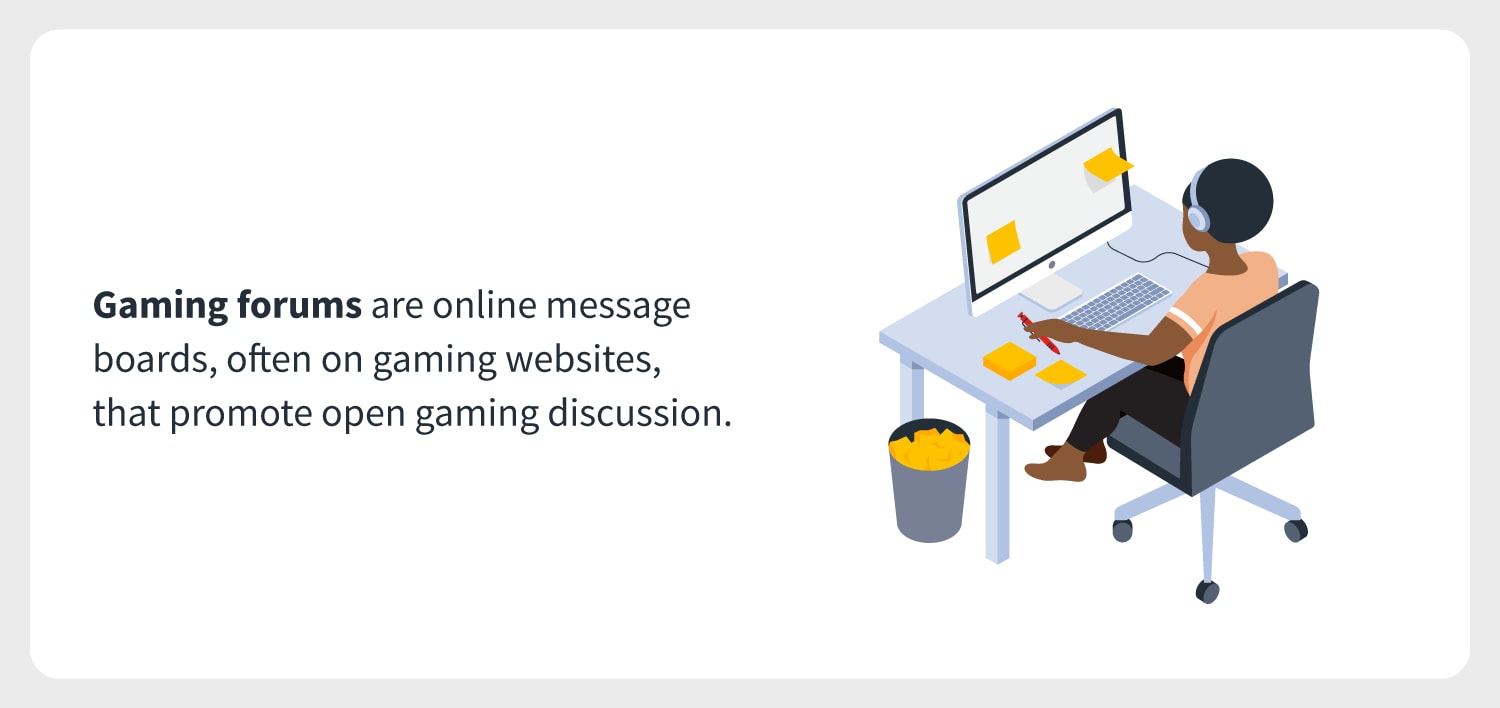 Essentially a message board for fellow gamers, gaming forums can be an offshoot of a gaming website or a gaming developer's blog. The following are a mix of standalone gaming forums and ones associated with video game websites, all providing a space to swap tips, discuss new releases, and generally rave about video games. Account registration is required for most gaming forums.
10. Gaming Latest
Gaming Latest is dedicated to discussions surrounding PS4, Xbox One, PC, and Nintendo. Account registration is required to engage in the online community, including its subforms that narrow in on each platform, gaming gear, and anime, among other topics.
11. NeoGAF
The GAF in NeoGAF stands for Gaming-Age Forums as an ode to the video game website it was born out of. Today, this gaming forum boasts several subforums, including some that veer off-topic from gaming and into politics. NeoGAF gaming community members are known as "gaffers."
12. GameFAQs
Have video game questions? GameFAQs has answers. This gaming community is ideal for amateur gamers, as it provides walkthroughs of video games and even has experts on hand to answer questions in under an hour. For the more impatient gamer types, the forum also offers cheat codes.
13. AVForums
AVForums, as the name alludes, tackles topics beyond just video games. Gamers, of course, would find most use of the "Video Gaming Forums" on the site, which is divvied into subforums that hone in on specific platforms, in addition to a general chat forum to find reviews of video games and gaming gear.
14. PC Gamer Club
PC Gamer is foremost a PC gaming site, operating as an around-the-clock news site and print magazine. But it's the site's paid gaming forum, PC Gamer Club, that's a draw for avid gamers. Members receive perks upon sign-up, including access to PC Gamer's Discord server, giveaways, Steam keys, and a subscription to PC Gamer magazine.
15. Ars Technica gaming forums
Take one glance at Ars Technica's homepage and you'll gather that the site covers more than just video games. Gamers are best to head straight to its "Gaming & Culture" coverage, especially those in search of video
game reviews. Dive into its gaming forum for open discussions about gaming setups and gear, among other gamer topics.
16. VGR gaming forums
VGR is a news site for video games and esports. But for gamers looking for community, they'll be hard-pressed to find a warmer welcome than those on VGR's gaming forums. It has a dedicated "Introductions" board to ease new members into the community and the topics only spiral from there, ranging from video game deals to gaming news and competitive gaming discussions.
17. Steam Discussions forums
Considering the popularity of Steam among PC gamers around the world — it's a cloud-based video game library — it should come as no surprise that the website also has a wildly popular gaming community via its "Steam Discussions" forums. To boot: Steam's world-renown reputation shines here, too, as it also has forums dedicated to different languages, such as German and Spanish. 
Gaming websites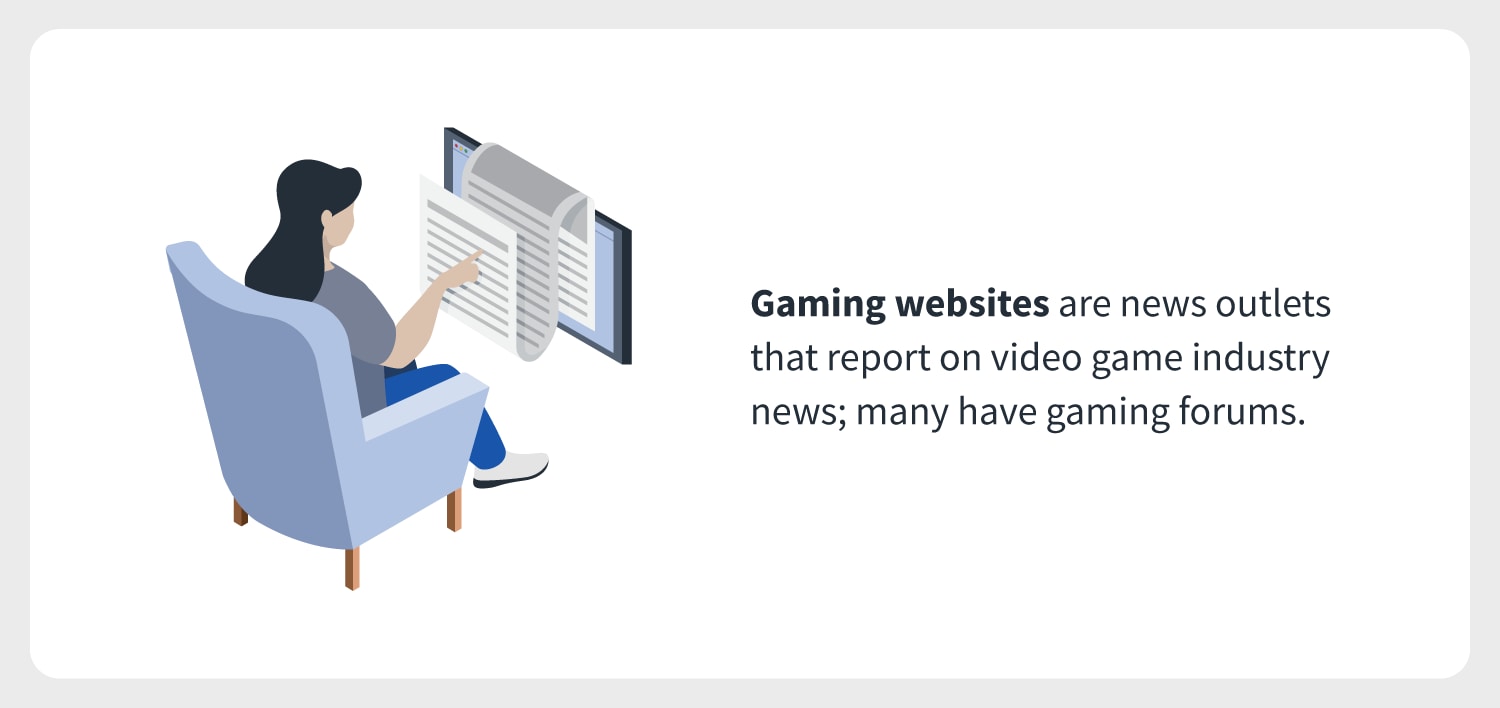 Gaming websites are essentially media outlets dedicated to video game industry news. Most all have gaming forums associated with them to promote open discussion. Generally, though, gaming websites serve as a one-way communication to deliver updates on the video game industry to video game enthusiasts.
18. GameRevolution
Playstation, Xbox, Nintendo, PC games, GameRevolution shares news about every which platform — and it delivers honest reviews of new releases. It also hosts a gaming forum that's split into "Gaming" and "Retro Gaming."
19. Penny Arcade
If you're nostalgic for comic strips and a gamer, Penny Arcade might be a gaming community worth tapping into. The brainchild of webcomics Jerry Holkins and Mike Krahulik, this site posts new comic strips pertaining to video games on Monday, Wednesday, and Friday and has gaming forums.
20. The Escapist
A video game website through and through, The Escapist takes a traditional journalism approach to its coverage of the video game industry in that it publishes interviews with game developers, opinion pieces from regular columnists, and also video game reviews. As supplements to the site, The Escapist also has a podcast and forums to openly geek out with fellow gamers.
21. Racketboy
Retro gamers rejoice! Racketboy is a site dedicated entirely to "old-school console gamers." It posts regular roundups of "the rarest and most valuable" games for each old-school console, in addition to hosting a gaming forum with message boards spanning different genres of games, platforms, technical advice, among more general discussions.
22. IGN
IGN attracts new and veteran gamers alike to its site, thanks in part to its friendly reputation. The site's beloved for its easy-to-understand walk-throughs of video games, as well as video game forms — or "Boards" — that are categorized by gaming platforms.
23. GameSpot
GameSpot has created an active gaming community via its website and the gaming forums attached to it. You'll find video game developer news, gamer reviews, and video game deals on the homepage and discussions
ranging from platform-specific topics to politics and troubleshooting tips in its gaming forums.
24. MMORPG
MMORPG stands for massively multiplayer online role-playing games and that's precisely what this eponymous video game site is dedicated to, covering the most hyped, newest releases, and highest-rated games in this genre. In addition, it has a gaming forum to openly discuss all things MMORPG-related. Don't overlook the right sidebar that lists games to play, purchase, or preorder in essentially one click.
25. The Verge
An offshoot of Vox Media, The Verge is a tech-centric news site that dabbles in everything from sciences to cars and video games in between. That's in the form of delivering news about gaming industry events, new releases, and honest reviews of gaming gear.
26. VideoGamer.com
VideoGamer.com is, you guessed it, a news site for video gamers. They primarily focus on PS4, Xbox One, and PC game news and reviews, which they post weekly. The site's also spun off a podcast whereby the editors overview what they've been playing recently, in addition to video game industry news.
27. Eurogamer
A British video game website, Eurogamer divvies up its coverage by platforms — PC, PlayStation, Xbox, and Nintendo — and also dives into video game hardware reviews, in addition to reviews of video games. The site has an affection for Pokémon GO, Destiny 2, and Call of Duty, publishing many how-to guides and walk-throughs for these titles. Finally, Eurogamer also boasts a very active video game forum — it's updated by the minute with new user comments.
28. Newgrounds
For Newgrounds, it really does take a village to operate. As the site self-proclaims, it's "the first website to offer real-time publishing for games and movies." In other words, it's user-generated, meaning users — oftentimes video game developers but also film and audio creators — submit their content and the audiences engage with it and provides feedback. Color yourself a beta tester and game on.
29. Adventure Gamers
Adventure game aficionados might consider Adventure Gamers a walk down memory lane. The site's entirely committed to these narrative-style puzzle games, providing reviews of new and upcoming titles, walk-throughs, and platform-specific coverage of adventure games. Hardcore adventure game fans might want to wander over to the video game forum on the site.
30. Polygon
Another offshoot of Vox Media, Polygon is almost entirely committed to video game news and culture, with sprinkles of other pop culture content. You'll find video game reviews and updates on new releases, but also thought pieces on the gaming industry and its nuances. It also has video game forums divvied by platform
types and popular games.
31. Rock Paper Shotgun
"We are a PC site. Just PC, nothing else." And that pretty much sums up this UK-based website's focus. Written by gaming critics with an affection for, yes, PC games, Rock Paper Shotgun is known for its "best of" roundups, as well as video game and video game hardware reviews, among other video game industry news.
32. Giant Bomb
Founded by former GameSpot editors Jeff Gerstmann and Ryan Davis, Giant Bomb does more than just write about video games. It also produces videos, podcasts, and manages a video game forum. If watching others game bring you joy, you might want to check out their "Unprofessional Fridays" videos, whereby Streamers record themselves playing relaxing video games.
8 dos and don'ts of engaging in gaming communities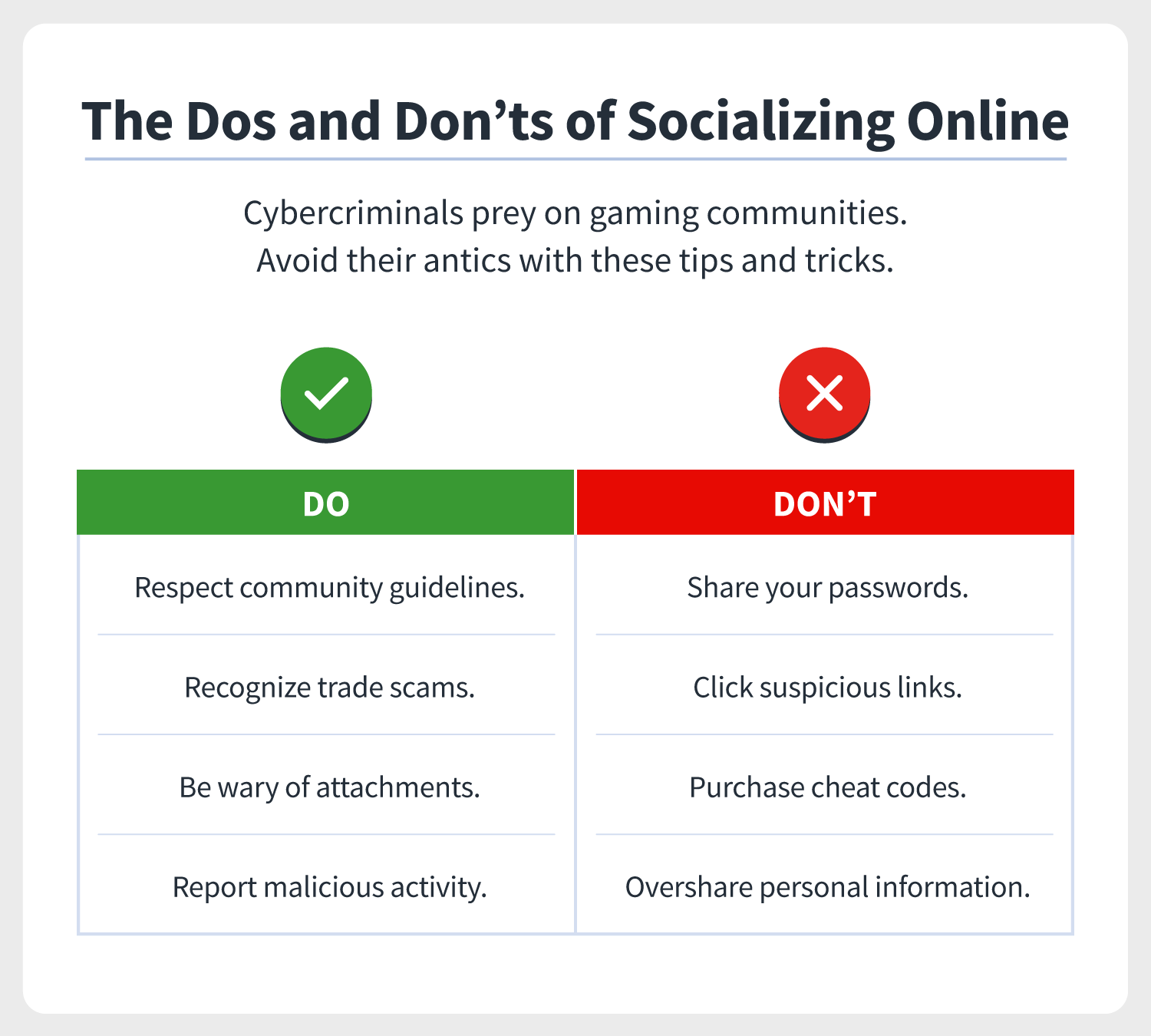 Similar to video game security measures, cybersecurity, as it pertains to gaming communities, requires gamers to approach every social interaction with caution and be proactive about squashing cyber threats when they see them.
That's because, just as all eyes are on this burgeoning industry, so are the eyes of cybercriminals, who attempt to find weak spots — and weak targets — in gaming communities by way of attempting phishing attacks, data breaches, and even identity theft.
Yet, a NortonLifeLock study provides that U.S. gamers aren't as on guard as they should be, with:
73 percent of gamers saying they would never fall for a gaming scam.
51 percent of gamers thinking their gaming account(s) will never be hacked.

Nearly 1 in 5 gamers admitting they'd rather have their browsing history published publicly than have their gaming account hacked.

However, there's a privacy paradox here in that 62 percent of gamers also admit they worry gaming will become less secure in the future.
All this to say, gamers must keep their cybersecurity top of mind not only during their gameplay but also when they seek out these gaming communities to supplement it. To help, take note of the following dos and don'ts when socializing with fellow gamers online.
1. Do respect community guidelines
Most all gaming communities have clearly stated community guidelines that outline what you're allowed to discuss in their public forums. Be respectful of these as to not taint the experience of fellow gamers — and as to not to get kicked out of a gamer community.
2. Don't share your passwords (and do change them often)
For all their social benefits, gaming communities can also be a gateway to account takeovers and identity theft, especially when gamers begin sharing their passwords and account logins to help one another surpass levels or troubleshoot issues.
You could be handing your account keys over to a cybercriminal who might poach your payment methods and personal information from your account and use them to commit identity theft. For these reasons, never share your passwords in gaming communities and, for safe measure, change them often.
3. Don't click that link
Gaming communities are meant to be a place to exchange thoughts and information, perhaps even in the form of links out to other gaming forums or websites. However, gaming community members should always be wary of clicking links that they didn't ask to receive or that merely look suspicious — these could be phishing attempts that lead to account takeovers.
4. Don't purchase cheat codes
Video game cheat codes are precisely what they sound like: Codes to cheat on a video game. And some gaming communities allow members to purchase them on their site. Most video games have strict rules against cheating, so gamers should not purchase cheat codes from the start.
But it's also best to avoid soliciting cheat codes, as cybercriminals also consider cheaters easy targets and might manipulate cheat-code-seeking community members by way of social engineering or merely sell cheat codes that contain malware. Hey, as the saying goes, cheaters never prosper.
5. Don't overshare personal information
According to the NortonLifeLock study, 46 percent of U.S. gamers say they don't think twice about sharing personal information when signing up for gaming accounts. Sharing your real name, address, birthday, or other pieces of confidential data could mean you're opening yourself up to possible identity theft.
You're best to avoid including identifying factors in your username. Also, consider using a VPN to disguise your IP address while engaging in gaming communities.
6. Do recognize trade scams
Similar to cheat codes, trade scams are when another gaming community member convinces you to swap information such as software, verifications, or CD keys, under false pretenses that can result in a malware infection or account takeover.
As a rule of thumb, only accept trades from verified users and known friends. Also, recognize these red flags of a potential trade scam:
adamant users asking you to trust them
requests for you to urgently complete the trade

multiple trades requested

7. Do be wary of attachments
Some gaming communities allow users to send attachments to one another, perhaps to share cheat codes, trades, or other resources. It could be the case, however, that an attachment is from an unreputable source and contains malware.
For this reason, never click an attachment you didn't requested and be wary of any sent by an unknown user. Also, consider using anti-virus software to protect your device in the event you download a phishy attachment.
8. Do report malicious activity
If you're a target of a video game scam or a bystander of one, be sure to report the incident to the gaming community host immediately to ensure other community members aren't harmed. This also includes events of cyberbullying, which can make gaming communities a poor experience for everyone.
There are so many social benefits to joining a gaming community. Easing up on your cybersecurity could mean you lose them all — on top of your account logins. Remember to be a digital citizen first  and a gamer second, and you're sure to have an enriching gaming community experience.
So, what are you waiting for? Go on, find your fellow gamers, and game on!

Editorial note: Our articles provide educational information for you. Our offerings may not cover or protect against every type of crime, fraud, or threat we write about. Our goal is to increase awareness about Cyber Safety. Please review complete Terms during enrollment or setup. Remember that no one can prevent all identity theft or cybercrime, and that LifeLock does not monitor all transactions at all businesses. The Norton and LifeLock brands are part of Gen Digital Inc. 
---