A computer driver is software that tells your device how to interact with the hardware connected to it. If you own a Windows PC, you've likely received plenty of messages urging you to regularly update your drivers. In this guide, we'll discuss the purpose of computer drivers and explain how Norton Driver Updater can help enhance your device's security and keep it running smoothly.
What does a driver do in a computer?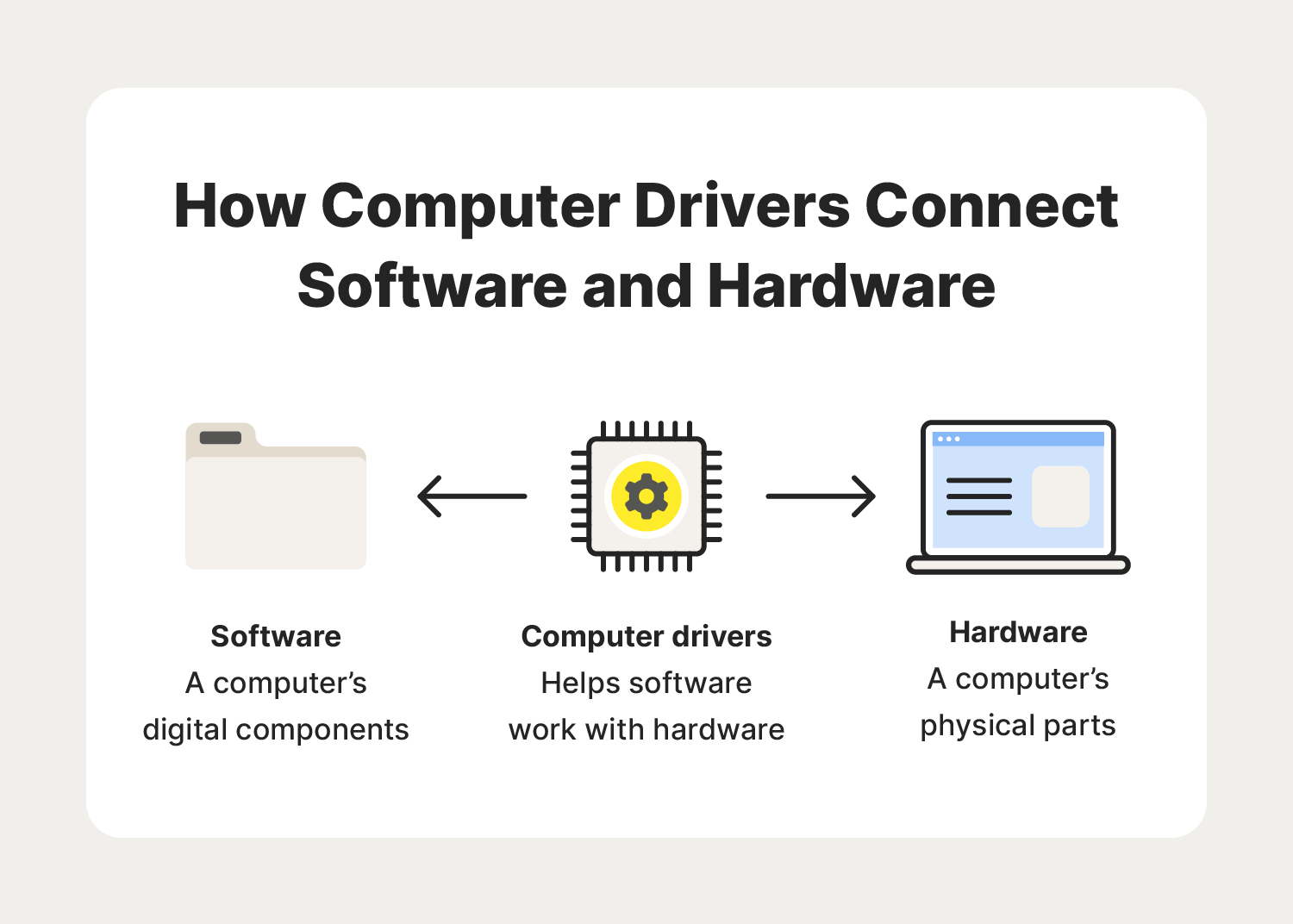 A computer driver is software that helps your device's hardware run properly. Software refers to files, programs, and data, while hardware refers to the physical peripherals like a computer monitor, mouse, and keyboard. Simply put, software is digital and hardware is tangible.
Computer drivers serve as a bridge between hardware and software by communicating with your device's operating system to ensure connected hardware, like a printer or graphics card, works properly. Updating your computer drivers is like renovating that bridge every few months or so.
Are there different types of computer drivers?
Computer drivers come in multiple categories that each serve different purposes. Here are common drivers you'll find on virtually every device:
Graphics drivers interact with your device's graphics card to influence image quality.
Audio drivers interact with speakers connected to your device to produce sound.
Modem drivers help your device connect with routers.
It's also possible to download drivers from the internet onto most modern devices. If you own a Windows PC, you can use the Device Manager to find all the drivers on your computer. On Mac, you can update your drivers by opening "System Settings," going to the "General" tab, and selecting "Software Update."
Why do computer drivers need updates?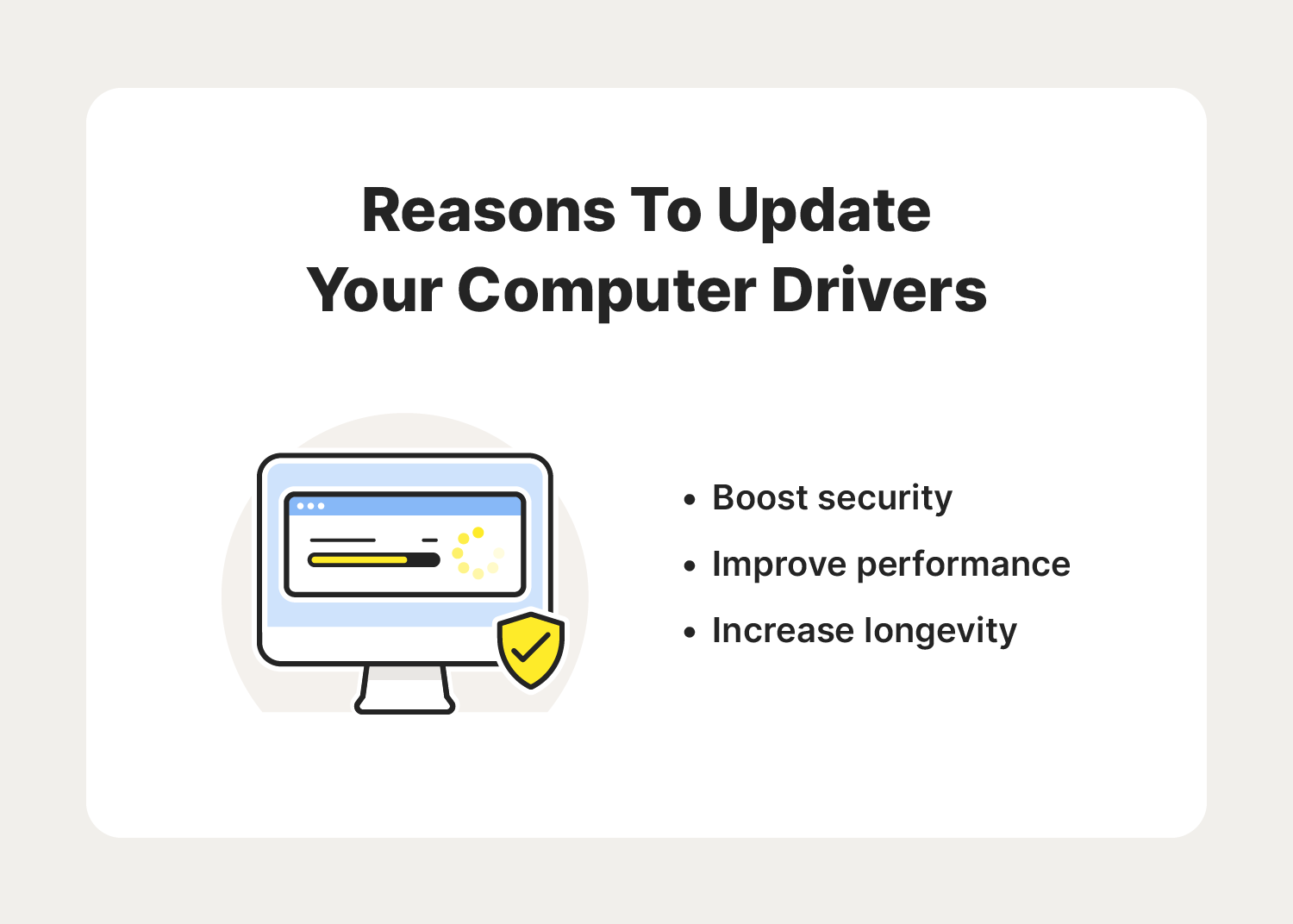 Computer drivers need regular updates for a variety of reasons, like functionality and fixing unexpected glitches. Here are three of the most common reasons devices need updates.
To boost security
Outdated software is typically much easier for hackers to exploit. Cybercriminals can find long-standing vulnerabilities in an outdated driver and slip in malware your device won't be able to detect. The Windows Security app can create and maintain a vulnerable driver blocklist to ensure people don't accidentally download faulty programs onto their computers.
To improve performance
Computer driver updates can make your computer faster and maximize the performance of any new hardware devices you want to use. For example, you'll need to update your Bluetooth drivers to use the latest pair of wireless earbuds.
To increase longevity
Regularly updating your drivers is like taking a car in for a routine tune-up. If you regularly make those updates, your device may last for several extra months or years. Conversely, outdated drivers can cause devices to expend excess energy and burn themselves out more quickly. Developers will also release updates to improve a driver's effectiveness and prevent it from using up too much battery or CPU power.
Many modern devices can routinely check for driver updates, but they may not automatically download them. Norton Driver Updater tackles both issues and ensures the drivers on your device are compatible with its operating system.
How do I know if my computer drivers are up to date?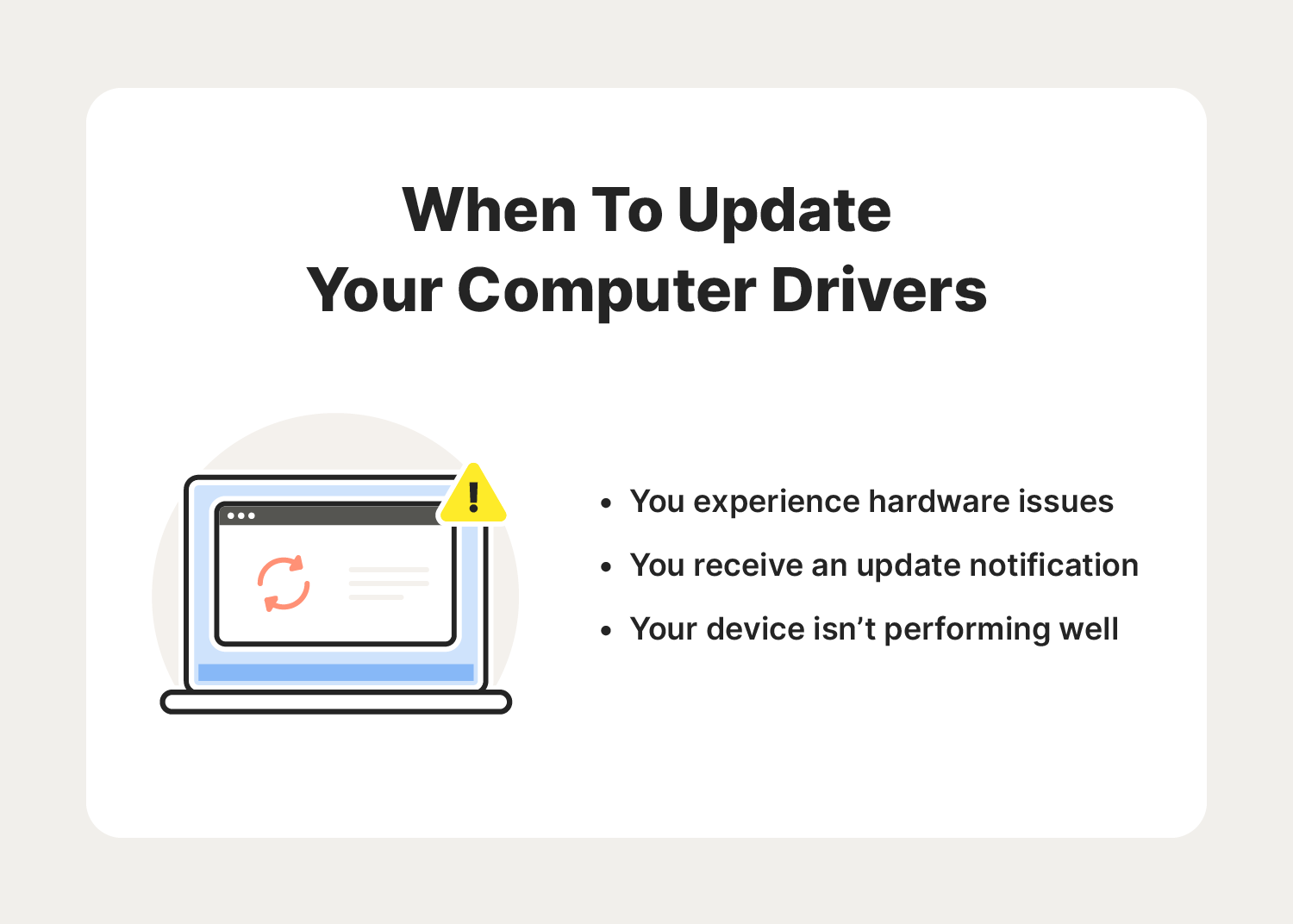 Modern computers do an excellent job of voicing their needs. You'll often receive emails and push notifications when your drivers need to be updated. If you have Windows 10 installed on your computer, you'll find notifications for driver updates in the Windows Update Center. To access this tool, click on "Start," then "Settings," then "Windows Update."
Most operating systems allow users to manually check if their computer drivers are up to date. On Windows 10 and 11, users can check by opening "Windows Settings," clicking on "Updates & Security," and then selecting "Windows Update." If you want to be extra thorough, you can open "Device Details" and search for the driver version number.
4 best practices for computer driver updates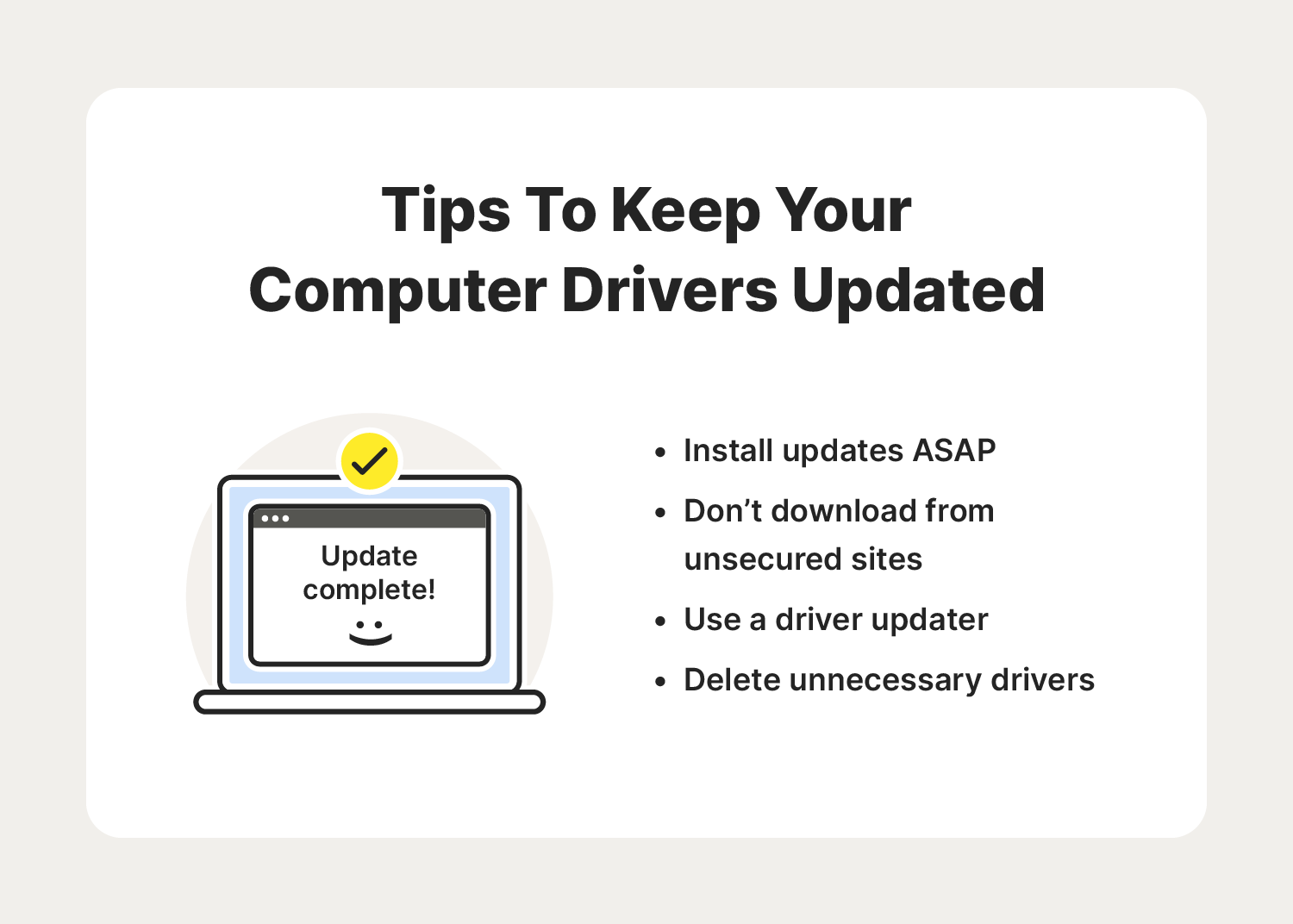 Maintaining a computer has tons of nuances, and the same applies to updating drivers. When in doubt, follow these four best practices.
Install updates ASAP: As tempting as it might be to postpone that pending update, waiting to install a computer driver update can slow your device and leave it vulnerable to hacks and glitches.
Delete unnecessary drivers: Once a driver becomes completely obsolete or unsupported by its developers, delete it from your device. For example, Nvidia regularly releases new graphics drivers that replace older versions of their software.
Don't download from unsecured sites: Check if a website is safe before downloading any files that could contain malware or spyware.
Use a driver updater: Driver updaters automatically find and install the newest driver upgrades available for your devices. There are many free driver updaters available, but these may not be as comprehensive as their priced alternatives. Norton Driver Updater will not only help you install new drivers, but it will also check if they're safe to use.
Incorporating these tips can drastically improve your computer's performance and save you time and money in the long run. Sometimes a slow device just needs a driver update, not a trip to the repair center.
Help improve your PC with Norton Driver Updater
While any of the tips we've outlined above are intuitive, some are quite time-consuming. Finding a comprehensive computer driver updater can be tricky depending on your needs. Norton Driver Updater offers a wealth of features, including an automatic update scanner and driver backups to help keep your devices running efficiently and safely.
Editorial note: Our articles provide educational information for you. Our offerings may not cover or protect against every type of crime, fraud, or threat we write about. Our goal is to increase awareness about Cyber Safety. Please review complete Terms during enrollment or setup. Remember that no one can prevent all identity theft or cybercrime, and that LifeLock does not monitor all transactions at all businesses. The Norton and LifeLock brands are part of Gen Digital Inc. 
---