From email to online banking, most of us use passwords daily. Use these password statistics to help inform strong password security and keep you safe.
---
From private conversations to retirement savings, so much of your personal life lies behind passwords.
Because of this, hackers may direct their efforts toward stealing your passwords to gain access to your files, money, or even your identity. Fortunately, prioritizing your password security can help reduce these risks.
Now that you know about the importance of strong password security, you can use these password statistics and tips to inform how you should create a strong password.
Top password statistics to know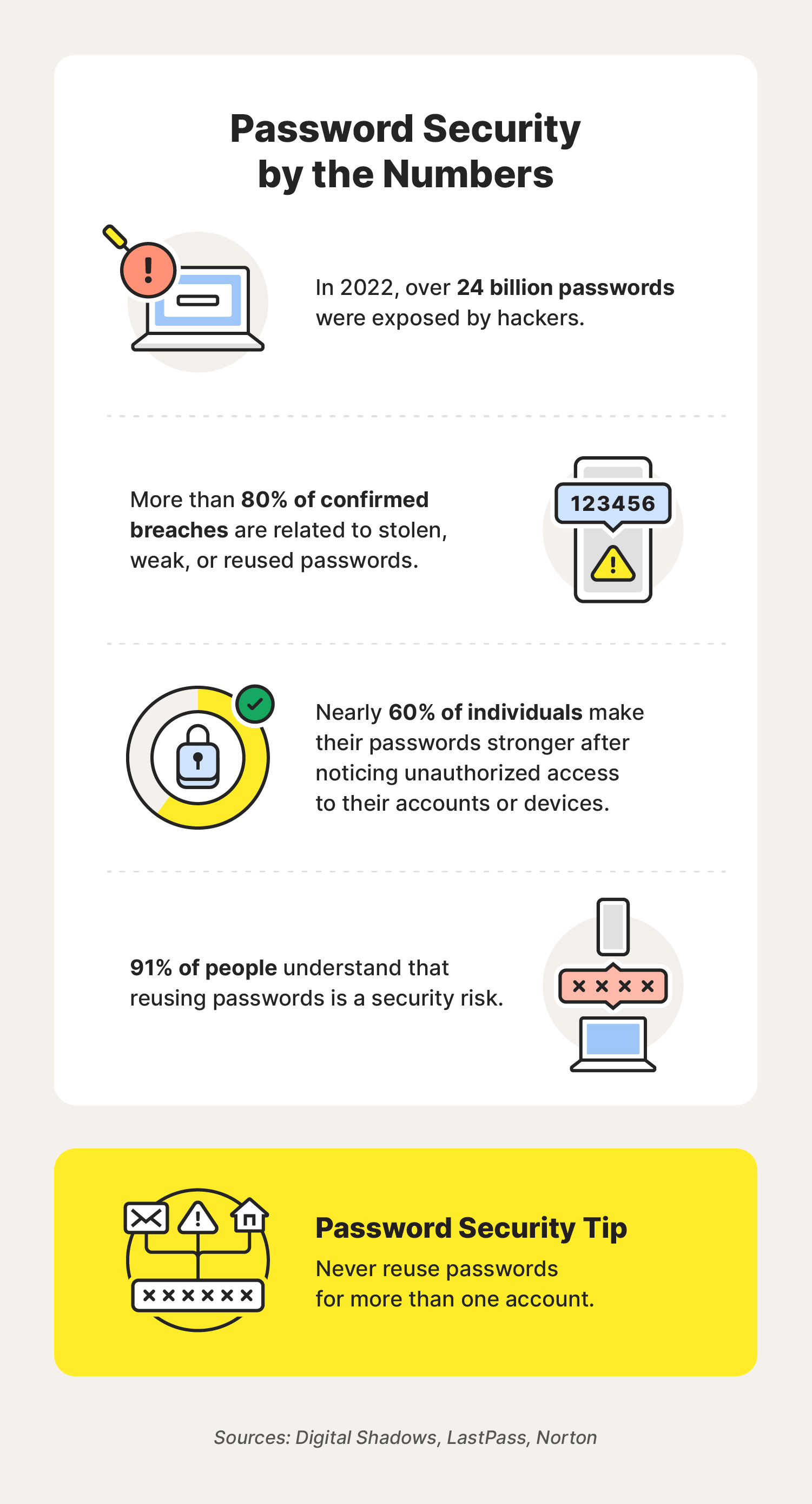 Let's face it. If you use any internet-connected devices or accounts, you've had to create a password. And because passwords are so common, it can be easy to let them fall by the wayside as you aim to stay safe online.
Before diving into the nitty gritty of password security statistics, here are the top statistics to know:
Weak password statistics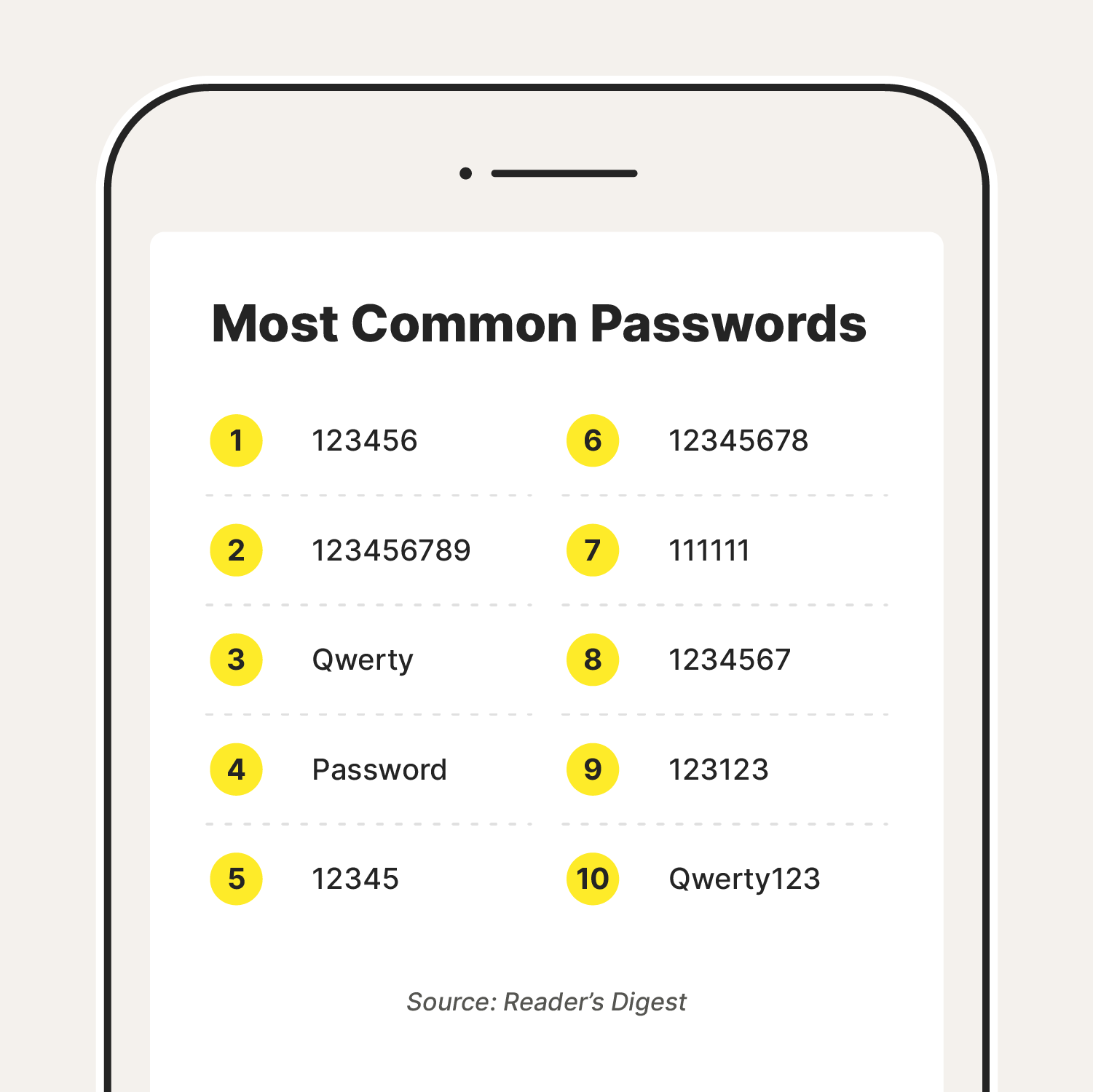 When it comes to creating a hack-proof password, strength is key. You should also create unique passwords for each of your accounts and devices. To help you better understand the dangers of using a weak password, read through these weak password facts and statistics.
Password breach statistics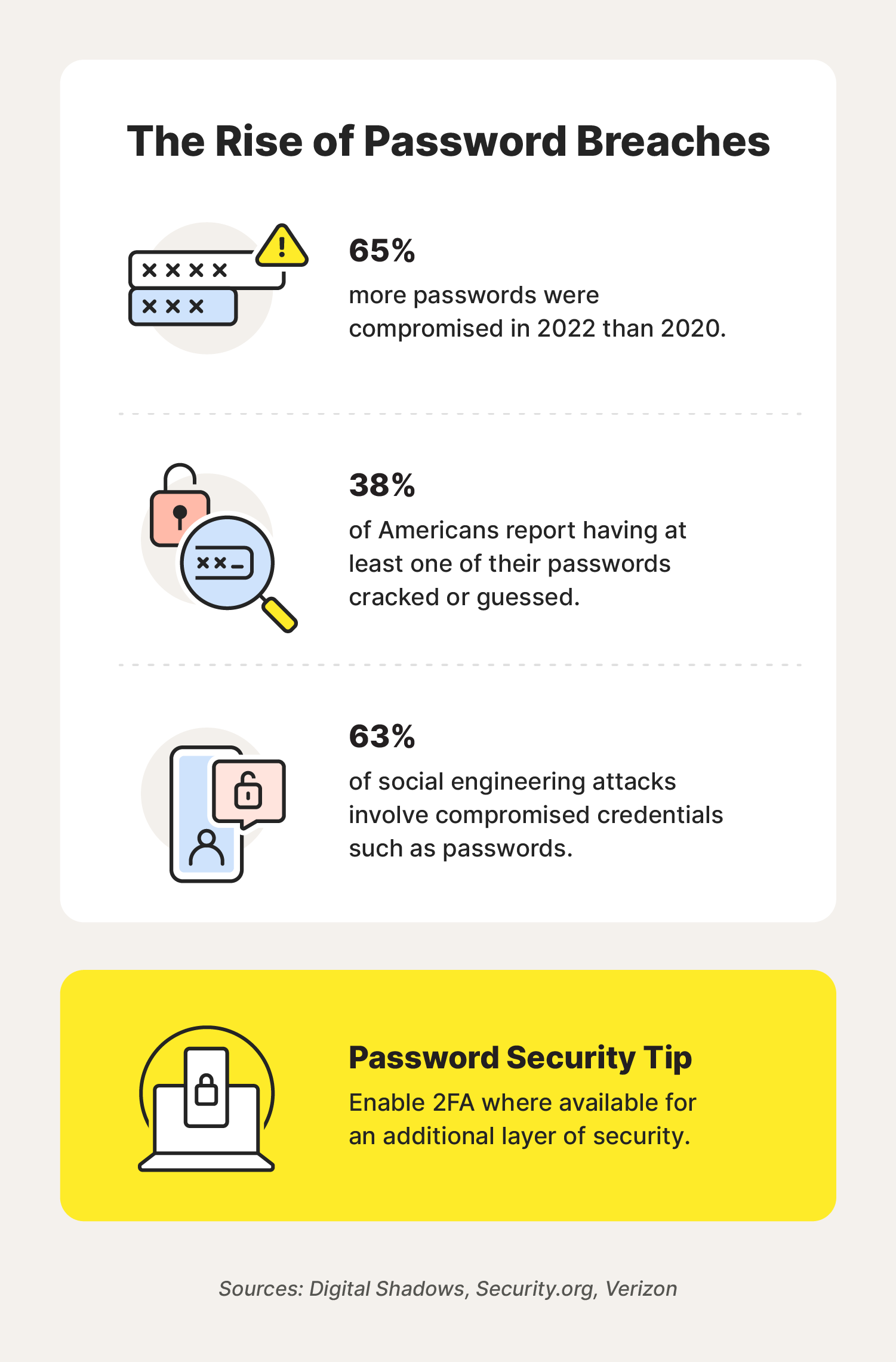 Because so much important information is locked behind passwords, hackers may utilize cyberattacks like smishing or website spoofing to try and steal your password. Or your passwords could end up exposed in a data breach that could leave your account vulnerable to attacks.
To get a clear picture of how common these breaches are, pore over these password hacking statistics:
Personal password use statistics 
Like most things, password use and opinions about it can differ from person to person. To get a better understanding of people's personal password use, from their bank accounts to social media, check out these personal password statistics:
Business password statistics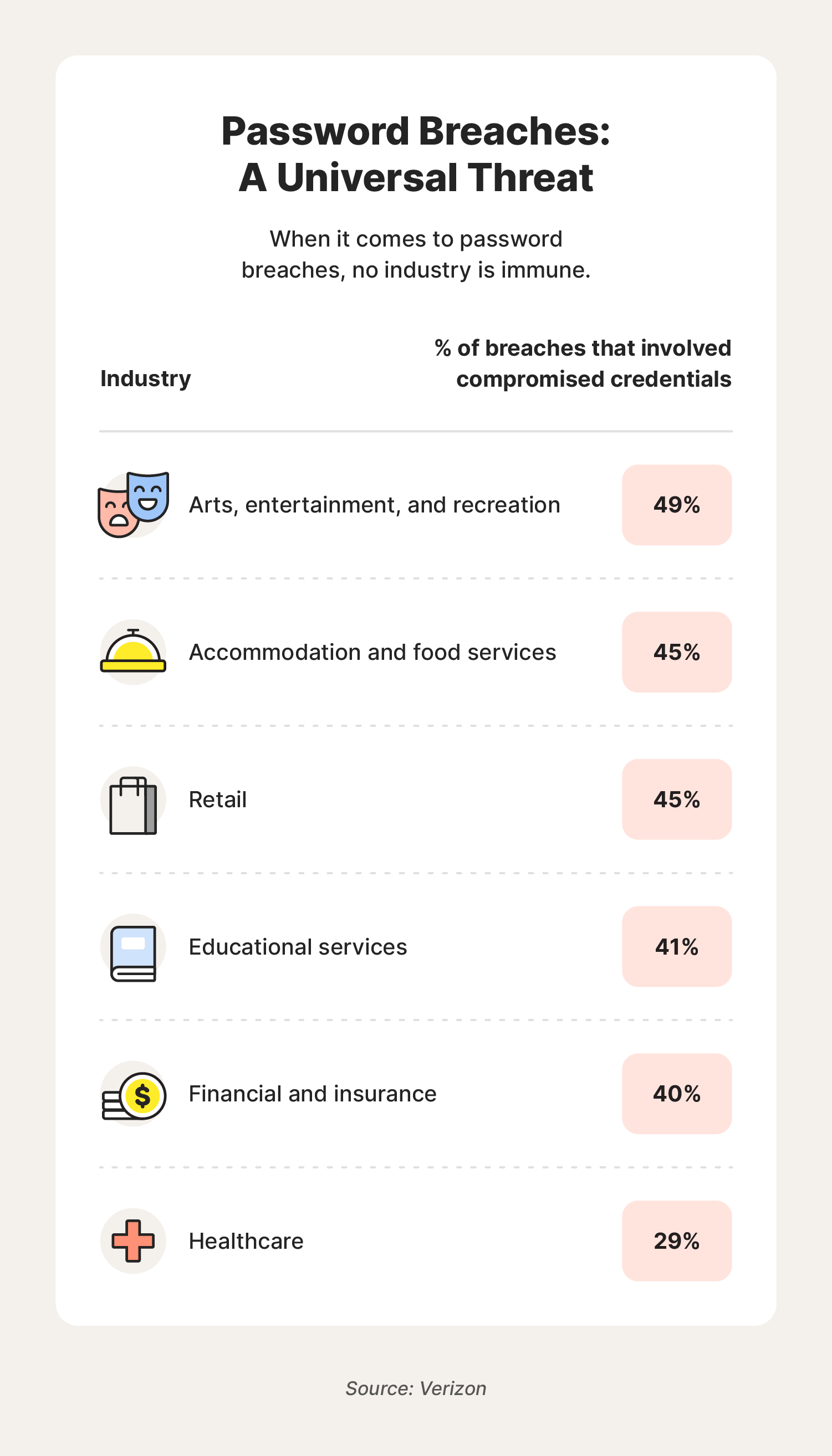 In comparison to your passwords for personal use, you may have different thoughts about your passwords in the workplace. On top of that, you may have to follow stricter cybersecurity protocols, with over 65% of organizations having a set password policy for their employees. To see how cybersecurity and password use differs in the workplace, read through these business password statistics:
Password management statistics 
From password managers to sticky notes, people use a variety of methods to help keep track of their passwords. To help you see how the masses are managing their passwords, check out these password management statistics:
11 tips for improving your password security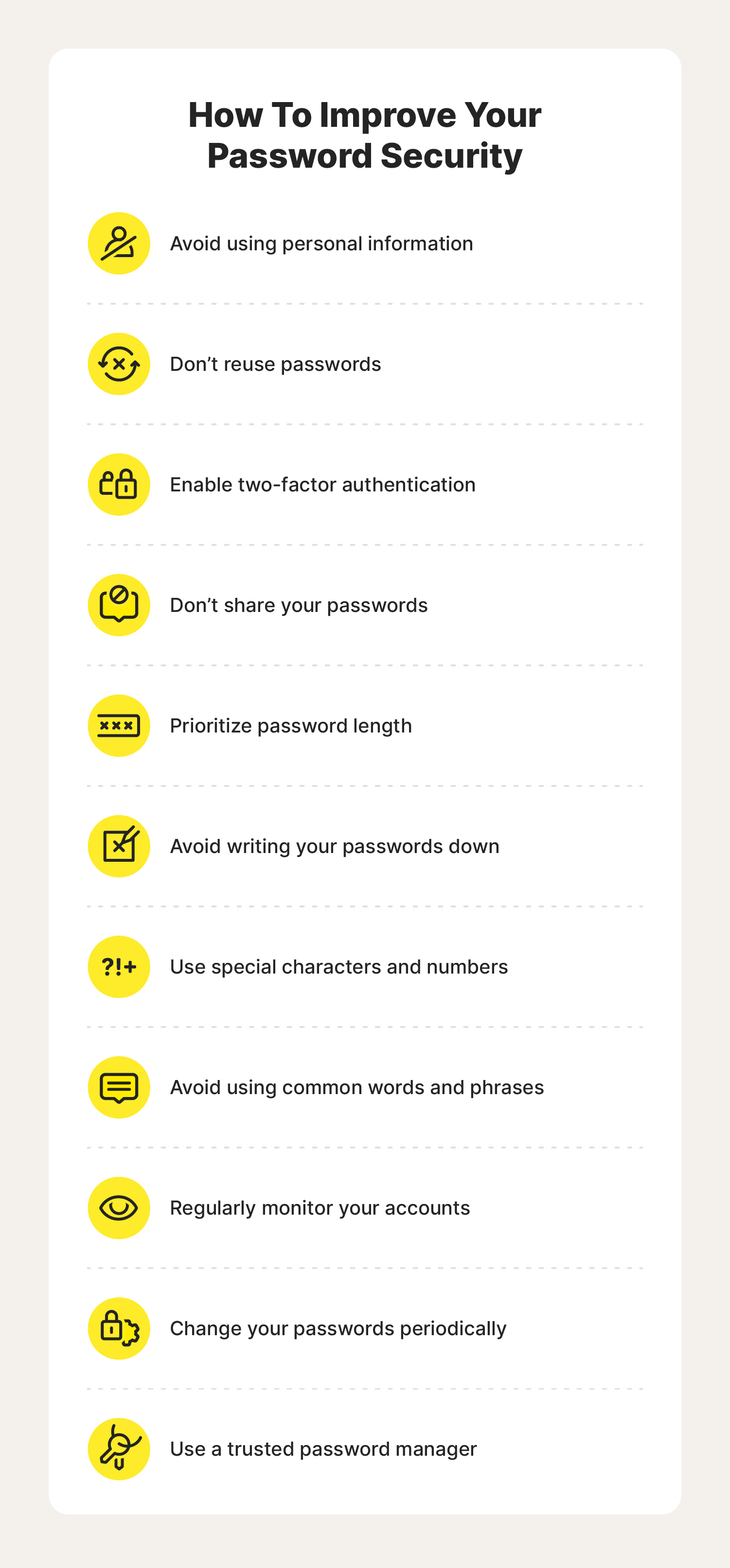 Now that you understand the importance of strong password security and the many ways hackers try to take advantage of it, you may wonder how you can improve your password security.
To help ensure you're doing the best you can to increase your Cyber Safety, follow these password security best practices:
Avoid using personal information: When creating a password, avoid using personal information like your name, birthday, or pet's name.
Use a unique password for every account: Try to avoid using the same password for everything. That way, if a hacker finds one of your passwords, your other accounts will remain secure.
Enable two-factor authentication: Enabling 2FA wherever possible provides an additional layer of security between a hacker and your personal information.
Don't share your passwords: To ensure your passwords never end up in the wrong hands, avoid carelessly sharing them with others.
Increase your password length: By increasing the length of your passwords, you can make it harder for hackers to guess them. It's recommended that you create a password longer than 16 characters.
Avoid writing your passwords down: If you keep all your passwords written down on paper, your online security could be jeopardized if it ends up in the wrong hands.
Use special characters and numbers: By sprinkling in numbers and special characters, you can create more secure passwords that are harder to crack.
Avoid using common words and phrases: Instead of using common words and phrases, use random patterns to help protect your passwords from hacking methods like dictionary attacks.
Regularly monitor your accounts: Always keep an eye out for any suspicious activity or login alerts that may be a result of a compromised password.
Change your passwords regularly: To maximize your security, it is recommended that you change your passwords every few months to ensure you're staying ahead of any hackers or potentially unknown data breaches.
Start using a password manager: Password managers are a great way to help you safely keep track of all your unique passwords. In some cases, a password manager may also help you ideate strong passwords.
If you're concerned about your password security and are looking for a secure and simple way to manage your passwords, it's smart to consider using a password manager like Norton Password Manager, which can help you manage your passwords across devices and pinpoint any weaknesses in your logins.
Password statistics FAQs
If these password statistics have you wondering more about password security, read through these answers to some common password questions.  
How do I know if my password is too common?
You can check and see if your password is too common by running it through a password strength checker. To help keep your password unique, be sure to include a mix of letters, numbers, and special characters. In addition, avoid using personal information and try to make your password over 16 characters long.
How many passwords does the average person have?
According to Dashlane, the average person has 240 accounts that require a password.
How often should you change your passwords?
It is recommended that you change your passwords every few months. If you ever suspect that your accounts have been compromised, change your passwords immediately. 
Can hackers steal my data if my password is cracked?
Yes. If a hacker is able to gain full access to your account using a password, then they will be able to access anything you would usually be able to access using your password. Because of this, it's important to enable 2FA whenever possible, as it may be able to prevent a hacker from gaining complete access even if they guess your password.
Editorial note: Our articles provide educational information for you. Our offerings may not cover or protect against every type of crime, fraud, or threat we write about. Our goal is to increase awareness about Cyber Safety. Please review complete Terms during enrollment or setup. Remember that no one can prevent all identity theft or cybercrime, and that LifeLock does not monitor all transactions at all businesses. The Norton and LifeLock brands are part of Gen Digital Inc. 
---