From vintage clothing to guinea pig battle armor, eBay is the internet's go-to shop for one-of-a-kind items you can't find anywhere else. But while eBay is a mecca for online shoppers looking for unique and rare goods, it's also a hotbed for scammers and cybercriminals.
Whether you're buying or selling, you could be the target of an eBay scam—especially if it's your first time using the online auction and shopping site. In this guide, we'll cover some of the most common eBay scams, their red flags, and how you can help protect yourself from malware and the associated risks of eBay scams with Norton 360 Deluxe. 
1. "Photo only" scam
"Photo only" or "empty box" eBay scams trick buyers into believing they're bidding on a product when in reality they're bidding on a photo of the product or the empty box it came in.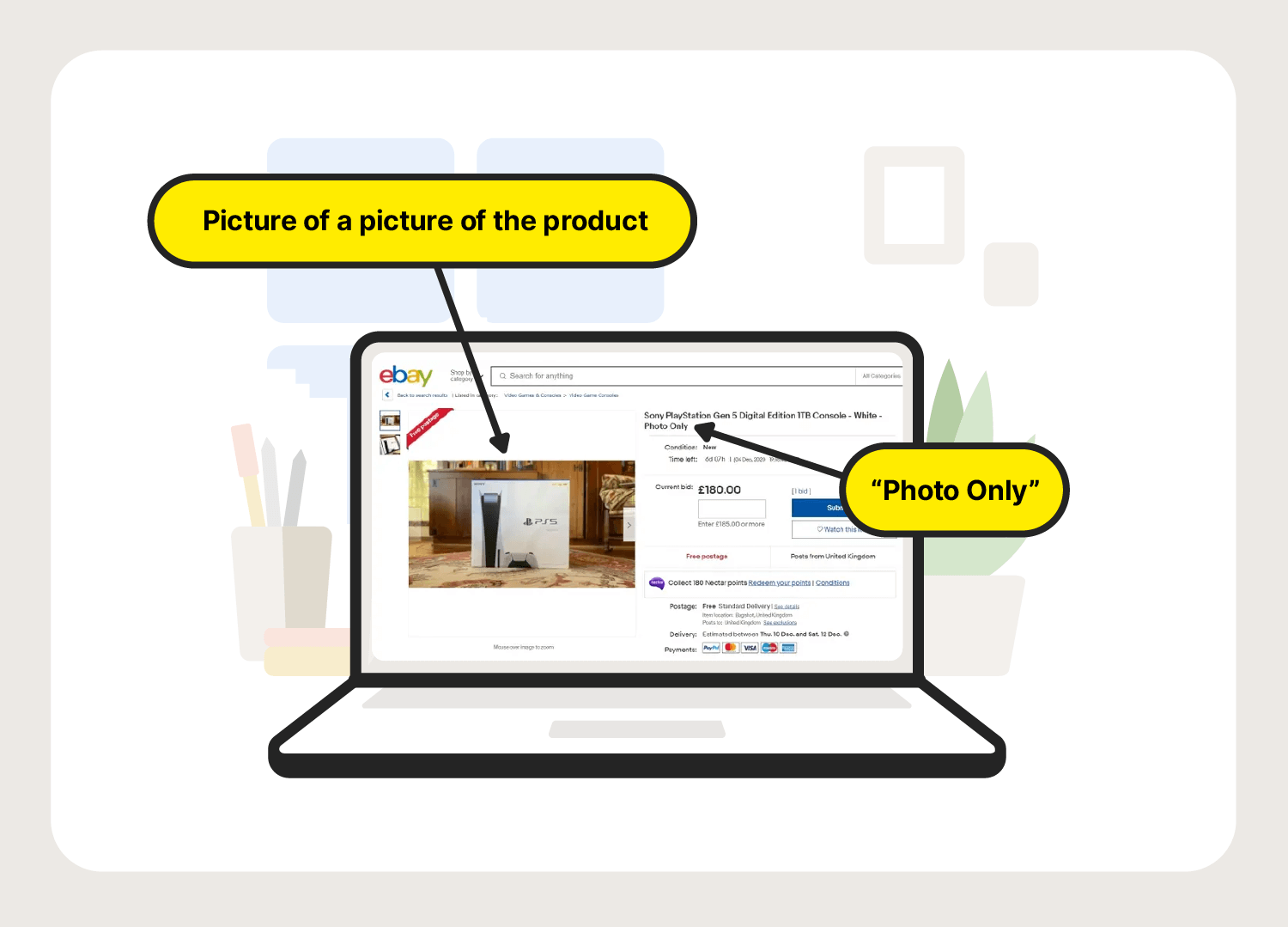 In these types of online scams, fraudulent sellers post a picture of the product with little to no details about the product itself—but they will include a vague disclaimer that it's "photo only" either in the title or toward the bottom of the posting. This scam works especially well for high-demand or expensive items since buyers will typically rush to purchase them without reading the description thoroughly. 
If you've fallen for the "photo only" scam, you may be eligible for a refund with eBay's No Items Listing Policy.
How to avoid a photo-only scam:
Take your time when making a purchase.
Always read through the entire post and description before placing a bid.
Contact the seller if you're unsure about the product description.
2. Gift card scam
eBay gift cards make great gifts for family and friends, but they can also be the catalyst for a costly eBay scam.
With these scams, fraudsters pressure you into giving up eBay gift card information outside the normal checkout process. Gift card scams may seem easy to spot, but scammers are getting more sophisticated with their methods. In fact, fraudsters were able to con nearly $230 million from U.S. consumers in 2022.
A scammer may try to steal your money via gift cards by:
Impersonating a trusted seller or authority figure
Inventing a sob story 
Selling a high-demand item at a price far below what it's worth
Explaining that payment via gift cards is the most secure option
Creating a sense of urgency (like impersonating the police or IRS) and claiming that payment via gift cards is the quickest way to avoid more trouble
How to avoid an eBay gift card scam:
Treat your eBay redemption code like cash. Do not share the code with anyone.
Only redeem your eBay gift card at checkout on eBay.com. This helps ensure the transaction is covered by eBay's buyer protection policy. 
Never use gift cards to pay anyone outside of the eBay checkout process. eBay gift cards can be used almost exactly like money, which makes them a hot commodity for scammers trying to bypass eBay's checkout process. 
3. Counterfeits and knockoffs
From Birkin bags to autographed movie posters, eBay has thousands of daily listings for legitimate luxury goods and sought-after items. But scammers will also list counterfeit goods at similar prices, tricking consumers into spending hundreds or thousands of dollars on knockoffs. 
This is a sophisticated scam that may take some serious research to spot.
How to avoid an eBay counterfeit scam:
Be careful of eBay listings from social posts. Even if a friend posted a link to her new Gucci purse, it's possible their account has been hacked and the scammer is posting to their own listing.
Read into a seller's reviews. Oftentimes scammers will list cheap items to boost their seller rating before trying to scam buyers into more expensive counterfeits. 
Be wary of cheap designer items. If an item is being offered far below market value, it's likely fake. 
Do a reverse image search. If the seller is using stock photos or stolen photos from a different listing, ask if they can provide you with photos of the actual product.
Ask to see a certificate of authenticity. Most designer items are sold with a certificate of authenticity with a serial code. Ask if the seller can provide this certificate, then cross-reference the code with an online serial code checker. 
Look for eBay's Authenticity Guarantee checkmark. Items with the checkmark will go through eBay's authentication process, so you can be confident you're getting the real thing. 
4. eBay Motors scam
In addition to its original marketplace, eBay also has a platform for online car shopping called eBay Motors. And like its sister site, eBay Motors has its share of fraudsters to keep an eye out for. 
Buying a car online can be convenient, but the promise of a large purchase also makes you a prime target for scammers. During an eBay Motors scam, a fraudulent seller creates a fake vehicle listing, which may include:
A sob story about why they need to sell the car
A price that's far below what the car is worth
A vague vehicle description 
An excuse as to why they can't sell the car in person
A request for additional fees
An offer to handle the shipping process (this is usually handled by the buyer)
A promise to include eBay Vehicle Purchase Protection
A lot of spelling and grammar errors
A request for payment via unconventional methods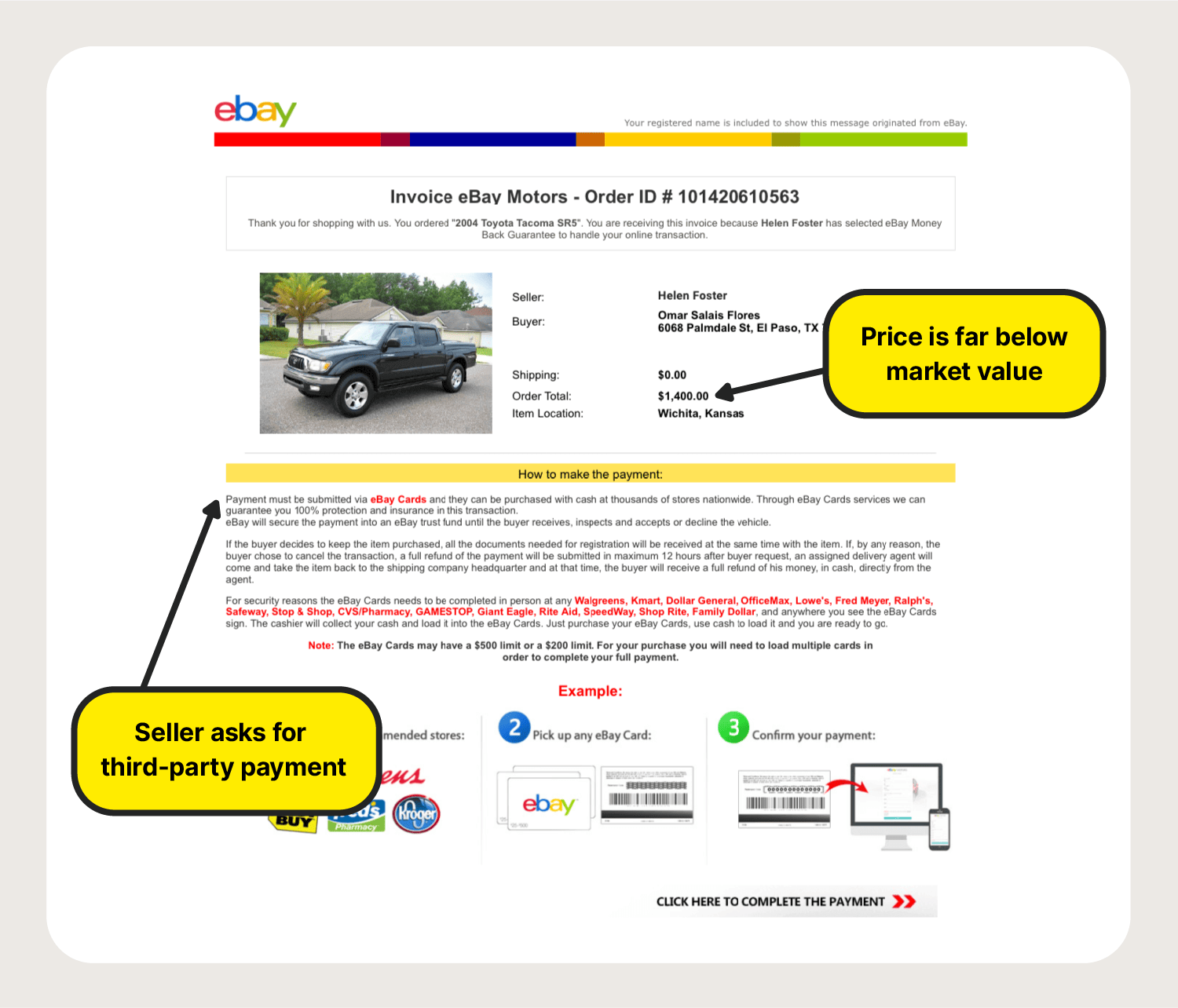 How to avoid an eBay Motors scam:
See the car in person if possible.
Research how vehicles are bought and sold on eBay so you know what you're responsible for.
Never pay with gift cards or any other untraceable payment method. 
5. Non-delivery scam
Not all items are covered by eBay's money-back guarantee, which means fraudsters can accept your payment and disappear without any way of getting your money back through eBay. 
Listings advertising intangible goods or services or items that require third-party shipping are the typical subjects of this scam, including:
Websites or businesses for sale
Digital content
Travel tickets or vouchers
Industrial equipment and heavy machinery
Classified ads
Real estate
Services
Motor vehicles
How to avoid an eBay non-delivery scam:
Read reviews and feedback. Take caution if any other users reported being scammed.
Avoid purchasing items or services not covered by eBay's money-back guarantee. 
6. Third-party payment
If a seller asks you to pay via Venmo, Zelle, gift card codes, or any other method outside of eBay's platform, it's likely a scam. eBay's security measures only protect buyers and sellers when transactions are made through eBay checkout, so there's nothing they can do to assist with a fraudulent transaction that occurred outside its domain.
Similar to gift card scams, fraudsters demanding third-party payment may fabricate a sob story or impersonate a trusted seller or authority figure to pressure you into sending money using unconventional methods. Once payment is received, the seller will simply stop communicating with you and never send the item purchased.
How to avoid an eBay third-party payment scam:
Only complete eBay purchases through eBay checkout. This way you can ensure your transaction falls under eBay's buyer protection policies.
Report sellers asking for a third-party payment method. These sellers are going against eBay's seller policy and are likely employing the same scam to other oblivious buyers. 
7. Incorrect label scam
Unlike some of the other schemes listed, this scam occurs after the transaction has taken place. After completing a legitimate transaction, the seller will ship the item to the correct address, but under a different buyer name. This leads buyers to believe the package was shipped to the wrong person by mistake, and they'll likely ask the post office to return it to the sender. 
Once the fraudulent seller gets the package back, they can list the transaction as refused or returned. This allows the scammer to keep the product and the payment with no way for the buyer to dispute the sale once it's finalized.
How to avoid an incorrect label scam:
Check your tracking information. If your package has been delivered, it's a good indication it's yours. 
Compare the weight of the package with the weight of the tracking information. If the weights are comparable, it's likely your package. Be sure to take a photo of the shipping label and package before you open it. 
8. Phishing emails
eBay's Second Chance Offer program gives buyers another chance to purchase an item that has already sold, either because the seller has more available or the winning bidder didn't pay. Unfortunately, scammers have learned to take advantage of the program through phishing emails. 
Phishing is the practice of sending fraudulent emails impersonating a reputable source in order to extort consumers' personal information. In this case, fraudsters craft an email to appear as if it was sent through eBay's Second Chance Offer program with a request that you wire the purchase amount to a third-party email address. 
In some cases, the email may actually come from a hacked seller account. The eBay email address will be legit, but the hacker will still ask for a shady payment method. If you fall for a phishing scam, you'll end up paying the scammer but never receive your item. 
How to avoid a phishing scam:
Check your eBay message inbox. If you received a legitimate Second Chance Offer, you'll see it in your eBay inbox as well as in the Bids/Offers section of your My eBay page. 
Read the subject line. eBay never includes "Message from eBay Member" in the subject line, but many scammers do. If you see this, report the fake email to spoof@ebay.com. 
Keep all communications on eBay. Never complete an eBay transaction through a third party or allow sellers to move communication to an off-site email or messaging platform.  
9. Tracking number scam
In this scam, shady sellers ship a fake package to the wrong address in order to provide real tracking information proving the item was delivered. When the buyer claims the package was never delivered, the scammer can provide a valid tracking number so they won't have to issue a refund to the buyer under eBay's seller protection program.
How to avoid an eBay tracking number scam:
Read the seller reviews. If several buyers report never receiving their item, it may be a scam. If the seller has zero reviews, it's also a good idea to stay away.
Verify the tracking number with the shipping company. If you believe you may have been given a deceitful tracking number, verify the tracking number with the shipping company instead of relying on the seller. They won't be able to give you specific information, but they may be able to confirm whether the package was shipped to a different address. 
Check the tracking information. If the package size or weight seems off, you may be able to file a claim through eBay. 
10. Triangulation fraud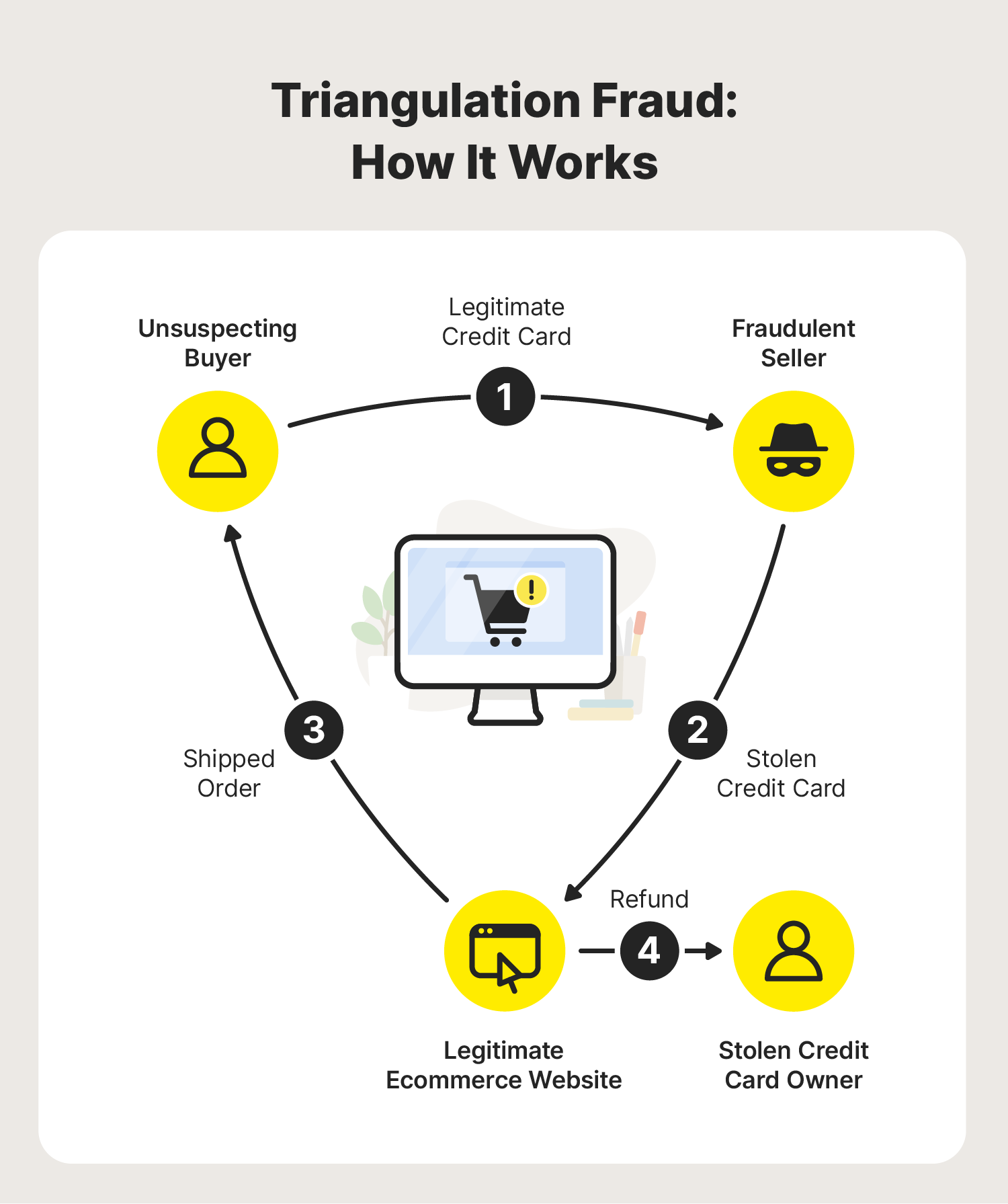 Triangulation fraud is a complex eBay scam that's particularly hard to spot, especially since the buyer and seller both end up better off. This scam uses stolen credit cards to exploit unsuspecting targets. Here's how it works:
An eBay buyer makes a typical purchase from a seller through the eBay platform.
The buyer receives their package, along with an unpurchased item of significant value.
When the seller is contacted, they claim the unpurchased item was sent by mistake, and that the buyer can keep it as a free gift. In actuality, the item was purchased with a stolen credit card.
When the owner of the stolen credit card realizes they've been defrauded, they'll file a chargeback and get their money back. 
In the end, the fraudulent seller gets to pocket the money spent on the legitimate purchase and the buyer gets to keep their purchased items and the "free gift."
The real victims of this scam are the companies the "free gifts'' were purchased from. Not only do they lose their expensive product, but they have to reimburse the credit card holder whose information was stolen. As a buyer, not reporting the "free gift" may cause you to lose your account or even be charged as an accomplice in the fraud. 
How to avoid triangulation fraud:
Be wary of sellers offering free gifts. If the value of the gift far exceeds the value of the items purchased, it's probably been purchased with a stolen credit card. 
Report free gifts. If you suspect a seller may be using stolen credit cards to purchase "free gifts," immediately report them to eBay support.
11. Damaged product claim
Believe it or not, eBay sellers are just as likely to be scammed as eBay buyers. One of the most common eBay buyer scams is illegitimate damaged product claims, where a buyer accuses you of sending a damaged item so they can get their money back. 
Skilled fraudsters outsmart eBay's money-back guarantee by providing fake photo proof of the damage using a replica of the item. They'll get their money back and get to keep the item you sent.
How to avoid a damaged product claim:
Take lots of pictures of your item and packaging before sending it. You may be able to prove the difference between the legitimate product and the replica.
File an insurance claim with the shipping provider. If you suspect you may be a victim of damaged product fraud, ask the buyer to hold on to the broken item with the packaging until the shipping provider can send an insurance agent to inspect it. Even if you don't actually follow through with the claim, it's likely the scammer will stop asking for a refund for fear of being exposed. 
12. Overpayment scam
eBay sellers hosting online auctions are always hoping for a bid above the asking price, but—like many of the scams we've already covered—if an offer appears too good to be true, it's probably fake. 
In this case, a fraudulent buyer may contact you with an offer far above what the item you're selling is worth. However, the scammer will pay with a fraudulent check, so if you've promptly sent the item before the payment went through, you'll be left with nothing but a bounced check. 
How to avoid an overpayment scam:
Always wait for payment to go through before shipping an item. Even if the buyer is pressuring you to ship the item, do your due diligence to ensure the payment you received is legitimate.
Politely decline any overpayment offers. There's no good reason anyone would want to overpay for a product, so don't bother entertaining their offer.
Only accept payment through eBay's website. This ensures you'll be compensated if you do fall for an overpayment scam.
13. Changed address
Changed address scams combine both phishing and overpayment scams. It begins like any other legitimate transaction—the buyer will purchase the item through eBay, providing the address they'd like it shipped to. However, they'll suddenly need to have it sent to a foreign country (typically Nigeria) and ask if they can pay via PayPal to cover the extra shipping costs plus the original price of the item. Oftentimes, they'll offer to pay far more than the cost of shipping to sweeten the deal.
Once they receive your PayPal email, you'll be contacted by the scammers impersonating PayPal. The fake PayPal email will state that the payment will be released once they receive proof the package was shipped. However, as you can probably guess, the payment was never sent through PayPal in the first place, and you're left without the item and your money.
How to avoid a changed address scam:
Never send an item to any address other than the one provided on the original invoice. If the buyer claims they won't be able to accept the item, ask them to cancel the transaction and repurchase it under the new address before making payment.
Double-check the source of the message about the change of address. If it's from a different eBay ID than that of the original buyer, report the scammer and disregard the request. 
14. Empty box claim
On the opposite side of the empty box scam, you have the empty box claim. This eBay scam occurs when a buyer falsely accuses a seller of sending an empty box, demanding they be reimbursed for the cost of the item. eBay will require them to ship the product back, so the buyer will send the empty box and keep the item and the money once it's refunded.
How to avoid a fake empty box claim:
Take photos and/or video of the item in the shipping box with the label prior to shipping. This may help prove the item was actually sent. 
Compare the weight of the item with the weight listed on the shipping label. An empty box will weigh less than a box with the item inside, further proving the actual item was sent. 
Claim to file a lost/rifled/stolen mail report with the shipping provider. Oftentimes the threat of an investigation is enough for the scammer to abandon their empty box claim.
15. Unwarranted chargeback
Unfortunately for many online sellers, most transaction sites are designed to take the buyer's side if fraud is suspected. For example, a buyer can complete a transaction through eBay using a credit card or PayPal, then easily request to cancel the transaction if they falsely claim they suspect a scam. This is considered an unwarranted chargeback, or friendly fraud. 
If a seller is subject to an unwarranted chargeback, not only will they lose the money from the sale, but they'll also need to pay an additional chargeback fee. If the item was shipped prior to the chargeback, they likely won't be able to recover it. Disputing a chargeback takes a lot of time on the seller's end, so the best strategy to combat chargeback fraud is to prevent it before it happens. 
How to avoid an unwarranted chargeback:
Optimize your customer experience. If your customers are happy with your service, they're less likely to file an invalid chargeback out of spite. 
Reach out to "red flag" customers. If a first-time buyer is ordering high-value merchandise or multiples of the same product, they could be stockpiling items with the intent to cancel the transaction later. Contact the customer and confirm the transaction details prior to processing so you have a record of them authorizing the purchase.
Keep a blocklist. Nearly 40% of buyers who successfully commit friendly fraud will try it again within 60 days. Keep a list of past offenders to prevent multiple invalid chargebacks from the same customer. 
16. Feedback extortion 
eBay's feedback extortion policy protects sellers from buyers threatening to leave negative feedback or a low seller rating to try to get something that wasn't part of the original listing. For example, a customer can't threaten to leave a scathing review if the seller doesn't pay for return shipping when the original listing said nothing about free returns. 
In the same vein, sellers can't ask for positive feedback from customers in exchange for a "free gift" or a refund—this is also considered feedback extortion. 
How to avoid feedback extortion:
Report the offending party to eBay. Keep all messages and correspondence so you have proof of the extortion. 
17. Customer service scam
Scammers may attempt to take their scheme offline by posting fake eBay customer support phone numbers on product listings, profile pages, or third-party sites. When customers call these numbers with an issue, the scammer will ask for personal information before they can "help" them, like:
Account login information
PINs
2FA codes
Social Security numbers
Credit card numbers
In some cases, customers may be asked to download malware that gives the scammer remote access to their computer, compromising all of their accounts and sensitive information.
How to avoid eBay customer service scams:
Contact eBay support through your eBay account. This way you know you're using an official contact method and not a scam number. 
Never share personal information. eBay customer service representatives will never ask you to share sensitive information over the phone. 
How to spot an eBay scam
While eBay scam strategies vary, there are some consistent red flags to be aware of when shopping or selling on the site—namely, if it's too good to be true, it probably is.
If you suspect deceit from a seller, look for these telltale signs of eBay scams:
The seller has little or no feedback history.
The item description contains numerous spelling and grammar errors.
The listing is only posted for a short period.
The price for the item is far below market value.
The seller asks for third-party payment.
The seller only has feedback for low-ticket items, but recently began selling luxury goods.
The shipping timelines are unexpectedly long.
The seller includes a sob story in the item description.
If you're a seller, here are a few ways to identify a fraudulent buyer:
The buyer asks to pay outside of eBay.
The buyer offers much more than the listed price for an item.
A new buyer purchases a high-ticket item or multiples of the same item.
The buyer asks to change their shipping address to a foreign country.
The buyer requests to make payments for additional shipping after the initial transaction.
The buyer includes a long, detailed description of why they want the item (usually for a family member).
The buyer is over eager to complete the sale.
The buyer threatens to leave negative feedback. 
What to do if you've been scammed on eBay
If you've been swindled by a shady eBay buyer or seller, there are processes in place to recover your money and prevent other users from falling prey to the same scam.
Open a refund request with the eBay user. You won't be able to get eBay policy agents involved until you've made an attempt to resolve the issue with the buyer or seller. If the user ignores the request or isn't able to resolve the problem in a timely manner, move on to the next step. 
Report the user to eBay. If the user has violated eBay's user policy, eBay representatives will step in to remedy the issue. If you purchased an item through eBay, you'll likely be issued a refund.
Leave negative feedback for the seller or buyer. This will warn other users not to fall for the same scam. 
Request a refund from your payment processor. If you paid through PayPal, Venmo, Cash App, or any other third-party payment platform, report the fraudulent transaction. Most platforms have buyer protection policies in place so you'll be able to get a refund if you've been scammed.
Monitor your credit report. If the seller received any personal or financial information from you, watch your credit report and bank accounts for signs of fraud or identity theft. 
Contact law enforcement. If you think you've been a victim of a scam, it may be a good idea to alert local law enforcement. 
Does eBay's Money Back Guarantee cover scams?
eBay's Money Back Guarantee covers most of the scams listed here, but there are exceptions for certain items and circumstances. 
To be eligible for a refund, you must complete your transaction through eBay.com. If you use a third-party payment method, eBay won't be able to get you your money back.  
As a buyer, eBay's Money Back Guarantee covers:
Items that aren't delivered as promised or don't match the seller's listing
Damaged items
Seller policy breaches, such as a seller refusing to follow the return policy stated in their listing
Items that aren't on eBay's excluded items list 
Top tips for safe eBay shopping
There are over 135 million eBay shoppers worldwide who trust the site for great deals on hard-to-find items. But, like on any other e-commerce site, protecting your personal information and privacy are of the utmost importance. 
To ensure your eBay shopping experience is a positive one, here are a few tips to help you avoid falling for an eBay scam. 
Don't rush. Always take your time and read through the listing and description.
Research the seller. See how highly they're rated and check what people have said about them in the past (specifically in regard to the item you plan to purchase).
Never use a third-party payment method. You won't be covered by eBay's Money Back Guarantee if it's a scam. 
Never provide your personal information via email. A legitimate eBay customer service representative will never ask you to provide personal or financial information via email or any other third-party platform. 
When in doubt, contact the seller. If they're unwilling to provide you the information you need to confidently make your purchase, it's wise to stay away. 
Use antivirus software. If you are accidentally affected by an eBay scam, antivirus software can help keep you and your device safe.
Shop with peace of mind using Norton 360 Deluxe
Whenever you're browsing online—whether you're shopping for the newest gaming console or scrolling through your Facebook feed—always take extra cybersecurity measures to protect your personal information and online privacy. Norton 360 Deluxe provides unmatched security against hackers, malware, and viruses, providing you peace of mind when surfing the web. 
FAQs about eBay scams
eBay is generally a reliable place to shop online, but there are users who take advantage of the platform for their own malicious purposes. We answered a few of the most common questions about eBay scams to help you decide if it's worth the risk. 
How do I know if an email from eBay is genuine?
Emails delivered by eBay will also be available in the Messages tab in your My eBay account. Cross-reference both inboxes to verify if an email from eBay is genuine.
How do you report a suspicious buyer on eBay?
If you've recently sold an item to a suspicious buyer, you can report them from your Sold Items list. In the dropdown menu next to the item, choose "Leave Feedback," then select "Report Buyer."
Will my bank refund me if I get scammed?
In most cases, your bank will issue you a refund if you can prove you've been the victim of an eBay scam. Contact your bank immediately to report the fraudulent transaction so they can reverse it and get your money back. 
Is it safe to buy from eBay?
eBay is as safe as any other shopping site, social media platform, or online banking app—it's not 100% secure, but there are policies in place to protect buyers from malicious sellers.
Editorial note: Our articles provide educational information for you. Our offerings may not cover or protect against every type of crime, fraud, or threat we write about. Our goal is to increase awareness about Cyber Safety. Please review complete Terms during enrollment or setup. Remember that no one can prevent all identity theft or cybercrime, and that LifeLock does not monitor all transactions at all businesses. The Norton and LifeLock brands are part of Gen Digital Inc. 
---