Facebook Marketplace is a legitimate platform, but buyers and sellers can encounter scammers trying to make a quick buck at their expense. Learn how to recognize some of the most common red flags so you can help avoid being taken advantage of by scammers on Facebook Marketplace. Then, get Norton 360 Deluxe to help keep your device protected against digital threats that lurk within, and extend from, scam messages.
1. Gift card scams
Gift card scams are a common type of scam on Facebook Marketplace. In a gift card scam, a seller asks the buyer to pay for an item by purchasing a gift card instead of using a verified form of payment. While this may seem harmless, you can't protect a purchase made with a gift card. If you don't receive the item you paid for, there's no way to get your money back.
How to avoid gift card scams:
Use verified payment methods when making a purchase on Facebook Marketplace, or anywhere else online.
When possible, meet in person (in a safe, public place) to ensure you actually receive the item you're buying.
If you're asked to purchase a gift card as a payment method, stop the transaction and report the seller to Facebook.
2. Outside payment scams 
Moving a transaction off the safety of the Facebook Marketplace platform is a big red flag when buying an item. In this scam, the seller asks you to complete the transaction by moving to a different website or using an outside payment method, such as making a wire transfer or sending money via PayPal. While this may not sound too concerning, it should put you on high alert for fraud like Venmo scams. 
Activity outside Facebook Marketplace can't be monitored, and payments made outside of Facebook Checkout are not protected under Facebook's purchase protection policies. So if you leave the Facebook platform, you won't be able to get your money back if the seller fails to deliver.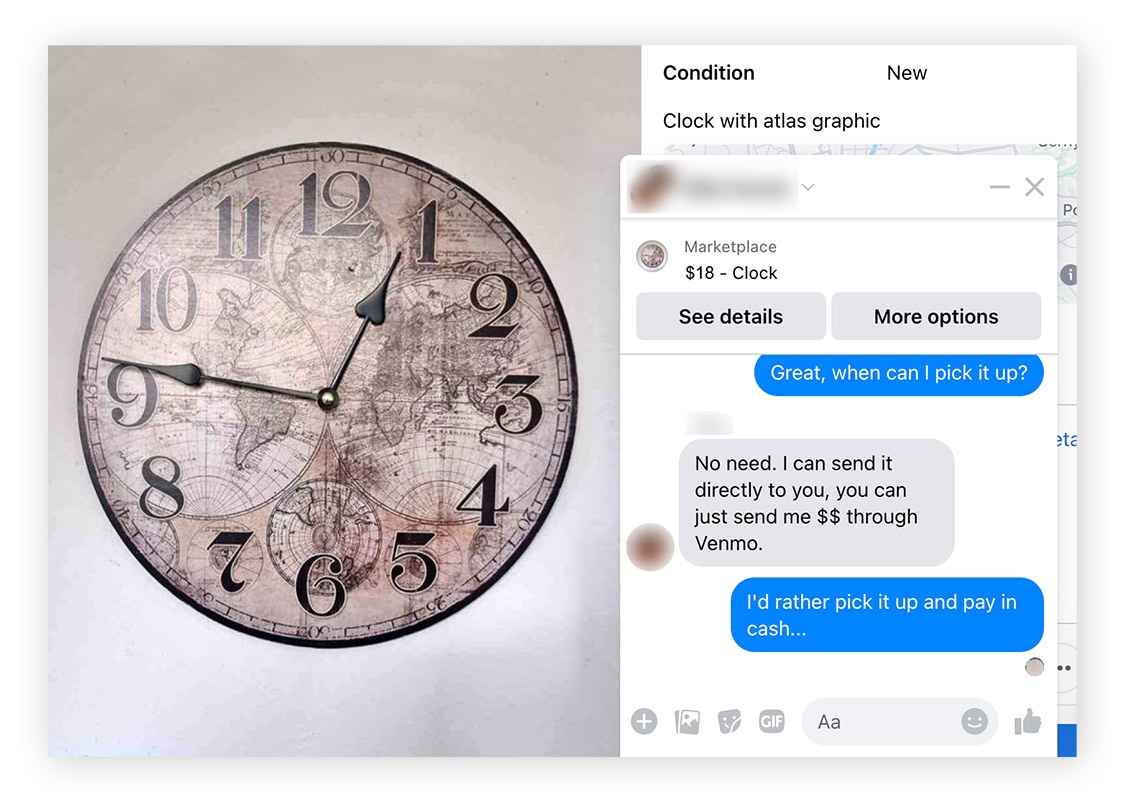 An example of a scammer trying to move payment away from Facebook Marketplace.
How to avoid outside payment scams:
Make your payment via Facebook Checkout and avoid outside payment methods such as PayPal or Venmo.
If Facebook Checkout isn't yet available in your area, try to meet the seller in person (in a safe, public place) to make the transaction.
Keep all communication within Facebook Marketplace so there is a full record of the transaction.
3. Fake rental scams
Have you ever seen a rental property on Facebook Marketplace that looks too good to be true? It probably is. Facebook Marketplace scammers lure potential renters with low prices and stunning photos in rental ads designed to be too tempting to pass up. 
But, instead of finding an amazing new place to live, victims of this scam are often asked for an upfront payment to "reserve" the apartment, before the "landlord" disappears, never to be heard from again.
How to avoid fake rental scams:
Always view an apartment before making a payment or deposit. Any rental opportunity that doesn't allow you to view the apartment in person is a big red flag.
Be wary of any listings that are way under market value — it might be a fake listing designed to lure victims.
4. Overpayment scams
Sellers beware — overpayment scams are a sneaky way for buyers to rip you off. The buyer "accidentally" pays more than the asking price, then asks the seller to return the overpayment. But once the seller returns the money, the original payment from the buyer is declined, because scammers often use stolen credit cards for these transactions.
How to avoid overpayment scams:
Decline an overpayment and ask the buyer to send the correct amount — never accept an overpayment and return the difference.
Use Facebook Checkout for all payments to make sure your transaction is protected should anything go wrong.
5. Google Voice scams
A seller might ask you to verify your identity to prove you're not a scammer — but this is actually a scam in itself. The scammer asks you to give them the "verification code" sent to your phone, but they're actually using this code to set up a Google Voice account in your name. They will then use this account to conduct further scams such as vishing or SIM swapping.
How to avoid Google voice scams:
Never disclose your phone number or other personal information to a buyer or seller on Facebook Marketplace.
Don't share a verification code sent to your phone with a third party.
6. Counterfeit item scams
If you think you've found a great deal on a designer handbag or another exclusive or rare item, make sure you're receiving the real thing. Many Facebook Marketplace scammers try to pass off counterfeit items as the real thing, making a tidy profit at the buyer's expense. While the buyer usually does receive an item, it won't be the one they through they were paying for.
How to avoid counterfeit item scams:
If possible, examine the item in person before purchasing. Otherwise, request multiple detailed photos, then do a reverse-image search to check that the photos are legitimate.
Check the market price for the item online — if the Facebook Marketplace seller is offering it for way below the going rate, it should raise suspicions.
Check the seller's reviews — if they have multiple dissatisfied customers, it's probably best to back out of the sale.
7. Bait and switch scams
An attractively priced item catches your eye — but wait, it's no longer available. However, the seller does have an alternative, more expensive item they can offer you instead. This Facebook Marketplace scam attempts to persuade the buyer to purchase a different product than the one advertised and often spend a lot more money in the process.
How to avoid bait and switch scams:
Back out of any sale that isn't as advertised. This applies to changes in the price, the product itself, or the addition of any unexpected shipping fees not mentioned in the original ad.
8. Fake account scams
Many scammers on Facebook Marketplace create fake accounts and put up multiple listings in a short period of time, or create Facebook Marketplace bots. Once they receive money from eager buyers, the account disappears — and of course, you never receive your goods. The scammer might use a fake profile photo and pose as someone else — a scam known as catfishing.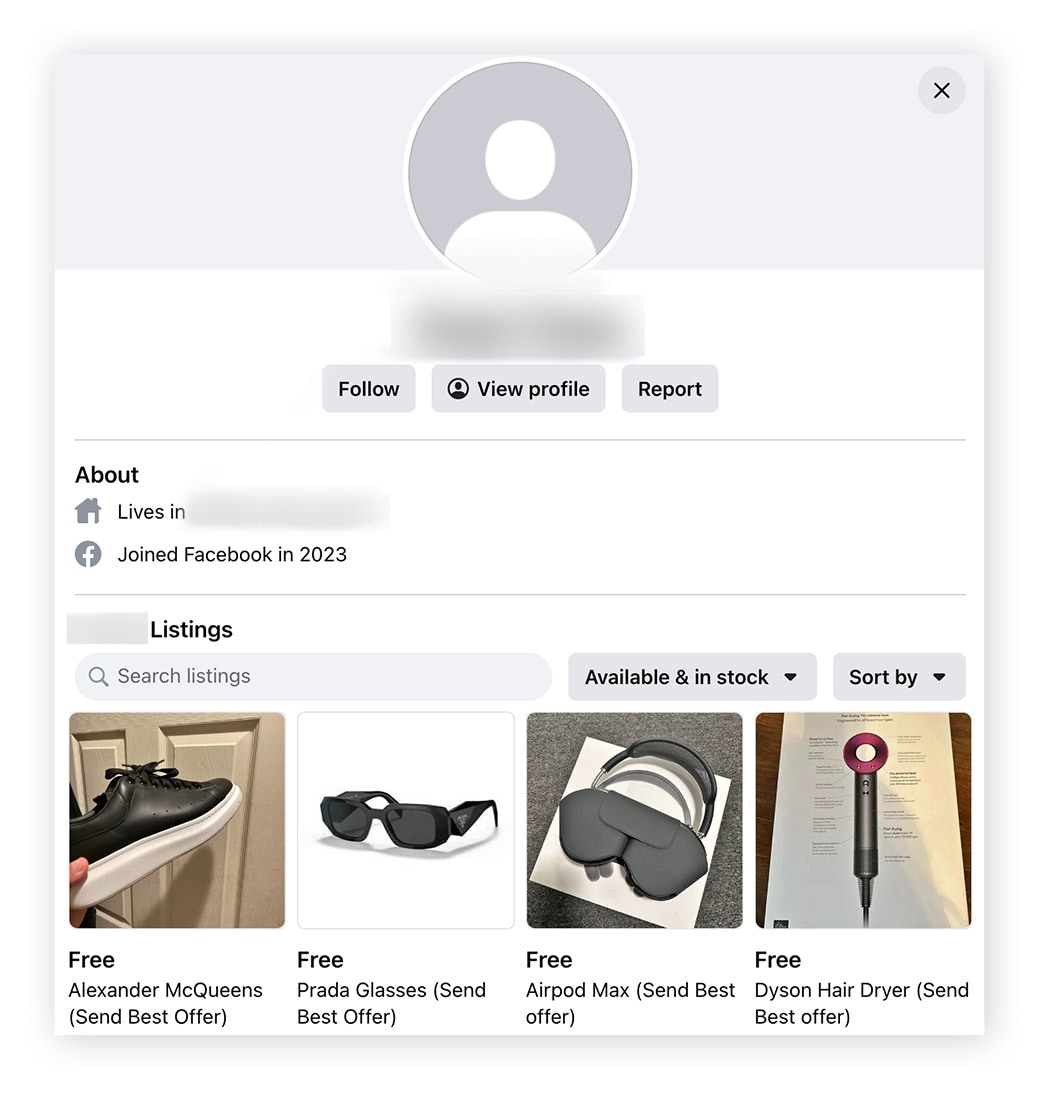 An example of a Facebook Marketplace scam coming from a fake account.
How to avoid fake account scams:
Check the seller's profile before purchasing an item. If they have very few friends, no profile picture, or no selling history, that should ring the alarm bells.
Complete all transactions in person or via Facebook Checkout to safeguard your purchases and make sure your purchases are protected.
9. Faulty item scams
This is a simple but common Facebook Marketplace scam in which you purchase and receive an (often electronic) item, only to discover that it doesn't work. It could be an honest mistake, but if the seller disappears (once they've pocketed your cash, of course) you're now the victim of a faulty item scam.
How to avoid faulty item scams:
If possible, meet the seller in person (in a safe, public place) so you can test the item before purchasing. Or, request a video of the functioning item or hop on a video chat to verify that it works. If the seller declines, it's probably a scam.
Make your payment via official Facebook Marketplace channels so that you're protected if something goes wrong.
Check the seller's reviews to make sure they're trustworthy. If they're scamming you, it's likely they've done it before.
10. Fake giveaway scams
In this common social media scam, fraudsters use Facebook Marketplace to advertise a fake giveaway, often asking would-be participants to click a link that leads to an unsafe website or tricks you into downloading malware. Be particularly wary if the "giveaway" requires you to enter any sensitive personal information or payment details — this is a common phishing scam.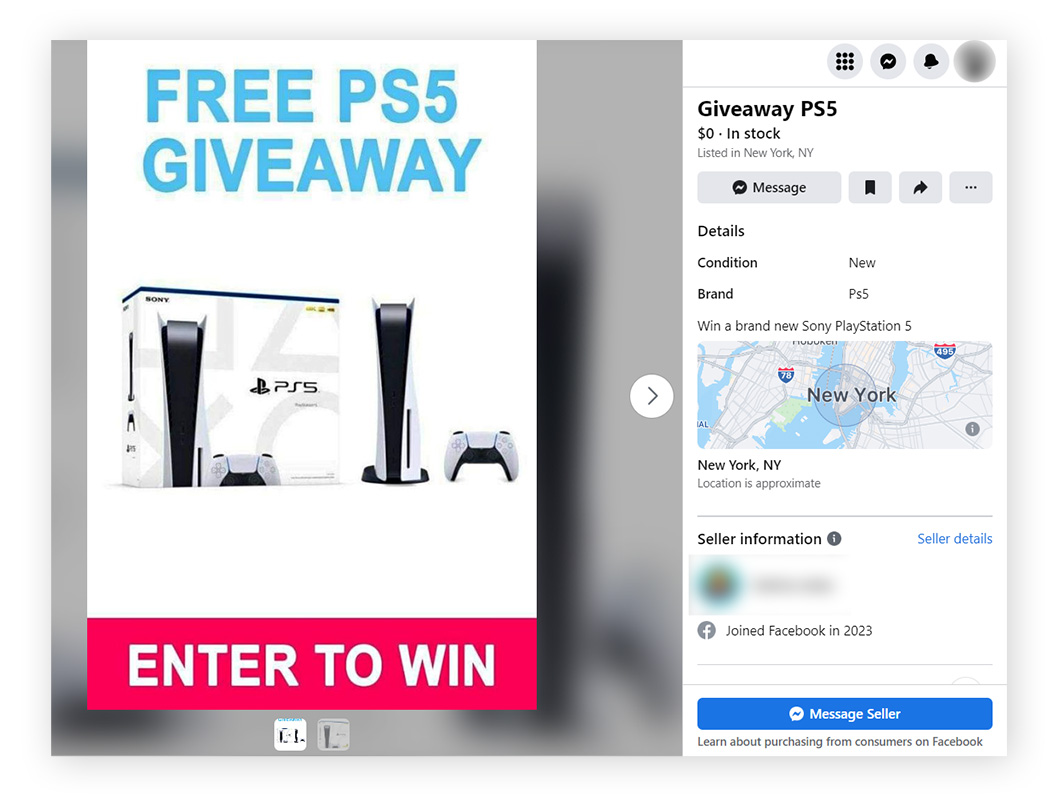 Giveaway scams often try to get you to expose personal information.
How to avoid fake giveaway scams:
Never click a link for a giveaway advertised on Facebook Marketplace.
Never share personal information such as your bank account, credit card, Social Security number, or phone number with a seller on Facebook Marketplace.
11. Car deposit scams
Facebook Marketplace is a well-known hub for buying and selling used cars, but there is a common scam to watch out for if you're considering purchasing a vehicle.
In this Facebook Marketplace scam, the seller is likely offering an attractive vehicle at a great price, so the buyer is excited to land the deal before anyone else. The seller asks the buyer to send a deposit to reserve the car for them, then the seller disappears with the buyer's money.
How to avoid car deposit scams:
Don't transfer any money to the seller until you've seen the car in person.
Ask for the vehicle identification number (VIN) to verify the history of the car and the seller's ownership on websites such as CARFAX or AutoCheck.
12. Price change scams
Some Facebook Marketplace scammers try to trick buyers by luring them with a low price tag then raising the price of the item right before the buyer makes the purchase, hoping it will go unnoticed. If you notice the price of an item increasing, consider it a red flag. It could be a price change or a bait and switch scam.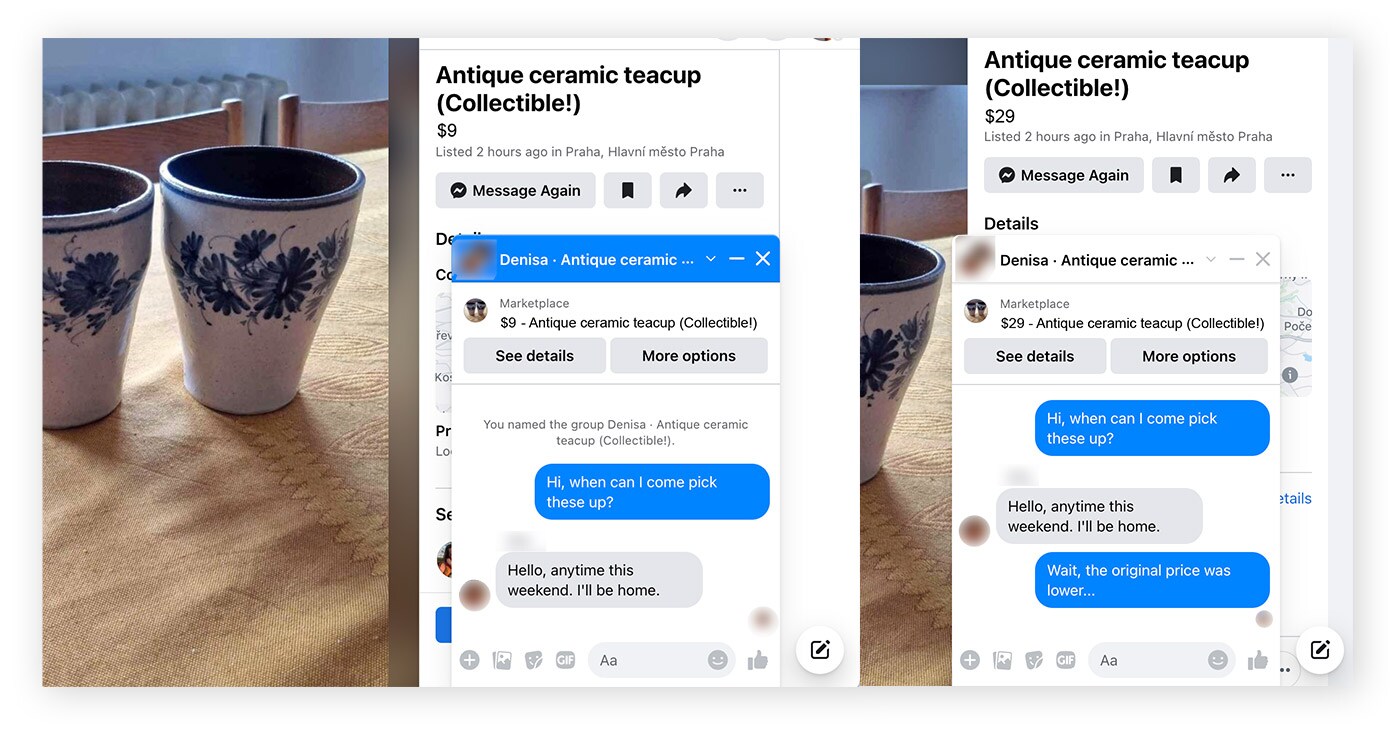 Screenshots can help you avoid price change scams on Facebook.
How to avoid price change scams:
Stay away from sellers with inconsistent pricing, and don't pay more than the listed or agreed-upon price for an item.
Take a screenshot of the listing before you decide to purchase, it may help you report or appeal the purchase in case of a scam.
If a price seems way below market value, proceed with caution. Check the seller's profile and reviews to verify that they are legitimate.
13. Insurance-fee scams
A popular scam on Facebook Marketplace is when the seller asks the buyer to pay for shipping insurance before they send the purchased item. When the buyer sends the additional fee, the seller disappears with the cash. Even if the seller sends an invoice for the "shipping insurance," it should still raise a red flag, as this can easily be faked.
How to avoid insurance-fee scams:
Legitimate Facebook Marketplace sellers will never ask for additional fees beyond the cost of the item and the normal shipping fee. Step away from a transaction with unexpected additional fees.
14. Advance payment scams
Be wary of Facebook Marketplace sellers who ask for any type of payment before they send the item. This type of scam is usually a request for payment to reserve the item. This can be part of a fake rental scam, a car deposit scam, or a fake transaction of any highly coveted item.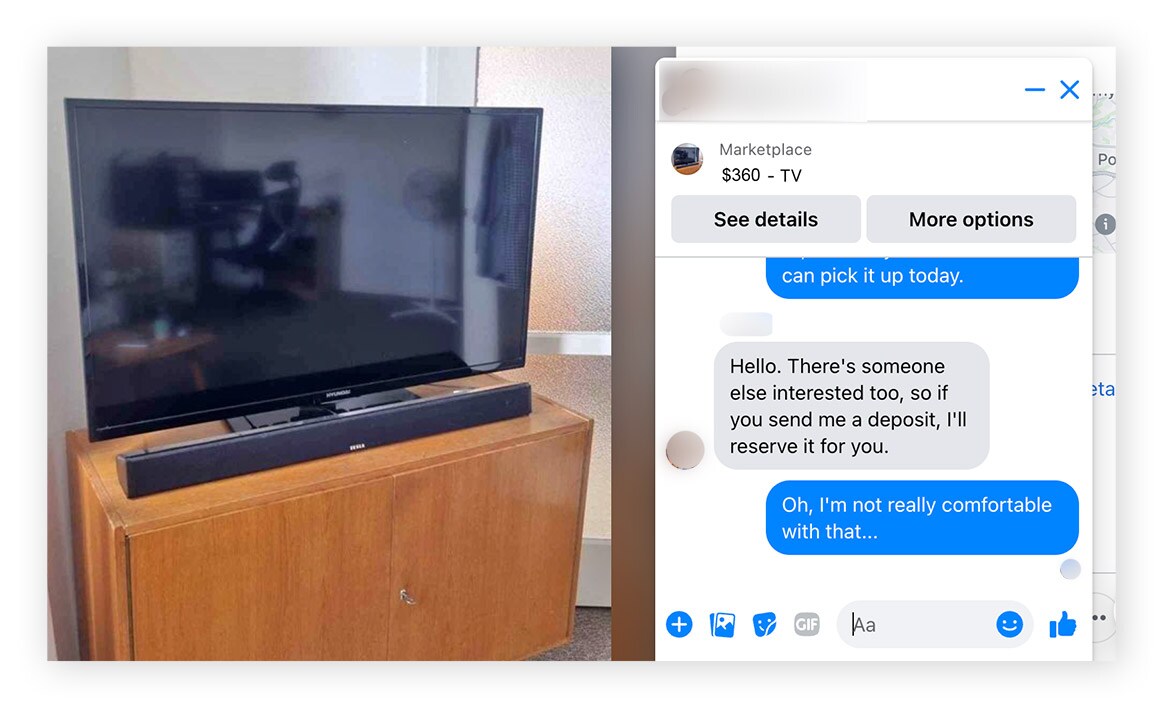 Some Facebook Marketplace scammers will ask for advance payment.
How to avoid advance payment scams:
Never make an advance payment to reserve an item.
Use Facebook Checkout for all Facebook Marketplace purchases to ensure your payment is protected by Facebook. Or meet the seller in person, in a safe space, to complete the transaction.
15. Zelle scams
Zelle is a legitimate payment app, but Zelle scams on Facebook Marketplace can target both buyers and sellers. Scam sellers might request payment via Zelle before sending an item, then once they receive your money, they disappear. Scam buyers can use Zelle in an overpayment scam, even faking Zelle confirmation emails in some cases.
How to avoid Zelle scams:
 Always pay using Facebook Checkout so that your transaction is covered by Facebook's payment protection policy. If a buyer or seller asks to settle payment via Zelle or any other outside payment app, don't purchase the item.
16. Shipping label scams
In this common Facebook Marketplace scam, the buyer supplies the seller with a prepaid shipping label. This leaves the seller unable to track the package or verify that the item has been received. The buyer can then alter the destination of the package or claim that they never received the item and ask for a refund.
How to avoid shipping label scams: 
Don't accept a prepaid shipping label from a buyer — this is almost always a scam.
Make sure you get a tracking number if you send an item to a buyer, so that you can verify the package has been delivered.
17. Malicious site scams
Social media scammers often try to redirect their victims to malicious websites, where they can infect the victim's device with various types of malware or steal sensitive personal information. These types of scams can show up on many different social media sites, including Facebook Marketplace.
How to avoid malicious site scams: 
Carry out the entire transaction within the safety of Facebook Marketplace, from initial communication to final payment.
Never click a suspicious link or go to a third-party website to finish the transaction.
Never disclose personal information such as your credit card details, bank account, Social Security number, or phone number.
Mistakes can happen — and you'll want to be protected when they do. Norton 360 Deluxe can help protect you from malicious websites and harmful downloads if you accidentally click an infected link. Get Norton today and start protecting your device against malware and other online threats.
18. Early shipment scams

Scammers on Facebook Marketplace can be very persuasive, often using social engineering to trick you into sending an item before they've paid. You'll hear all kinds of excuses — they want to make sure the item works as advertised, they need it ASAP for a special event, or they need to wait for their next paycheck.
Whatever the reason, the end result is usually the same: if you send an item before receiving payment, you'll almost never see the money.
How to avoid early shipment scams:
If possible, meet the buyer in person (in a safe, public place) to make sure you receive payment. If the buyer really wants to make sure an item works or needs it ASAP, this is the best way to fulfill their request and protect your sale.
Ensure the buyer pays through Facebook Checkout before you ship the item.
How to tell if you are being scammed on Facebook Marketplace
Most buyers and sellers on Facebook Marketplace are genuine, but you can still encounter scams. Here are a few of the most common warning signs to look out for:
Prices that seem suspiciously cheap
Requesting payment via gift card or third-party app
Asking for a deposit to reserve an item
Asking to communicate outside of Facebook
Providing a prepaid shipping label
A brand new Facebook profile with few friends or signs of activity
No profile picture
Requests for a phone number or other personal information
It's hard to be aware of all the new scams that pop up. If something seems off, don't continue with the transaction.
How to avoid scams on Facebook Marketplace: 7 protection tips
How do you stay safe and avoid being scammed on Facebook Marketplace? These tips will help shield you from being the victim of online scams on Facebook Marketplace:
Don't take the communication outside of Facebook Marketplace.
Pay using a verified form of payment via Facebook Checkout — never use an outside payment app such as PayPal or Venmo.
Make sure the seller's Facebook profile is real before you buy — avoid new accounts and accounts with no profile picture.
Decline overpayments and request the correct amount instead.
Keep your personal information safe — never give out personal information such as your phone number, credit card, bank account, or Social Security number.
Walk away from a deal that sounds too good to be true—it probably is.
Never click a suspicious link or complete a transaction on an external website.
What to do if you're scammed on Facebook Marketplace
If you are the victim of a Facebook Marketplace scam, there are several steps you need to take to help protect yourself: 
First, report the scammer to Facebook Marketplace so their listings are removed and they can't scam anyone else. To report a listing, click the three dots icon in the ad listing and click Report listing.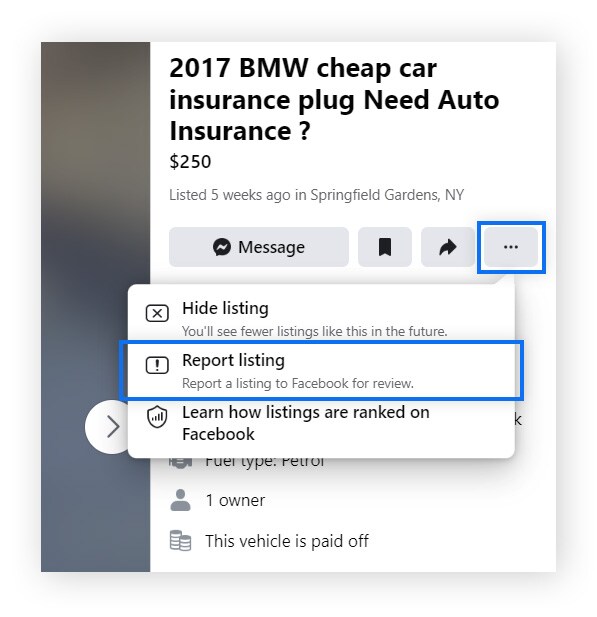 Report suspicious listings on Facebook.
Next, make sure your account is secure — change your password as soon as you know you've been scammed. 
Finally, contact the Federal Trade Commission and the FBI's Internet Crime Complaint Center if you've lost money due to a social media scam, or if you gave out your credit card information to a scammer.
Get comprehensive online security with Norton
Anyone can be the target of an online scam — that's why it's so important to be aware of the signs of common scams and how to avoid them. But knowing what to look out for is just the first step.
Norton 360 Deluxe can help protect your device from online threats that lurk within scam messages and transactions, while keeping your internet activity private. Get Norton 360 Deluxe today to protect yourself from malware and other cyber threats. 
FAQs

What does Facebook Marketplace do to prevent scams?
Facebook Marketplace purchases are protected by Facebook's purchase protection policy, assuming that the purchase is made using a verified form of payment via Facebook Checkout. If you've been scammed as a buyer or seller, you can report the scam to Facebook.
How does Facebook Marketplace work?
Facebook Marketplace is a platform where Facebook users can buy and sell items. Potential buyers can contact the seller, agree on a price, and either have the item delivered or meet in person to exchange the goods for cash. The entire transaction, from communication to payment, should take place on Facebook Marketplace in order to protect the buyer and seller.
Is Facebook Marketplace legit?
Most sellers on Facebook Marketplace are legitimate, but the platform is also used by scammers. Be aware of the most prevalent scams on Facebook Marketplace, and if something sounds suspicious, trust your gut and walk away.
Editorial note: Our articles provide educational information for you. Our offerings may not cover or protect against every type of crime, fraud, or threat we write about. Our goal is to increase awareness about Cyber Safety. Please review complete Terms during enrollment or setup. Remember that no one can prevent all identity theft or cybercrime, and that LifeLock does not monitor all transactions at all businesses. The Norton and LifeLock brands are part of Gen Digital Inc. 
---