There's no denying that Amazon has changed the way we shop. From same-day delivery to subscription purchases, a few taps on your phone can have your favorite items at your doorstep almost instantaneously. But this lightning-fast shopping experience also comes with risks, as scammers have come up with clever ploys to target shoppers. Follow this guide to learn more about Amazon scams and how you can help protect yourself from phishing, malware, and other Amazon scam risks with Norton 360 Deluxe.
Unfortunately, Amazon scams are not a rare occurrence.
From July 2020 to June 2021, scammers stole over $27 million from Americans using Amazon scams, including:

Because of this, it's important to educate yourself on Amazon scams as well as the red flags to watch for and steps to protect yourself.
Let's add to cart safely, shall we?
1. Off-platform payment scams

In an off-platform Amazon payment scam, the scammer's end goal is to trick you into paying them outside the Amazon app or website. To do this, a scammer will create fake product listings and then message you requesting outside payment once you try to make the purchase.
Characteristics of an Amazon off-platform payment scam include:
Emails requesting payment via Venmo, PayPal, Zelle, or a link to a website claiming to be a "safe" payment portal
The scammer takes your money and runs, leaving you without what you ordered
If you follow the scammer's instructions, your payment will no longer be protected by Amazon's A-to-z Guarantee policy, leaving you unprotected and eliminating your ability to get a refund. Even worse, these Amazon email scams may even include links to malicious websites designed to steal your personal information.
2. Vishing scams
If you ever receive a call from an unknown number claiming to be Amazon, it's most likely a scam—many scammers pretend to be Amazon customer service representatives to carry out vishing scams.
Traits of an Amazon vishing scam include:
Uninvited phone calls from individuals claiming to be Amazon employees
Stories about how there is an issue with your order, Amazon account, or that you're in need of a refund
Requests to disclose or verify personal information to resolve the issue or process the refund
No matter who claims to be on the other end of the line, it's always best to be extra cautious and avoid giving up any sensitive information over the phone, as they could be Amazon phone scams.
3. Mystery box scams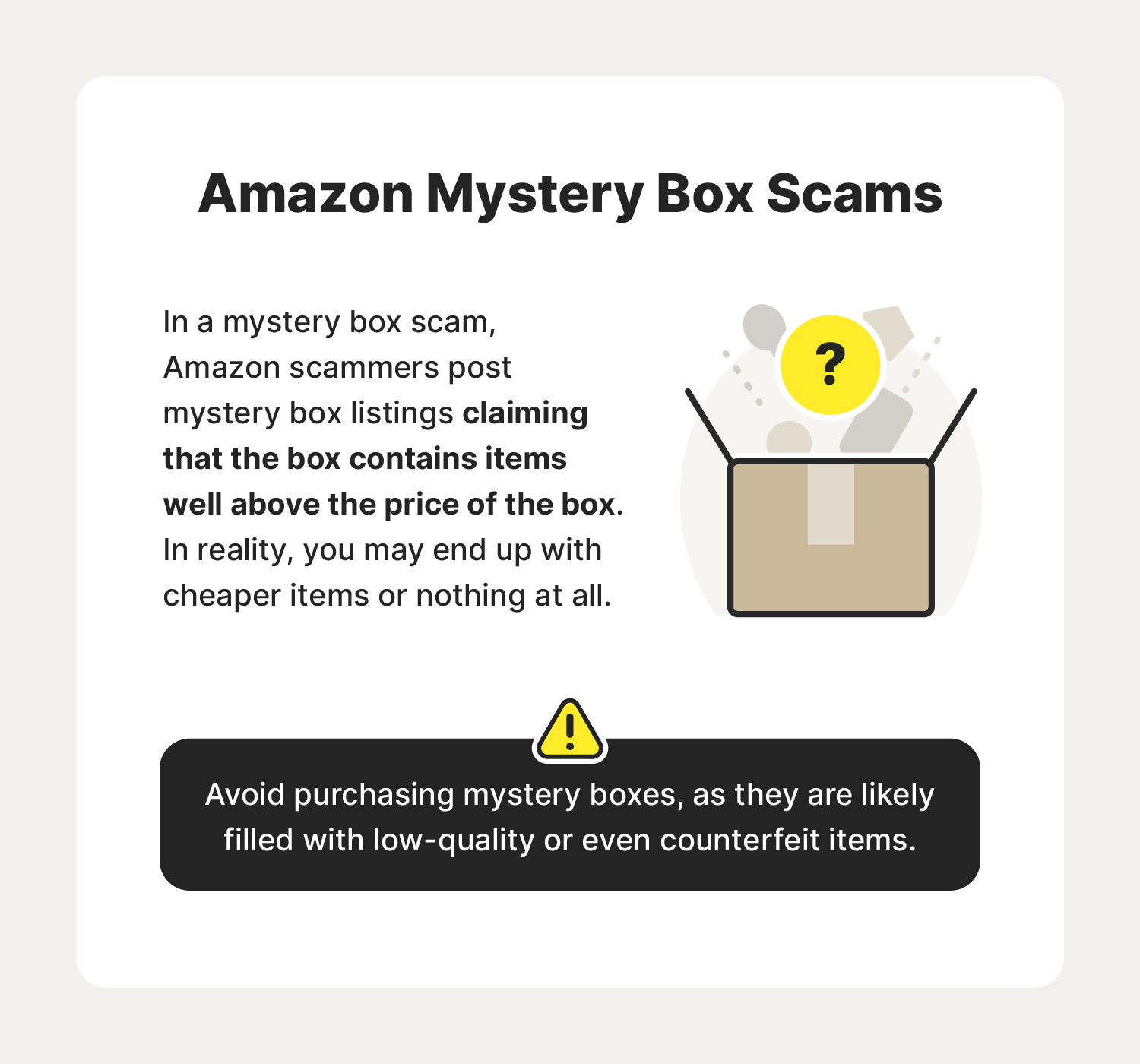 While buying a mystery box on Amazon may seem like a fun and exciting idea, many of these mystery box listings are actually scams. Even listings that include tons of positive reviews may end up being a scam, leaving you with completely different items than the listing advertises.
Characteristics of an Amazon mystery box scam:
Mystery box listings claiming to contain items well above the price of the box
Different pricing tiers that include higher chances of receiving a top-tier item the more you pay
In reality, these too-good-to-be-true deals are often just that, leaving you with cheaper and lower-quality items than the listing and reviews would lead you to believe.
4. Fake refund scams
To pull off a fake refund scam, a scammer will impersonate Amazon and reach out to you, claiming there is an issue with a recent order and that you're eligible for a refund. The catch is that to receive your refund, you'll either have to follow a link to another website or provide them with personal information.
Traits of an Amazon fake refund scam include:
Unexpected calls, texts, or emails claiming to be from Amazon
A vague description of why a refund is necessary
Links to websites or requests for personal information to help issue the refund
Because these scams rely on users following the scammer's instructions or navigating to an unsafe site, it's best to avoid clicking any links or sharing any information. Instead, reach out to Amazon if you believe a refund is needed.
5. Amazon Prime Video scams
If you're an Amazon Prime member, you likely know that Amazon offers Prime Video, a video streaming service with everything from blockbuster movies to Amazon Original Series. Unfortunately, some scammers have come up with clever ways to impersonate this service for their benefit.
To pull off this scam, scammers create malicious websites and advertisements targeting keywords such as "how to set up Prime Video on TV." These sites and ads are designed to imitate Prime Video's official website, but instead include fake instructions that can trick you into giving the scammer access to your Amazon account.
Characteristics of an Amazon Prime Video scam include:
Fake Amazon websites and ads impersonating Prime Video
Prompts to call a phone number to help set up your account
Requests for your two-factor authentication code
Links to a fraudulent website to complete payment
No matter how realistic the website looks, never follow instructions from a third party when setting up or making changes to your Prime Video account. Instead, follow the instructions listed on Amazon's official website.
6. Typosquatting scams
Typosquatting is a tactic in which scammers create a fake website with a URL similar to the site they are trying to impersonate (Anszom.com, for example). The ultimate goal of this scam is to make Amazon customers believe they are on the official Amazon website and enter their payment information as usual.
Traits of an Amazon typosquatting scam include:
An unsecure website with a URL close to "Amazon.com"
Typos, grammatical errors, or design flaws
If you fall for this scam, you may accidentally give your payment information directly to a scammer, who can then use the information to steal money from you or commit identity theft.
7. Fake job scams
According to U.S. Global Investors, Amazon is the second largest Fortune 500 employer in the United States, employing over 1.6 million Americans. Amazon scammers have used this reality to target job seekers, posing as Amazon recruiters and creating fake job postings designed to steal their information.
Characteristics of a fake Amazon job scam include:
Job postings on websites other than Amazon's official jobs site
Phone calls from scammers pretending to be Amazon recruiters
Requests for personal information
To ensure you're never affected by one of these scams, only apply to jobs on Amazon's official jobs site.
8. Smishing scams
Like vishing, smishing scams are when scammers contact you impersonating Amazon to attempt to get you to hand over payment or personal information. Instead of a phone call, smishing targets people over a text message.
Traits of an Amazon smishing scam:
Unsolicited text messages claiming to be from Amazon
Requests for information to help resolve a problem or issue a refund
Suspicious links
No matter how convincing a text message may be, avoid responding or engaging with the message at all. Instead, review your account on Amazon.com to see if any issues need to be addressed.
9. Amazon gift card scams
In an Amazon gift card scam, scammers will reach out to you via an Amazon phishing email, text, or phone call. The scammer will pretend to be from Amazon and inform you that something is wrong with your account. Then the scammer will tell you that you must purchase Amazon gift cards and share the gift card information to resolve the issue.
Characteristics of an Amazon gift card scam include:
Emails, phone calls, or text messages from someone posing as Amazon
False information about an issue with your account
Requests for Amazon gift card information
Once you follow the scammer's instructions, they will write down the gift card information and cease all communication with you.
10. Porch pirate scams
"Porch pirate" is a term used to describe individuals who steal packages from other people's homes. While this can still happen regardless if someone gains access to your Amazon account, a porch pirate scam is when a scammer accesses your Amazon account and then orders items to your house for them to intercept.
Traits of an Amazon porch pirate scam include:
Receiving notifications that an Amazon package that you didn't order has been delivered and then finding that nothing is there
Scammers carry out this scam in hopes that you aren't home at the time of delivery, allowing them to steal the packages without a trace. By ordering the packages to your home address, they can place orders with your saved payment information without giving up their physical address.
11. Brushing scams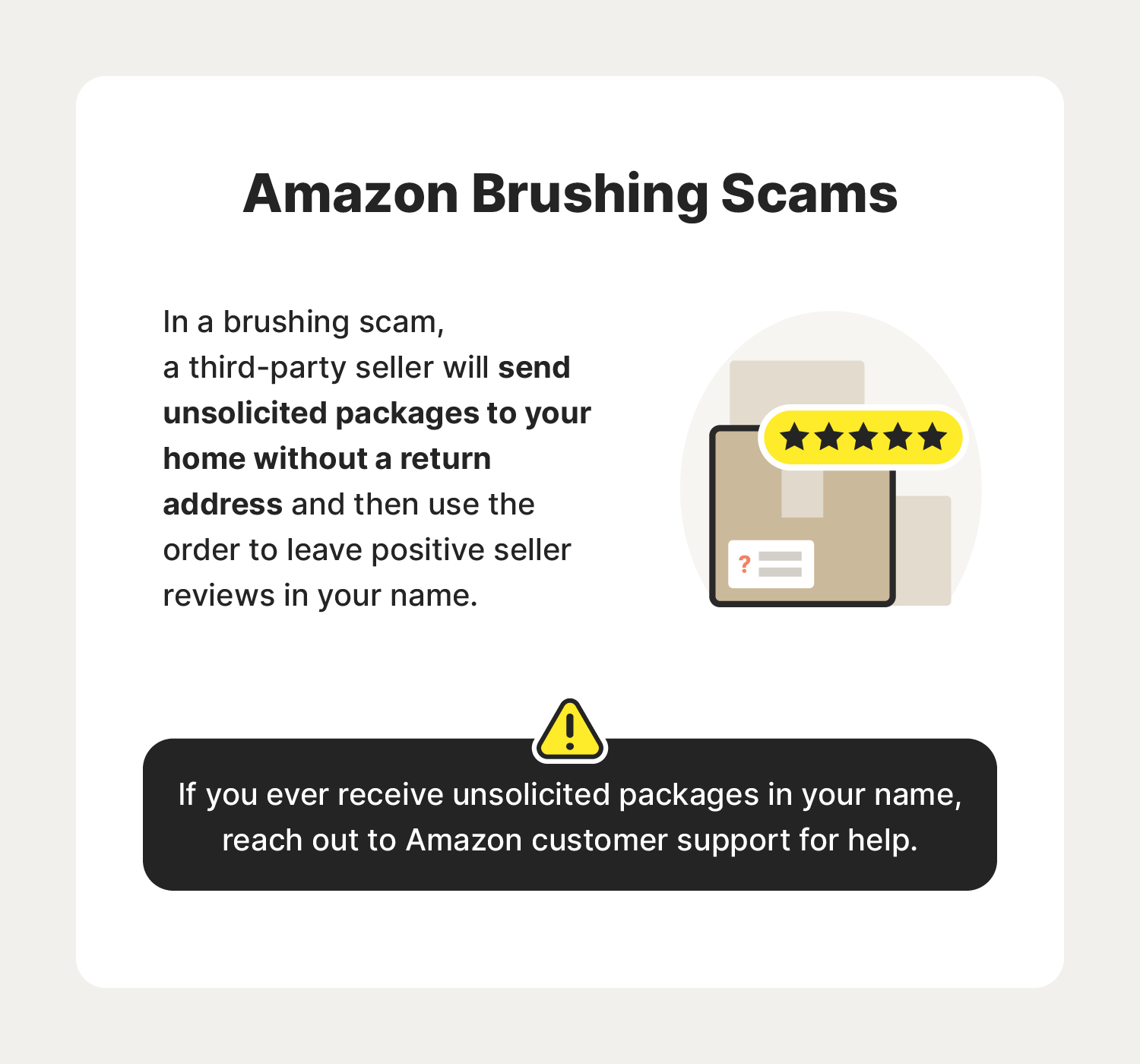 Imagine opening your front door only to find an Amazon package you never ordered. And unlike a porch pirate scam, nobody is coming to steal it. This is known as a brushing scam—when third-party sellers send unsolicited packages to your home without a return address.
Characteristics of an Amazon brushing scam include:
Unsolicited Amazon packages delivered in your name
No evidence of the transaction
Scammers do this so they can use the fake orders to write product reviews under your name, allowing them to easily fabricate their seller ratings and attract new customers. And because the seller has your name and address, they may also use your personal information to carry out other scams.
12. Fake invoice scams
A fake invoice scam is another example of an Amazon scam method involving a fake text message or email. In this scam, you'll receive a fake confirmation message informing you of a recent Amazon purchase. For example, the invoice may claim that you recently purchased a MacBook Pro for $1,999.
Traits of a fake Amazon invoice scam include:
Fake order confirmation via email or text
Specific order information, including the product and price
Links you can follow to undo the purchase
If you end up clicking the link without thinking, you may accidentally infect your device with malware or end up on a spoofed site.
13. Fake listing scams
In fake listing scams, a scammer hijacks a legitimate Amazon listing and alters the title, images, and description of the product of their choice. Because the scammer is taking over a genuine product listing, their updated listing will still show real user reviews, giving buyers the impression that they're purchasing a highly reviewed product.
In reality, the updated listing will advertise a product at a steeply discounted price, hoping to attract a lot of customers. For example, a fake Amazon listing may claim to sell you a popular Bluetooth speaker for half the retail price.
Characteristics of an Amazon fake listing scam include:
A listing for a product at an extremely low price
Lots of positive reviews, some of which may not seem irrelevant to the advertised product
If you purchase something from one of these fake listings, you may end up with a broken or counterfeit version of what you expected to receive.
14. Amazon "write a review" scams
If you heard you could earn money writing Amazon reviews, would you do it? In a "write a review" scam, Amazon scammers are hoping you'll do just that. In Amazon review scams, you'll receive a phishing email offering you money or gift cards to help review Amazon products.
Traits of an Amazon "write a review" scam include:
Emails claiming to be from Amazon
Offers to write reviews in exchange for cash or gift cards
Links to sign up for the program
What's the catch? Once you follow the link, you'll end up on a website designed to trick you into giving up your personal information, allowing the scammer to steal your payment information and anything else you decide to share on the spoofed site.
15. Fake giveaway scams
Let's face it. Who doesn't love free stuff? Unfortunately, when you see an offer to get things for free online, it tends to be a scam. The same goes for fake Amazon giveaways or prize scams.
Characteristics of an Amazon fake giveaway scam include:
Emails or texts claiming to be from Amazon
Claims to offer a free prize or gift card if you follow a link or complete a survey
The scammer's message may even prompt you to insert your payment information to cover shipping costs for your free item. In any case, if the offer sounds too good to be true, it likely is. If you follow the instructions in the message, you could infect your device with different types of malware or lose your identity.
16. Overpayment scams
If you ever get an email stating that you've overpaid for an item and you need to either follow a link or provide personal information to get your money back, you're probably dealing with a scam. Similar to a fake refund scam, this type of scam claims you'll get a portion of your money back to correct an overpayment.
Traits of an Amazon overpayment scam include:
Emails claiming to be from Amazon
Vague descriptions of an overcharge
Links you can follow to correct the charge
Contact information you can reach out to for help
Whether the email directs you to a link or tells you to call them to fix the issue, refrain from doing either. The link could take you to an unsafe site, and contacting the scammer could lead them to use social engineering tactics to get you to give up your personal information.
17. Unclaimed package scams
Another clever scam on Amazon are unclaimed package scams. In an unclaimed package scam, scammers advertise unclaimed Amazon packages for sale on social media or online marketplaces. Depending on the specific listing, the ads may or may not specify what you can expect to find in these packages.
Some ads claim to have specific products, while others may say the packages are worth hundreds of dollars. Either way, the ads will claim you're getting an amazing deal.
Characteristics of an unclaimed Amazon package scam include:
Social media advertisements or marketplace listings claiming to sell unclaimed Amazon packages
Promise of high-value items or extreme savings
Whether you end up with less valuable items than you hoped or receive nothing at all, it's best to avoid purchasing unclaimed Amazon packages, as it's most likely a scam.
How to spot an Amazon scam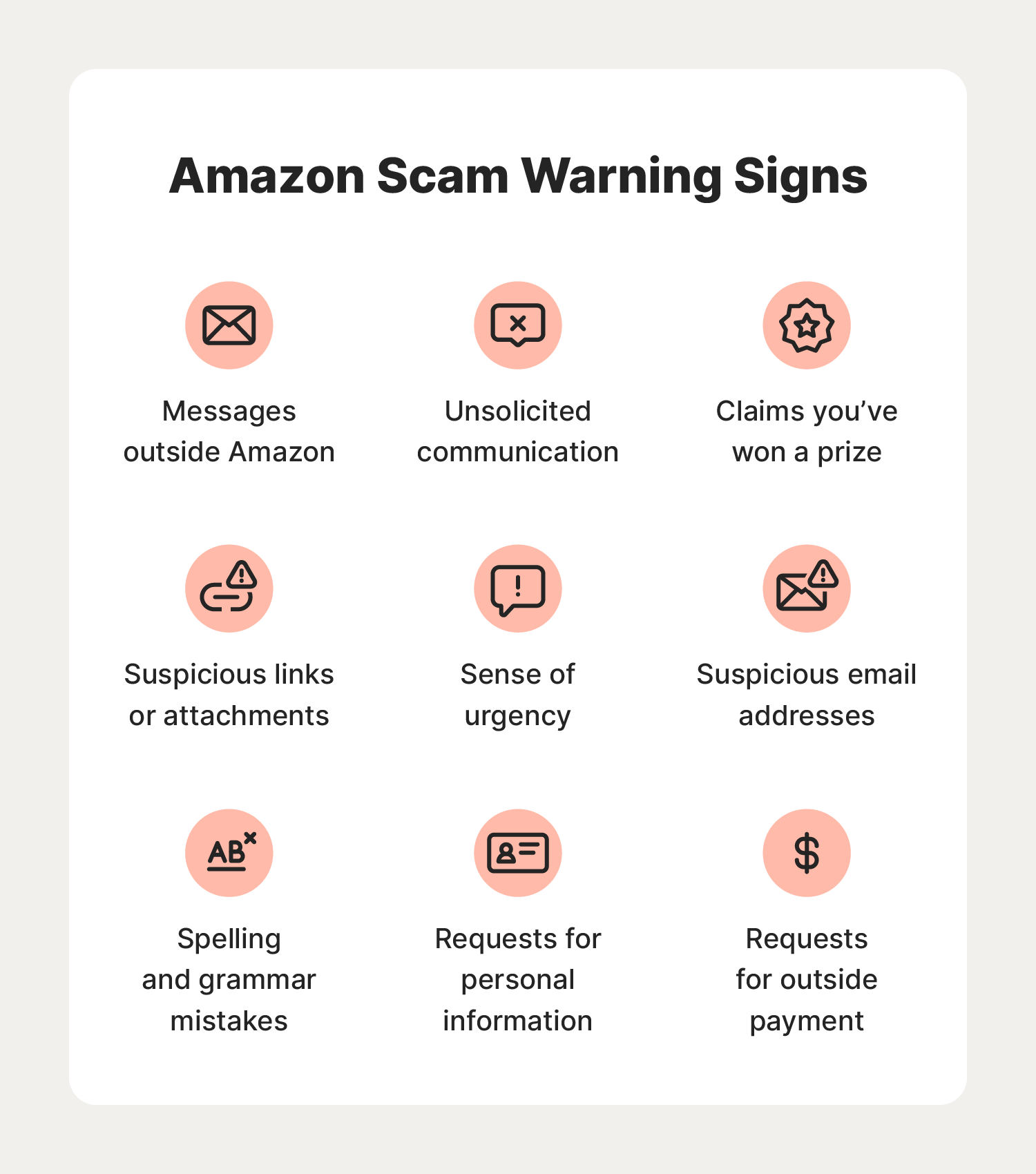 Now you may be wondering how you're supposed to keep track of all of these different scams. While online scams can rapidly evolve, many share common warning signs that can help you quickly determine whether or not something is legit.
Keep an eye out for these Amazon scam warning signs to quickly identify a scam:
Messages outside Amazon: If you ever receive a random email or text claiming to be from Amazon or a third-party seller, it's best to ignore it. If something serious is happening to your order or account, you'll be able to find that information on Amazon's website or mobile app.
Claims you've won a prize: Whenever you're told that you're the lucky winner of a prize or online giveaway, it is more often than not a scam. Because of this, always be wary of any messages or advertisements that promise free items or gift cards.
Requests for outside payment: As a general rule of thumb, never follow through with any payment method outside the official Amazon app or website. If a third-party seller claims you have to pay them with PayPal or any other payment app, they are likely trying to scam you.
Suspicious email addresses: If you open your email inbox to find an email claiming to be from Amazon, double-check to see if the email address is legitimate. Official Amazon email addresses end with "@amazon.com." In addition, if you use a popular email provider such as Gmail, iCloud, or Yahoo, you'll also see the Amazon smile logo next to official Amazon email addresses.
Unsolicited communication: Oftentimes, unsolicited phone calls, texts, and emails can be a sign of a scam. This is especially true if the message contains a vague description of a problem that needs to be solved by following a link or contacting a random phone number.
Requests for personal information: Any time you're prompted to provide personal information such as your username, password, or any payment information, you may be dealing with a scam. Many times scammers impersonate Amazon in hopes that you'll give them information they can use to steal your identity or carry out other scams.
Sense of urgency: Scammers often add a sense of urgency to their messages to try to rush you into following their instructions without thinking twice. If you receive communication that makes you feel like you need to act immediately, it may be a scam.
Suspicious links or attachments: A lot of the time a scammer's main goal is to get you to click on a specific link. In some cases, the link can lead to a malicious website, and at other times it may infect your device with a virus. To be safe, always be wary of the links you receive.
Spelling and grammar mistakes: While at first glance a message can appear as if it's legitimate, pay extra close attention to the message for any spelling or grammatical errors, as that can be a sign of a scam. 
By keeping these warning signs in mind whenever you come across a suspicious situation, you can reduce your risk of accidentally engaging with an Amazon scam.
How to avoid Amazon scams: 10 cybersecurity tips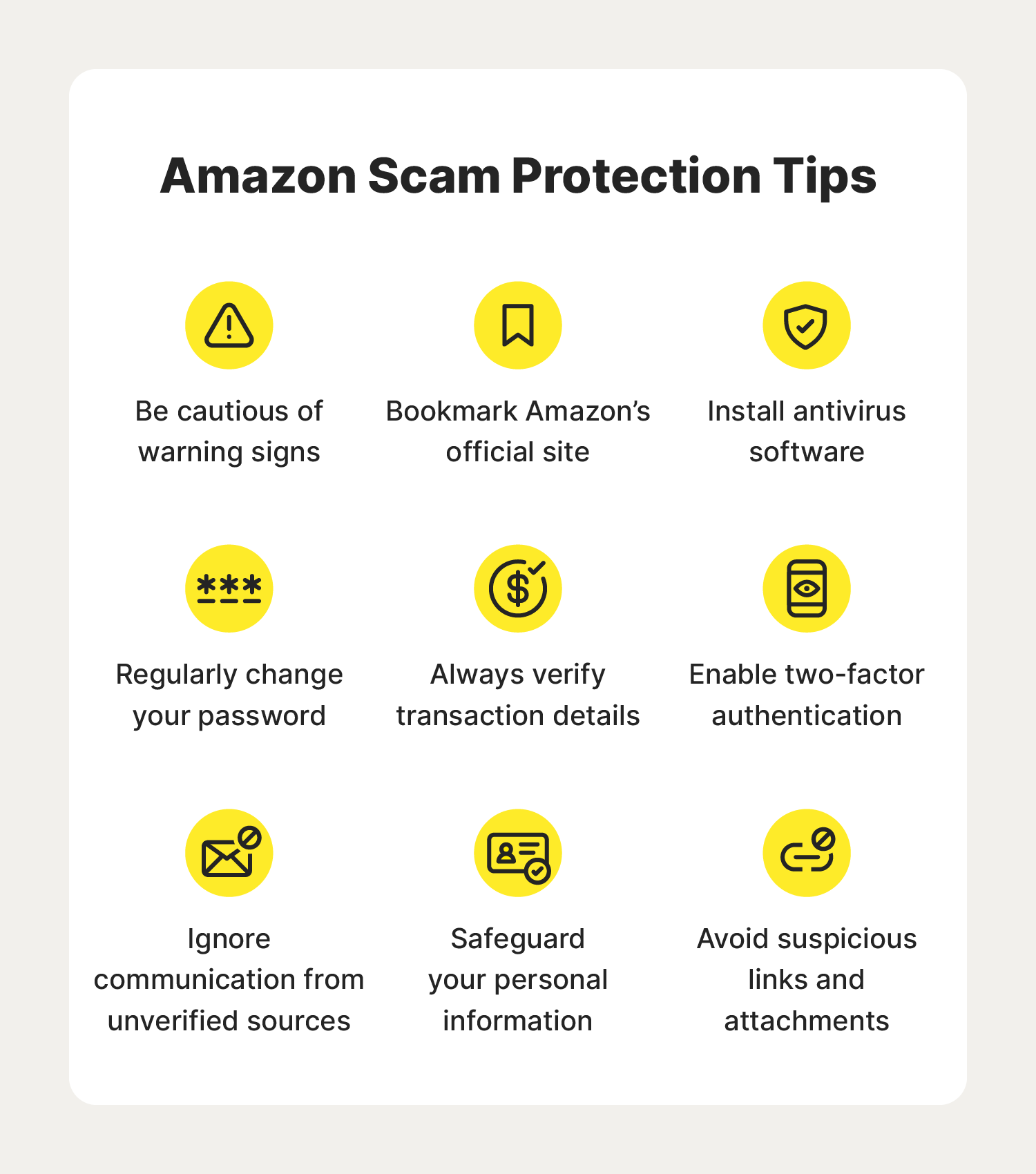 Now that you know how to detect an Amazon scam, you may wonder how you can avoid them altogether. Follow these cybersecurity tips to help reduce the risk of being affected by an Amazon scam.
Be cautious of warning signs: No matter where you find yourself on the internet, always exercise caution and use your best judgment. Whenever you're using Amazon, keep the above warning signs in mind to ensure you're sticking with legitimate Amazon purchases .
Stick to the Amazon app: By sticking to the official Amazon app, you'll never have to second-guess whether the Amazon page you're looking at is legitimate or not. In addition, the official app will only include legitimate communications between you and Amazon.
Bookmark Amazon's official site: If you prefer to use a desktop computer, be sure to bookmark Amazon's official website. That way, you won't have to worry whether or not you're on the right website.
Always verify transaction details before purchasing: To ensure you're never caught off guard by any surprise expenses, always take a close look at the transaction details, including shipping costs and fees, before going through with a purchase.
Avoid suspicious links and attachments: Be it an email or text message, always approach links and attachments with caution, as they could send you to an unsafe site or expose your device to malware.
Ignore communication from unverified sources: To minimize your chances of being affected by an Amazon scam, ignore all communications from unverified sources. If something truly needs to be addressed regarding your Amazon account, you'll be informed via the Amazon app.
Safeguard your personal information: Much of the time, a scammer is seeking your personal information to steal your identity or commit other types of fraud. To help prevent this from happening to you, keep your personal information such as your address, payment information, and Social Security number to yourself unless you're certain you're engaging with a trustworthy entity.
Install antivirus software: By protecting your device with antivirus software, you can reduce the risk of malware associated with an Amazon scam harming your device.
Enable two-factor authentication (2FA): Enabling 2FA can provide an additional layer of protection between an Amazon scammer and your Amazon account. That way, even if the scammer gets a hold of your password, they'll be unable to access your account without a 2FA code.
Regularly change your password: By regularly changing your password, you can help keep unauthorized users from accessing your Amazon account.
 
With these cybersecurity best practices in mind, you can shop on Amazon with peace of mind, knowing you've taken the proper steps to improve your safety.

What to do if you get scammed on Amazon
Whether you accidentally clicked on an unsafe link or gave your personal information to an Amazon imposter over the phone, there are steps you can take to help minimize the damage that can come with an Amazon scam.
If you got scammed by an Amazon seller:
Cease all communications with them.
Report the incident to Amazon.
File a police report (if the scam took place outside of Amazon).

If you disclosed sensitive information:
File a report at IdentityTheft.gov.
Change all of your passwords.
Use a dark web monitoring service to find out if your personal information has been compromised.

If you lost money:
Inform your payment provider (bank, credit card company, etc.) of the fraudulent transaction and ask them to reverse it.
Follow their instructions.

If an unauthorized person accessed your Amazon account:
Immediately change your password.
Monitor your saved payment methods for unauthorized transactions.
Check your order history for fraudulent purchases.
Inform Amazon of the security breach at 1-888-280-4331.
Follow up with any affected payment providers (bank, credit card company, etc.) and inform them of the unauthorized charges.

Finally, don't forget to report fraud to Amazon by:
Log in to your Amazon account on the mobile app or official website.
Visit the official customer service page.
Scroll down and select "Security & Privacy" from the left-hand menu.
Click "Report Something Suspicious."
Follow Amazon's instructions to report Amazon scams.

Whenever you're reporting a scam, be sure to give as many details as possible. That way, you increase the chances of the scammer getting caught, stopping them from scamming other innocent Amazon customers.
Shop more safely with Norton 360 Deluxe
Now that you've learned about Amazon scams, you can shop confidently, knowing you can identify a scam. But that shouldn't be your only form of defense. With Norton 360 Deluxe, you can shop with greater peace of mind, knowing that you have an extra layer of security to help protect against hackers, viruses, malware, and more.
FAQs about Amazon scams
If you're still wondering about Amazon scams, read through these answers to some common questions.
Can you get scammed on Amazon Prime?
Yes, Amazon scams can affect all Amazon customers, whether they are Amazon Prime members or not.
Does Amazon call you to verify purchases?
No, Amazon does not call its customers to verify purchases. And while some departments at Amazon may place calls to customers, they will never ask you to share sensitive information or offer you refunds you don't expect.
Is Amazon safe?
Generally speaking, yes, Amazon is safe to use. With that said, it's important to always practice caution and follow your best judgment when using the site, as there are plenty of scams on Amazon that target unsuspecting customers.
Editorial note: Our articles provide educational information for you. Our offerings may not cover or protect against every type of crime, fraud, or threat we write about. Our goal is to increase awareness about Cyber Safety. Please review complete Terms during enrollment or setup. Remember that no one can prevent all identity theft or cybercrime, and that LifeLock does not monitor all transactions at all businesses. The Norton and LifeLock brands are part of Gen Digital Inc. 
---