Are you often interrupted by a slew of random text messages? Spam texts are not only irritating; they can expose you to malware, identity theft, and other threats. Read our guide to learn how to stop spam text messages. Then, install a powerful mobile security app to help avoid the dangers of spam and block the malicious links they often carry.
It may be illegal to send unsolicited spam or commercial text messages to your wireless device, but that doesn't stop scammers from trying to get your attention through unwanted texts. 
Knowing how to identify spam texts and stop them from showing up on your device is crucial, because engaging can leave you vulnerable to online attacks like phishing and malware. And if you confirm or share personal information with spammers, it can lead to more attacks in the future. 
Here's how to identify spam texts, avoid falling victim, and block spam from reaching your phone in the first place.
1. Know the signs of a spam text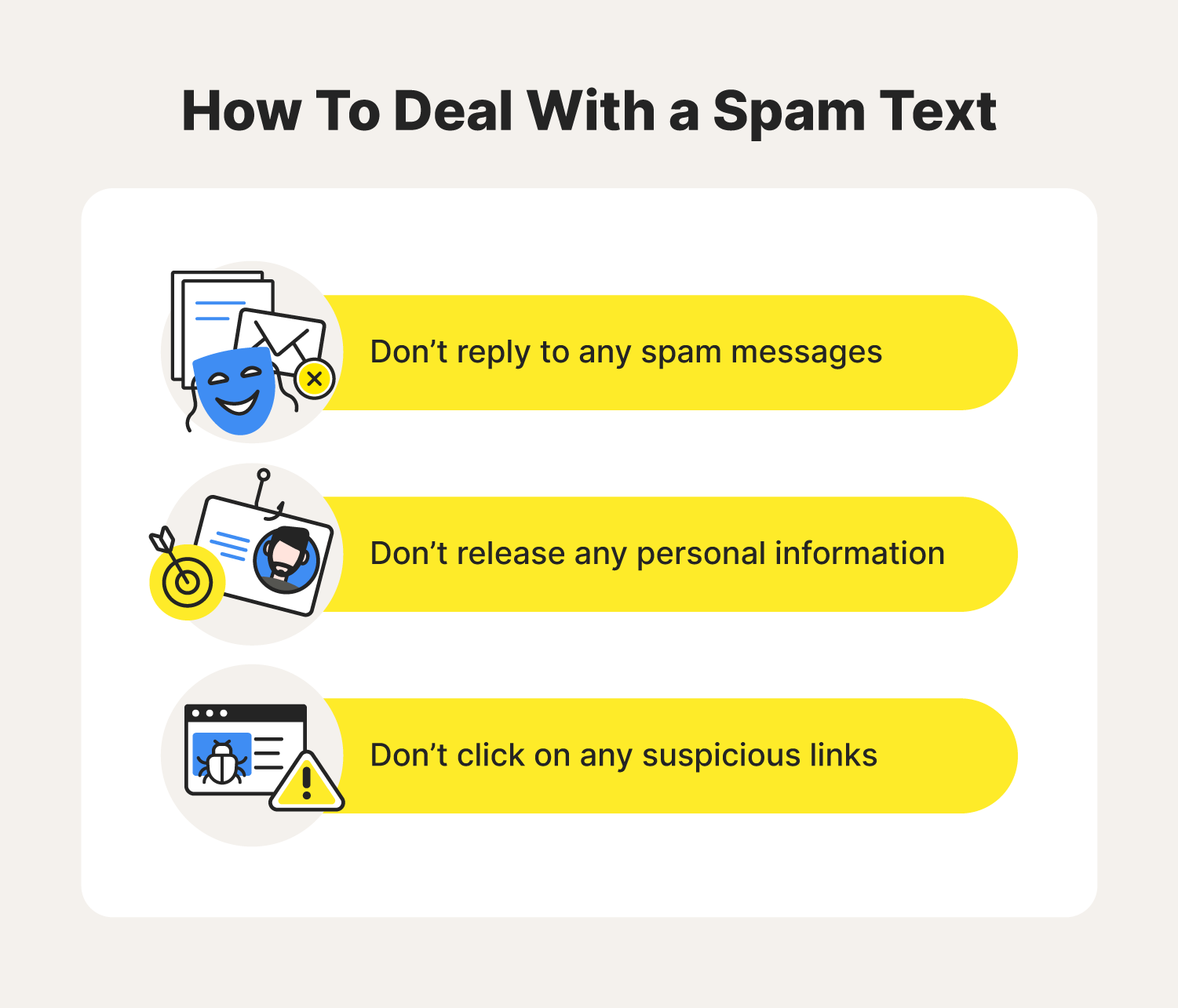 After receiving a text from an unknown number, keep an eye out for these red flags to determine if it's spam: 
It's random and confusing: Many spam texts may come out of left field and have no relation to anything currently going on in your life. If that's the case, ignore and report the text.        
It contains suspicious links: Hoping to steal your personal information, scammers may try to trick you into clicking a link within their spam text. These links may contain different types of malware. As a best practice, never click any links from unknown sources.
It's accompanied by phone calls: Sometimes, spam texts are accompanied by phone calls from scammers pretending to be customer service representatives. During these calls, they may be rude and try to make you feel embarrassed. Scammers use this sneaky tactic to get sensitive information out of you. 
If the text you receive matches any of these descriptions, treating it as spam is best, as interacting with it could put you and your phone at risk.
2. Don't respond directly to a spam text
Directly replying to a spam text message lets a spammer know that your number is genuine. After you reply, they can sell your phone number to other spammers who might bombard you with false promises of free gifts and product offers. Instead, it's best to block and report the number.
3. Don't click on any suspicious links

Clicking on a link in a spam text could install malware onto your phone or take you to spoof sites that look real but are designed to steal your information. If your phone gets hacked, you may notice a decrease in your phone's battery life and performance. Once the spammer has your information, they can sell it to marketers or identity thieves. 
If you accidentally click a link in a spam message, be sure to close out of the window immediately. If you notice any files downloaded in your web browser, delete them without opening them.
4. Block phone numbers
By blocking a phone number, you can ensure that you never receive any spam texts or robocalls from that number again. Follow the steps below to learn how to block spam texts on both an iPhone and Android device.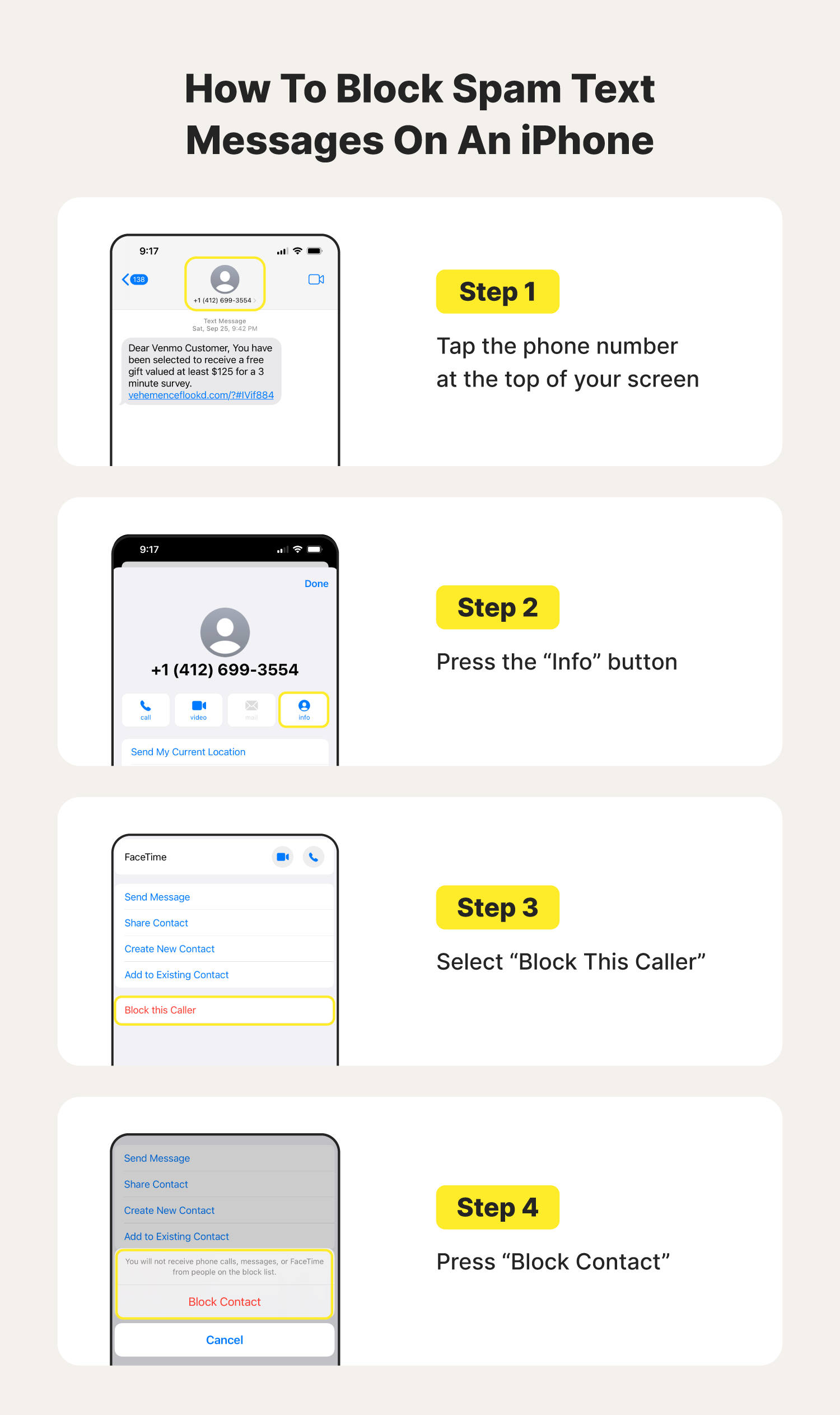 To start blocking text messages on an iPhone:
Tap the phone number at the top of your screen.
Press the Info button.
Select "Block This Caller."
Press "Block Contact." 
To begin blocking spam texts on an Android: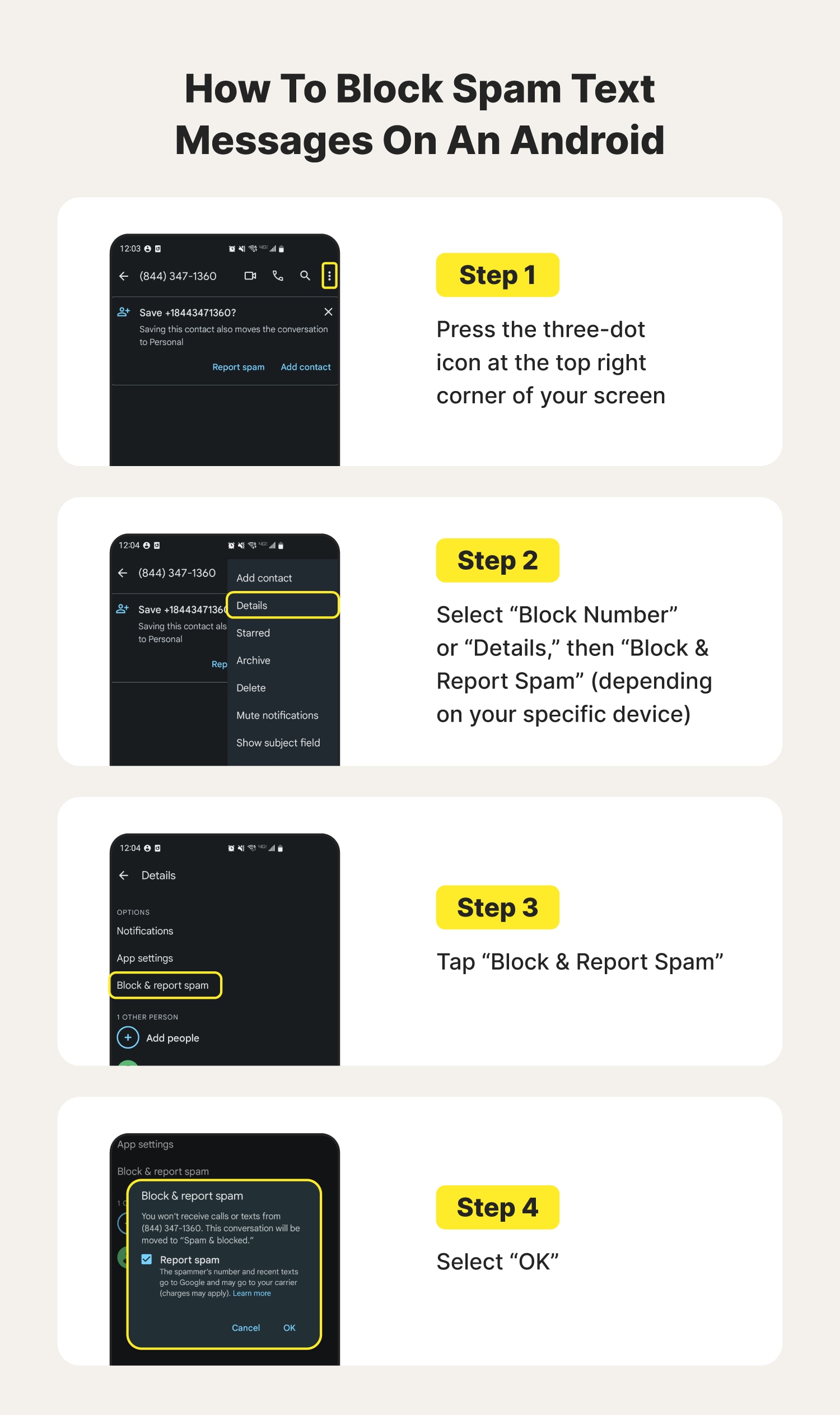 Press the three-dot icon at the top right corner of your screen.
Select "Block Number" or "Details," then "Block & Report Spam" (depending on your specific device).
Tap "Block & Report Spam."
Select "OK." 
Keep in mind that many text spammers use multiple numbers, so you may keep getting spam texts from different phone numbers.
5. Report phone numbers to your carrier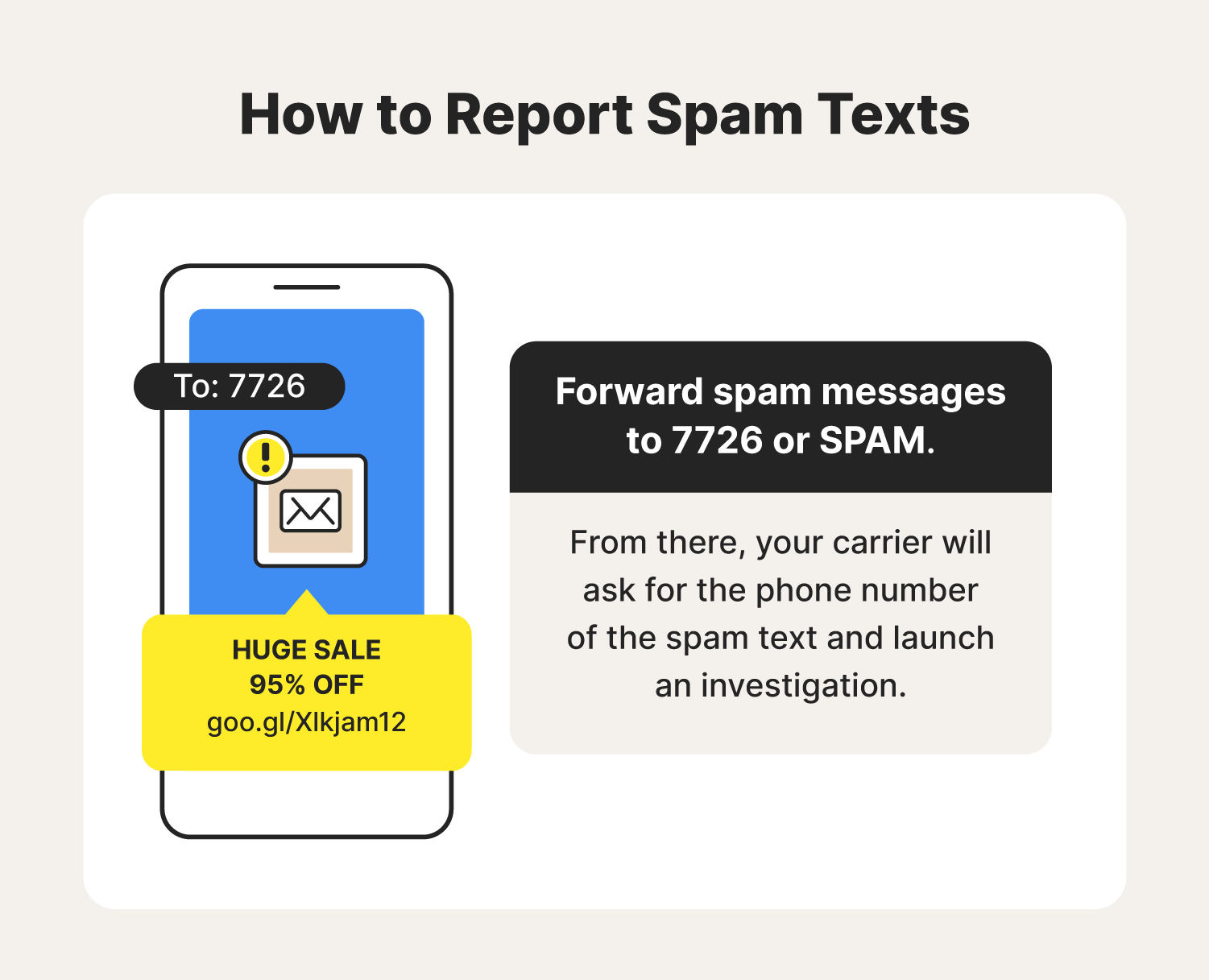 Now that you know how to block text messages, it's also beneficial to report the number as spam to your carrier. You can do this by forwarding the message to 7726 or SPAM. Once you've forwarded the message, your cell phone carrier can investigate the text and number.  
Forwarding a text to 7726 works for most cellular providers, including AT&T, T-Mobile, and Verizon. 
6. Enable spam filters
Another way to help ensure a spammer never makes it into your inbox is by using spam filters. Both iPhones and Android phones have their own spam filter you can enable. 
To filter out spam texts on an iPhone: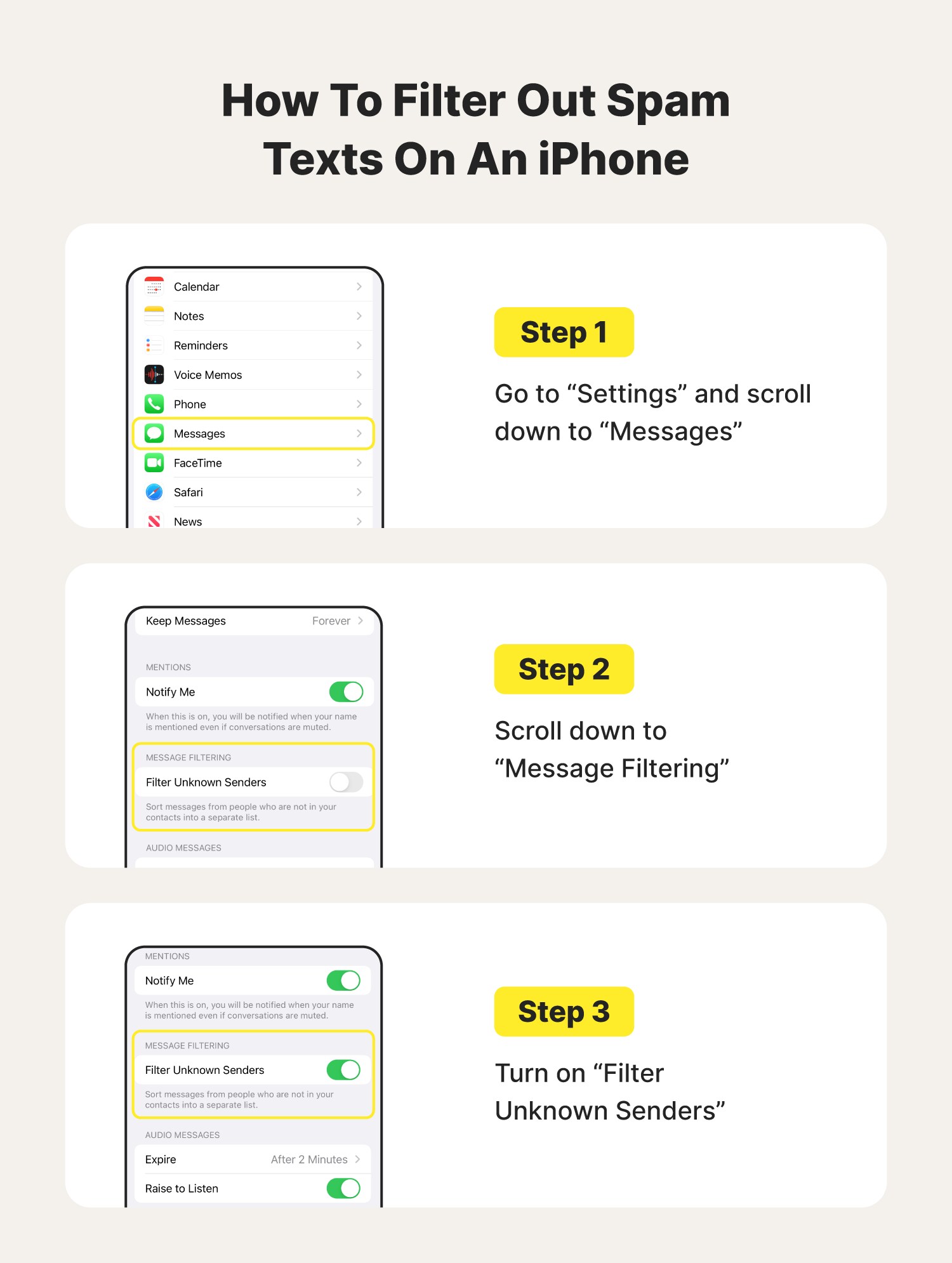 Go to Settings.
Scroll down to Messages.
Turn on "Filter Unknown Senders." 

To filter out spam numbers on an Android:
Go to Messages and tap the three-dot icon in the top right corner of your screen.
Select "Details."
Tap "App Settings."
Select "Spam Protection."
Turn on "Enable Spam Protection." 

Once you've enabled your phone's built-in spam protection, you reduce the risk of accidentally interacting with a  spam text.
7. Be careful where you share your phone number
While surfing the web, it's crucial that you treat your personal information as if it's your most prized possession. Many scammers aim to gain as much information about someone as possible for fraudulent purposes.  
To avoid your personal information getting into the wrong hands, do not give out your phone number or any other personal information to an unknown or untrusted source. This can help reduce the risk of receiving any unwanted texts.
8. Use third-party spam protection apps
Most major carriers offer call-blocking services or plans that let you block phone numbers from unknown callers for a specific time period. You can also see if third-party text scam blocker apps and services can work with your carrier's wireless service.  
Some third-party call blocking apps* include:        
Using these third-party apps may provide an additional barrier between text scammers and your inbox. 
9. List your number on the National Do Not Call Registry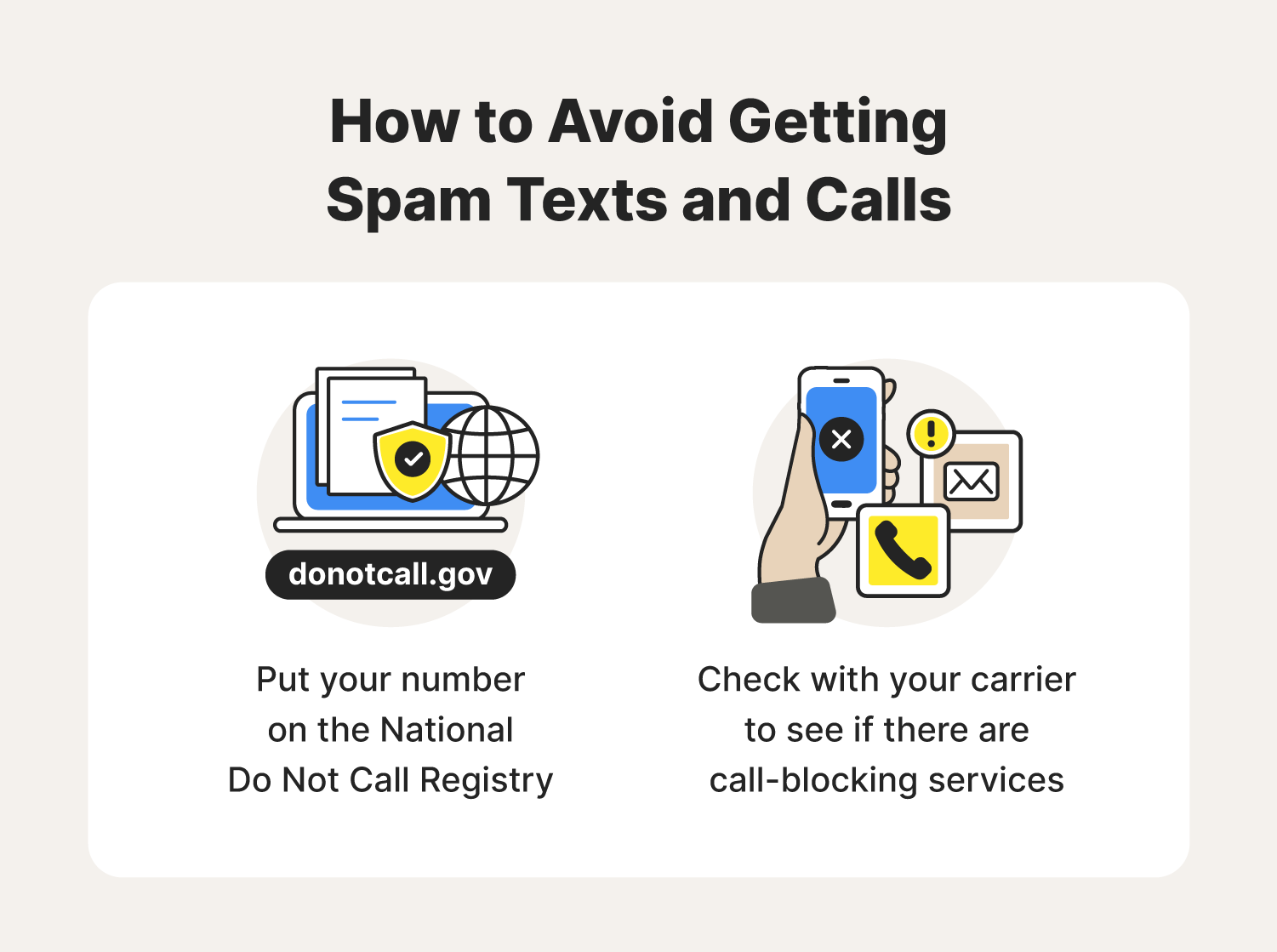 Wondering how to stop unwanted texts and spam calls? Adding your phone number to the Federal Trade  Commission's (FTC) National Do Not Call Registry lets you opt out of most telemarketing calls. If you receive an unwanted call after your number has been on the registry for 31 days, you can report it to the FTC. 
How to stop spam texts on iPhone
One of the most important steps you can take to combat text scammers is to report their messages as spam. To report spam on an iPhone: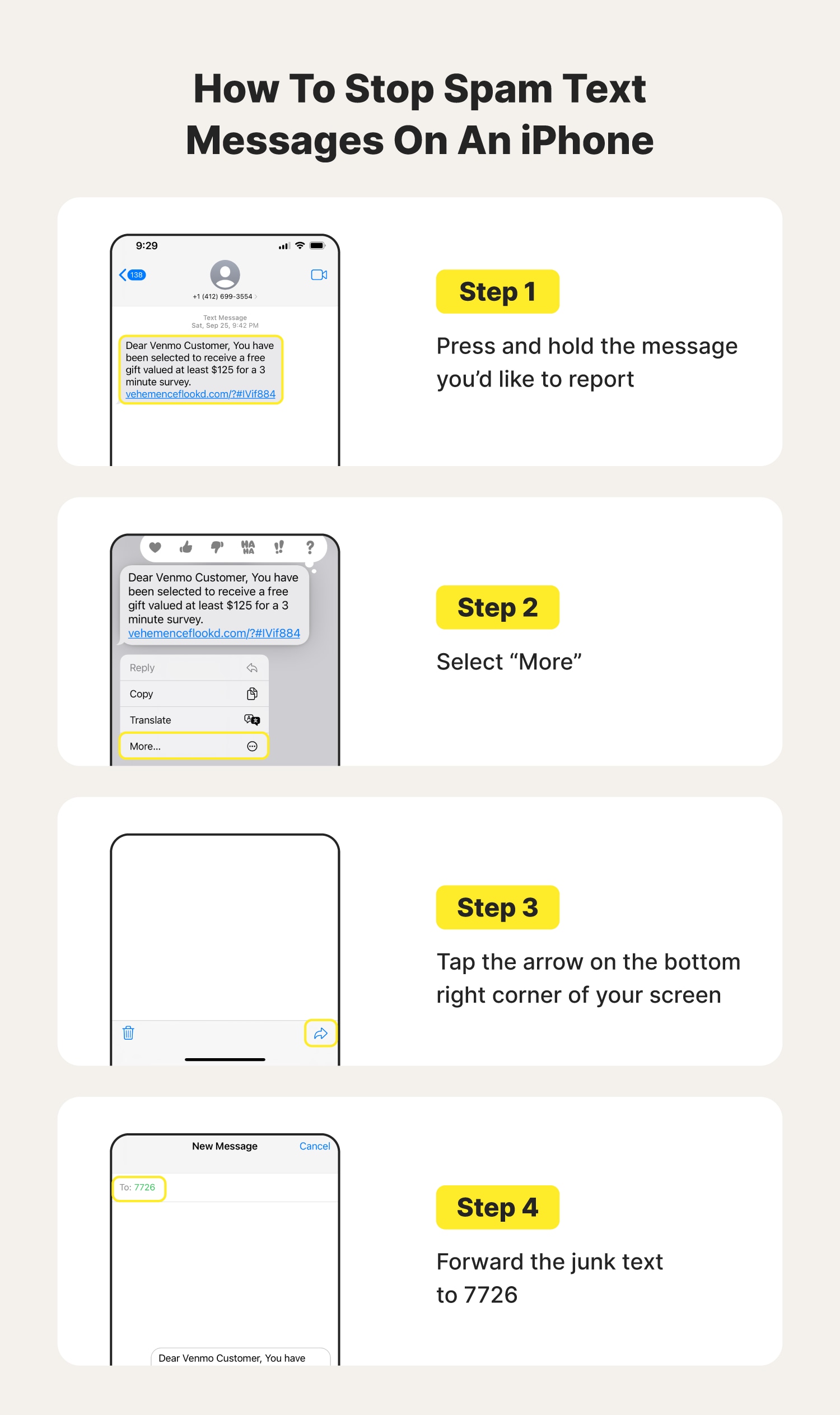 Press and hold the message you'd like to report.
Select "More."
Tap the arrow on the bottom right corner of your screen.
Forward the junk text to 7726.

Then, sit back and let your cellular provider do the rest. Reporting spam texts is a great way to help keep you and others safe from text scammers. 
But even if you're vigilant about blocking and reporting spam on your iPhone, new spam text messages can still get through. To help stop that from happening, you need a dedicated iPhone security app. Norton Mobile Security for iOS can help protect you against phishing attacks, malicious downloads, and other threats that can be shuttled to your phone through spam texts.
How to stop spam texts on Android devices
You can also report a text as spam on your Android device. To do so: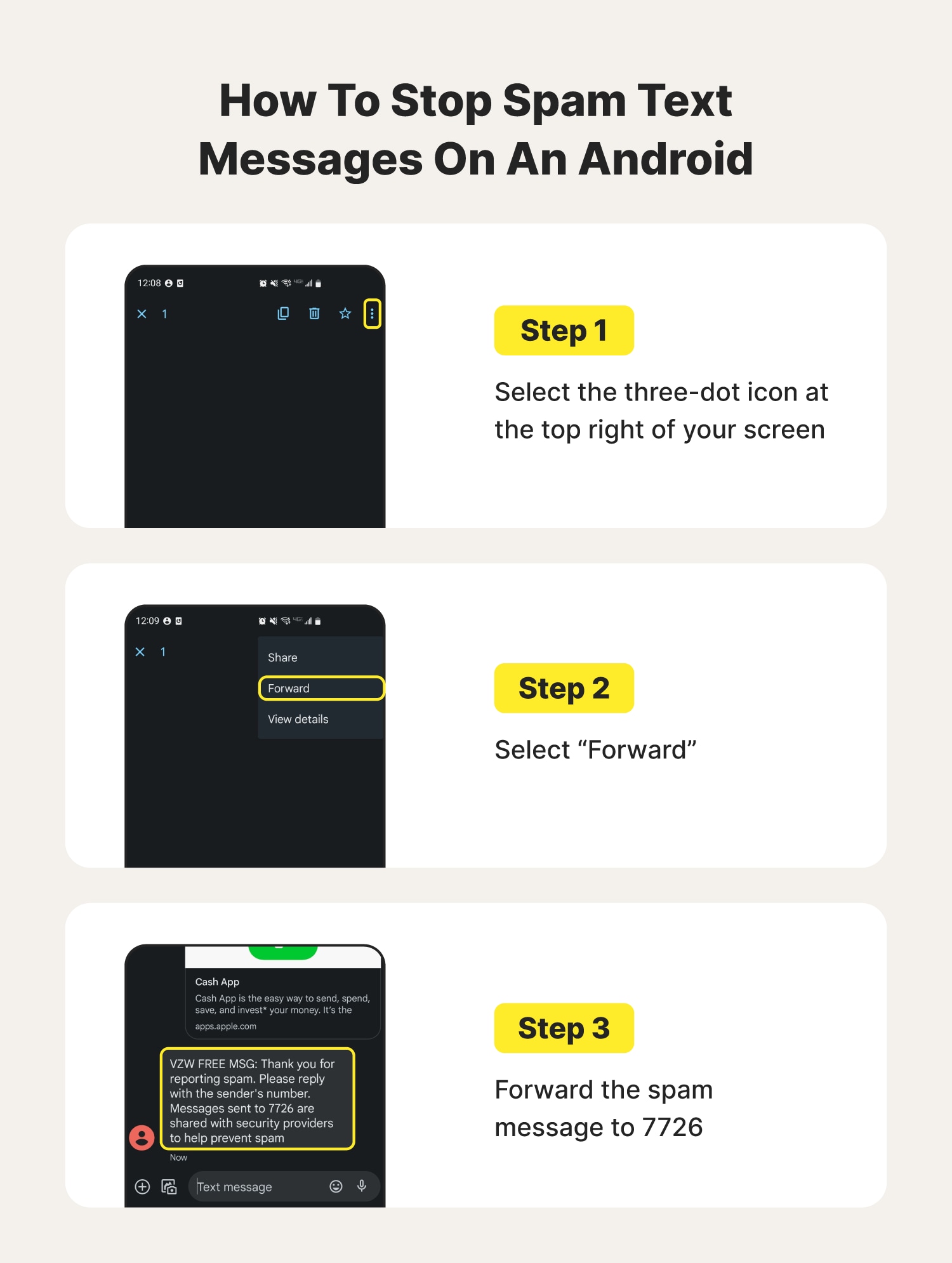 Select the three-dot icon at the top right of your screen.
Select "Forward."
Forward the spam message to 7726. 
Reporting spam texts is a great spam prevention tool. But what about the new spam texts that scammers create? With Norton Mobile Security for Android, you'll get an extra layer of spam protection. Our SMS filtering feature detects phishing and malicious links hidden in spam texts, helping to ensure you don't fall victim to spammers' dangerous scams.

When it comes to text messages and security, using a little common sense and making the most of your phone's and carrier's privacy features can help you handle spam messages more efficiently. Now that you know how to stop spam texts, be sure you cover all your cybersecurity bases by taking the necessary precautions to protect yourself online.
FAQs about stopping spam texts 
There's nothing to fear if you still have questions about blocking spam texts. We'll likely have the answers you're looking for below. 
Why am I getting spam texts?
If you start receiving spam texts, someone is likely trying to get ahold of your personal information. Because of this, it's crucial that you block and report the number without responding.
What is 7726 and how does it work? 
The code 7726 offers a quick and easy way to forward spam text messages to your cell phone carrier's spam department or team, so they can then take action against spammers. The code is easy to remember because it spells "spam." 
When you forward a text to 7726, it alerts your cell phone carrier of a spam problem. After cell phone carriers receive spam reports at 7726, they ask you for more information and then launch an investigation into the spam sender. 
What happens after I report a spam text to 7726?  
Reporting spam to 7726 allows your cell phone carrier to investigate and take action to try to stop the sender from spamming you and other customers. Actions may include:
Blocking a sender's phone number
Blocking a specific type of message content
Sharing the scammer's information with other cell phone carriers
Getting fraudulent phone numbers, email addresses, and websites shut down 
To ensure you're doing everything you can to keep yourself and others safe, it's best to always report any suspicious messages to 7726.
The inclusion of websites, apps, or links does not imply endorsement or support of any company, material, product, and/or provider listed herein.
Editorial note: Our articles provide educational information for you. Our offerings may not cover or protect against every type of crime, fraud, or threat we write about. Our goal is to increase awareness about Cyber Safety. Please review complete Terms during enrollment or setup. Remember that no one can prevent all identity theft or cybercrime, and that LifeLock does not monitor all transactions at all businesses. The Norton and LifeLock brands are part of Gen Digital Inc. 
---