Secure messaging apps encrypt your communications to ward off hacking attacks and keep your conversations private. These apps help safeguard the messages and sensitive documents you send over the platform against cyber threats. For more comprehensive protection, get Norton 360 Deluxe, which features a built-in VPN that encrypts the information you send and receive online through any app. 
How does secure messaging work?
Secure messaging applications use end-to-end encryption (E2EE) to keep messages private as they travel between the sender and the intended recipient's devices. The messaging service uses mathematical operations to scramble the message—turning it into gibberish that only becomes decipherable to the person with a valid decryption key.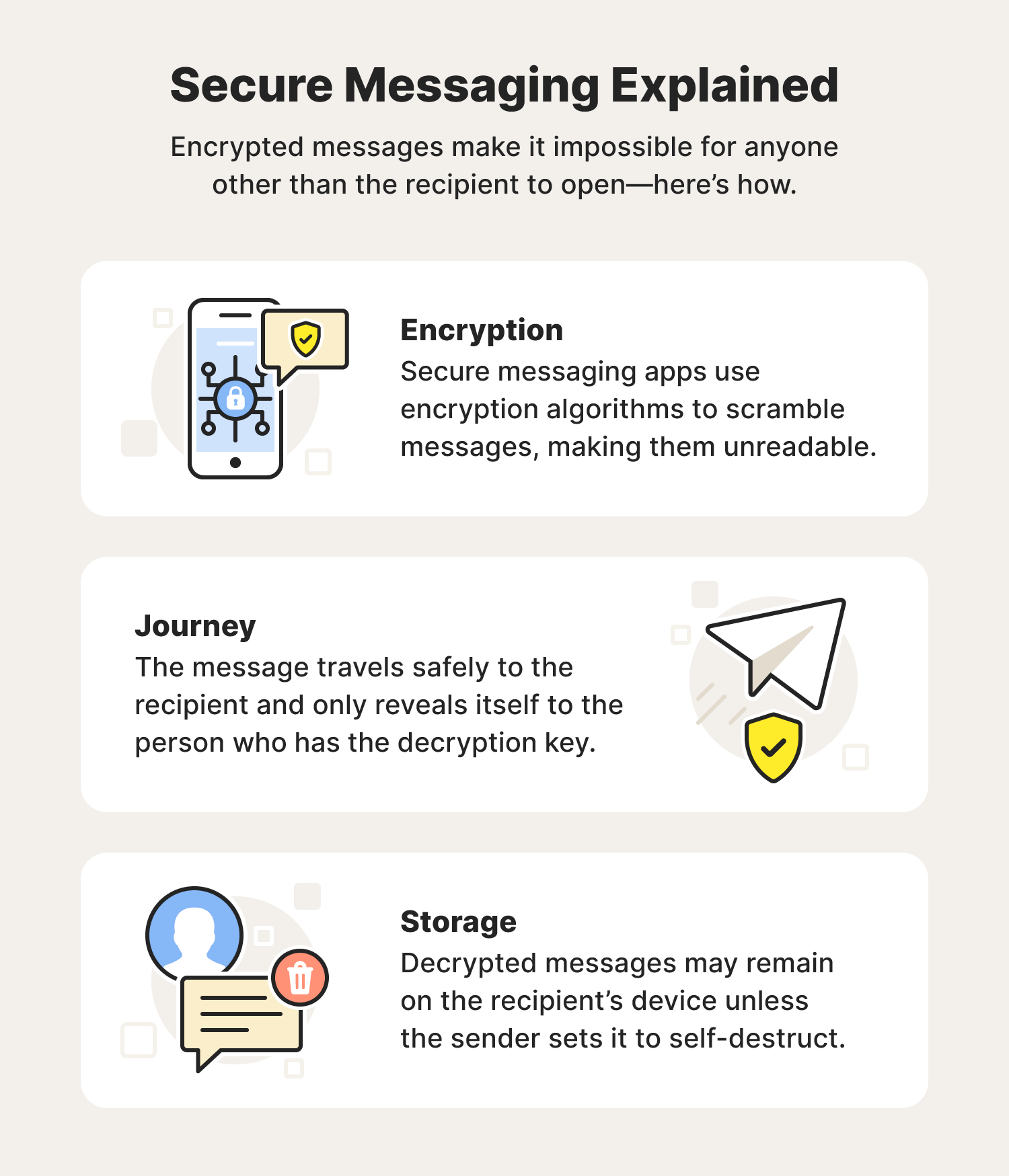 Features of secure messaging apps
Secure messaging apps are built to safeguard user communications without sacrificing a strong user experience (UX). These apps accomplish this with must-have features and functionalities such as:
End-to-end encryption: E2EE is a system for private communication that masks messages using a method called public key cryptography.
User authentication: Secure messaging apps leverage identity verification processes like multifactor (MFA) and two-factor authentication (2FA) to guarantee that only approved users have access to private messages.
Open source: Ideally, the secure messaging service you select will make its code public so experts and users can review the platform's security measures and inspect the code for flaws.
Rich media: If you're looking for an app to replace your regular unsecured messaging app, choose one with comparable rich messaging features, including text, images, videos, GIFs, and stickers.
Self-destruct and expirations: A truly secure messaging service will include message-destruction features to prevent recipients from saving messages against the sender's wishes. 
HIPAA-compliant: This capability won't be necessary for every user, but healthcare organizations should learn about HIPAA's security requirements when they select a messaging app.
Below, you'll find a list of secure messaging apps that leverage some or all of these features to enhance user privacy.
The 12 most notable secure messaging apps of 2024
Here are some of the best secure messaging services available today, in no particular order:
Here's what you should know about each.
Price: Free
Available on: Android and iOS
Signal is a free messaging app that locks down user communications with E2EE and the open-source Signal Protocol (a collection of procedures that dictate how data should be exchanged between apps or computers). These features allow users to privately send voice chats and messages. Aside from keeping hackers and advertisers away, Signal refuses to divulge private information about its users, even when presented with a warrant from government agencies like the Federal Bureau of Investigation (FBI).
A few of Signal's top features include:
End-to-end encryption
Screenshot blocker
Disappearing messages
Single-view media
Incognito keyboard
Rich media
Pros
Cons

User-friendly
Committed to privacy
Strong encryption technology

Requires a phone number for sign-up
Intermittent message delivery issues
Price: Free
Available on: Android, APK, F-Droid, iOS, Linux, and Windows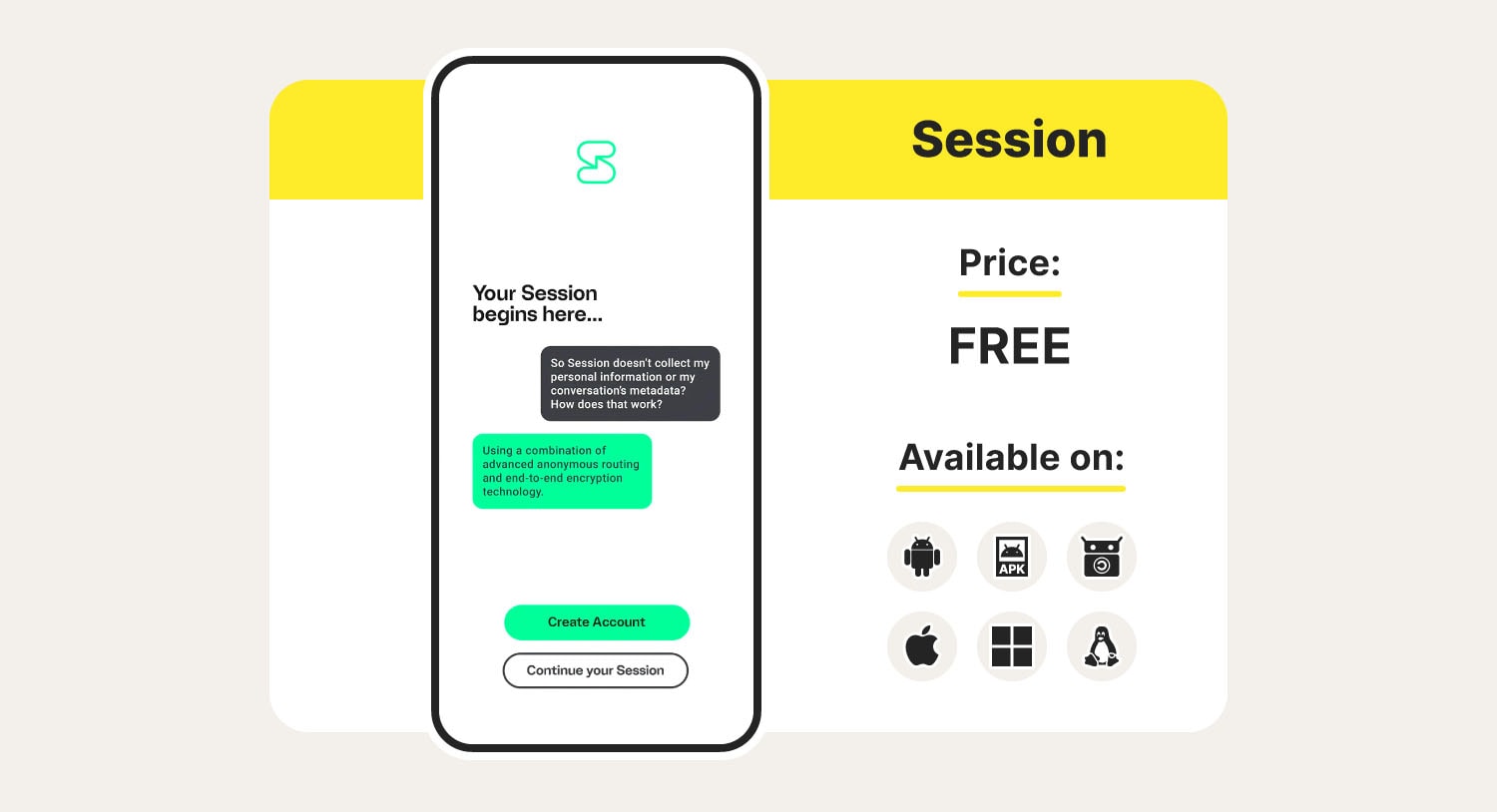 Session is an encrypted messaging app that some businesses use as an alternative to Zoom to host private work meetings. The tool protects communications sent on mobile devices and computers. It also leverages onion routing to provide an extra layer of protection. Session also promises that they won't—and can't—collect metadata, which includes private information like your IP address.
Here are a few features of the platform:
Group chats
Voice messages
Secure file sharing
Pros
Cons

No phone number or email address necessary for sign-up
Doesn't collect geolocation or metadata
Collaboration features enable work use cases
Responsive UI

Group voice and video calls are currently unavailable
Requires users to verify the identity of the person they're speaking with on another platform
Resource-intensive on low specification devices
Price: Free
Available on: Android and iOS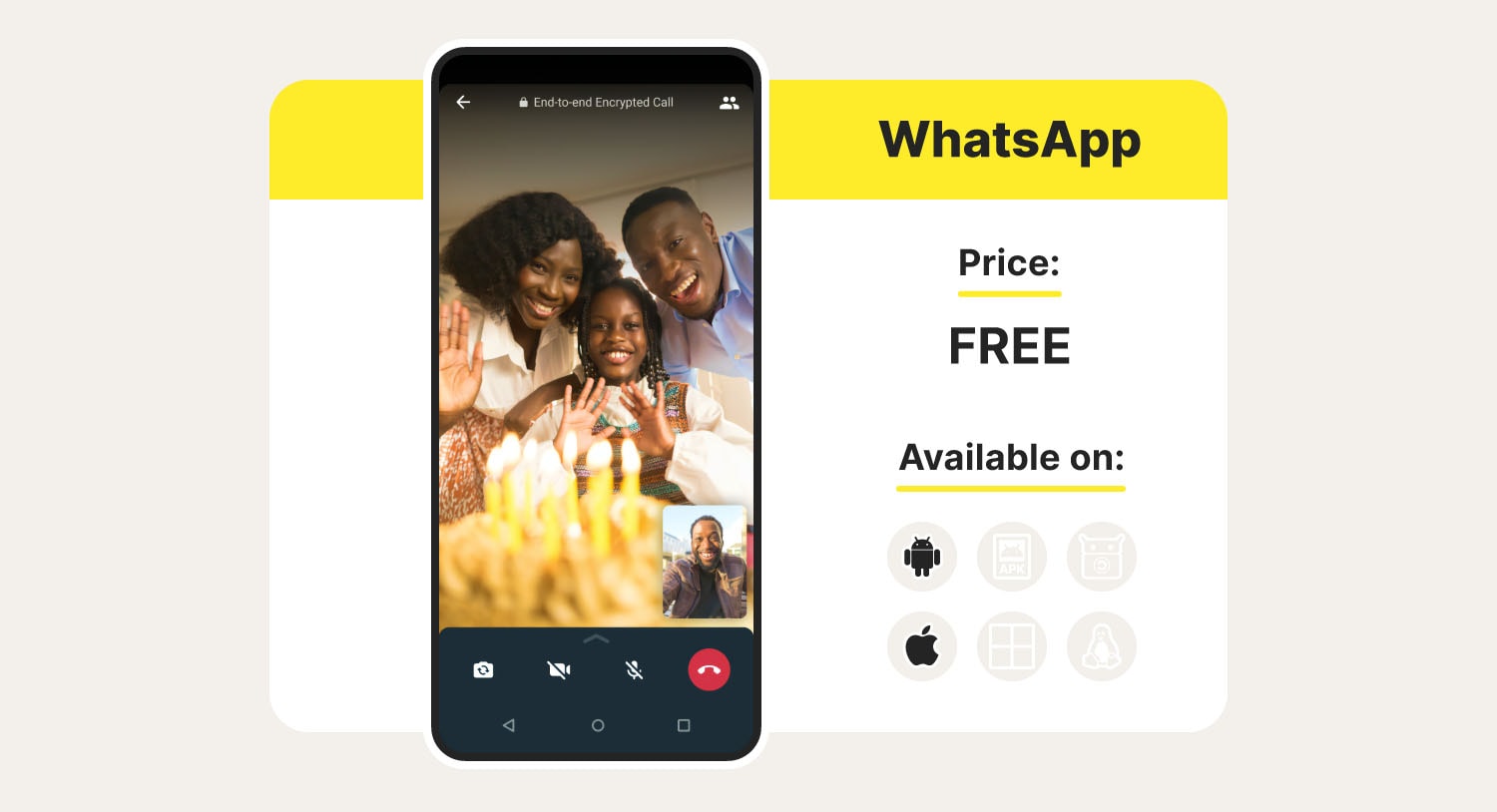 WhatsApp is a secure messaging solution for individuals and businesses. The messaging tool is known for helping users circumvent international messaging fees and is secure. Even with a subpoena or warrant, law enforcement can only access limited user information such as subscription details, blocked users, and in-app contacts—but no messaging data. However, Meta does own the app, so just be aware that WhatsApp may share your data with Facebook.
Here are a few features WhatsApp offers:
End-to-end encryption
Chat lock
Disappearing messages
Spam and unknown caller silencer
Encrypted backups on iCloud and Google Drive
Advanced privacy controls
Pros
Cons

WhatsApp for business is designed with professional communications in mind
Many people already use the app
Doesn't require cell service

Shares data with Meta companies
Experiences delays and crashes
Requires phone number
Price: Free
Available on: Android, iOS, Linux, macOS, and Windows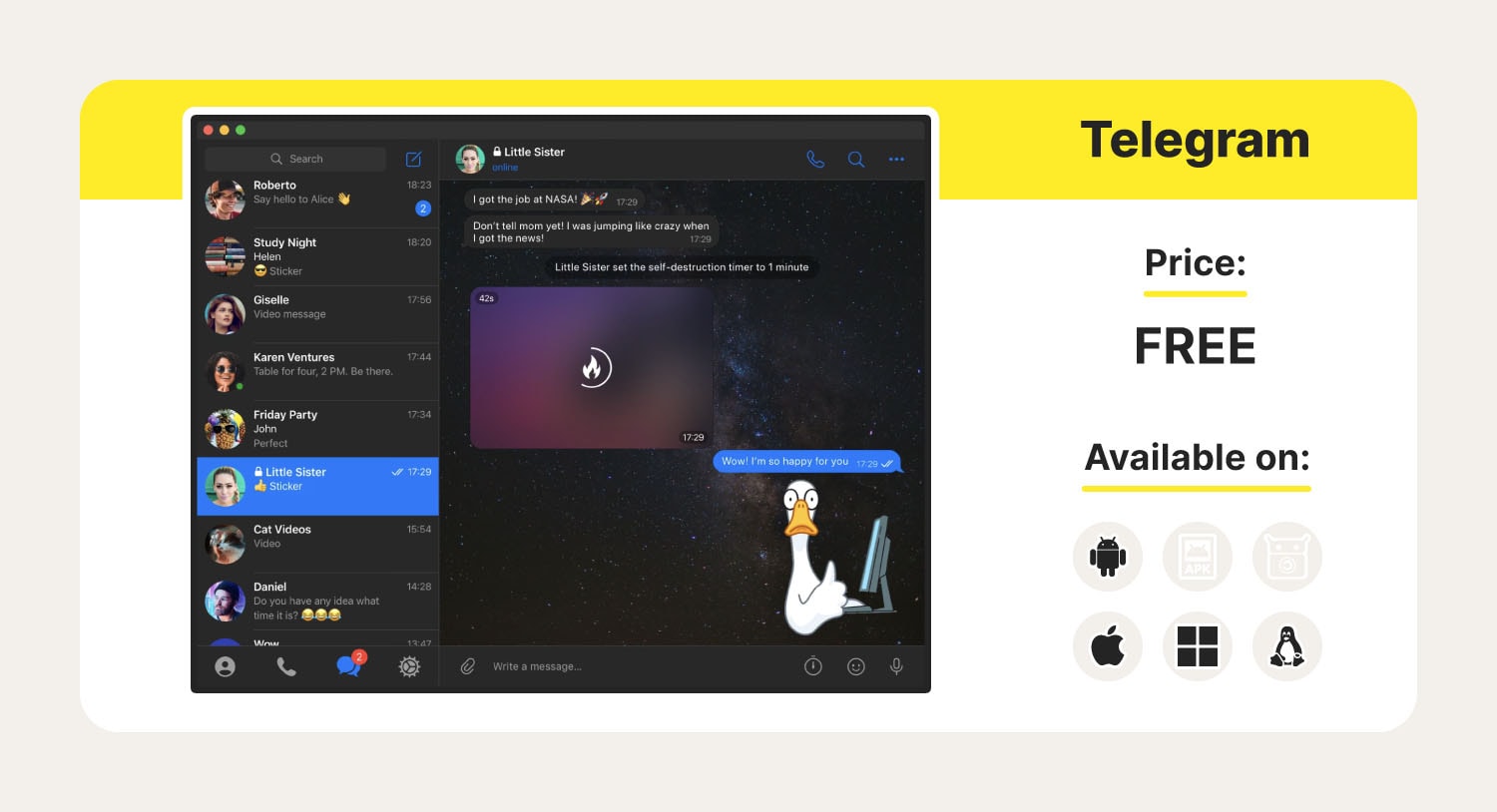 Telegram is an instant messaging app that allows users to sync conversation data across devices. Users have access to group chat capabilities and the option to form digital communities. However, it only secures "secret chats" with E2EE, so avoid posting sensitive content in public channels. Regardless, the government can't review messages sent on the platform and can only access a user's IP address and phone number with a warrant.
Some of Telegram's features include:
Live streaming
File sharing
Video calls
Voice chats
Secret chats
Rich media
Pros
Cons

Allows users to create group chats with up to 200,000 people
Enables users to make channels to stream to audiences of any size
Large storage capacity

Spam messages often get through to users
Several unmonitored channels
Price: Talk to sales
Available on: Android, iOS, Mac, and PC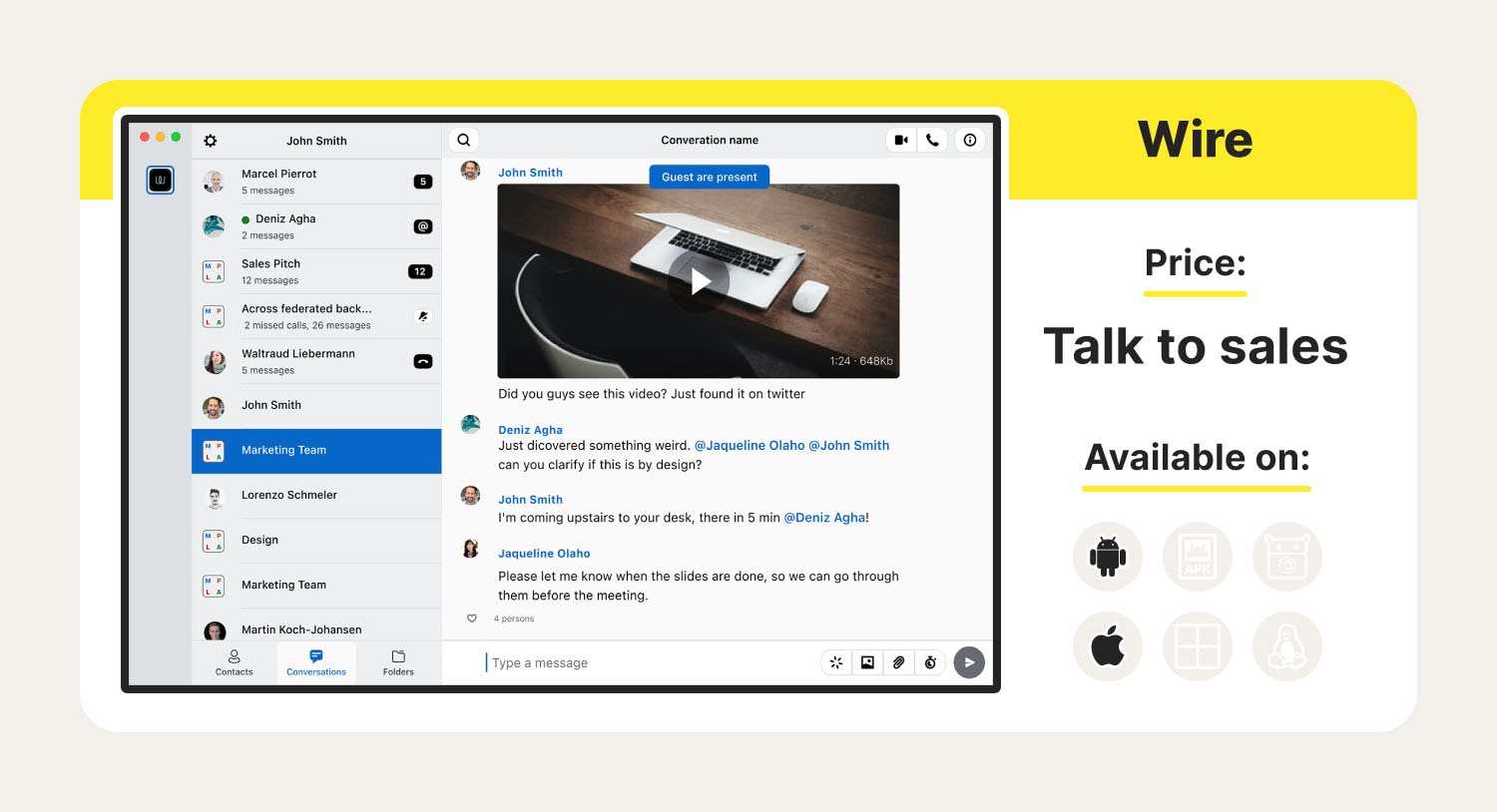 Wire is a secure messaging app that businesses and governments worldwide use to communicate. The messaging service has its own encryption protocol—Proteus—which is based on Signal's. It doesn't just encrypt messages but also videos, audio communications, and file transfers.
Here are a few features Wire offers:
End-to-end encryption
Self-deleting messages
Authentication settings
Team management
Service level agreements (SLAs)
Pros
Cons

Data sovereignty
Clean user experience (UX)
Advanced security measures

Limited integrations
Slow data syncing
Occasional messaging glitches
Price: Talk to sales
Available on: Android, iOS, Linux, Mac, web, and Windows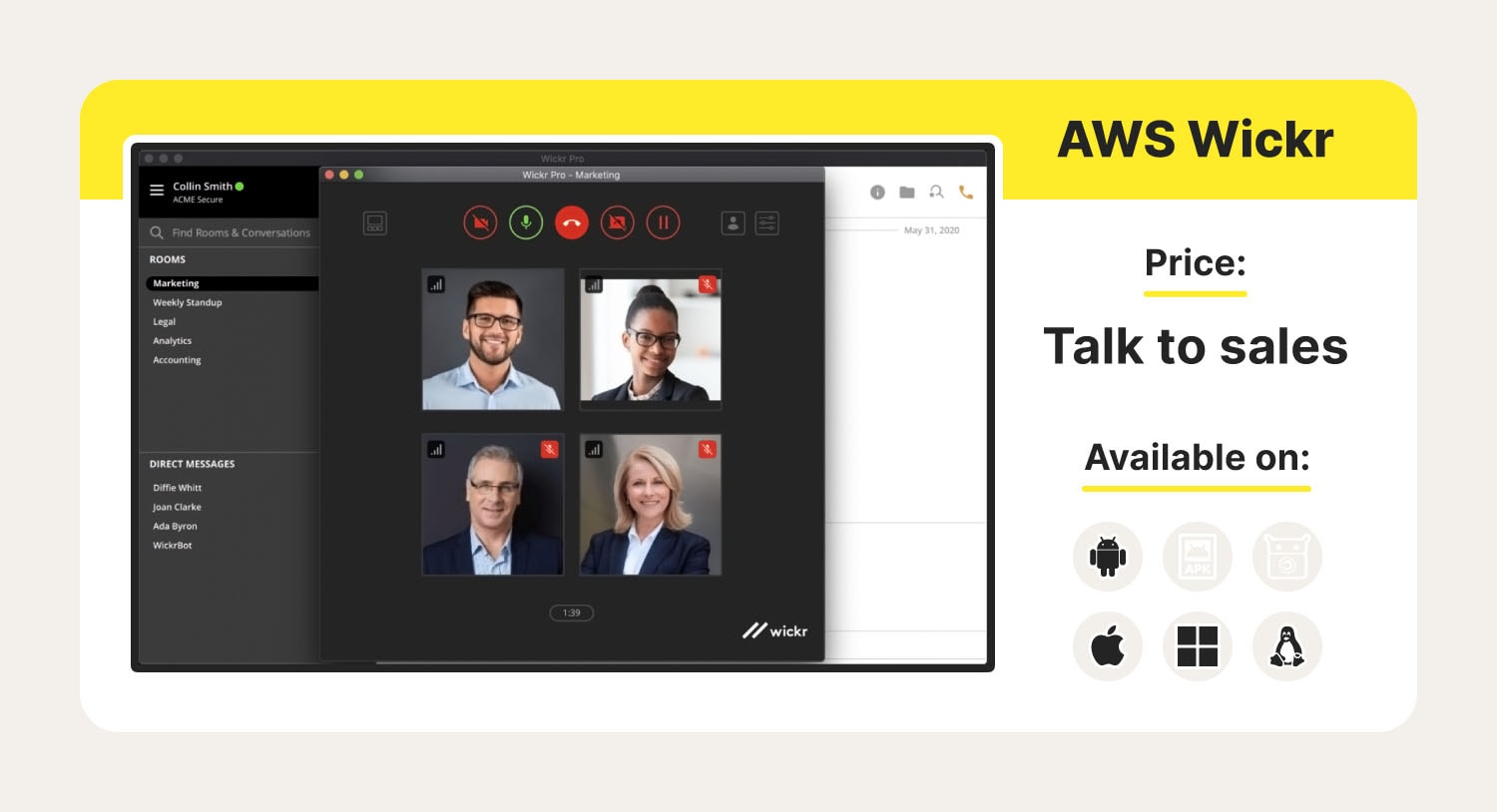 AWS Wickr (formerly Wickr Me) is a private messaging app designed for businesses, government agencies, the military, and individuals who value online privacy. Acquired by Amazon Web Services in 2021, the platform enables collaboration and automated workflows, and it protects users by preventing the government from accessing message data. However, they may be legally required to disclose the time and date the account was created and last accessed, the total number of messages you sent and received, your avatar, and what version of the app you're using.
Here are some of Wickr's top features:
End-to-end encryption
Group messaging
Teleconferencing
File sharing
Message expiration timers
User management
Advanced security measures
Pros
Cons

Zero trust platform design
Enterprise integrations
Easy to manage high volumes on incoming messages

Less user-friendly than others
Long load times
Few options for personalization
Price: Starts at $4.99
Available on: Android, iOS, Linux, macOS, and Windows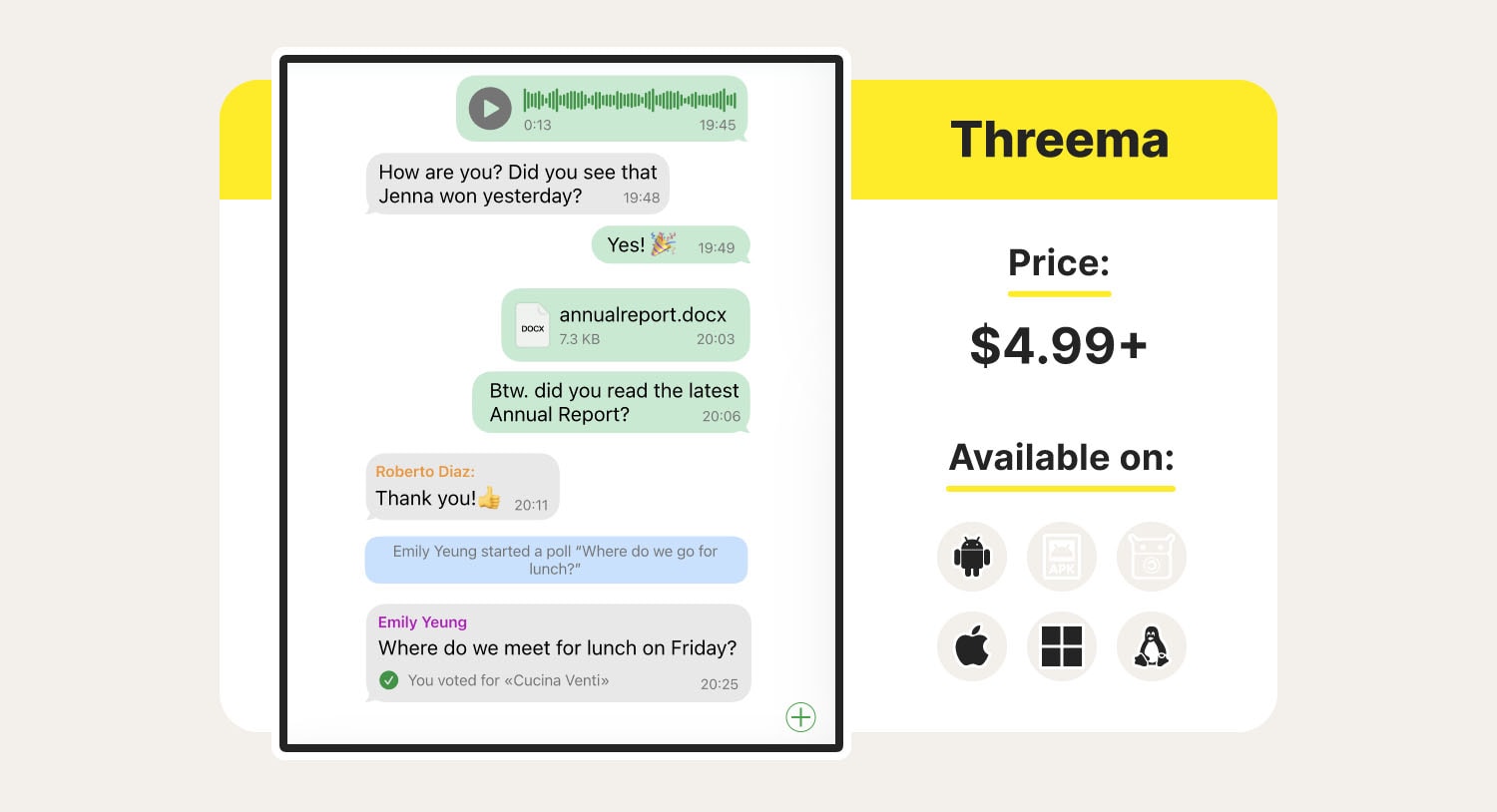 Threema offers secure messaging apps for individuals and businesses. The Threema model allows individual users to pay a one-time fee to gain lifetime access to encrypted messaging. Businesses can choose between one of three price tiers Threema offers, starting at $14.99 per user annually. Regardless of the platform or package you select, Threema doesn't disclose message content under any circumstances. However, they may disclose the user-provided email address or phone number under certain circumstances.
Here are a few features and capabilities of Threema to consider:
Anonymous chat
Voice and video calls
Automation and integration
Web client and desktop app
Polls
Group chats
Pros
Cons

Open source with regular security audits
GDPR-compliant
No ads or data collection
Price: Free
Available on: iOS and Android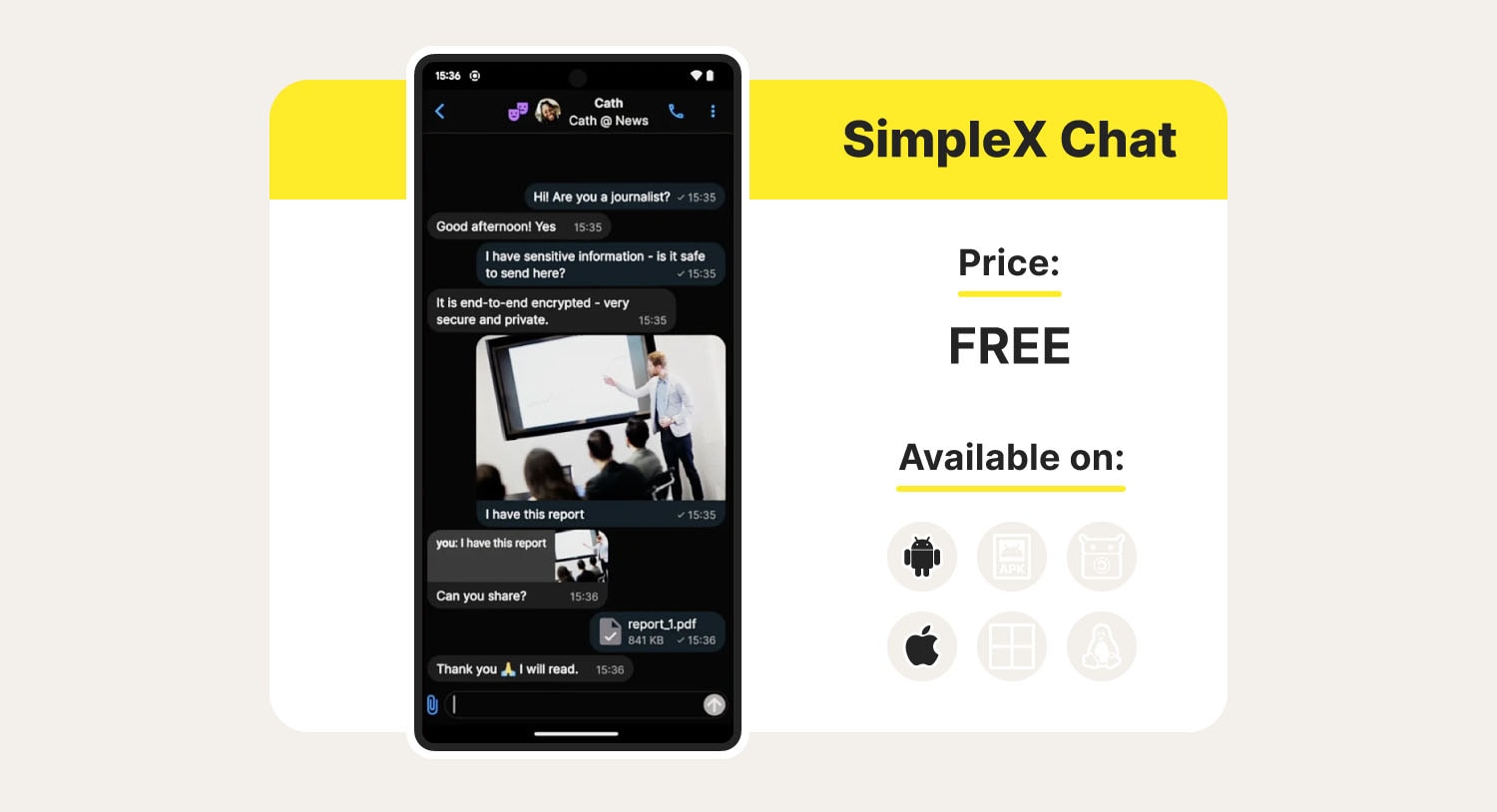 SimpleX is an encrypted messaging app that takes a fresh approach to user privacy. Instead of relying on user IDs or randomly generated numbers, the platform assigns users short-term, anonymous identifiers. By doing away with long-term identification, the app prevents metadata links and further enhances user privacy without hindering connectivity.
Here are some features SimpleX chat offers:
E2EE messages
Decentralized secret groups
Disappearing messages
Message reactions
Voice messages
GIFs and stickers
Pros
Cons

Excels in anonymity
Intuitive and user-friendly platform
Good audio call performance

Push notifications arrive slowly
Occasional app glitches
Price: Starts at $5 per user/month
Available on: Android, iOS, Linux, macOS, web, and Windows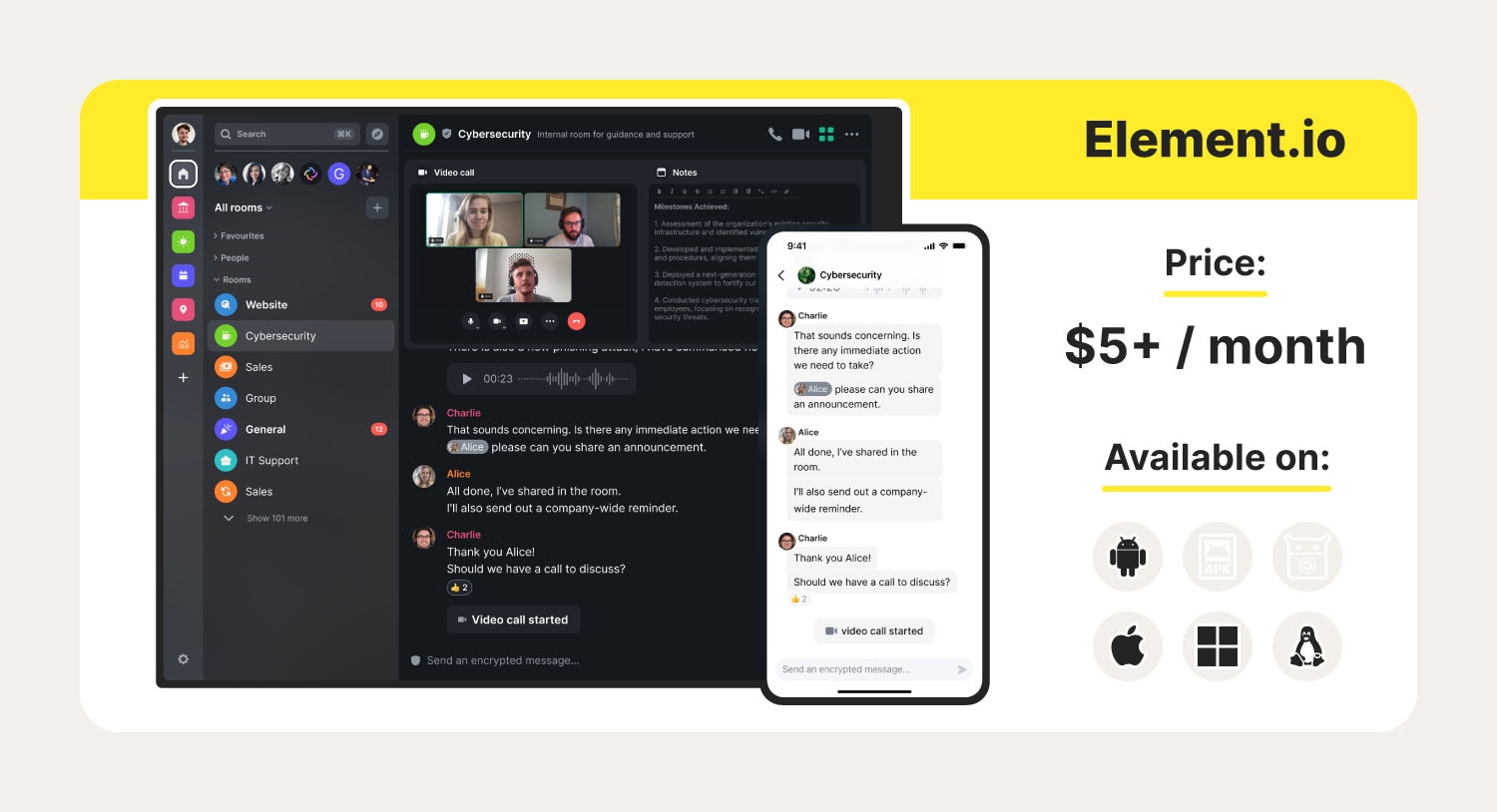 Element.io (formerly Riot) is a messaging app built for secure business collaboration. The platform also has mobile or desktop applications available for download. Element utilizes end-to-end encryption per the industry standard, but unlike many other solutions, the app can integrate with popular messaging systems like Signal and Slack.
Element.io offers several useful features, such as:
End-to-end encryption
Decentralized data
Group chat rooms
Device verification
Voice and video calls
Compliance audits and reports
Polls
Location sharing
Pros
Cons

User-friendly
Open-source software
Full-featured dashboard

Large file
Poor internet connection triggers bugs
Price: Free
Available on: iOS and Android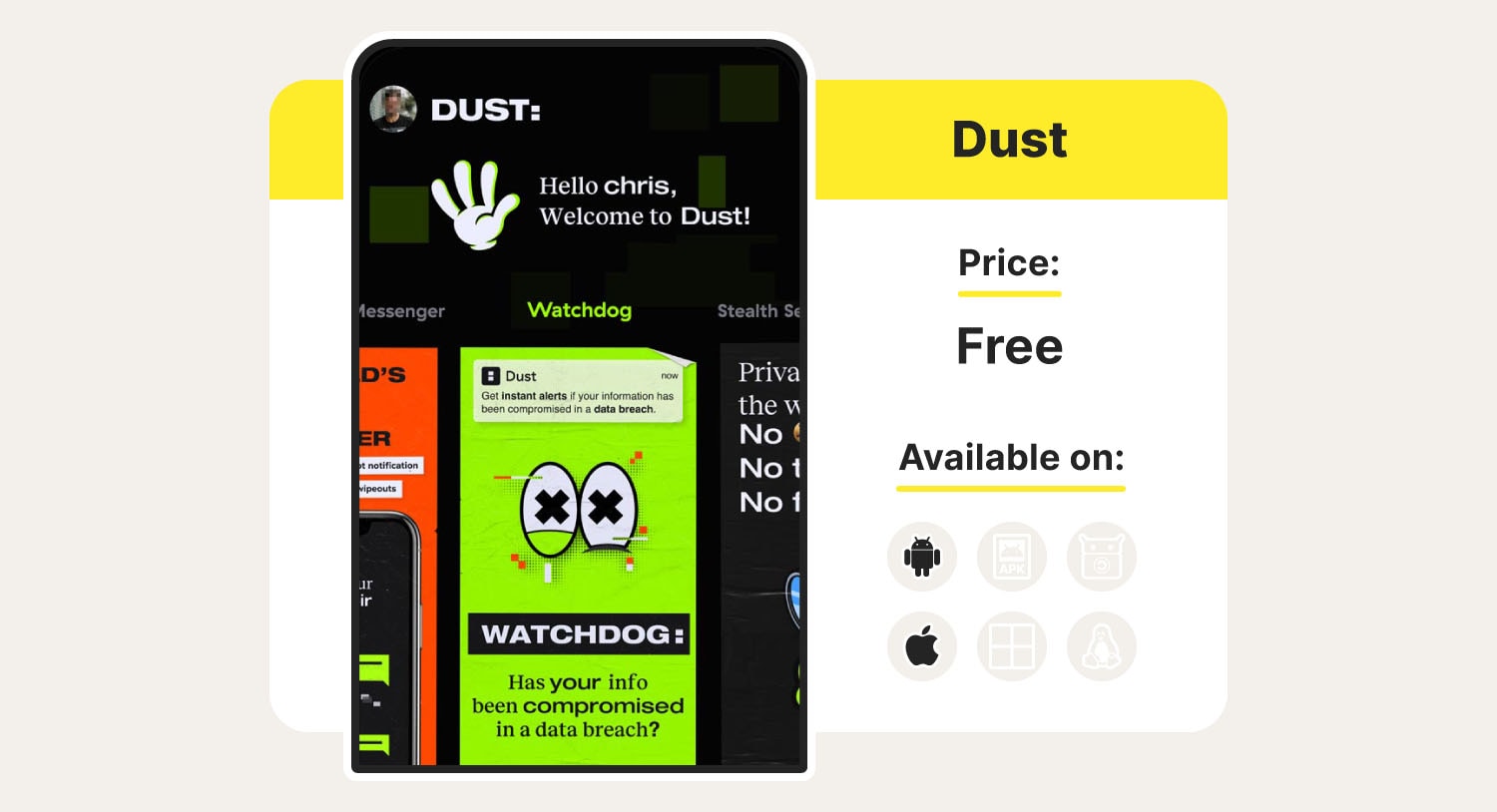 Dust combines security, authentication, and encryption technologies to protect user messages. The platform also safeguards user privacy by masking usernames, enabling users to delete messages they sent to others, and alerting them to data breaches and screenshots.
Here are a few features Dust offers:
Encrypted Messenger
Watchdog
Stealth Search
Does not collect data
Data breach and screenshot alerts
Pros
Cons

Secure alternative to Snapchat
Useful for social networking
Alerts users to screenshots

Doesn't disclose security measures
Doesn't prevent screenshots
Requires phone number or email
Price: Free
Available on: iOS, macOS, iPadOs, watchOs, and Android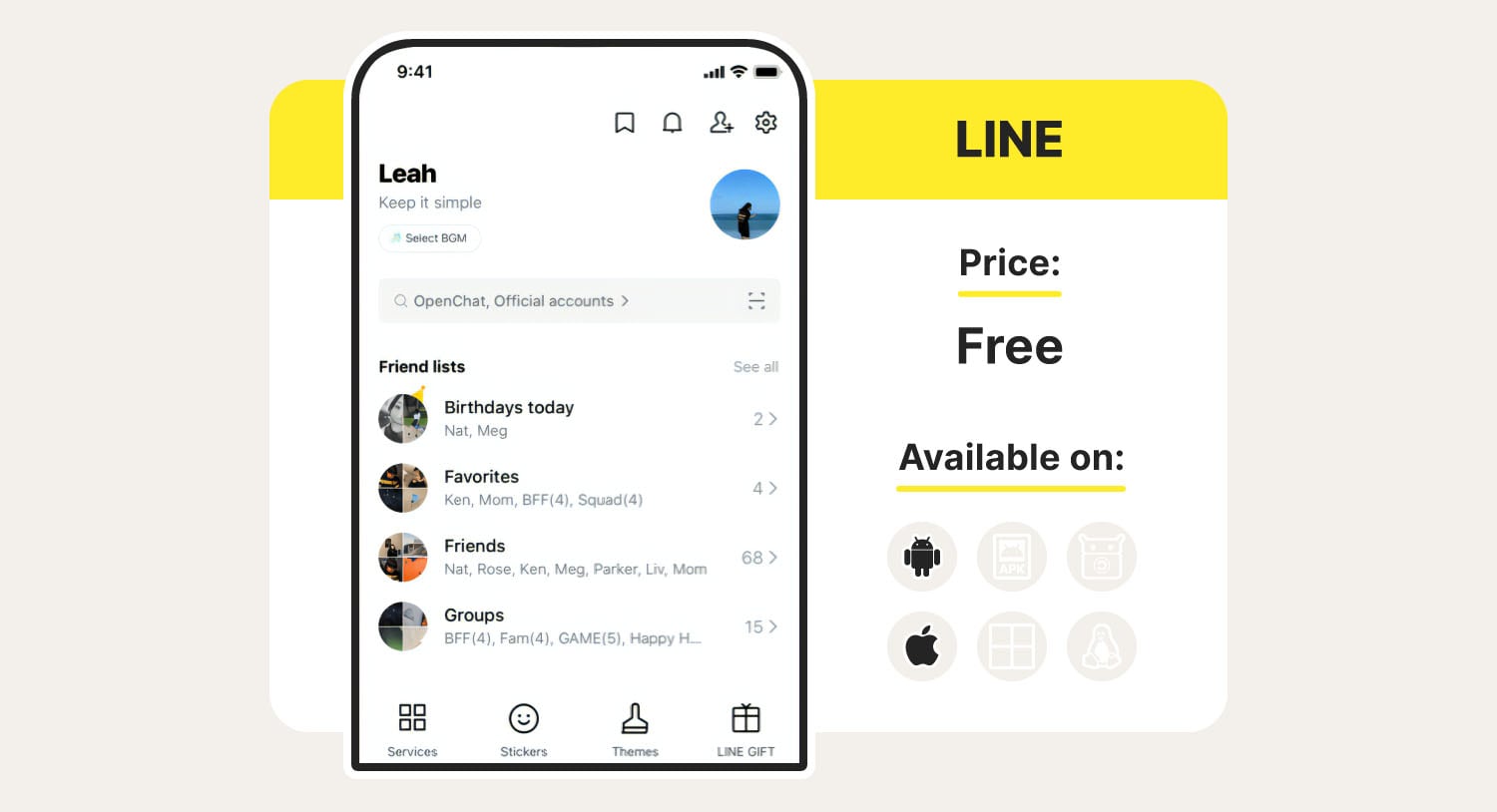 LINE is a secure messaging platform born out of the need for alternative messaging during disasters. However, it's not a basic E2EE communication solution—it levels up the user experience with videos (similar to TikTok), a digital wallet (like Apple Pay), rich media, and forums that allow users to meet people with similar interests.
Here are a few distinctive features Line offers:
Stickers and emojis
Digital wallet
Chat forum
Voice, text, and video calls
Video sharing
Pros
Cons

Features are unique within the secure messaging space

Less commonly used outside of Asia
Users must opt into encryption
Account transfers delete content
Price: Free
Available on: Android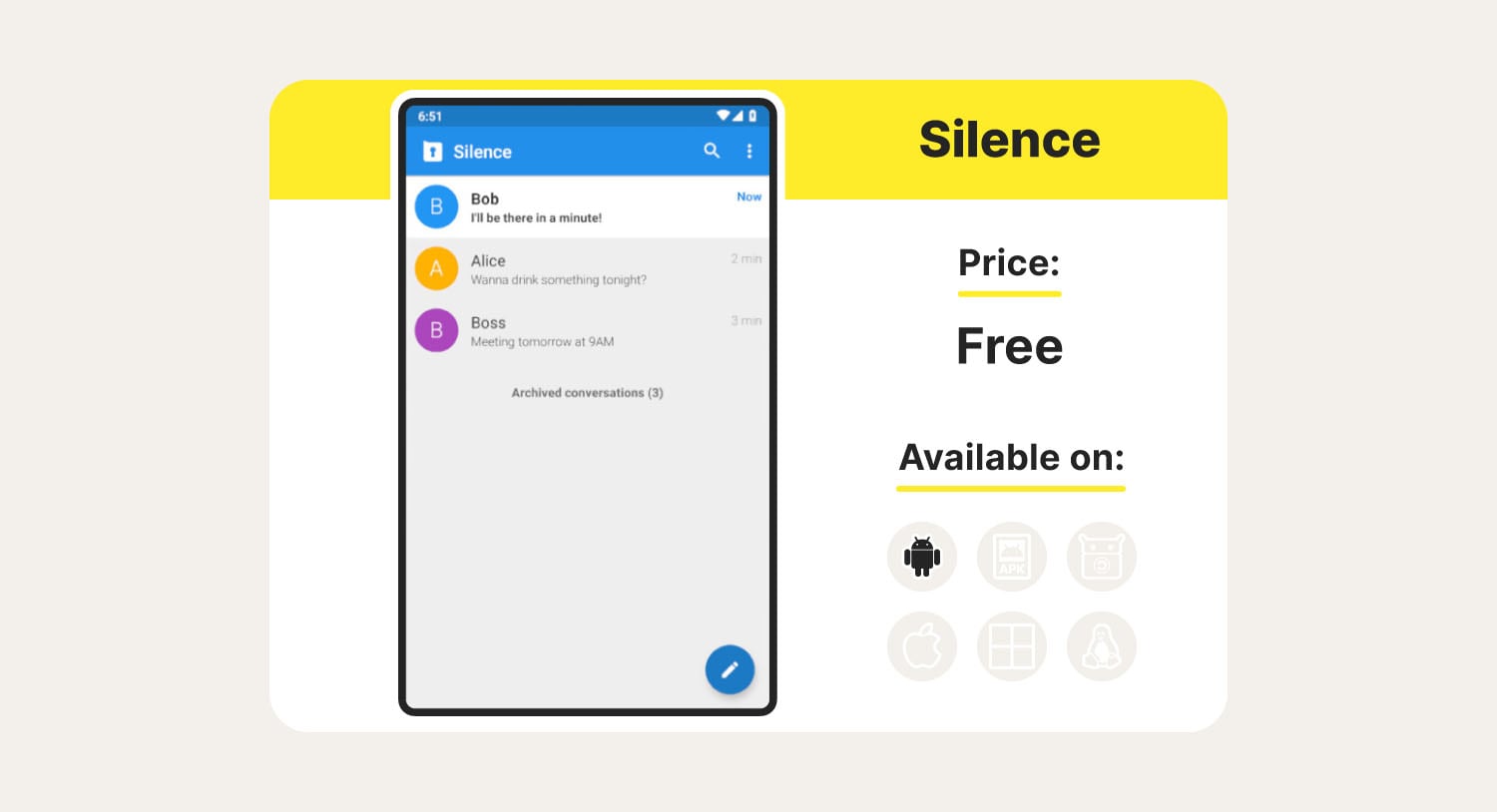 Silence (formerly SMSSecure) is a worthwhile secure messaging option but users can only use its encryption feature if both the sender and recipient install the app on their devices. Otherwise, it will perform as a standard SMS/MMS messaging platform. Inconveniently, it is unavailable for iOS because Apple only allows messaging apps that use the internet when downloading.
Still, the platform comes with useful features, such as:
End-to-end encryption
Text and multimedia messaging
Internet-free communication
Pros
Cons

Open source
Reliable encryption

Only available for Android
Only maintained by contributors so updates can be slow
Less convenient than online options
Cybersecurity tips for keeping messages secure
Secure messaging services can do a lot to protect your data and communications—but even they are limited. To effectively eliminate the possibility of cybersecurity attacks, follow these best practices:
Avoid connecting to public Wi-Fi networks: Public Wi-Fi is usually unsecured, which means your device and the messages on it will be more vulnerable to hackers while you're connected. So, if you do need to connect to public Wi-Fi, be sure to protect your session with a VPN to keep your internet connection private.
Verify people's identity before talking to them: This ensures you're sending confidential information only to the intended recipient.
Use two-factor authentication: 2FA prevents cybercriminals from logging into your messaging app since it's more difficult for them to access your authenticator app or the verification code sent to your phone.
Don't click on suspicious links: Suspicious links are often part of a phishing scheme to download malware to your device, which can help hackers access your personal information.
Enable self-destructing messages: Disappearing messages stop unauthorized users from seeing the messages you send.
Report suspicious activity: If you suspect someone has hacked your phone, device or account, immediately report it to the vendor or local law enforcement.
Protect your device with security software: Use security software to detect threats early and keep your messages secure. For example, strong security software like Norton 360 Deluxe can help lock down your device with a VPN that works to keep your communications safe from hackers.
When used together, these best practices can ensure your messages stay private.
Secure all your online communications
Don't hide from attackers, repel them. The best way to protect your messages is to prevent hackers from accessing your device at all. To do this, try enhancing your device's security with Norton 360 Deluxe. With an array of features and capabilities, Norton 360 Deluxes provides layers of protection to shield you from hackers and a built-in VPN to encrypt the information you send and receive online, regardless of what messaging app you use.
FAQs about secure messaging
Now that you're familiar with your secure messaging app options, let's get into some frequently asked questions.
How does end-to-end encryption work?
End-to-end encryption guarantees that no one will intercept your message while it's in transit. Encrypted apps accomplish this by encrypting data on the sender's device and decrypting it only when it reaches the intended recipient.
Can the government surveil secure messaging apps?
The US government can't surveil secure messages without justification.
To do this, they would need legal authorization for a search warrant or court-ordered surveillance. This is typically granted when there is a serious concern about threats such as terrorism and espionage. However, the average user who wants more privacy but isn't participating in illegal activities has no reason to fear or expect government surveillance.
What are the requirements for secure messaging apps in healthcare?
Secure messaging for healthcare is essential, and all communications are regulated by the Health Insurance Portability and Accountability Act (HIPAA). HIPAA requires healthcare organizations to get patient consent and use a messaging app vendor that will:
Enable patients to consent
Encrypt patient data and communications
Sign a business associate agreement (BAA)
As a rule, SMS text messages are not HIPAA-compliant unless they are customized to include necessary safeguards. 
Editorial note: Our articles provide educational information for you. Our offerings may not cover or protect against every type of crime, fraud, or threat we write about. Our goal is to increase awareness about Cyber Safety. Please review complete Terms during enrollment or setup. Remember that no one can prevent all identity theft or cybercrime, and that LifeLock does not monitor all transactions at all businesses. The Norton and LifeLock brands are part of Gen Digital Inc. 
---