Whether it's safer to bank by computer or phone depends on a variety of factors, but these tips can help whenever you bank online.
---
Question: I do almost all my banking online, but sometimes it makes me nervous. Is it safer to do banking on my computer or phone?

Answer: Isn't it nice to have two ways to bank without waiting in line or handling stacks of cash? But choices can create confusion. Sometimes even cybersecurity experts can't agree on whether it's safer to bank by computer or phone.
Some point out that it's easier to accidentally download spyware on a computer. But — there's always a but, right? — the FBI has warned that fraudsters are exploiting the growing use of mobile banking apps.
So, if you're using your computer, make sure you connect with a secure private network and use updated security software. If you're using public Wi-Fi, a VPN — short for virtual private network — is essential. Also, turn on multi-factor authentication to keep your account extra secure.
Prefer to use your phone? Follow these tips for secure mobile banking:
Get the mobile banking app. Don't log into the bank's website from your phone's internet browser. You could accidentally end up on a fake banking site created by a cybercriminal.
Use a link from the bank to get the app. Download the app through a link provided by your bank. This will help you avoid accidentally getting a phony app created by a scammer to trick bank customers.
Lock down your phone. Set a strong passcode to keep others out of your banking app. Remember to log out of the app when you're done banking, and don't store your app password on your phone.

Want more tips on safe mobile banking? Check out this banking cybersecurity advice from the American Bankers Association.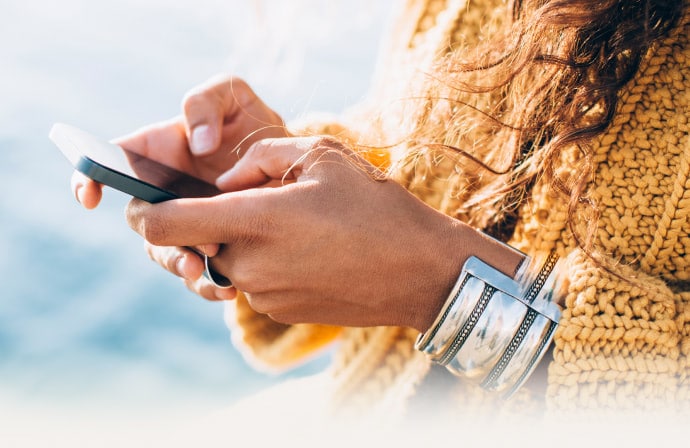 The freedom to connect more securely to Wi-Fi anywhere

With Norton™ Secure VPN, check email, interact on social media and pay bills using public Wi-Fi without worrying about cybercriminals stealing your private information

Try Norton Secure VPN for peace of mind when you connect online
Editorial note: Our articles provide educational information for you. Our offerings may not cover or protect against every type of crime, fraud, or threat we write about. Our goal is to increase awareness about Cyber Safety. Please review complete Terms during enrollment or setup. Remember that no one can prevent all identity theft or cybercrime, and that LifeLock does not monitor all transactions at all businesses. The Norton and LifeLock brands are part of Gen Digital Inc. 
---