A VPN on an iPhone isn't just for streaming your favorite shows while traveling. It's an app that lets you establish a secure, encrypted internet connection to keep the data you send and receive online private. Keep reading to find out what a VPN on an iPhone is exactly, and why you should use one to help access the content you love, prevent tracking, and protect your digital life.
VPN on an iPhone explained
A VPN on an iPhone is a privacy tool that encrypts all your internet traffic and sends it through a remote server. Using an iPhone VPN helps keep your location, identity, and online activity hidden from hackers, advertisers, your internet service provider, the government, and other third parties.
What does a VPN on an iPhone do?
An iPhone VPN (virtual private network) encrypts your internet connection and routes all the data you send and receive through a secure, remote server. Using a VPN hides your actual location, behavior, and identity, which helps prevent advertisers and other third parties from tracking your online activity.
But what is a VPN on an iPhone useful for, specifically? Here are the main benefits of using a VPN on your iPhone®:
Encrypting your web traffic
When you use a VPN, every packet of internet data you send or receive on your iPhone is encrypted, meaning sniffers or anyone else trying to snoop on your online activity will run up against a wall of scrambled gibberish.
Hiding your IP address
With a VPN set up and enabled on your iPhone, all your online data is routed through the VPN server, which conceals your IP address — and therefore your physical location and identity.
Streaming from anywhere
The content offered by streaming services varies from country to country, but by setting your iPhone's VPN configuration to connect to a server back home, you can have your entire content library in the palm of your hand, anywhere in the world.
Accessing geo-restricted sites
By configuring your iPhone VPN settings to connect to a server in another part of the world, you can access sites and services that may be blocked in your true location. This is especially helpful to those who live in countries with repressive political regimes.
Avoiding censorship
Some countries censor online content, restricting what can be published, read, or watched online. For journalists, activists, and other people living in countries that may limit internet access, having a VPN lets them access content that may otherwise be blocked, which creates a vital lifeline to critical information.
Preventing bandwidth throttling
ISPs can limit available bandwidth when they detect certain activities, such as streaming. But you can prevent throttling by using a VPN to encrypt the data being sent to and from your iPhone.
Getting around price discrimination
It's no secret that businesses may alter their prices depending on where their customers are. Using a VPN can help prevent these price hikes by masking your IP address and concealing your real-world location.
VPNs encrypt the data you send and receive online. 
How to choose a VPN for an iPhone
With so many iOS VPN services to choose from, it's hard to know where to start. Make sure you select a VPN app with the right configurations to keep your data secure and the necessary features to let you do what you want online.
Here's what to look for when choosing an iPhone VPN:
Encryption method
The security afforded by a VPN largely depends on the encryption method used to shield your internet traffic. The best VPNs come with bank-grade AES 256 encryption that's practically uncrackable — it'd take a supercomputer billions of years to brute-force.
Privacy
Some iPhone VPNs keep a record of your online activity. If maximum privacy is your priority, select a VPN that won't track or store your online activity. Norton Secure VPN has a no-log policy, meaning we don't track or store your online activities.
Cost
As well as having weak security, bandwidth restrictions, and limited server options, free VPN services can bombard you with annoying ads or even sell your data to generate revenue. But many of the best premium services offer a free trial to help you find a secure, reliable VPN that meets your needs.
Usage limitations
From monthly download limits to bandwidth restrictions, avoid any iPhone VPN settings that could hold you back. Choose a service that lets you browse freely without usage limitations.
Additional Features
Additional VPN configurations and features that can further boost your privacy, security, and user-experience include VPN kill switches, adblockers or firewalls, and multi-device licenses that allow simultaneous connections.
Speed
Get faster download speeds by choosing a VPN that offers a wide range of geo-optimized servers that enable fast, stable connections from anywhere in the world.
How to use a VPN on an iPhone: 2 methods
The easiest way to set up a VPN on an iPhone is to use a VPN app from a reliable vendor. But you can also configure a VPN manually via your iOS device settings.
We'll show you how to add a VPN to an iPhone using both methods.
Using a VPN app
Using a smartphone VPN app lets you set up your iPhone VPN seamlessly — it's the most convenient way to immediately start enjoying the benefits of encryption and online privacy. Here's how to set up Norton Secure VPN on your iPhone with just a few quick taps:
1. Go to the App Store, search for Norton Secure VPN, tap Get to download, and hit Open to launch the app.
Or download Norton Secure VPN here.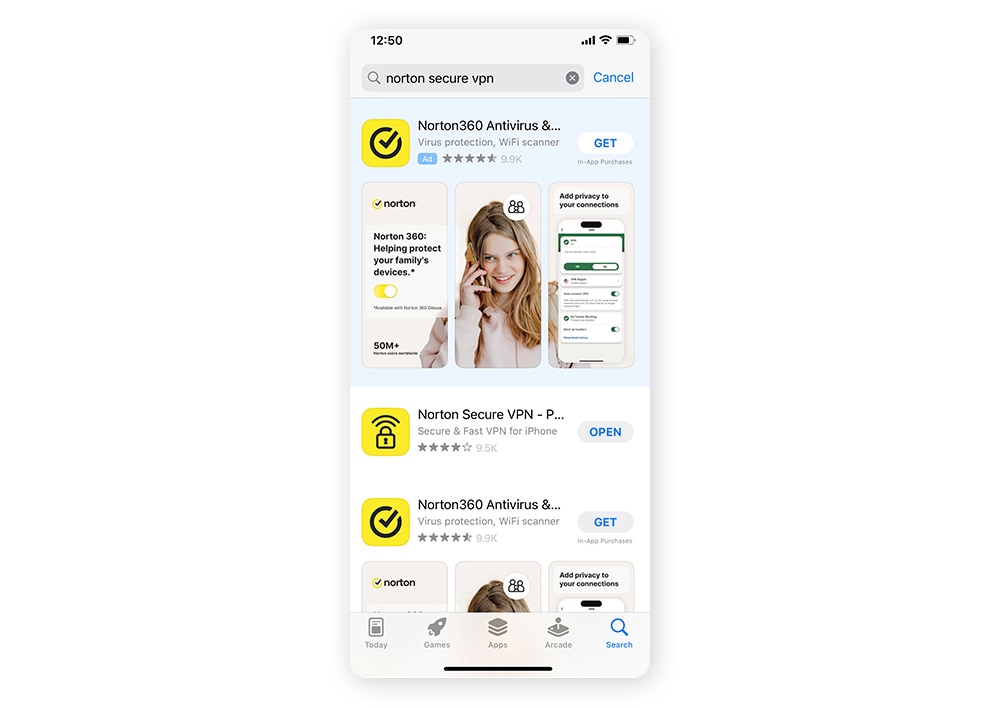 2. Follow the in-app instructions to create an account.

3. Tap Turn on VPN followed by Set Up to enable the VPN on your phone.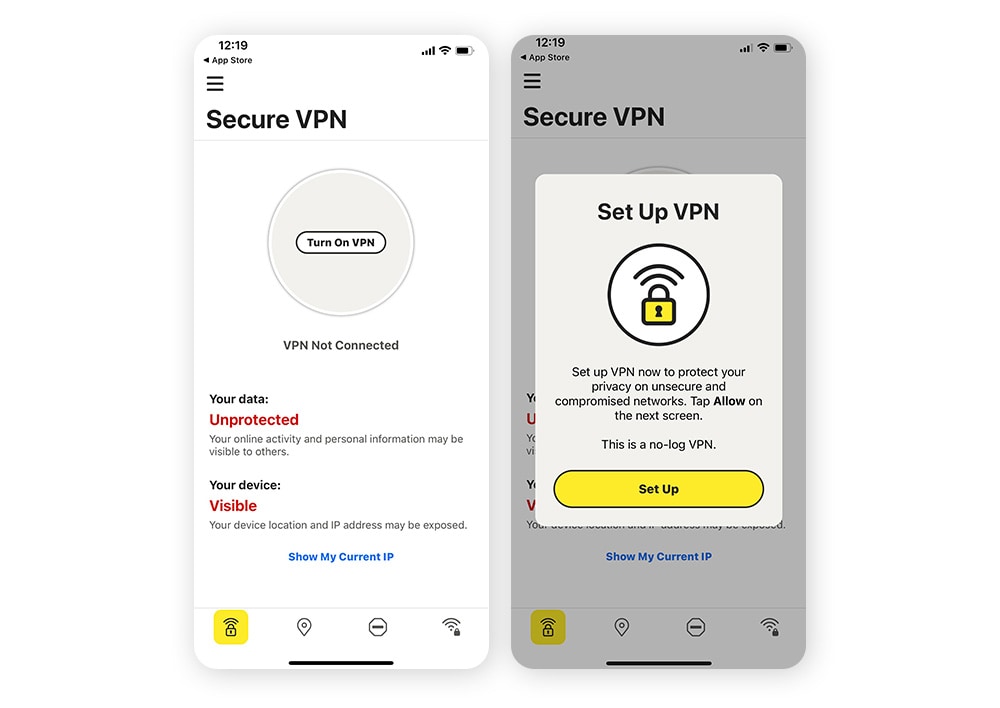 4. Tap Allow to let the app configure your iOS VPN settings. Then confirm by entering your device passcode. You'll then be automatically connected to a secure server optimized to deliver you the best internet speed and service quality — usually one that's close to your real location.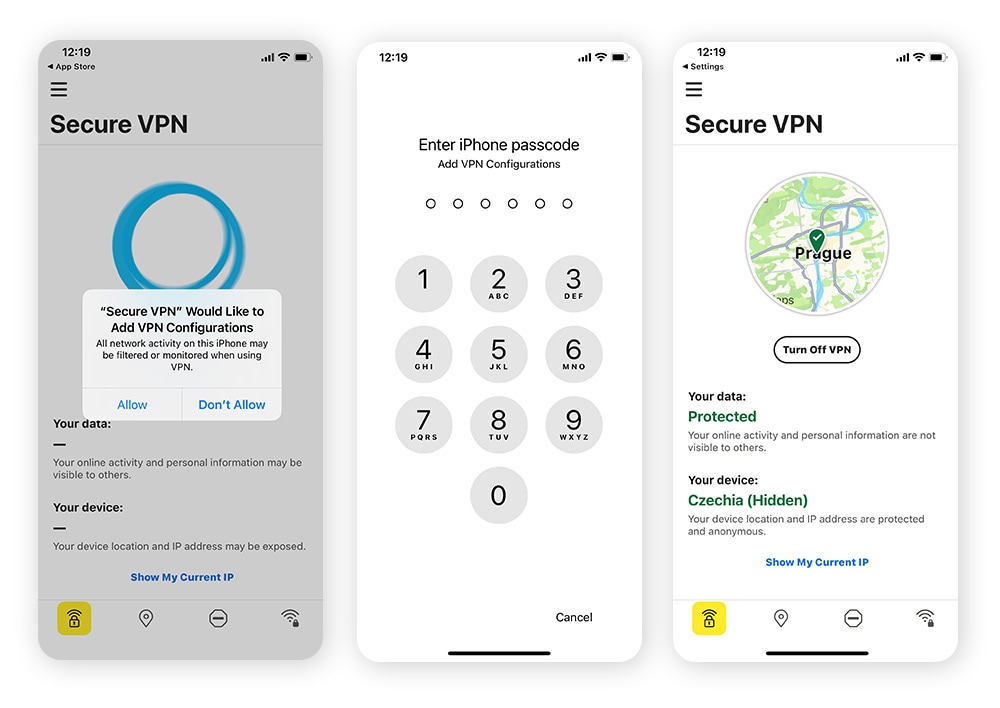 5. Tap the location icon at the bottom of the screen to configure your connection and select your server location.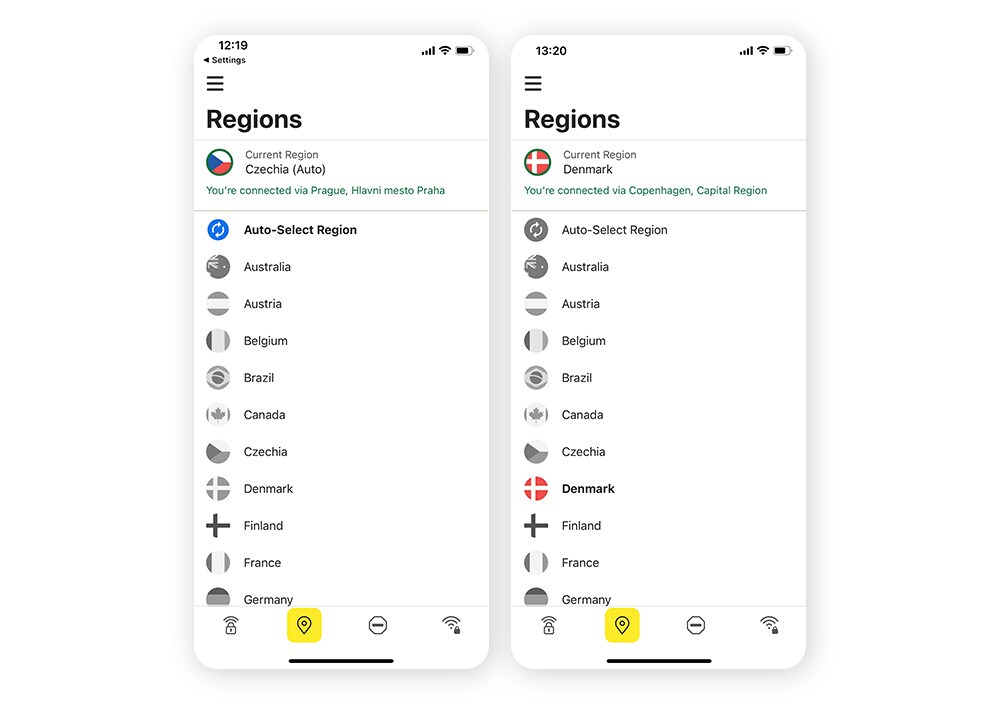 Wondering how to turn on the VPN on your iPhone next time? All you need to do to establish a secure, anonymous connection is open your Norton Secure VPN app and hit the Turn on VPN button — it's that easy.
Using manual configuration
You can also set up a VPN on your iPhone without downloading any third-party software. To do so, you need to subscribe directly to a VPN server and manually add your VPN configuration using L2TP, IPSec, or IKEv2 security protocols through the VPN settings on your iPhone.
Here's how to set up an iPhone VPN via your iPhone's VPN settings:
1. Open Settings, tap VPN & Device Management, then VPN, followed by Add VPN Configuration.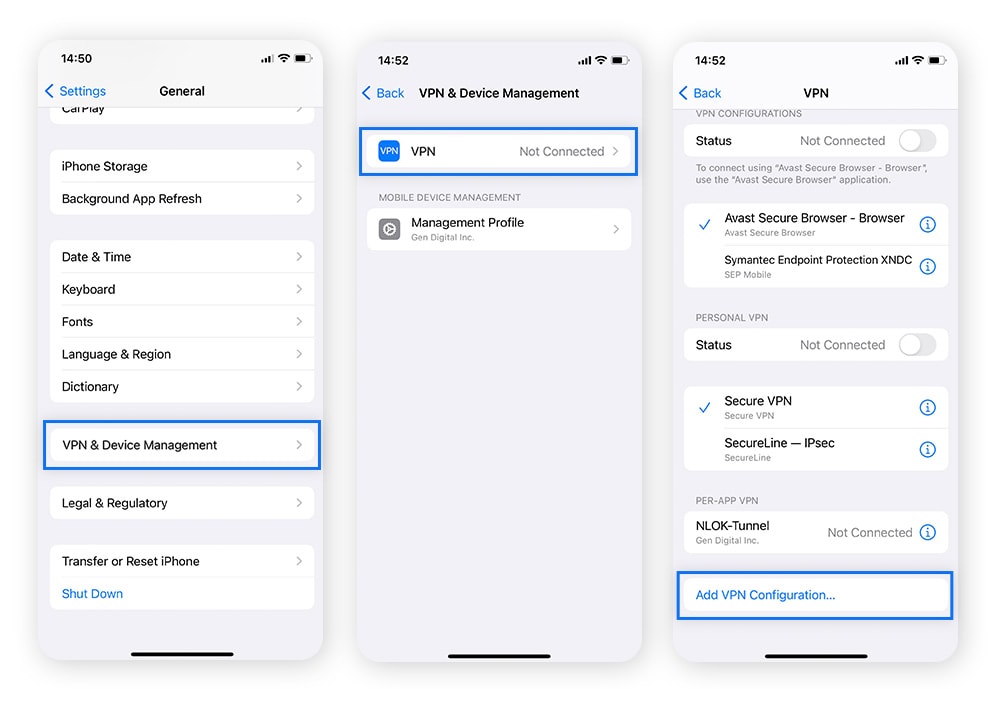 2. Tap Type, select your desired VPN protocol, and then tap Add Configuration.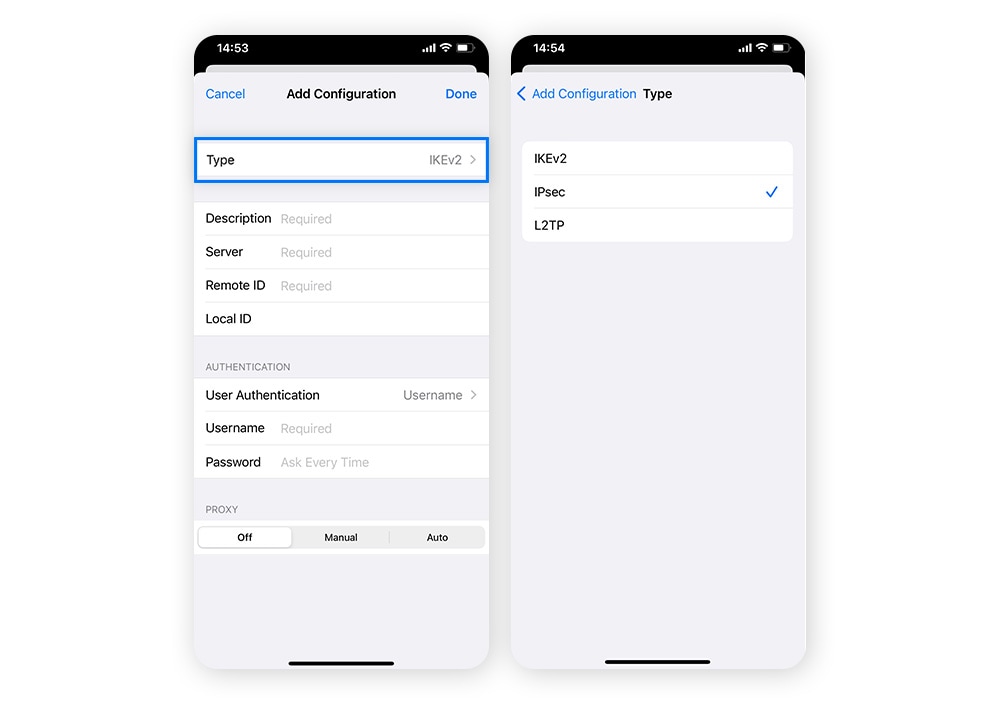 3. Enter your VPN details, including the name of the server, your login credentials, and any other requested information. Tap Done to finish configuring your VPN.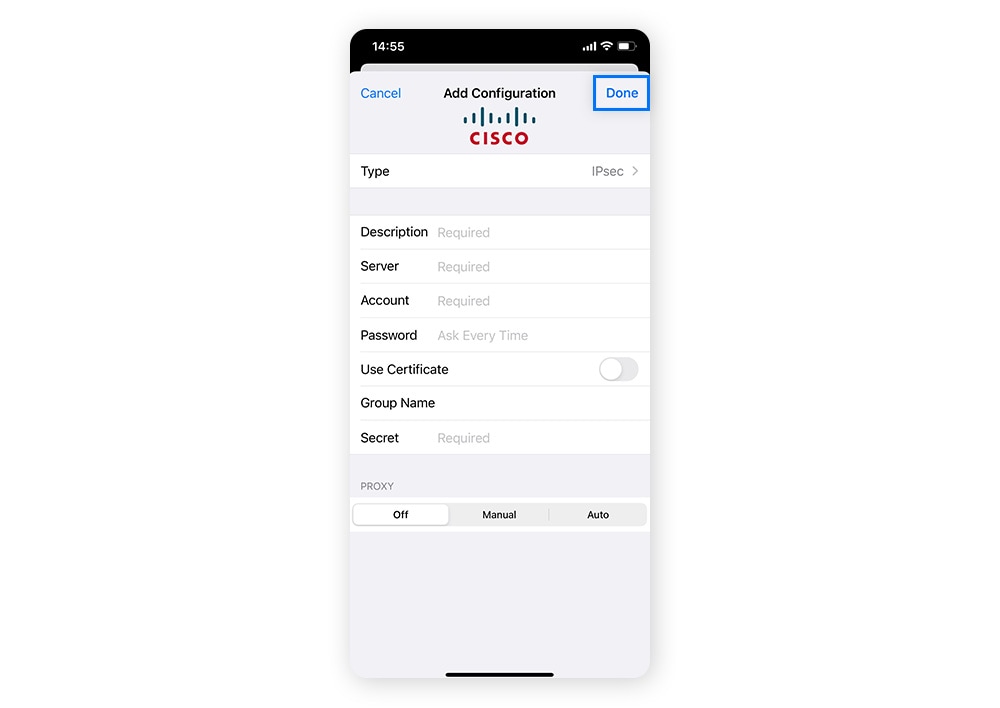 Your iPhone VPN setup is now complete. But don't forget that the next time you want to connect to another server, you'll need to manually reconfigure your VPN settings once more.
Get a reliable VPN for your iPhone
Manually configuring a VPN on your iPhone can be tricky, and if you don't already subscribe to a VPN service, then it won't work. Skip the hassle and get a top-rated iPhone VPN app that doesn't log your activity and is trusted by millions of people.
Download Norton Secure VPN today for unlimited access to a wide range of servers in regions throughout the world. Enjoy military-grade encryption, cutting-edge security protocols, and advanced privacy features including kill switch protection and ad-tracker blocking. Access the content you want and help protect your online privacy with Norton.
What is a VPN on iPhone FAQs
Want to know more about how to use a VPN on an iPhone? Here are the answers to some of the most common FAQs.
Should an iPhone VPN be on or off?
You should have your VPN turned on whenever you shop online, log into your bank, or share sensitive data over the internet. It's best to keep your iPhone VPN turned on all the time for round-the-clock privacy protection. And with a premium VPN app offering fast and stable server connections with no download limits, or bandwidth restrictions, there's no reason not to keep your VPN on.
Is it safe to turn on a VPN on an iPhone?
Turning on a VPN on an iPhone is perfectly safe. It's one of the best things you can do to boost the security of your internet connection and protect your online activity from prying eyes.
Do I need a VPN on my iPhone?
VPNs are vital privacy and security tools for iPhones and other internet-enabled devices. Encrypting your web traffic prevents hackers from accessing your network; keeps your IP address, identity, and activity hidden; and even lets you unblock websites and access geo-restricted content.
Are there free VPNs for iPhone?
There are free VPN apps for iPhone, but these should be avoided as they typically have unreliable server connections, limited product features, and – most important – weak security. For a secure, reliable VPN, you're better off going with a paid service from a well-known and trusted vendor.
Do iPhones come with pre-installed VPNs?
iPhones don't come with pre-installed VPNs, but they do have a built-in VPN client that lets you add VPN configurations manually if you have the ability to connect directly to a VPN server. However, the OpenVPN security protocol is not supported on iOS, so to manually configure an OpenVPN connection, you'll still need to download a VPN app.
Can a VPN hurt your iPhone?
A legitimate VPN cannot harm your iPhone. On the contrary, there are many benefits to having a VPN on your iPhone, and they're perfectly safe to use. But as with any third-party software, you need to be mindful of shady developers who might slip malware into their apps, so only install well-reviewed apps from trusted vendors.
What is a VPN app?
A VPN app sets up and manages VPN configurations on your device, allowing you to quickly and easily encrypt your online connection, change your IP address to hide your identity and location, and conceal your online activity.
Note: iPhone is a trademark of Apple Inc., registered in the U.S. and other countries. 
Editorial note: Our articles provide educational information for you. Our offerings may not cover or protect against every type of crime, fraud, or threat we write about. Our goal is to increase awareness about Cyber Safety. Please review complete Terms during enrollment or setup. Remember that no one can prevent all identity theft or cybercrime, and that LifeLock does not monitor all transactions at all businesses. The Norton and LifeLock brands are part of Gen Digital Inc. 
---