Download a VPN for iPhone & iPad
Enjoy unlimited internet freedom and privacy with a lightning-quick VPN app for iPhone. Secure the sensitive data you send and receive on your iPhone or iPad, hide your IP address, and stay anonymous on any network with Norton Secure VPN for iOS. Try our best iPhone VPN for free today.
30-day free trial. Payment method and subscription required. Details below*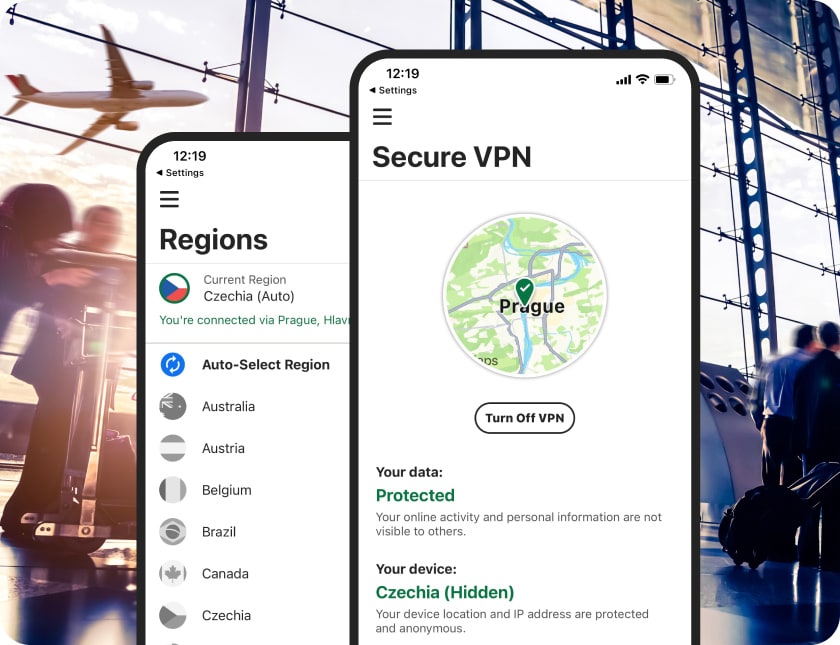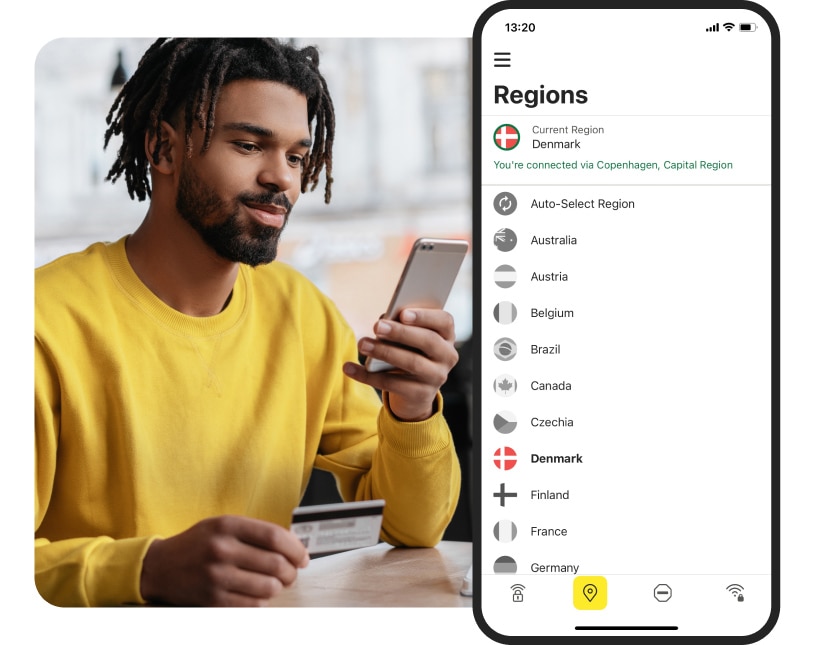 A secure and reliable VPN for iPhone and iPad
Turn any network into a digital fortress by downloading a VPN for iPhone and iPad® that helps secure your internet data with ironclad bank-grade encryption. Norton Secure VPN helps you hide your location, block hackers and snoops, and access the content you love from anywhere in the world. Install an easy-to-use VPN app for iOS® trusted by millions.
30-day free trial. Payment method and subscription required. Details below*
What are the benefits of using a VPN on iOS?

Unmatched freedom


With an iOS VPN, you can choose the virtual location of your iPhone to access your favorite sites and streaming services.


Mask your IP address


Browse anonymously and privately with a secure VPN app for iOS that helps hide your IP address, location, and identity.


Encrypt your connection


Encrypt your iPhone internet connection to help obscure your web activity and protect your sensitive data online.

Prevent ad-tracking


Our powerful ad-blocking technology helps eliminate targeted ads and prevent advertisers from following your online activity.


No-log policy


The point of a VPN is maximum privacy. We don't track or store your online activity, helping you stay anonymous, even from us.

Connect automatically


Get the full benefits of a VPN instantly whenever an unsecured public Wi-Fi or suspicious network connection is detected.1
How to set up a VPN on iOS
Setting up our VPN app for iOS is easy. Here's how to do it in just a few taps:
What you can do with a VPN for iOS 
Get unbeatable privacy, security, speed, and reliability with one of the best VPNs for your iPhone, designed and engineered by the industry leaders in cybersecurity.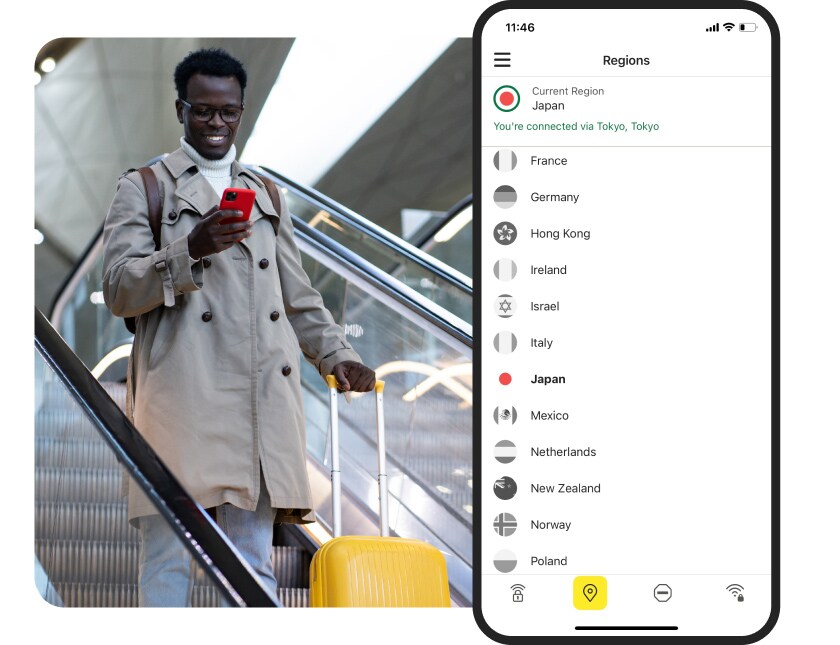 Enjoy true online freedom and access your favorite sites, apps, and streaming services no matter where you are.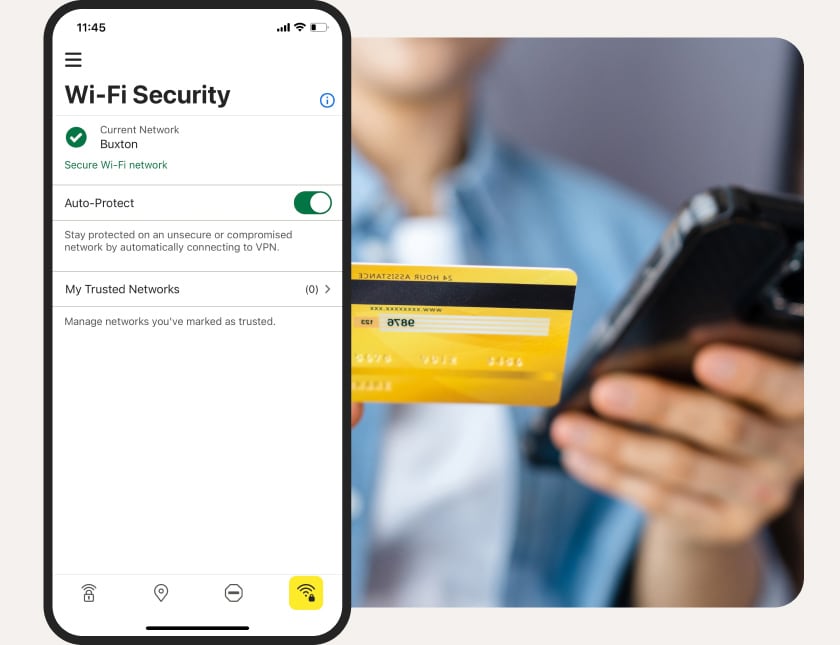 Stay protected on public Wi-Fi
Turn unsecured public Wi-Fi in cafes, hotels, and airports into secure, encrypted networks to help keep the information you send and receive safe from hackers and other cybercriminals.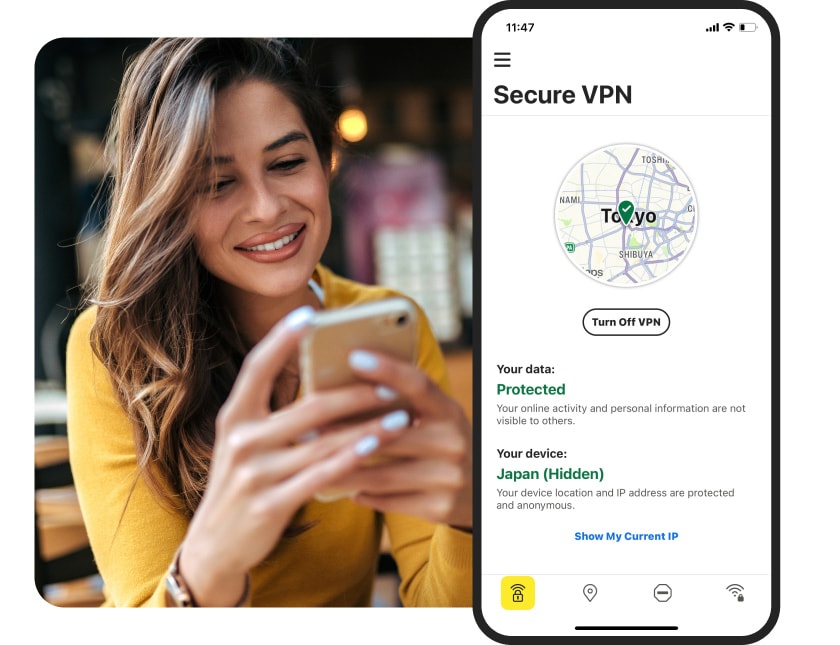 Seamless VPN location switching
Connect to one of our many high-speed server locations across six continents, or auto-connect to a geo-optimized server for the fastest and most stable connection.
Protect your digital life on all your devices
Secure your online privacy on up to 10 iOS, Mac, PC, and Android devices with just a single account.
Protect your privacy with Norton Secure VPN for iOS
From the sites you visit and your private messages to your passwords and bank details, Norton Secure VPN for iOS helps keep all your internet data secure. Plus, it helps give you on-the-go access to all your favorite content. Try Norton Secure VPN for free today and start protecting your digital life right now.
30-day free trial. Payment method and subscription required. Details below*
Free VPNs are generally not as safe as premium VPN services, because they typically lack the same advanced security and privacy features to help you protect your personal information while you browse. Free VPNs may even monetize your data by selling it to advertisers or data brokers. 
You're better off using a brand you can trust and getting a paid VPN such as Norton Secure VPN, which uses powerful encryption protocols and helps protect your privacy with a no-log policy. 
To change your VPN location on an iOS device, open your VPN app for iPhone or iPad, make sure your VPN connection is turned on, and select a global region from the list of available server locations. Your encrypted internet traffic will now be routed via a secure proxy server in that location, giving you a virtual IP address that obscures your actual location and identity.
The benefits of a VPN for your iPhone and iPad include the ability to mask your IP address, stay anonymous online, prevent online tracking, encrypt your internet data, and change your location to help access the content you love.
Norton Secure VPN has a strict no-log policy, which means we do not track or store your online activity. The sites you visit, the searches you make, and the files you download remain private and anonymous.
1 Not available on Windows and Mac.
Note: iPhone, iPad, iOS, and the Apple logo are trademarks of Apple Inc., registered in the U.S. and other countries. 
*Automatically renews annually after the trial period ends, unless cancelled. The price quoted in the cart today is valid for the introductory term after the trial, after which your subscription will be billed at renewal pricing. Renewal pricing is subject to change and may be charged up to 35 days before the active term ends. For support or to cancel automatic renewal, log into your account or contact support.
Norton Secure VPN: A yearly subscription is just $xxxx for the first year after the free trial, then only $xxxx/year after.