TikTok is a generally safe social media app—with several key caveats. You might have heard about TikTok scams like fake giveaways, phishing attacks, and romance scams. Learn how safe this popular app is and how a product like Norton 360 Deluxe can help cover some of its weak spots.
What is TikTok?
TikTok is a short video hosting platform developed by the Beijing-based media company ByteDance. Despite its popularity, TikTok has been at the center of a few controversies over the years, with parents, businesses, and lawmakers expressing concerns about the app's security and trustworthiness.
Data collection, harmful content, and national security are some of the app's most contentious areas. So, is TikTok safe to use? And are any age groups more vulnerable than others? We'll explore several of the app's biggest security threats to shed light on these questions.
How safe is TikTok?
Generally speaking, TikTok is as safe as any other social media platform thanks to the app's many security features, including:
Comment filters and curated content for children below the age of 13
Users between the ages of 13 and 15 are given private accounts by default
A 60-minute time limit for users below the age of 18
Only users who are 18 and older can complete transactions with virtual gifts
But TikTok still faces scrutiny. A 2023 survey  found that 59% of American adults consider TikTok to be a major or minor threat to the United States' national security, due in part to the app's data collection practices.
Furthermore, international governments have flagged TikTok as a security risk and issued bans on the app. Australia, Estonia, France, Norway, the UK, the US, and several institutions of the European Union prohibited employees from installing TikTok on government-owned devices. These nations cited concerns over TikTok's data collection practices as primary motivators for this ban.
What types of data does TikTok collect?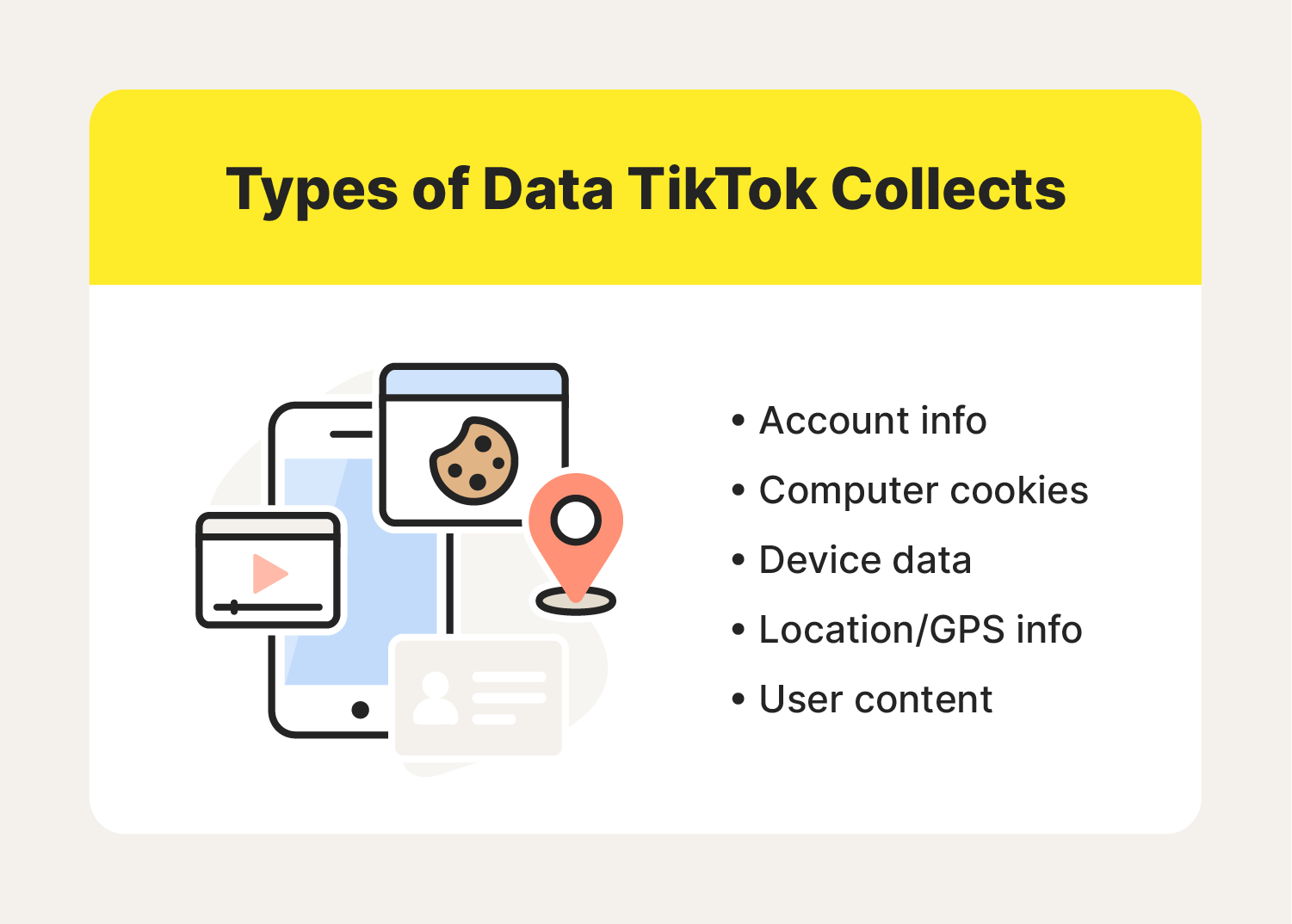 Like many other apps, TikTok collects data to improve the app's functionality and user experience, including:
Account information: Your name, username, profile picture, email, phone number, and passwords are all collected by the app.
Cookies/behavioral data: The app uses cookies that can track your activities to gain a better sense of your interests. TikTok observes the videos you watch, how long you watch them, and which ones you save.
Device data: TikTok takes notice of the devices you use to access the app, and can distinguish them based on their operating systems and network carriers.
Location information: TikTok can register things like IP addresses and GPS data to determine a user's location.
User-created content: TikTok logs every post, video, and comment its users engage with. This includes content users create as well as content they view from other accounts.
User data is essential to helping apps work properly. It can also be shared with different organizations for various reasons.
Who does TikTok share data with?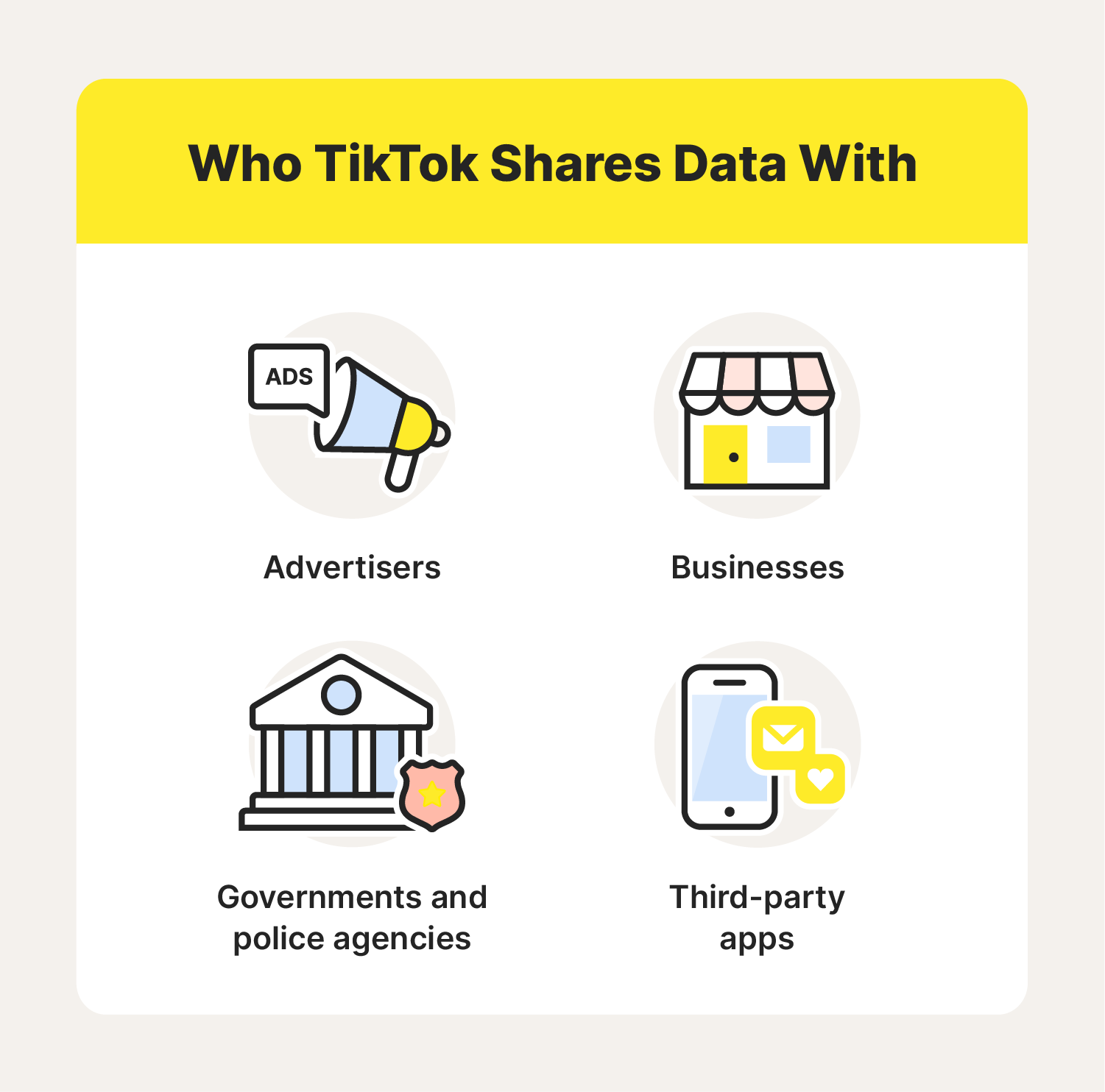 TikTok shares data with multiple organizations for business and regulatory purposes. Some entities that have access to TikTok's data include:
Advertisers: TikTok shares user data with advertisers to create targeted ads and better understand user activity.
Businesses: TikTok shares data with other social media businesses to learn more about user activities on other apps.
Governments and police agencies: Law enforcement agencies and federal agencies can request user data from TikTok to assist with investigations or to comply with government mandates. This can also happen when Congressional hearings occur.
Third-party apps: TikTok shares user data with third-party apps—aka apps that ByteDance doesn't own. This correlates with TikTok's Jump program, which lets users access third-party integrations from companies like Wikipedia and Quizlet to create content.
TikTok publishes reports on its data-sharing agreements, which can help users understand how the company handles their information. But scams can occur if user data falls into the wrong hands.
TikTok scams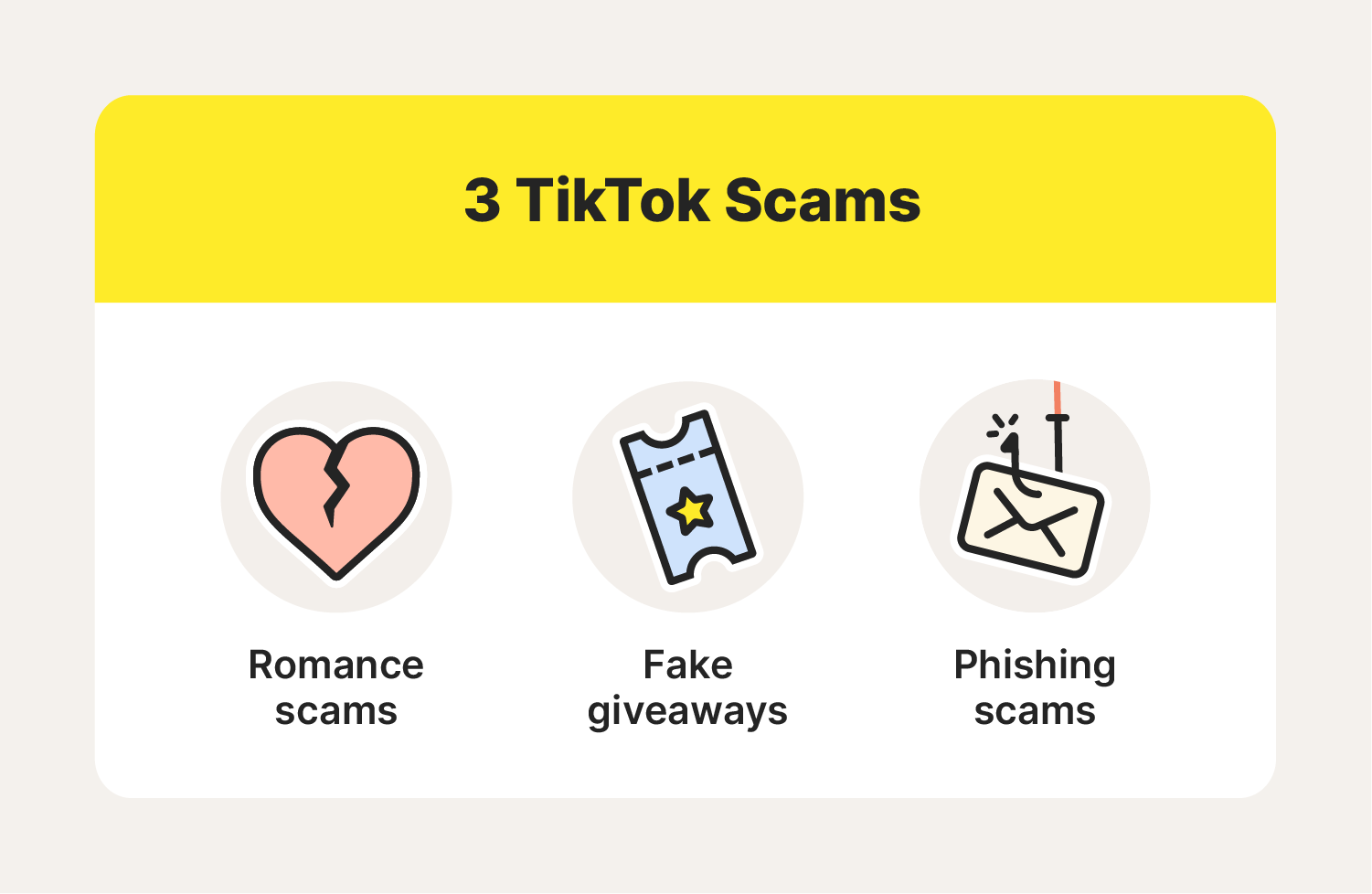 TikTok faces many of the same social media threats that impact Facebook, Instagram, and Twitter.
Romance scams
Romance scams prey on individuals seeking a romantic relationship online. In a TikTok romance scam, a bad actor creates a fake account and targets real users by speaking to them in comment sections or directly messaging them. The scammer may build trust over time, and then craft elaborate stories to ask for money. Feeling pressured to send money and struggling to speak to the other person (in person or over the phone) may be signs of a romance scam.
Fake giveaways
Community engagement is a major part of the TikTok experience. Scammers can try to capitalize on this by holding fake giveaways for nonexistent prizes. The severity of these fake giveaways can vary; some accounts might hold fake giveaways to drive engagement, while more nefarious individuals will attempt to steal money or personal information.
Phishing scams
In a phishing scam, a criminal will try to gain access to sensitive information by posing as a legitimate source. On the TikTok app, a scammer might try to phish information by directly messaging a user and asking for details like login credentials or credit card info. TikTok users might even encounter comments or posts that urge them to click on a specific link, which can kick-start a phishing scam.
Bad actors, hackers, and criminals can use TikTok to commit various social media scams, but users can use cybersecurity tips to boost their safety on the app.
Cybersecurity tips for TikTok
Cybersecurity best practices and basic digital hygiene can make your time on TikTok much safer. Helpful strategies include:
Don't share private information: Social media apps can pave the way for conversations, but you might not always know who you're talking to. Exercise caution when sharing details about yourself, and never share sensitive info like Social Security numbers or even your home address.
Perform a social media cleanup: Cybercriminals can exploit vulnerabilities in your social media accounts if you aren't careful. Perform a social media cleanup by deleting old accounts you no longer use, making active accounts private, and updating your passwords.
Use cybersecurity tools: Cybersecurity tools can serve as a line of defense against various TikTok scams. A password manager can help you maintain more control over your accounts, while antivirus software can help protect your device from malware.
TikTok may not be the only social media platform you regularly use. Thankfully, you can implement these strategies on other social media platforms to protect your online presence more effectively.
Use TikTok safely with Norton 360 Deluxe
You can take steps to help manage some of TikTok's cybersecurity risks. Services like Norton 360 Deluxe provide a suite of cybersecurity tools to help you stay safer while you're on and off the app, including a built-in VPN and a dark web monitoring solution.
FAQs: Is TikTok safe?
TikTok crossed the 1 billion user mark in September 2021, so it's not hard to see why there are so many questions about the app. Many of these questions are directed toward the app's security for users of all ages.
Is TikTok safe for kids?
TikTok may not be safe for younger children below the age of 13. Effectively implementing social media safety for kids can be challenging, even if a parent uses TikTok's built-in safety features. Children may be able to overcome these safety measures easily simply by finding a "how-to" guide online.
Can TikTok track you?
TikTok can track users as soon as they open the app on their devices. TikTok also lets certain third-party entities track users via the Jump program. In 2022, a vulnerability was discovered within TikTok's Android app that let hackers access and manipulate user accounts. TikTok's developers have since addressed this specific threat, but it highlights concerns about how much user data the app collects and stores.
Can TikTok read my text messages?
TikTok can read and catalog any message you send through the app. This includes direct messages, comments, and reports you submit via the app's "Report" feature.
Editorial note: Our articles provide educational information for you. Our offerings may not cover or protect against every type of crime, fraud, or threat we write about. Our goal is to increase awareness about Cyber Safety. Please review complete Terms during enrollment or setup. Remember that no one can prevent all identity theft or cybercrime, and that LifeLock does not monitor all transactions at all businesses. The Norton and LifeLock brands are part of Gen Digital Inc. 
---