A fake virus alert is a deceptive hacking tool. Learn how to remove fake virus pop-ups, spot warning signs, as well as tips to help keep your devices safe.
---
We've all been there, right? You're browsing online, and suddenly a pop-up appears on your screen, indicating your device has a virus and prompts you to download a software to remove it. Unfortunately, this could be a fake virus alert.  

Fake virus alerts are a deceptive cybersecurity threat designed by today's hackers to try to deliver different types of malware onto a potentially vulnerable device. And though we'd like to think it's as easy as simply closing the window, sometimes it takes more than that to get rid of pop-up viruses.  
Use this guide on how to remove fake virus pop-ups to help rid your device of bogus antivirus warnings. We've even included fake virus warning signs and protection tips you can use to keep cybercriminals on their toes.  
It's time to show dark web dwellers that you're no one to mess with. Let's get scrolling.
How do fake virus alerts work?
Fake virus alerts have two motives: to get you to click on an infected link triggering a drive-by download or continue to a fake website and purchase antivirus software that doesn't exist. And similar to cyberattacks like phishing and smishing, these phony virus alerts often come with urgent messages meant to scare victims into making irrational decisions. 
When it comes to fake virus scams, always avoid clicking on any part of the message. Simply close the screen. And if they keep appearing, you can use the removal tips below to get your device back to normal. 
How to spot a fake virus alert


A common question internet users ask is, "What do fake virus alerts look like?" Here are some common warning signs that a fake virus alert found its way onto your device:        
Payment requests: Legitimate antivirus services would never ask for a payment before testing out services.
Phone call requests: Hackers may add a phone number for you to call and convince you to share banking  information to purchase antivirus software. 
Urgent tone: Hackers often create a sense of urgency to convince users their fake virus alert is real. 
Poor grammar: Some hackers fail to be detail-oriented when creating fake virus alerts.
Basic designs: Some hackers don't have the professional design skills needed to make their fake virus alerts look legitimate.  
Some people find themselves dealing with pop-ups like this constantly. In that case, you may have to take steps to remove the malware creating these fake virus alerts altogether. 
How to get rid of fake virus pop-ups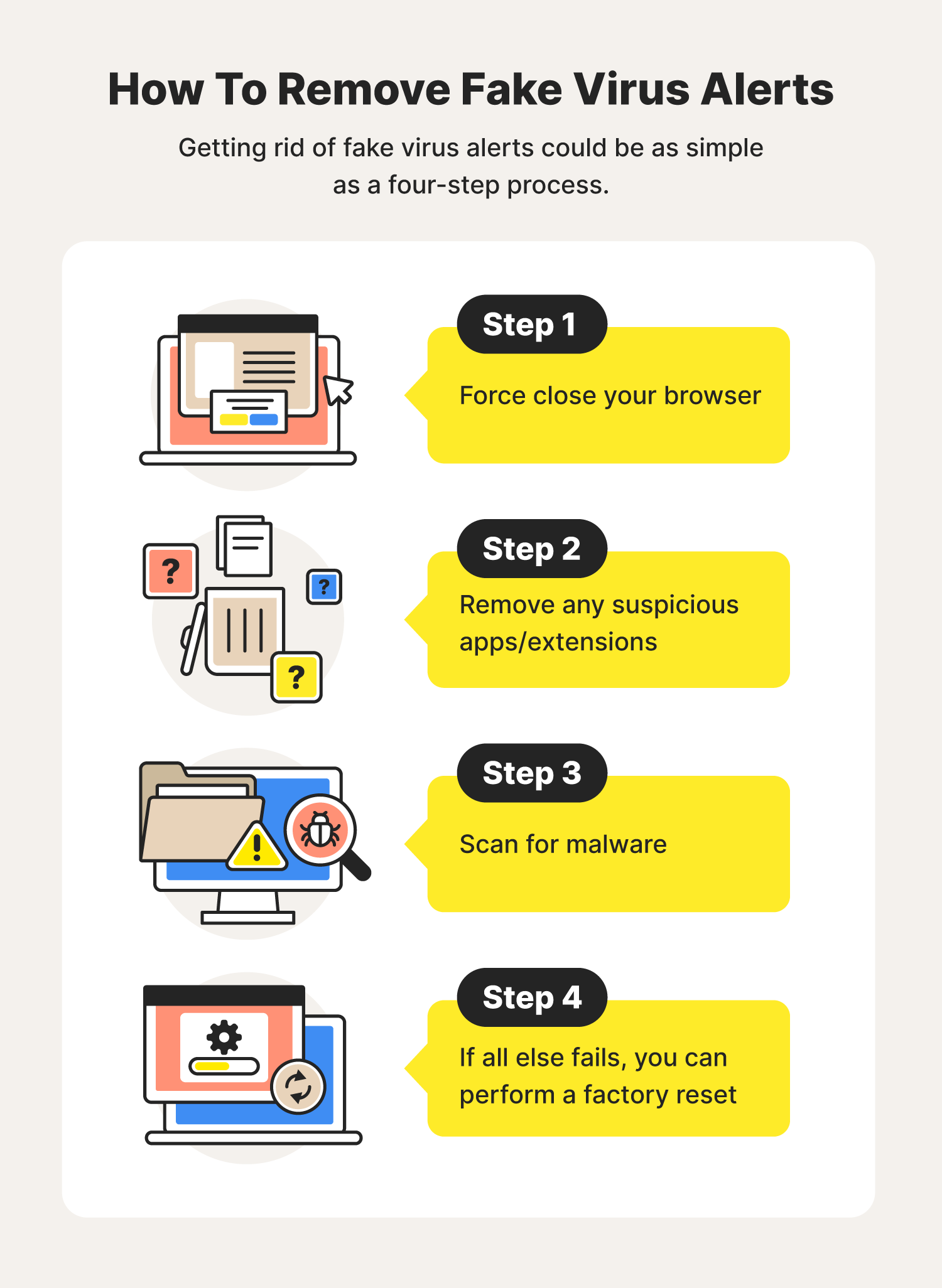 Use the steps below to help clear your device of fake virus alerts endangering your personal cybersecurity. 
Step 1: Exit your browser 
The first step to take if you encounter a fake virus alert is to close your browser. A simple Command + Q shortcut should do the trick. But if not, you can use your system preferences to force close your browser if it's being unresponsive. This can help keep you from clicking on the infected pop-up that could lead to a malware infection.
Step 2: Remove any suspicious apps or extensions 
If you accidentally visited an unsecure site, it could have left you vulnerable to a drive-by download capable of installing malicious software and programs that could be creating the fake virus alerts. If so, you'll need to find and remove any suspicious apps and/or extensions you don't recognize. 
Putting them in the trash and emptying your folder should be sufficient. But if they're stubborn and won't delete, you can skip step three and simply perform a factory reset. This removes any nonessential apps and software from your computer. 
Step 3: Scan for malware
If you search through your computer and can't find any suspicious files, you should consider downloading antivirus software — that is if you don't have it already. You can use the software to scan your computer for malware that may be hiding itself. And if the scan does discover a threat, it can work to remove it and protect your device from any further damage.
Step 4: Perform a factory reset 
A factory reset is a more permanent solution to clearing devices of fake virus pop-up messages — kind of like a digital deep cleaning. It essentially restores your hard drive to its original settings and deletes all other files and programs saved to the device.   
This is great for clearing out pop-up viruses and different types of malware. However, it's important you remember to back up any personal information before it's cleared from your device. 
How to prevent fake virus alerts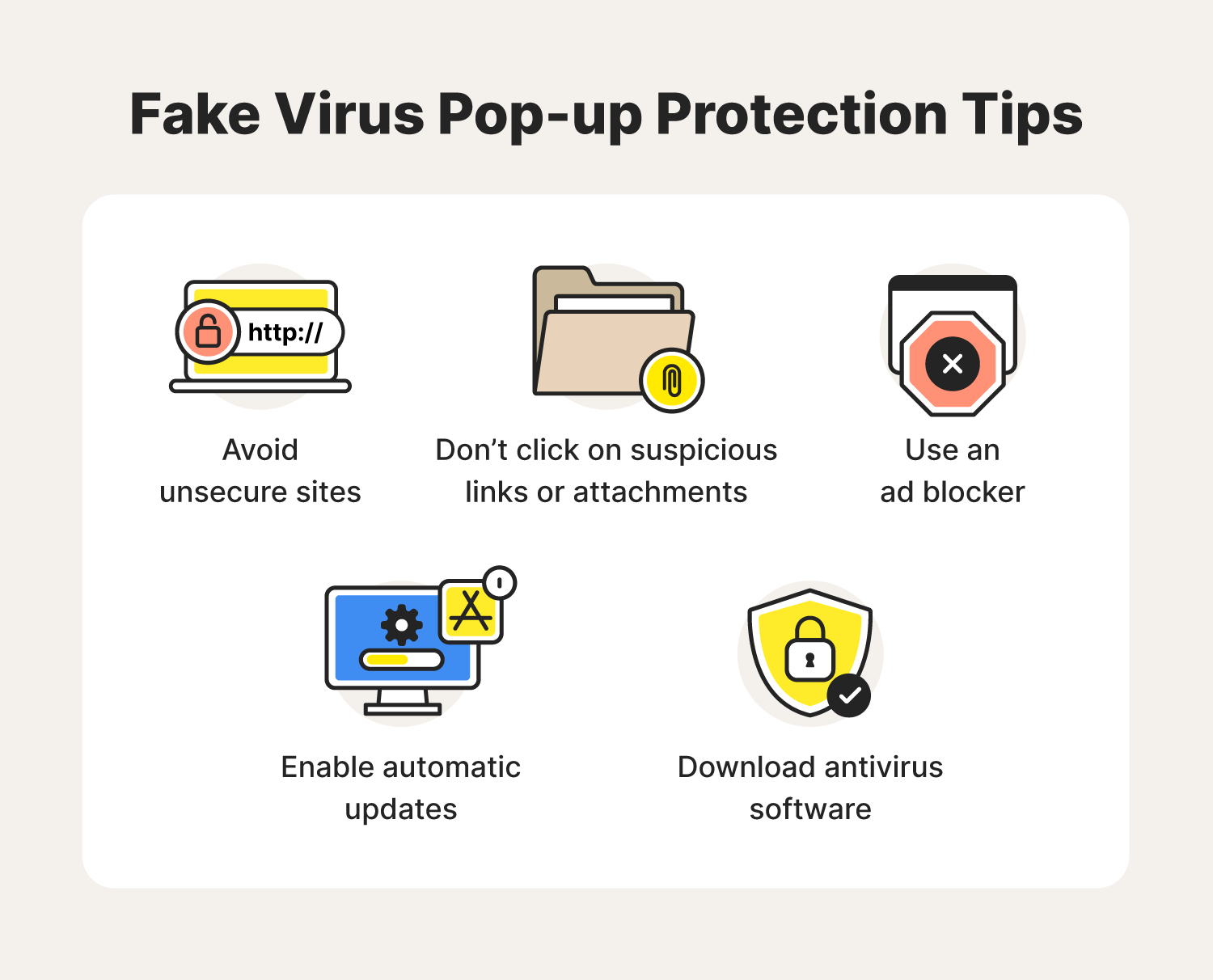 Online hackers usually set traps on the web that trigger fake virus warnings to appear on your screen. Here are  some tips to help keep you two steps ahead of their hacking methods:        
Avoid unsecure sites: Visiting unsecured websites could expose your device to hidden malware and other cyberthreats. 
Don't click on suspicious links or attachments: Fake virus warnings often include dangerous links and  attachments used to infect devices.
Use an ad blocker: Ad blockers can help keep fake warning messages from appearing.
Enable automatic updates: Automatic security updates can help keep your device prepared to fend off  potential cyberattacks. 
Download antivirus software: Antivirus software can alert you if a fake virus message installed malware  onto your computer.
Don't let a fake virus alert ruin your online shopping or gaming session. Use our tips on how to remove fake virus pop-ups and protect your devices to keep this cyberthreat out of sight and out of mind.  
Fake virus FAQs
Still have some lingering questions about fake virus alerts? We have answers.
What should you do if you see a fake virus alert?
If you come across a fake virus alert, you should:.       
Exit your browser
Remove any suspicious apps/extensions 
Scan for malware 
Perform a factory reset
Is the Google virus warning real?
No, Google does not have an antivirus software notifying users of malware threats. If you come across a pop-up like this, close your browser immediately. 
What do fake virus alerts look like?
Fake virus alerts typically include the following:       
Payment requests
Phone call requests
Urgent tone
Poor grammar
Basic design
Does Apple send a virus warning?
No, Apple does not send users security warnings. If you receive one, you should avoid clicking on the message and assume it's fake.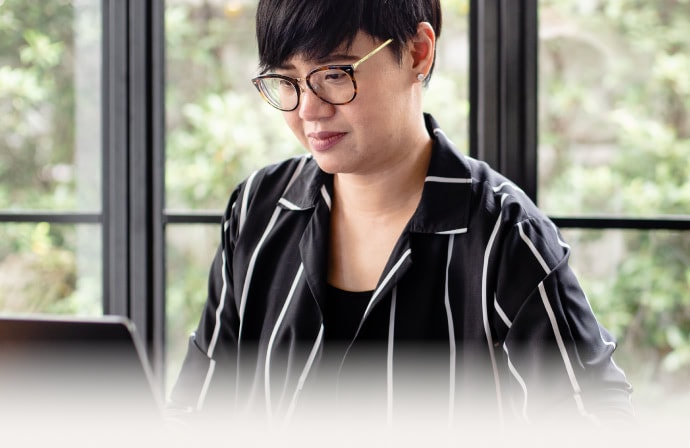 Cyber threats have evolved, and so have we.

Norton 360™ with LifeLock™, all-in-one, comprehensive protection against viruses, malware, identity theft, online tracking and much, much more.

Try Norton 360 with Lifelock.
Editorial note: Our articles provide educational information for you. Our offerings may not cover or protect against every type of crime, fraud, or threat we write about. Our goal is to increase awareness about Cyber Safety. Please review complete Terms during enrollment or setup. Remember that no one can prevent all identity theft or cybercrime, and that LifeLock does not monitor all transactions at all businesses. The Norton and LifeLock brands are part of Gen Digital Inc. 
---