How do online scams work? Use this guide on different types of online scams to help protect your devices and data from internet scamming and other cyberthreats.
---
Sure, the creation of the internet has made for a fantastic means to explore new topics, stay connected with loved ones, and even put our favorite products and services at our fingertips. But it does come with some potential dangers — online scams. And they've increased nearly 70 percent in recent years.
With that in mind, it's time to familiarize yourself with the top scams circling the internet, how they work, and internet scam warning signs and best practices to stay safe online. 
What are online scams?
Online scams, also known as internet scams, continue to evolve and can vary widely. The term generally refers to someone using internet services or software to defraud or take advantage of victims, typically for financial gain.
Cybercriminals may contact potential victims through personal or work email accounts, social networking sites, dating apps, or other methods in attempts to obtain financial or other valuable personal information.
Many successful scams on the internet have similar endings: The victim loses their own money or fails to receive funds the cybercriminal promised. In worst-case scenarios, the victim might even lose their identity.
20 types of online scams 
Scammers have devised dozens of ways to deceive victims through the internet. Here are 20 of the most common types of scams online.
1. Phishing scams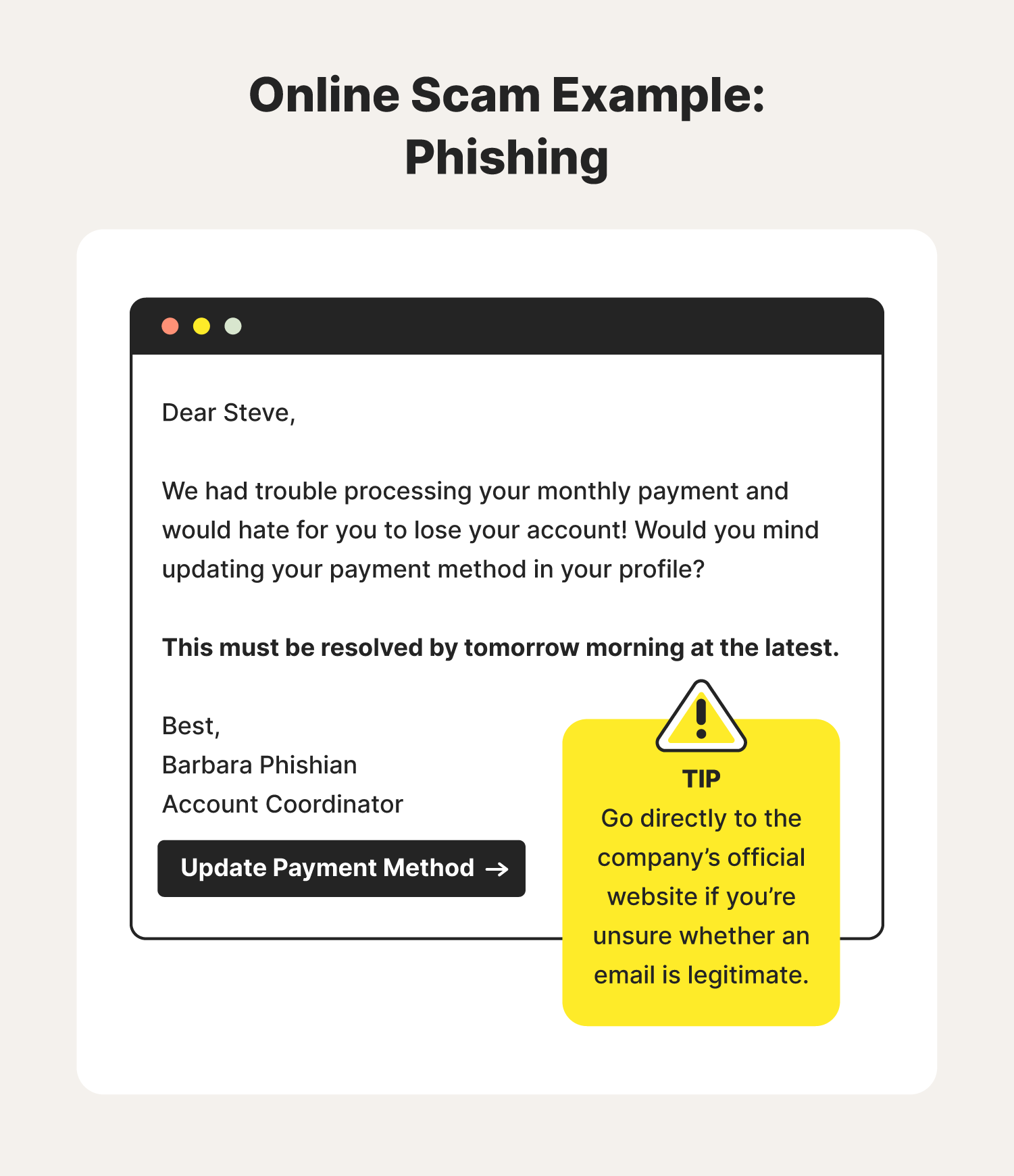 Cybercriminals have been able to bait many people with their phishing attacks in recent years, costing phishing victims over $54 million in 2020. Thankfully, you don't have to be one if you know how this form of online scamming works and how to protect yourself:
The cybercriminal sends you an email appearing to be from a legitimate source, such as a bank, social networking site, or online store.
You get tricked into clicking on a malicious download or a scammer website link.
The cybercriminal installs malware and/or uses your stolen credentials to steal your sensitive data.


Online scam warning signs:
Urgent tones
Misspellings and poor grammar
Demands with threats of financial consequences
Logos that don't quite look right
Online scam prevention tip: Go directly to the company's official website If you're unsure whether an email is legitimate or not.
2. Ransomware 
A cybercriminal may infect your computer with malware called ransomware, if, for example, they are successful with phishing scams. Once installed, the cyberthief could encrypt your files and demand a ransom payment, typically in a cryptocurrency such as Bitcoin. And with ransomware losses expected to reach $265 billion by 2031, it can only benefit you to know how to protect yourself.  
Online scam warning signs: Attachments and/or files included in suspicious emails. 
Online scam prevention tip: Always backup your data and download antivirus software to alert you of potential infections. 
3. Scareware 

Scareware can come in a couple forms, but possibly the most common of this internet scam is fake antivirus software. How it works: A pop-up alerts you of a virus that infected your device. It then offers to fix the infection with "free antivirus" software. This software is indeed fake and used to install malware that can steal your sensitive information. 
Online scam warning signs: 
The software immediately scans your computer for viruses.
The pop-up is hard to close.
The pop-up wants you to act quickly. 
You've never heard of the software company. 
Online scam prevention tip: Don't click on unexpected malware notifications. 
4. Travel scams 
Online scammers even have been able to leverage our wanderlust to con people out of more than $175 million in 2020 in the form of online travel scams. Here's how they typically work: 
The internet scammer sends an email pretending to be a travel insurance agent.
Their well-designed but fake email convinces you to purchase travel insurance for a trip you recently booked. 
They record and your personal banking information.misuse 
This online scam can also be peddled on social media. In this scenario, online scammers post attractive vacation photos with malicious links embedded. Once you click, you're directed to a malicious site informing you of a free trip you won. They'll proceed to try and get you to enter personal information to claim your prize and, in turn, steal your information. 
Online scam warning signs: 
Travel agents offering 100% insurance coverage, no matter what kind of event 
Social media posts directing you to unsecure sites 
They can only accept payment via wire transfer
Online scam prevention tip: Only purchase travel insurance from reputable agencies.
 5. Fake shopping websites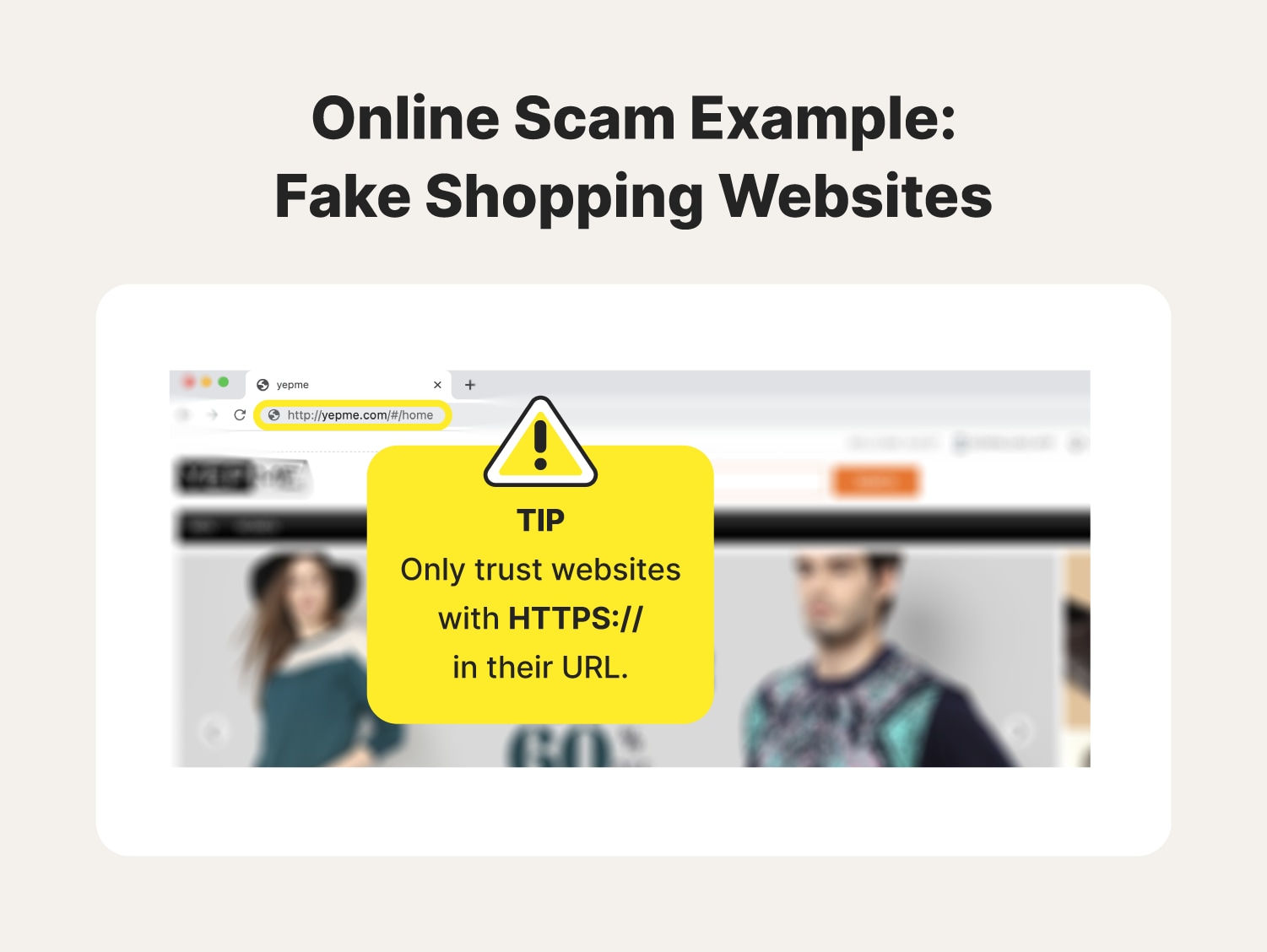 Cyberthieves may also create and publish fake shopping websites that either look genuine or replicate existing retailer websites. They typically feature deals that are too good to be true, finding popular brands of clothing and expensive electronics at extra-low prices. Hackers use these deals to trick you into buying their fake goods and record your banking information at the time of purchase to use for themselves.
Hackers also use formjacking to target online shoppers. They'll attempt to hack a legitimate retail company's website and redirect shoppers to a fake payment page. They may use the fake forms created to steal your credit card and personal information.
Online scam warning signs:
 A redirect bringing you to a page with "http://" in the URL 
Prices that are too good to be true 
Online scam prevention tip: Download trusted antivirus software to alert you of potentially unsecure websites. 
6. Grandparent scams
Elderly people are more vulnerable when it comes to the internet. And online scammers know this all too well, using their caring and loving nature against them in grandparent scams.
This internet scam works by seeding an urgent message or email to a grandparent pretending to be a grandchild in need of financial help. They may say they're abroad and need money for a last-minute train ticket or help to pay an unexpected hospital bill. 
Online scam warning signs: 
A text message or email from an unsaved number 
A request for an unreasonable amount of money from a loved one
Online scam prevention tip: Avoid acting immediately and do your best to verify your grandchild's identity, asking specific questions only they would know. 
7. Romance scams 
Internet dating can be a great way to meet potential romantic partners, but cyberthieves can also use online dating platforms to try and defraud unsuspecting victims. For perspective, in 2020, there were more than 35,000 victims of romance scams alone. Here's how the online scam works.
The fraudster usually targets their victim on an online dating site, and they begin an online relationship. 
The cybercriminal gains the victim's trust but always comes up with reasons why they can't meet up in person.
The cyberthief asks for money or details about the victim's financial life
If not spotted, romance scams could potentially result in you having your personal information and/or money stolen by someone you thought loved you. But worry not because there are warning signs to help you stay vigilant. 
Online scam warning signs:
Their profile seems too good to be true 
They live out of state 
The relationship moves fast 
They ask for money and/or personal information
Online scam prevention tip: If you start an online relationship with someone, protect yourself by asking a lot of questions, taking it slowly, and never giving out personal information. 
8. Hitman scams 
In another type of internet scam, a cybercriminal may send you a message threatening to embarrass or injure you or a family member unless you pay a ransom. These are known as hitman scams. 
The scammer may have gathered details about your life from social media profiles, which could make the claim seem more legitimate or urgent.
If you receive one of these messages, report it to the FBI's Internet Crime Complaint Center and your local law enforcement.
Online scam warning signs: 
You receive a message from someone claiming they'll inflict harm on you
The cybercriminal says they will spare you if you pay a certain amount of money 
Online scam prevention tip: Never reply to spam texts from unknown numbers or emails from unknown addresses. 
9. Lottery scams 
The lottery scam could be considered a subcategory of phishing scams. How it works: An email may claim you've won a large chunk of cash, a free trip to an exotic destination, or some other fantastic prize. 
The message will say that to claim your trip or winnings you only need to pay a few small fees.
After you pay those fees, you never hear from the organization again.
Online scam warning signs: 
You win a prize for something you didn't enter
Prizes that seem too good to be true 
You're required to make a payment to accept your prize 
Online scam prevention tip: Never click on unexpected pop-ups or links from too-good-to-be-true emails.
10. Tech support scams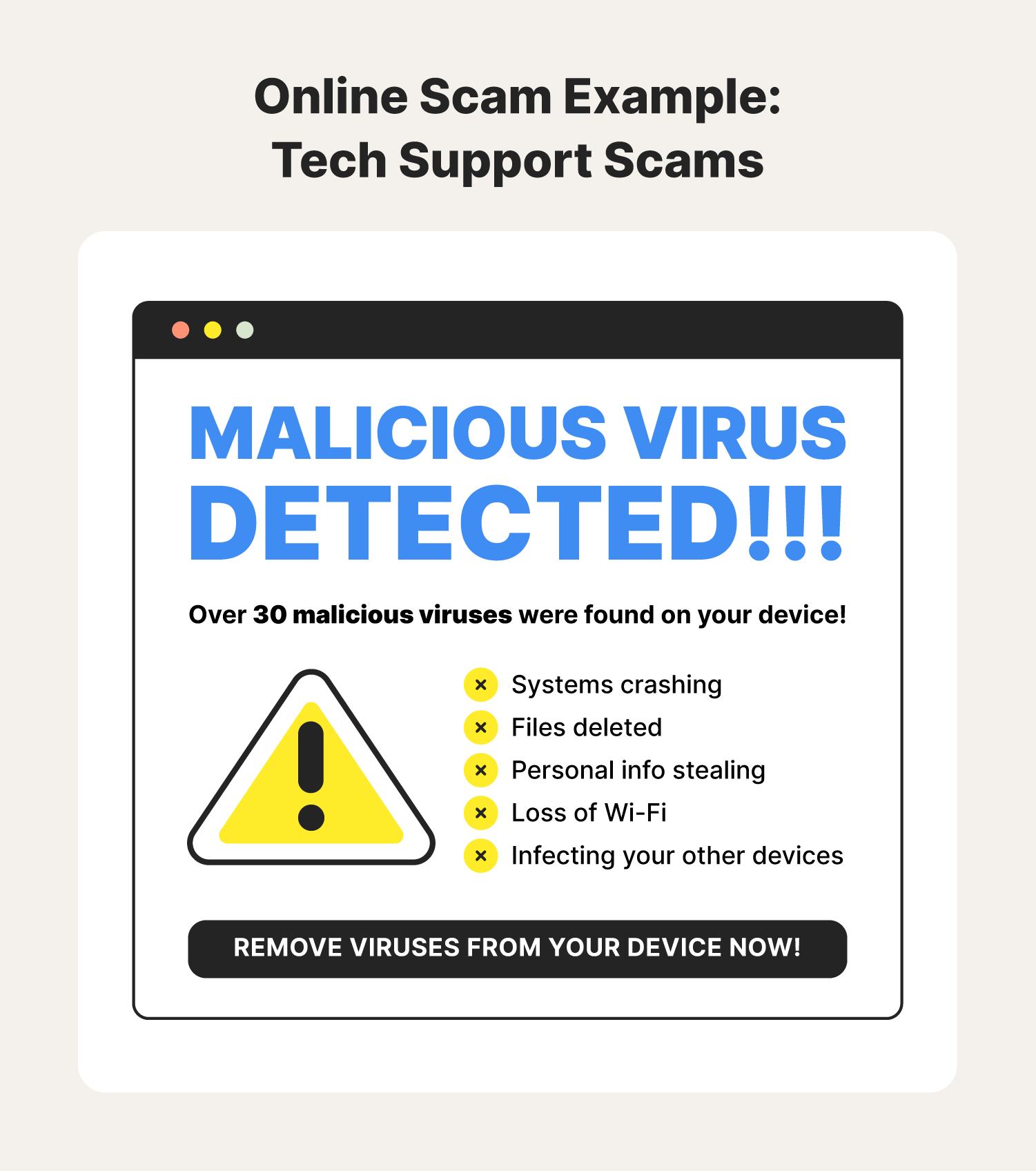 Fraudsters use urgent pop-up messages or fake online ads to promote illegitimate software services and carry out tech support scams. These internet scams may say you have a serious problem with your computer and offer tech support services you don't need to resolve the issues (because the problem doesn't exist). Once they have you hooked, they could try to install malware onto your devices with the fake software they're offering. 
Online scam warning signs:
Unexpected pop-up messages
The "tech support" asks for payment via money transfer
Online scam prevention tip: Download trusted antivirus software from a reputable company to protect your devices.
11. Disaster relief scams
When misfortune strikes — such as a natural disaster — you'd expect others to be nothing but sympathetic. However, there are hackers who find opportunities in dark times and carry out disaster relief scams to try and put some extra money in their pockets. 
These online scams work by sending fake emails posing as legitimate charities or government organizations. They'll then try to convince you to make donations to help support those in need. The cybercriminal may use the credit card and personal information you provide to make fraudulent purchases, potentially putting your credit at risk.  
Online scam warning signs: 
A government agency or charity email not matching that of their official website 
Websites with little or no contact information
Online scam prevention tip: Never respond to emails with suspicious sender addresses. 
12. COVID-19 online scams 
While some were getting through COVID-19 lockdowns and quarantines by perfecting their sourdough starters and DIY home projects, some hackers were perfecting their COVID-19 online scams. And they saw some success, scamming nearly 20,000 people since the beginning of the pandemic. 
These internet scams take many forms, but here are some of the most common found online: 
Health organization impersonation: Cybercriminals pose as members of health organizations, such as the U.S. Centers for Disease Control (CDC) or World Health Organization (WHO) to obtain personal information. 
Websites selling fake personal protective equipment: Hackers use social engineering to create scamming websites that offer wipes, hand sanitizer, and popular items during the pandemic. These items may never arrive. 
Fake government updates and payments: Cyberthieves try to persuade you into accepting COVID-19 relief payments or sign up for updates by providing personal information. 
Fake donation requests: Online scammers attempt to get you to donate to a charity they claim aids those most affected by the pandemic. 
Online scam warning signs: 
A government agency or charity email not matching that of their official website 
Websites with little or no contact information
Money requests via wire transfer

Online scam prevention tip: Contact your state or local governments regarding information about COVID-19 or the pandemic to prevent them in the future. 
13. The Nigerian letter scam 
The Nigerian letter scam, also known as 419 fraud or the advance fee scam, is one of the longest-running online scams. How it works: You receive an emotional message from someone claiming to be an official government employee, businessman, or member of an abundantly wealthy foreign family, asking you to help them retrieve a large sum of money from an overseas bank.
In exchange, the person promises to give you some of the money. They may even produce fake paperwork that makes the deal look legitimate.
Online scam warning signs: 
A letter or email from a foreign country claiming a connection to you 
A request for personal or banking information
Online scam prevention tip: Never respond to suspicious emails or text messages, especially from unknown senders.
14. Money transfer scams 
Money transfer, or fake check, scams catch people off guard during a time of excitement. It can occur when someone thinks they've successfully sold one of their possessions online. The purchaser may send more money than originally agreed upon via cashier's check, personal check, or wire transfer. 
Once you receive their money, they may try to trick you into wiring them the difference of the original amount you both agreed to pay, stealing your personal information when you try to do the nice thing of sending their money back.
Online scam warning signs:
The purchaser requests money via wire transfer 
Offers that require you to pay to receive your earnings 
Online scam prevention tip: Only send money to verified accounts on encrypted payment services. 
15. Pre-approved notice scams 
Pre-approved notice scams send you a phishing email notification about a new credit card or personal loan that a bank pre-approved you for. People in need of quick cash often fall for this online scam because of the immediate approval and attractive credit limits. Once they have you convinced, they may ask for an upfront payment to complete your application, which doesn't actually exist. 
Online scam warning signs: 
Upfront payments to submit your application 
Money requests via wire transfer, cash, and/or gift cards 
Online scam prevention tip: Visit your bank's official website to explore or verify credit card or personal loan options.
16. Cryptocurrency scams 
Online scammers have even found a way of targeting today's crypto-curious individuals, stealing more than $80 million from victims in 2021. Cryptocurrency scams come in many forms, such as fake giveaways, impersonations, and blackmail. However, they all have the ultimate goal of getting ahold of personal information needed to access your digital wallet and steal any funds stored in your account. 
Online scam warning signs:
Cryptocurrency investments with "guaranteed" high returns 
Unlicensed or unregistered cryptocurrency sellers 
Online scam prevention tip: Research cryptocurrency exchanges before investing and never respond to urgent requests for payments. 
17. Social media scams 
Social media scams accounted for nearly $770 million in stolen funds last year, which placed them comfortably on today's list of. They work by displaying a variety of posts, such as aspirational vacation spots and discounted luxury products, on your newsfeeds — all with the goal of getting you to click on a link that could potentially be hosting malware. 
Online scam warning signs:
Posts offering extremely low prices on popular goods
Posts with links directing you to a new page and telling you to claim a prize 
Online scam prevention tip: Always verify company information before making a purchase with an online seller.
18. Social media impersonation 
Social media impersonation could be considered a subcategory of social media scams. The goal is often to steal your online identities. How this online scam works:
A cybercriminal copies the name, profile picture, and basic information from someone's real account to create a copycat account.
They send friend requests to the original account's friend list in an attempt to access their personal information, including emails, addresses, birth dates, and more.  
They use the stolen information for personal gain.
Online scam warning signs: 
Already friended profiles asking why you're requesting to follow them again
Online scam prevention tip: Put restrictions on who has permission to see your profile information. 
19. Mobile scams 
Affecting almost 60 million people in 2021, mobile scams can come in many forms, but the most common are phishing apps. Cybercriminals create fake apps designed to look like the real thing, just like phishing emails. It is exactly the same premise; however, instead of using emails, the hacker delivers malware through a fake app. 
Online scam warning signs: 
An app is difficult to close 
An app disappears and reappears on your home screen 
Apps containing ads that redirect you to suspicious sites
Online scam prevention tip: Only download reputable apps from your app store. 
20. Job offer scams 
This internet scam could find its way to you as a phone call, LinkedIn message, or unsolicited email that advertises a job requiring little to no real work but offering lots of quick cash.
Criminals who practice this online scam often target people looking for a new job or wanting to work from home. However, once you secure the job, you're asked to fill out routine paperwork that requires you to provide your Social Security number, address, and bank information. However, the gig and associate paperwork are fake, and the fraudsters can use this personal information to access your financial accounts.
Online scam warning signs:
A job offer's pay is too good to be true 
Poorly written job descriptions 
Lack of company information or suspicious company website 
Online scam prevention tip: Only apply to positions posted on reputable job sites.  
How do I protect myself from online scams?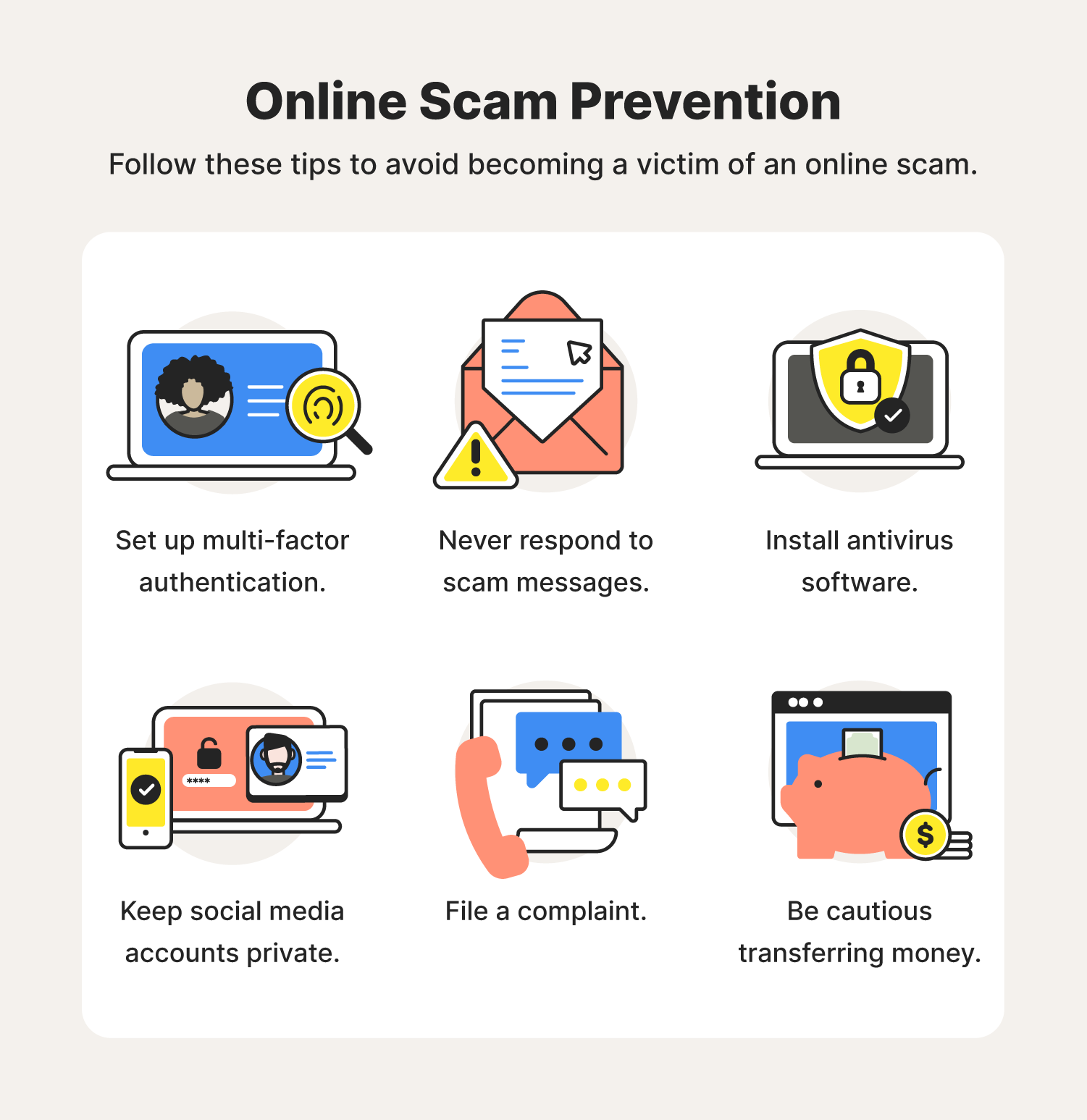 Understanding how online scams work is the first step in learning how to avoid online scams when browsing. However, these online scam prevention tips could help you even further. 
Set up multi-factor authentication 
Some online accounts offer an extra layer of security known as multi-factor authentication, also called two-factor authentication. This requires two or more credentials when you log in to an account. This could be a combination of a password and a unique code sent to your phone or email. It could also use biometric security features like facial recognition or fingerprint scanning. 
So, if a scammer does get your username and password, multi-factor authentication makes it harder to log in to your accounts.
Never respond to scam messages
Responding to spam texts could lead to various consequences, such as triggering a malware installation or confirming your phone number or email address are working.
Help yourself avoid scams online by not clicking on links, opening attachments, replying to the message, attempting to unsubscribe, or calling any telephone number listed in suspicious messages. And never give out any money, credit card details, or other personal details to unknown or unverified senders.
Install antivirus software
Trusted antivirus software helps prevent different types of malware from embedding on your computer or device. If the software detects malicious code, like a virus or a worm, it works to disarm or remove it.
This could help protect your devices and data if you accidentally click a malicious link. Always be sure you download software apps and services only from official vendor sites.
Keep social media accounts private 
Social media can be great for connecting with different people and accessing information, but not always so great with cybersecurity measures. However, the privacy settings provided on most social platforms could give you the extra layer of security you're looking for. 
Take a second to explore your account settings and you'll likely find that you already have the ability to decide what information is viewable by the public, or only accessible to those on your friends list.
 Be cautious when transferring money 
As mentioned, hackers may try to compromise your personal and banking information by getting you to transfer funds to them electronically. 
When dealing with online transactions, only send money to known and verified accounts. You should also only use encrypted mobile payment services to keep your account information safe as you complete the transfer. 
File a complaint
If you see the signs of an online scam, you can always file a complaint with the FBI's Internet Crime Complaint Center (IC3), which is the central point for tracking patterns of fraud and abuse related to internet crimes. The IC3 reviews complaints, analyzes data, and creates intelligence reports that highlight emerging threats and new trends.
The center may forward certain investigations to appropriate law enforcement agencies, which may bring legal action against the perpetrators.
After you file the report, the IC3 recommends keeping any copies of evidence related to your complaint, such as canceled checks, receipts, emails, or chat transcriptions. These may help the FBI investigate widespread crimes.
As online scams continue to evolve, so does the number of online users who fall victim to them. Understanding what types of internet scams are on the rise can help prevent you from falling victim.
Online scams FAQs 
Use these frequently asked questions to learn more about online scams and what to do if you happen to come across one. 
What are the most common online scams?
Here are the latest online scams to look out for today:
Phishing scams 
Fake shopping websites 
Romance scams
Social media scams 
Mobile scams 
How do online scams work?
A cybercriminal may send you an email or a message with the goal of tricking you into providing sensitive data, such as payment methods, which they can later use to steal money and/or your identity.
Why do people fall for scams?
Many people fall victim to scamming online because hackers are great at using social engineering and phishing techniques to trick people into giving up valuable information. 
What happens if I get scammed?
Report online scams to the FBI's Internet Crime Complaint Center (IC3). They will use the information you provide to build a case against the hackers who stole your money or information.
 How do I know if I am being scammed online?
Online scams usually have the following characteristics: 
Emails or messages from unfamiliar numbers of email addresses
Urgent requests 
Wire transfer requests 
Asking you for personal information 
Sweepstake or prize giveaways 
"100% guarantees"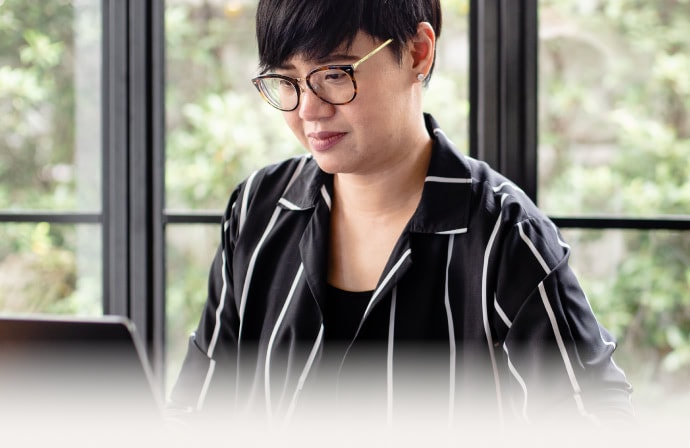 Cyber threats have evolved, and so have we.

Norton 360™ with LifeLock™, all-in-one, comprehensive protection against viruses, malware, identity theft, online tracking and much, much more.

Try Norton 360 with Lifelock.
Editorial note: Our articles provide educational information for you. Our offerings may not cover or protect against every type of crime, fraud, or threat we write about. Our goal is to increase awareness about Cyber Safety. Please review complete Terms during enrollment or setup. Remember that no one can prevent all identity theft or cybercrime, and that LifeLock does not monitor all transactions at all businesses. The Norton and LifeLock brands are part of Gen Digital Inc. 
---