Social media scams are nothing new, but it might come as a surprise that they even occur on professional platforms like LinkedIn. Follow this guide to learn more about common types of LinkedIn scams to avoid, warning signs to spot them, and cybersecurity tools like Norton™ 360 Deluxe that can help keep you safe online.
LinkedIn is for networking and job searching. So, the last thing you probably want to come across is an online scam when you're on a professional platform. Still, LinkedIn scams do exist and range from crypto and investment scams to complete account takeovers. 
Let's dive into some of the common ones to know and avoid in 2023, including:
1. Phishing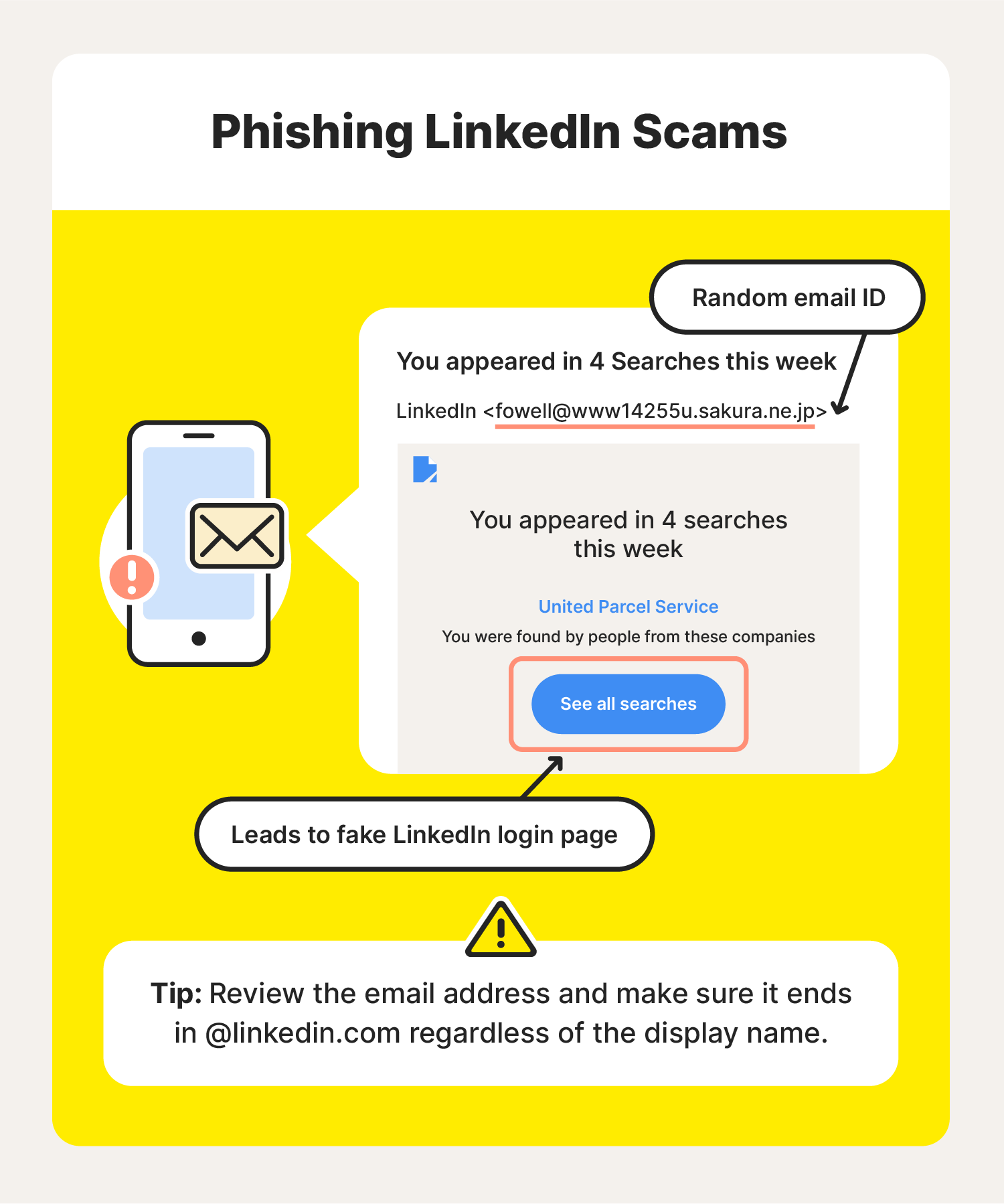 Phishing is when cybercriminals disguise themselves as a trustworthy source to lure sensitive information or data from you. 
This LinkedIn scam works when fraudulent accounts send you a message to appear like it's coming from a legitimate company at first glance. As soon as you click on it, you may end up on a site that downloads malware or spyware onto your device. Some cybercriminals may ask you for login credentials or personal information.
Phishing emails often look like real messages with actual LinkedIn login pages. But these pages can steal your data and personal information, and they may even download viruses onto your device.
Some phishing email subject lines could include the following:
LinkedIn Profile Security Alert
LinkedIn closing & termination of your account
YOUR ACCOUNT WILL BE TERMINATED!!!
Account suspended
You appeared in 4 searches this week
How to avoid it:
Review the email address and make sure it ends in "linkedin.com" regardless of the display name.
Be cautious when clicking links from people you don't know.
Hover your mouse over the link to see where the page lands before clicking.
2. Catfishing and romance
Catfishing isn't exclusive to dating—cybercriminals impersonate folks to trick others into revealing personal information or even handing over money. 
Scammers will create alternative accounts impersonating young adults or even celebrities to trick people into thinking they have an opportunity of working with successful individuals. These scammers may claim they are Jeff Bezos or other wealthy folks. They might even create an entirely false persona.
These romance scammers will often attempt to move the conversation off of LinkedIn in case their account gets flagged or deleted. After creating this friendly relationship, they might even pretend to be romantically interested and then request personal information, money, or other favors. This scam starts slow and gradually progresses as victims open up.
How to avoid it:
Watch out for connection requests from accounts with limited connections, posts, or profile information.
Keep your guard up if anyone asks you personal or intimate questions, including your marital status.
Don't move the conversation to a different messaging method like WhatsApp.
3. Crypto and investment
Crypto scams and investment LinkedIn scams may come from new connections or accounts that got hacked. Scammers will brag or show off overnight profits in hopes of luring you into their plot. These folks kick off the conversation with small talk and then lead into how to make more money through cryptocurrency and other investments.
According to the FBI, fraudsters direct folks to legitimate investment platforms to gain their trust. These cybercriminals may come off as highly knowledgeable investors, but their "earnings" don't exist. The money these scammers gain is coming straight from their victims.
How to avoid it:
Watch out for unsolicited crypto or investment advice or schemes.
Be cautious if someone asks you to use an unusual crypto or investment platform.
Be wary of people overpromising large returns in a short period
Avoid businesses that only accept crypto as payment.
4. Employment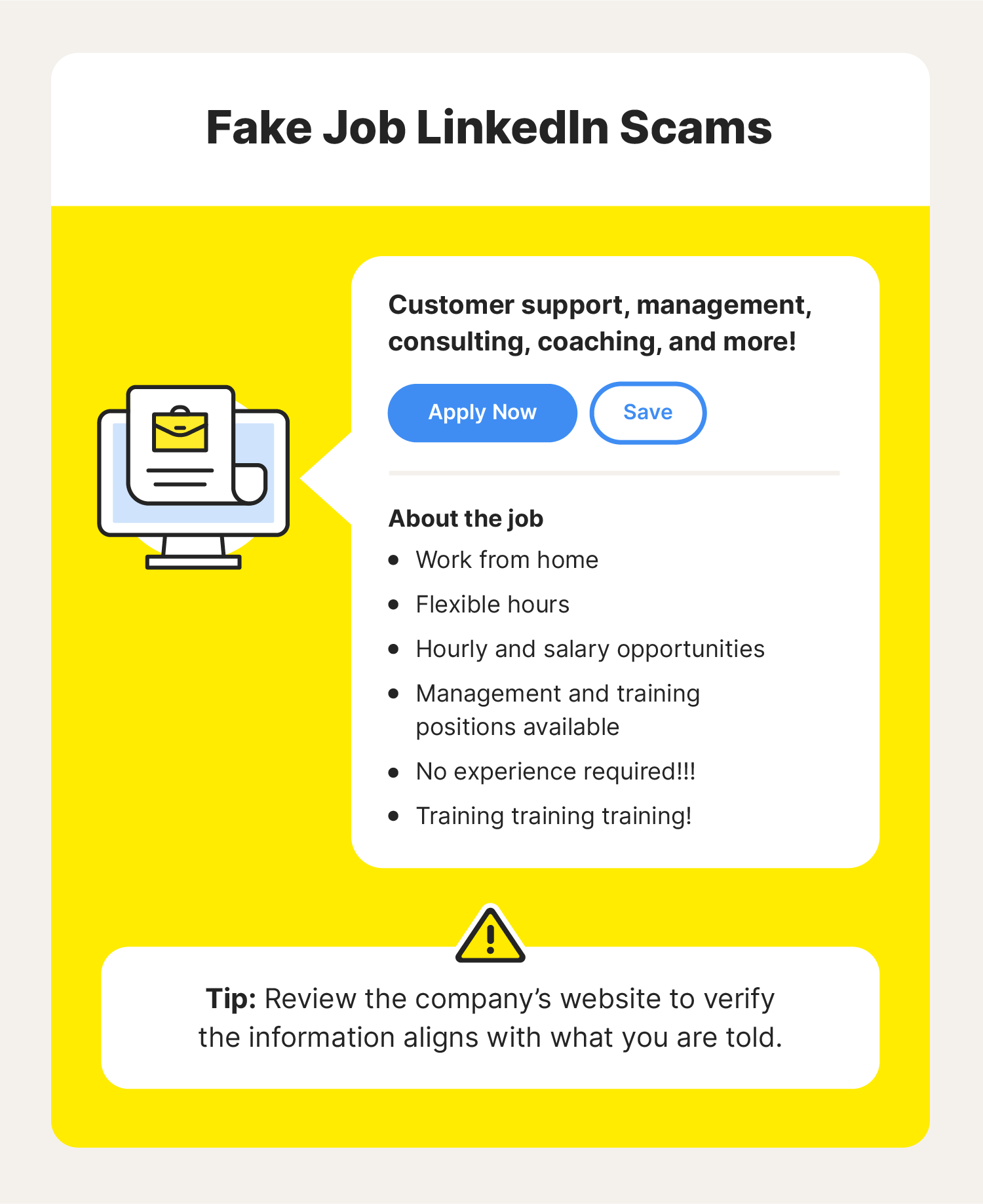 One of the most common LinkedIn scams involves false employment. Scammers post fake jobs for legitimate companies. When you change your status to "open to work," you also open yourself up to scammers.
Some of these recruiters will request your Social Security number and banking information. But in reality, there is no job—it's just a scam to gain your personal information to steal your identity or commit other acts of fraud. Certain recruiters may even request a finder's fee before they connect you to the company.
After these criminals steal your information, they will disappear with no trace of their account. Don't fall for any of their tricks by forking over your personal information, especially if you never even applied for the position.
How to avoid it:
Be cautious if the position appears too good to be true.
Review the company's website to verify the information aligns with what you are told.
Never share personal information like your number, physical address, or identification numbers on your resume.
Do not complete an interview over text on chat apps like WhatsApp.
Do not buy a credit report to share with a potential employer—this indicates that it's a LinkedIn scam.
5. Equipment
Companies commonly provide company-funded supplies, including electronics. Scammers who post fake job ads may promise to send you a check to reimburse the payment of work equipment in this common work from home scam. 
After placing your large order for a new computer, office supplies, and other equipment from the scammer's supplier, you'll be liable for the bill because they never planned to send you the reimbursement. If you do receive a check from the fake company, it will most likely bounce.
How to avoid it:
Be cautious if a company claims they will send you a reimbursement to purchase work-related equipment.
Search online to look at reviews and see if the company is a scam or has any complaints against them.
6. Tech support
You might experience a scam on LinkedIn if someone approaches you, claiming they are from tech support. LinkedIn doesn't offer a phone number for customer support—but people will advertise that they are affiliated with LinkedIn's support team.
If you receive an email from someone claiming there is an issue with your LinkedIn account via LinkedIn messages, emails, or phone calls, it could be a scam. Scammers might ask you to enter personal information or click on a link that triggers different types of malware to be downloaded onto your device. IT imposters might even require payment to handle these false account issues.
How to avoid it:
LinkedIn doesn't have a customer service phone number—anyone who claims to be from the support team is a scam.
Don't click on any suspicious links claiming to be from the LinkedIn IT team.
LinkedIn will never ask you for your password.
7. Connection request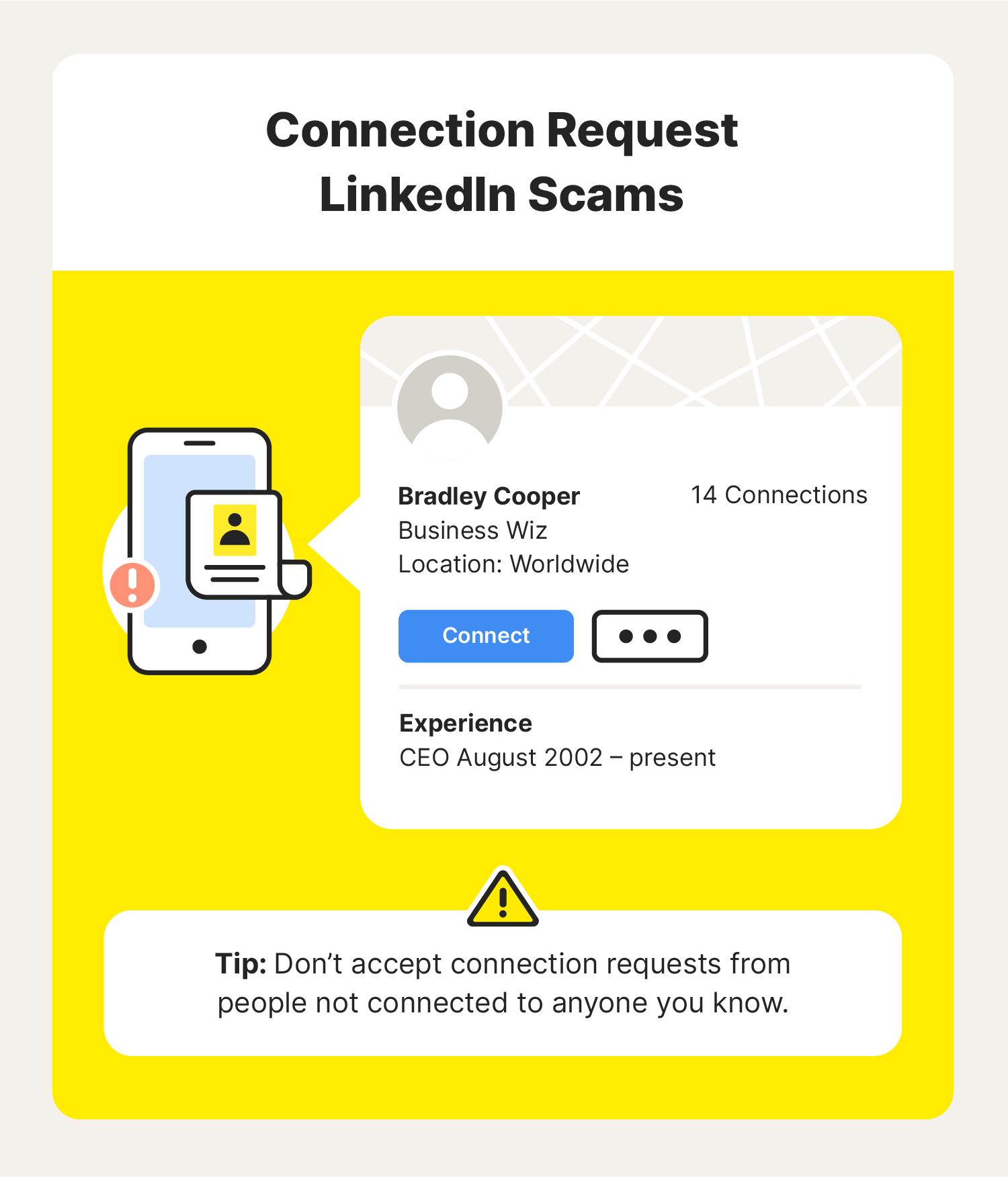 Like any social media platform, it's common to receive connection requests from scammers. However, in the case of this scam on LinkedIn, the sender has a malicious reason for connecting that doesn't involve building their professional circle. These connections will request you provide personal information or try to lure you into their scam by clicking on suspicious links.
How to avoid it:
Don't accept connection requests from people not connected to anyone you know.
Watch out for strange messages that are full of grammatical errors or appear to be copied and pasted.
Delete connection requests from people who send aggressive or offensive messages.
8. Account takeover
Scammers can take over your LinkedIn account using leaked personal information or phishing schemes. These cybercriminals take things a step further by defrauding other individuals while impersonating the account's real owner. The vicious cycle continues while the scammer attempts to gain additional personal information and take over more accounts.
What scammers can do during an account takeover:
Obtain sensitive information
Impersonate account owner
Access funds and bank accounts
Defraud owner's connections
Conduct fraudulent schemes
How to avoid it:
Change your password if you notice suspicious activity.
What out for someone is posting on your profile or messaging your connections.
Ignore someone's request to send them a verification code from LinkedIn. 
9. Lead generation
It's not uncommon to receive pitch messages from folks regarding their services. While this exchange may appear normal, it's actually a LinkedIn scam—the product or service might be real, but the information comes from a false profile.
How to avoid it:
Be cautious of direct sales pitches from unknown connections.
Don't accept requests from people with little connections or engagement.
Verify on the official company website that the person works there.
10. Malware and encryption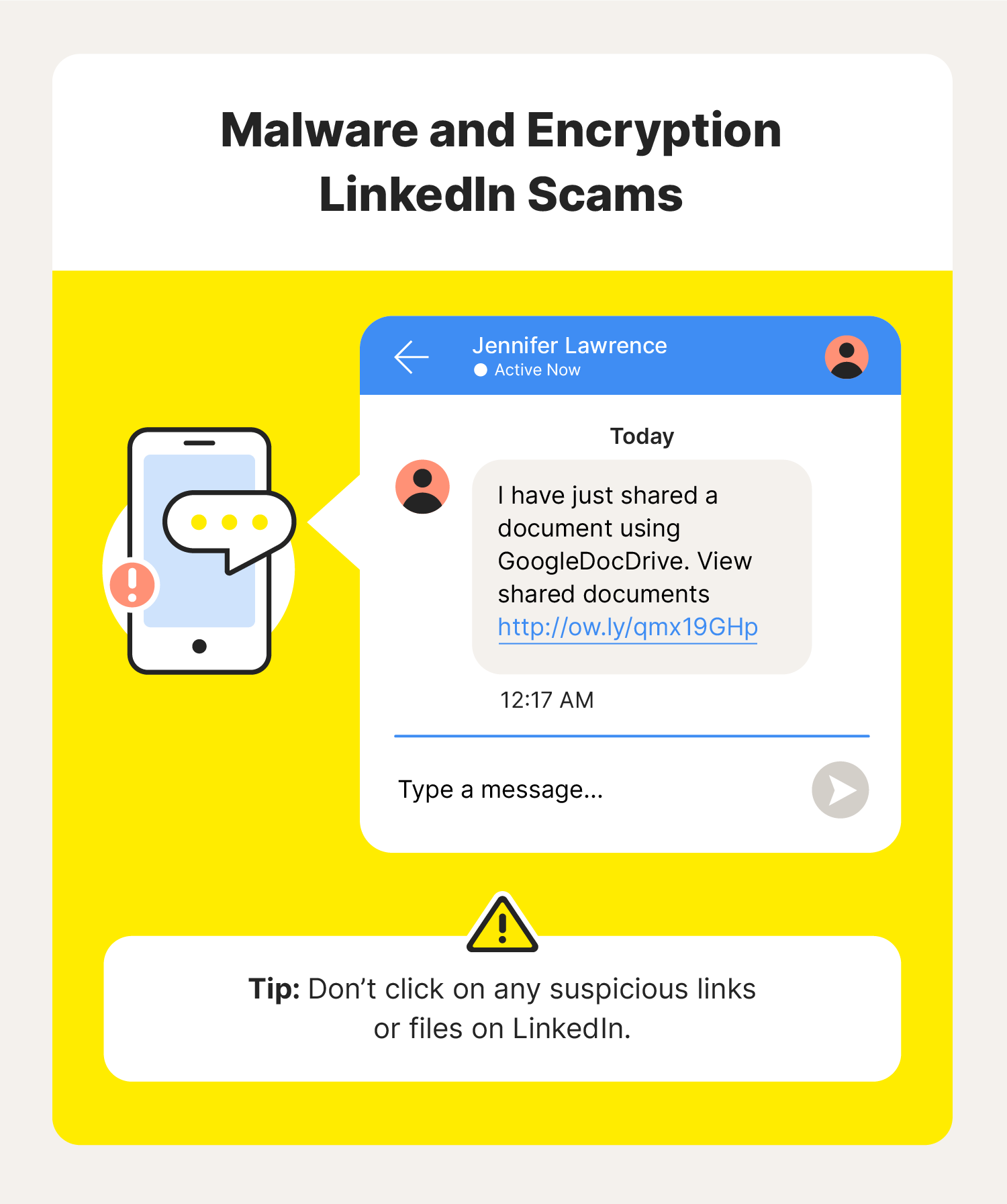 Scammers can tap into your devices after you click the link they sent. Fraudsters may make it seem like the link or file is crucial for business reasons, but they are really downloading malware onto your device.
Scammers often use phishing tactics through LinkedIn to lure users into downloading risky files. These messages often get disguised as coming from a legitimate recruiter or LinkedIn user. However, your identity could be at risk if your device becomes compromised through malware schemes.
How to avoid it:
Don't click on any suspicious links or files on LinkedIn.
Watch out for shortened links that may mimic malicious sites.
11. Advanced fees
Advance fees LinkedIn scams are when a scammer convinces a victim to pay an upfront fee and promises they will receive more money or a valuable item later. Fraudsters will request your bank account, credit card numbers, and additional personal information, all just to disappear with the advance fee. These criminals may lure you in through convincing stories and different narratives. The advance fee could get misinterpreted as a processing fee or deposit.
How to avoid it:
Never give out your personal or banking information on LinkedIn.
Don't give money to anyone you spoke to on LinkedIn.
How to spot fake LinkedIn profiles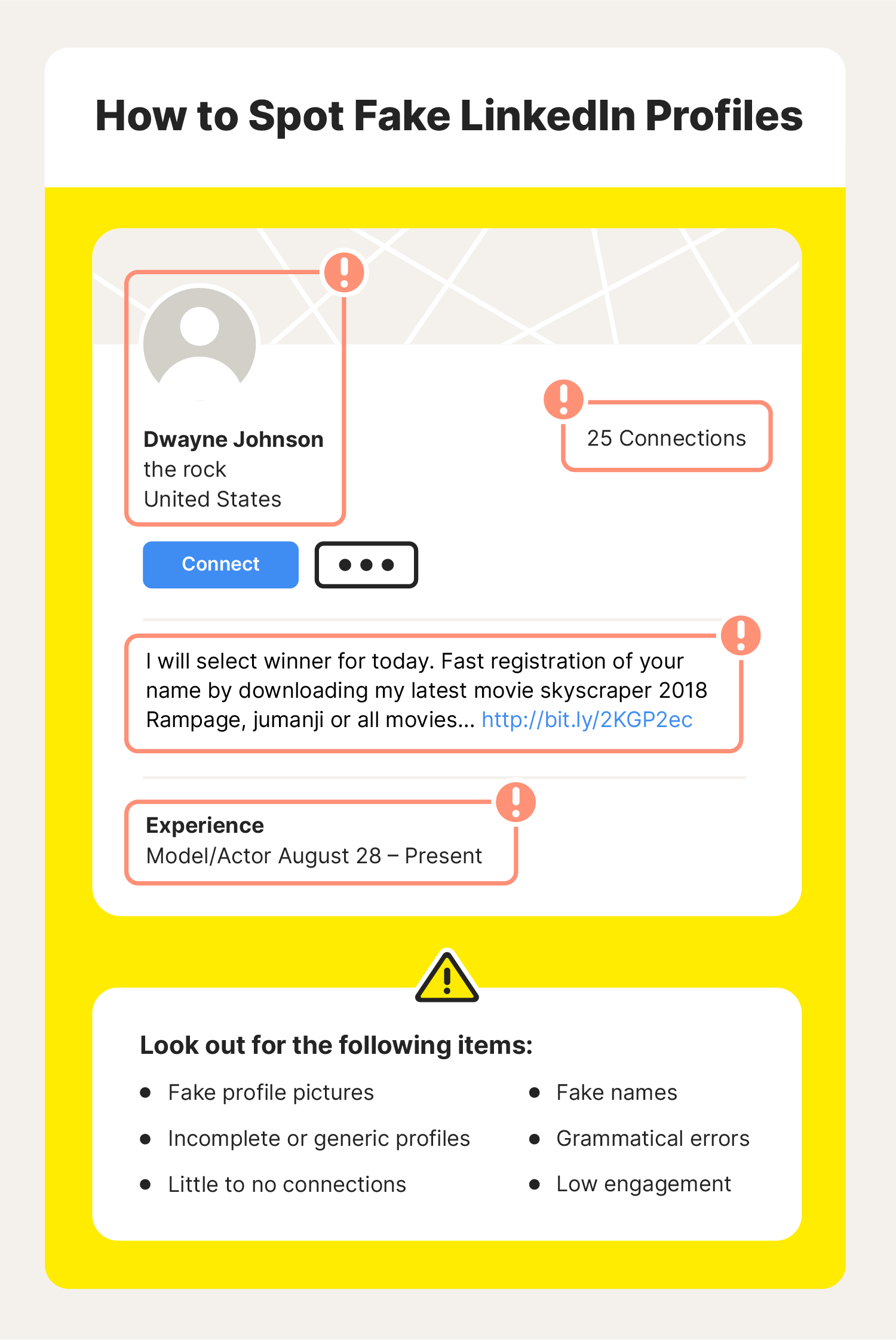 Spotting a fake LinkedIn profile isn't as easy as it may sound. Scammers nowadays are sneaky when disguising themselves on social media platforms and carrying out social media scams. Here are a few red flags to look out for when spotting fake profiles.
Fake pictures
Scammers often use model-quality images to appear good-looking on their profile. Some folks will even use photos of lesser-known celebrities or public figures. Other cybercriminals will use photos of real people and create multiple profiles using the same profile picture. They might even use deepfakes to fool users.
Tip: Use Google or Bing reverse image search to see if the picture is anywhere else online.
Incomplete and generic profile
Regarding LinkedIn scammers, they avoid adding factual information about themselves. The information on the profile is typically generic and vague, especially in the summary and experience sections. Scammers don't bother updating every section of the profile and keep it bare.
Tip: Watch out for profiles with generic job titles like "manager" or "employee."
Little to no connections
Most LinkedIn accounts have over 100 connections with a good mix of people. It's also important to look out for connection requests from folks brand new to LinkedIn. Make sure to look out for new connection requests from people who don't have any mutual connections.
Tip: Skim through the person's connections to see what types of connections they have and watch out for similarities.
Fake name
If you notice a new connection request from an actor, influencer, or public figure, it's typically not the real person. It's improbable Harry Potter and George Washington are sending you a request. Some scammers will get more creative with their fake names and choose obscure actor or actress names that aren't as common.
Tip: Conduct a simple search on Google or Bing to see if the name pops up.
Grammatical errors
Many fake LinkedIn profiles will have many grammatical errors and misspelled words. Some red flags include several typos or odd spelling of company names. The scammer might even create a fraudulent website—aka website spoofing— full of errors.
Tip: Look out for account names in all caps or lowercase letters, which aren't a professional way to present your name.
Low engagement
While not everyone is a frequent social media user, accounts that never interact with others are a red flag. There should be a sign of two-way communication on the LinkedIn profile. Another sign of a fake profile is if no one is following the person back.
Tip: Check the profile's updates section and see what content (if any) they post—there should be some engagement.
Protect yourself against LinkedIn scams
There is no time to waste if you're a victim of a LinkedIn scam. Start by changing your account password and adding two-factor authentication. You'll then want to run a scan for malware on your device. It's important to update all passwords for your email, bank account, and other important accounts—ensure to add multifactor authentication on all of these accounts as well.
Still concerned about potential scammers who want your personal information? Norton 360 Deluxe reduces your chances of being scammed by helping to stop threats in their tracks. Not only does it help prevent LinkedIn scammers from gaining your information, but it also monitors other suspicious behavior that can affect your device.
FAQs about LinkedIn scams
Still unsure how LinkedIn scams work? Here are a few commonly asked questions surrounding scams on LinkedIn.
How do LinkedIn scams work?
LinkedIn scams work by luring in folks who use the social media platform to build connections. Scammers will use tactics like phishing or create fake job ads to steal other users' personal information.
Are there employment scams on LinkedIn?
There are widespread employment scams on LinkedIn, including fake job ads, fraudulent recruiters, and even fake employees of well-known companies.
How can you tell if a LinkedIn message is real?
LinkedIn messages will contain a security footer to verify they are authentic. Real LinkedIn messages will also come from an @linkedin.com account.
Is it safe to use LinkedIn?
LinkedIn is a safe social media platform to connect and network with professionals in the job market. Using LinkedIn is not more or less dangerous than other social media platforms like Instagram or Facebook. However, it's important to keep an eye out for LinkedIn scams and all of their red flags.
Editorial note: Our articles provide educational information for you. Our offerings may not cover or protect against every type of crime, fraud, or threat we write about. Our goal is to increase awareness about Cyber Safety. Please review complete Terms during enrollment or setup. Remember that no one can prevent all identity theft or cybercrime, and that LifeLock does not monitor all transactions at all businesses. The Norton and LifeLock brands are part of Gen Digital Inc. 
---